'No Time to Die' Marks the End of an Era
Dec 15, 2021 &nbsp • &nbsp Mikhail Lecaros
No Time To Die marks the end of Daniel Craig's (Knives Out) tenure as pop culture's most enduring secret agent. Covering five films across 16 years, Craig has had the role longer than any other actor. Picking up on storylines introduced in 2006's Casino Royale, the 25th James Bond adventure promises to send Craig off in a manner never before seen in any previous entry.
The unlikeliest 007

When Daniel Craig was announced as the next James Bond in 2005, it unleashed the sort of online backlash that, 16 years later, has become all too familiar from fans of major franchises. Concerns ranging from Craig's height ("he's too short!") to his hair color ("Bond should never be blond!") were rife prior to the release of his first film, which would be 2006's Casino Royale.
By the time that film made its bow, the naysayers got far more than they bargained for — gone was the suave, sophisticated gentleman agent that they'd had gotten to know over the last 20 films (beginning with 1962's Doctor No). In his place was the "blunt instrument" of Her Majesty's government, as described in creator Ian Fleming's original novels. Directed by Martin Campbell (who'd previously introduced Pierce Brosnan in 1995's brilliant Goldeneye), Casino Royale was an all-out blockbuster, winning over audiences and critics alike with its inventive action, an endlessly quotable script (from series regulars Neil Purvis and Robert Wade), and a powerhouse performance from Craig, who more than proved himself the right man for the job.
And there was an added dimension: where previous Bonds had been practically indestructible, Craig's was imbued with pathos and grit — his 007 was human, able to react, fail, and, yes, fall in love.
All-time highs (and lows)

The film that followed, Quantum of Solace, was a misguided attempt to graft the Jason Bourne formula onto the Bond template, resulting in a film that's, quite frankly, astounding for how forgettable it is, but Craig and company bounced back with their 2012 entry, Skyfall, which served as the franchise's 50th anniversary.
Directed by Sam Mendes (Road to Perdition) and lensed by the inimitable Roger Deakins (1917, Blade Runner 2049), Skyfall managed the impressive feat of deconstructing its lead character while simultaneously paying tribute to everything audiences had come to expect from the series. From an acting perspective, whether he was hurling a man off a Shanghai skyrise or fixing his shirt cuffs mid-chase, Craig was in top form by this point, having settled comfortably into the role. With the mistakes of the previous film firmly behind it, Skyfall emerged as the highest-grossing entry in the series' history, grossing over a billion dollars at the global box office.
That being said, it would have been difficult for any sequel to match -much less beat- Skyfall's success, but then, few follow ups are as outright disappointing as what came next. Clearly "inspired" by the trend of cohesive, multi-film narratives kicked off by the Marvel Cinematic Universe (MCU), 2015's Spectre revealed that Craig's previous three adventures were the orchestrations of classic Bond baddie Ernst Stavro Blofeld (Christoph Waltz, Inglorious Basterds). Improbable, illogical, and absolutely idiotic on every level, Spectre did well enough at the box office, but ultimately failed to duplicate Skyfall's critical or audience successes.
The story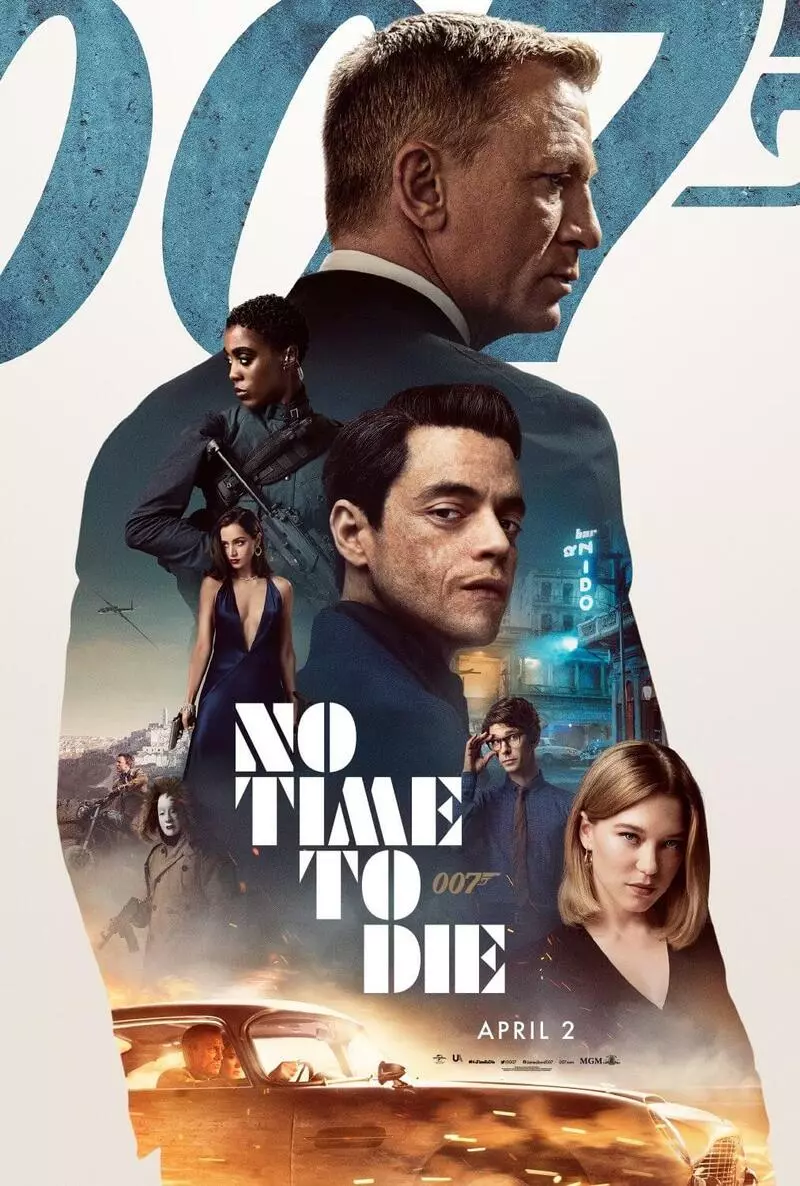 Spectre ended with 007 resigning from the British Secret Service, driving off in his trademark Aston Martin DB5 to live happily ever after with Dr. Madeleine Swann (Lea Seydoux, Blue is the Warmest Colour, Mission: Impossible – Ghost Protocol). No Time To Die begins with the pair still in honeymoon mode, but, as a familiar Luis Armstrong tune on the soundtrack foreshadows, nobody goes into a relationship without baggage, and some ghosts just won't stay dead.
The (obligatory) action-packed opening is excellent, featuring a breathtakingly tense chase where Bond's car has never looked more beautiful or more lethal, before we're treated to the (equally obligatory) title-sequence featuring Billie Eilish's haunting title track. Soon after, Bond is roped into investigating (what else?) an international terrorist organization determined to rule the world. The case takes us from Jamaica and Cuba, to London, Norway, and the Japanese coast, as Bond uncovers a plot to cripple entire nations with a deadly new weapon that begins with Blofeld and ends with a terrifying new foe from Madeleine's past.
Allegiances will be tested, bad guys will be shot, and Bond will be tested like never before, even as he's aided in his mission by no less than the new Agent 007.
007: The man and his world

In the years leading up to No Time to Die, a lot of digital ink was spilled over speculation on whether or not James Bond should be reimagined or recast to reflect modern sensibilities. Beginning with 2006's Casino Royale, the James Bond filmmakers proved that they weren't afraid to shake (not stir) things up, and each subsequent film evolved the franchise in new directions that, while not always successful, showed that there were still a lot of areas for the character to explore.
Regardless of the evolution, Bond was still recognizably Bond. Fleabag creator Phoebe Waller-Bridge put it best when she was brought on to help polish and punch up director Cary Joji Fukunaga's (TV's True Detective) script for No Time To Die. Asked if she intended to "reinvent" the character, Waller-Bridge pointed out that to do so would rob Bond of what made him unique, and that the better approach was to have the characters around him react to his traits as a sign of the times, rather than pretend he was suddenly "woke".
It was the same device that had worked so well in 1995's Goldeneye, when Judi Dench's M scolded Brosnan for being a "sexist, misogynist dinosaur" and, for his part, Craig continues to excel in the role here.
But where keeping the character of Bond largely recognizable has paid off for Craig, the decision to go the cinematic universe route is one that hasn't aged well at all. Simply put, other than the obvious fact that not everything needs to be interconnected, there's a reason that nobody else has been able to replicate the MCU formula, and it's that sprawling cinematic universes need to be planned out and coordinated in advance, rather than, say, interconnected after the fact.
When Blofeld was revealed as not just Spectre's big bad, but the (supposed) antagonist of the last three films, the revelation garnered more eyerolls than minds blown, as nothing in any of those movies implied, hinted at, or even lined up enough to justify such a nonsensical twist. No Time To Die, rather than leave well enough alone, picks up on that thread and adds more convoluted backstory to the table.
Secrets and lies

What exactly, is the big deal with Madeleine's so-called secret? Why is it even a secret? We already knew her father was a murderer working for Quantum (later retconned to S.P.E.C.T.R.E.). The only reason it's a plot point here is for Bond to dump her in the first act. All things considered, Bond should have been way more patient with her – there aren't many people who would be willing to commit to someone who's spent the last 15 years hung up over his (dead) ex. 
The storyline with Sevrin (Rami Malik, Bohemian Rhapsody) is no less contrived, existing solely to justify Madeleine's non-secret. His motivations, so clear when he is introduced, are stripped of point and purpose once he's removed the thorn in Bond's side, reduced to being just the latest in a long line of disposable baddies with a facial disfigurement and a private army in an impenetrable lair.
With a little help from his friends

Ana De Armas (Knives Out, Blade Runner 2049) is a breath of fresh air here, balancing levity and tactical skill as rookie agent Paloma. In her all-too-short appearance, she not only takes us back to the glamor of old-school Bond, but displays a natural chemistry and energy with Craig that puts his scenes with Seydoux to shame.
In any case, the dialogue with Paloma is infinitely more interesting than the supposedly competitive/antagonistic bits Bond has with Nomi, the new 007 (Lashana Lynch). Admittedly, this could have made for a fun back and forth, with the two testing each other before becoming colleagues, but any potential sparks are abandoned almost as soon as the two team up to go after Sevrin, wherein Nomi Agent inexplicably gives up her hard-earned designation mid-mission to service audience nostalgia.
Series regulars Moneypenny (Naomie Harris, Pirates of the Caribbean) and Q (Ben Whishaw, Paddington Bear, Mary Poppins Returns) appear and are given precious little to do, but when they're onscreen, they're utterly delightful as Bond's long-suffering backup team, which is more than one can say about Ralph Fiennes' (Harry Potter, The English Patient) as M.
First introduced in Skyfall, Fiennes is a superlative choice for Bond's no-nonsense boss. However, despite showing his own field proficiency in the last film, and having been established as a hard-nosed administrator, he fails at being the stern counterpoint to Bond's flippant rogue, to the point of allowing himself to be lectured multiple times by the former agent and, in a moment of supreme indignity, praying to a monitor for the man to save them all. It's embarrassing for Fiennes, it's embarrassing for everyone who's ever played M, and -worst of all- it's embarrassing for the audience watching it.
Emerging with a modicum of dignity is Jeffrey Wright (TV's Westworld, Marvel's What If?) as C.I.A. Agent and Bond ally Felix Leiter. Previously appearing in Casino Royale and Quantum of Solace, Wright's Leiter is the voice of reason to Bond's wild card antics, and, for all intents and purposes, his only official ally in the crazy world of international espionage.
The end is the beginning is the end
<BEGIN SPOILER ALERT> 
Much has been made of what happens at the end of this film. Speaking as a longtime fan and pop culture writer, one knows and accepts this as but the latest iteration of a franchise renewal cycle that existed long before I was aware of it, and will continue long after I'm gone.
Done well, one could see killing Bond as a radical, disruptive move with the potential for real emotional heft in a series not really known for its emotionality. Unfortunately, it isn't handled well, and any emotionality derived from the ending is almost entirely unearned.
Here's the thing about big-screen denouements; whether it's Spock's in Star Trek II: The Wrath of Khan, Bruce Willis' character at the end of Armageddon, or Tony Stark's in Avengers Endgame, the most iconic movie (hero) deaths are those that occur of the characters' own volition – they aren't heroic because they die, they're heroic because they make the impossible choice to save the day, knowing full well the consequences of their actions.
With British weapons pointed at a bloody and battered Bond, and missile doors that needed be opened manually, the scene was set for 007 to go out in a blaze of glory, saving the world for Queen and Country one final time.
It even tied in to the (poorly-written) Haiku that Fleming himself composed for 1964 Bond novel, You Only Live Twice:
"You only live twice:
Once when you are born,
And once when you look death in the face."
But the filmmakers didn't trust us enough to end things that way, and threw in the entirely unnecessary twist that Bond has been infected with a weapon that will kill his loved ones if he so much as touches them.
Never mind that the weapon in question is microscopic ROBOTS that could conceivably be deactivated at some point. Or that nothing would actually happen to his family as long as he didn't touch them. Or that one of this character's hallmarks is his innate unwillingness to give up. In any case, we are denied the glorious end that Craig's Bond so richly deserved, and are forced to accept a finale wherein England's greatest fictional champion decides…to just give up.
Perhaps the takeaway here is that James Bond would rather commit suicide than deal with having a child. That, at least, would make more sense than anything this movie shows us.
<END SPOILER ALERT>
The bottom line

As the end credits have reminded us for the last six decades, "James Bond Will Return", and No Time to Die is no exception, and in a world turned upside down, these words are as comforting as they've ever been. No Time To Die completes the story that introduced audiences to Daniel Craig in 2006's Casino Royale, letting the actor end his tenure on his own terms, in a finale that will have fans old and new talking for years to come.
We have all the time in the world.
You can now watch No Time to Die in cinemas. Let us know what you think of the film in the comments below!