Asia's biggest MMA promotion is back on December 11 with an inaugural heavyweight title on the line featuring former UFC-superstar Brandon "The Truth" Vera and undefeated striking phenom Chi "Chopper" Lewis-Parry.
If you're a fan of the sport then you simply must head on over to the MOA Arena on December 11 and see how this stacked card runs red. Aside from Vera, also on the card are Pinoy MMA stars like Baguio-based Mark "Mugen" Striegl, Fil-Am boxing champ Ana "Hurricane" Julaton, and flamboyant striker. Eugene Toquero. MMA darling Angela "Unstoppable" Lee, who scored a rare Twister submission finish in her last fight, also fights alongside her Singaporean brother, Christian Lee, on the same night.
Here's a quick guide on who's fighting whom, some early predictions, and what to watch out for with these MMA warriors.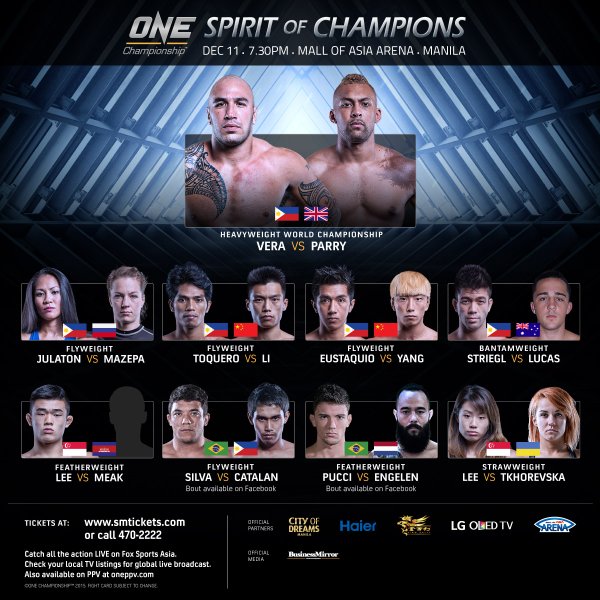 8. BRUNO PUCCI VS ANTHONY ENGELEN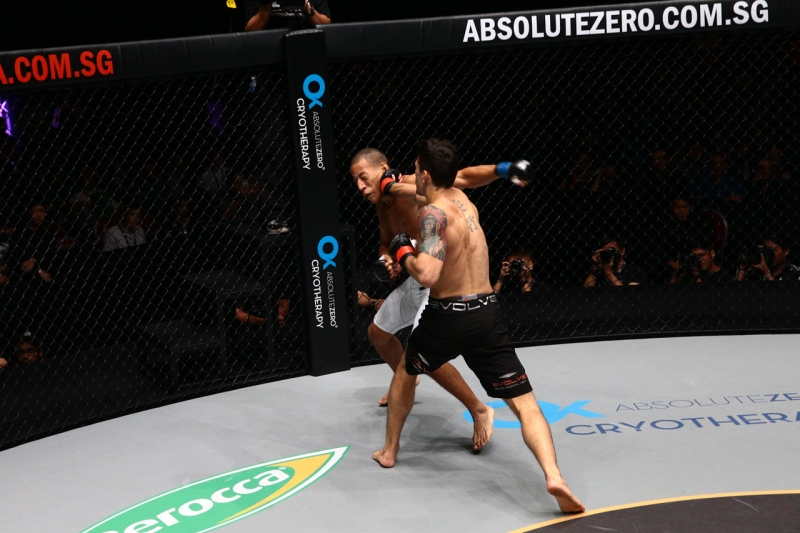 This is as much of a toss-up as they come but am giving this to Bruno Pucci with his Evolve Fight Team pedigree and slightly better movement. Engelen, a Dutch fighter who trains in Indonesia, really should work his striking against Pucci's mostly superior ground game. If he does then this should be a barn burner of a match.
7. RUEL CATALAN VS ALEX SILVA
Substitute one Catalan brother for another in this rematch of sorts. BJJ wizard "Little Rock" Silva dominated Rene, Ruel's brother, in One FC 8 Kings and Champions with meat and potatoes transitions to gain an armbar finish in round one. Hopefully, Ruel has worked on his wrestling and can keep off the ground long enough to work his muay Thai skills, where he has the slight advantage over the Brazilian, and strike it out and snap his two-fight loss streak.
6. ANGELA LEE VS LENA TKHOREVSKA
In grappling circles, the twister (or wrestler's guillotine) is one of the hardest submissions to set up. But Lee made it look almost easy when she cranked on Fil-Australian Natalie Gonzales Hills's spine at One: Pride of Lions and scored one of the rarest, most complex sub finishes in MMA. Her grappling pedigree (Lee hails from a martial arts fighting family) should make Lee's bout with Tkhorevska a ground chess match, what with two of the Polish atomweight's MMA wins going by way of submission and the fact that her country just produces uber-tough women fighters (hello, UFC's Joanna J). One of these women just might take home an arm. Or a spine.
5. EUGENE TOQUERO VS WU ZE
No surprises here. Toquero (7-2) will square off against China's Wu Ze (3-2) in a three-round matchup with Toquero's signature flamboyant style complete with confident hair-smoothing and peacocking for the crowd, looking to add another notch to his KO highlight reel. "Finishing on the feet has always been my priority," says Toquero, "because I think it produces the most exciting knockouts, but that's just me. Being an MMA fighter though, you have to have a complete game."
But the Chinese fighter has very very good skills on the ground, as evidenced by that slick RNC finish of Hui Qiang Wu in a previous One FC bout. Then again, Toquero has never been finished by submission since he just keeps on coming—both his strength and his biggest weakness. This should prove very interestingor a complete dud if Toquero can't catch a break in the clinch; regardless there will be much hair flipping.
4. GEJE EUSTAQUIO VS YANG JIANBING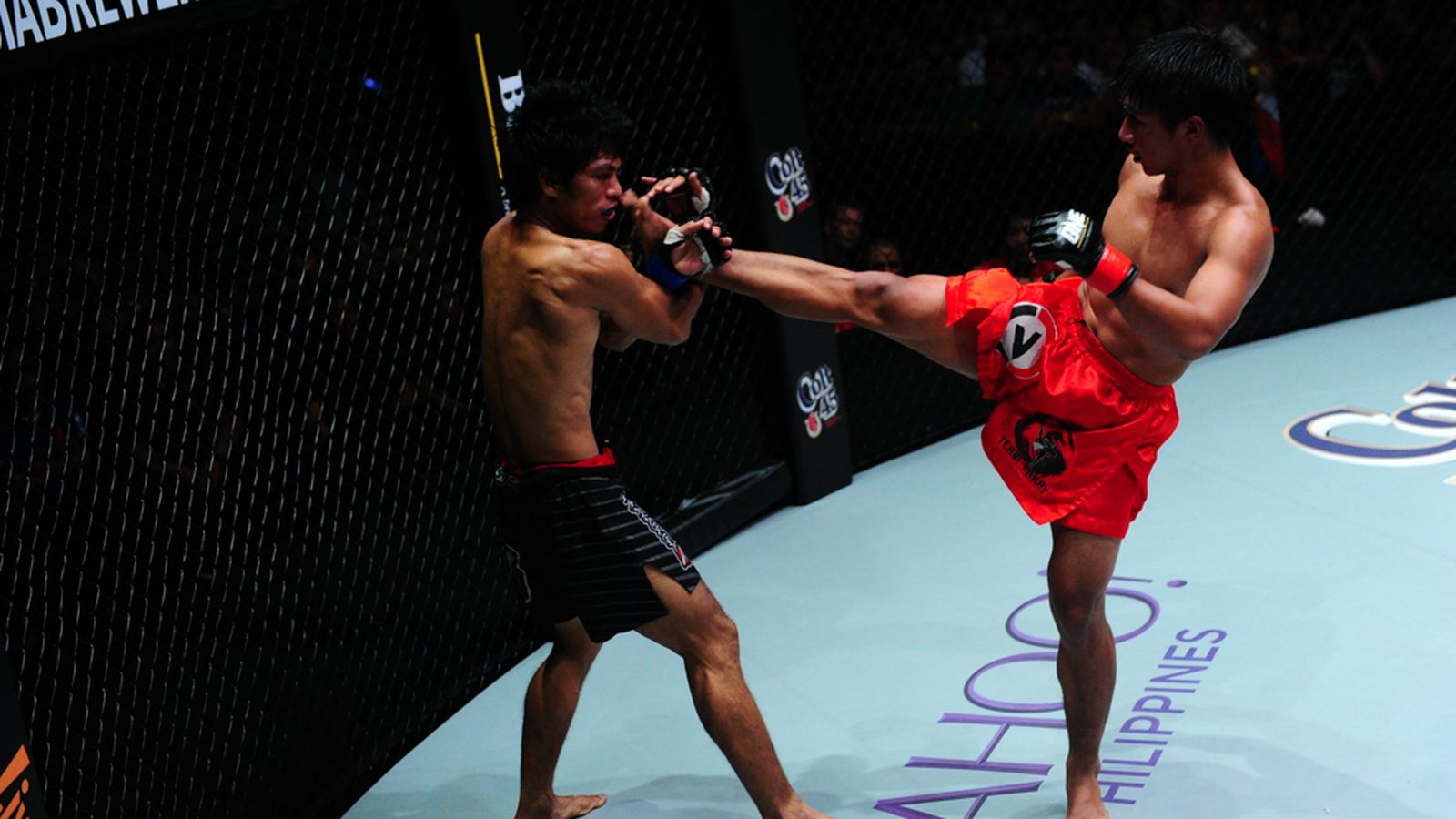 No doubt the Team Lakay fighter faces a more well-rounded and ground game-educated Chinese flyweight—three of Yang's five wins come from submissions. If "Gravity" can't get his ass off the ground and work his Wushu kicks, it's going to be a long, long night.
3. ANA JULATON VS IRINA MAZEPA
I predict blood on this one. Irina Mazepa's KO of Malaysian standout Ann Osman in her debut was as explosive as they come—Osman was unconscious before she even hit the ground. Contrast the Russian's brawling style with Julaton's studied, sharp boxing and this makes for one hell of an exciting prospect. Even Julaton feels the same: "Mazepa is a powerful striker for sure. To see what she did to Osman in Malaysia in front of a sold-out hometown crowd was spectacular and proved Mazepa can fight and has no pressure as the visitor. But even when she won the fight, my heart didn't skip a beat. She has really good game."
2. MARK STRIEGL VS JORDAN LUCAS
No idea if this one will be a jiu-jitsu chess match or a standup brawl since both fighters do know their ground game. Add to that the Aussie has an undefeated 8-0 record and Striegl's up against his toughest test yet. The cage has always been the crucible that burns away illusions and anybody who's nicknamed "Showtime" (like Lucas is) will be willing to stand and bang, especially to make a good impression with his debut in a new league. Still, Striegl is super quick with his transitions and his striking, under the tutelage of the Evolve fight team, has come a very very long way.
1. BRANDON VERA VS CHI LEWIS-PARRY
There are few things more entertaining than two huge men fighting like the gladiators of yore. With Vera vs Parry, it really is a battle of youth versus experience. Vera's got the kind of pedigree and storied fight record that has peaks and valleys, but his warrior spirit has made him beloved of MMA fans (especially Pinoy ones).
Parry, the brash-talking British destroyer, has been knocking out opponents in Glory kickboxing (six seconds against South Korea's Yongsu Park) and a totally impressive ground and pound victory against Alain Ngalani in his inaugural One Championship debut.  Vera's been unusually irked with Parry for calling him out on Facebook posts and has already exchanged jovial, if out of character, words with the media about Parry's behavior for hyping fights. And who doesn't like Vera with his chicken adobo-cooking ways and his ability to converse in straight Tagalog vernacular?
Still, with Parry's great success in using his powerful fists like tire irons and Vera's confidence in his muay Thai, nobody should blink at this match. It would be smart of the Vera, the older man here at a venerable (by fight standards) 38 years of age, to fall back on his wrestling experience and outgrapple the Brit for a submission, but his pride and willingness to be a showman in front of a Pinoy crowd might override common sense. Who knows, "Chopper" might have been working on his ground game a lot and opt for a takedown, as well? And there is a reason he's undefeated at 6-0.
All in all it's just a punch or a soccer kick away from the belt. One strike and we just might see the new heavyweight champion with his fist raised, and somebody snoozing on the floor. This'll end likely sometime in round two.
One Championship: Spirit of Champions will be held at the Mall of Asia Arena on December 11, 7P.M. Tickets available at smtickets.com.
All photos courtesy of One Championship.