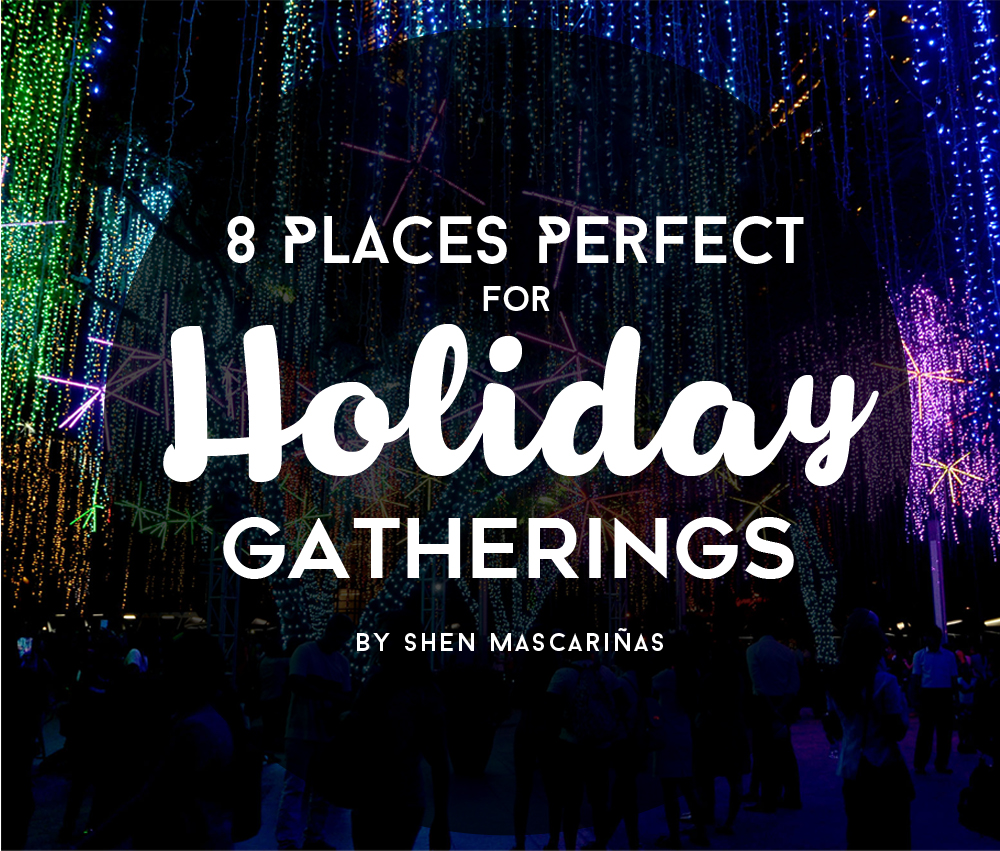 Put your game face on (and your belt away). The season of holiday gatherings, aka valid pig-out sessions with loved ones, is upon us. You're going to get invitations left and right to various kinds of reunions, so make sure you're armed with knowledge of the best places to go to. Remember that a hugot reunion with your high school barkada and a casual "hangout" with a possible bae shouldn't be held in the same place.
Choose the venues of your holiday gatherings wisely to make the most out of finally seeing the important people in your life. Here are 8 places you can go to for 8 different kinds of holiday gatherings.
8. Crying Tiger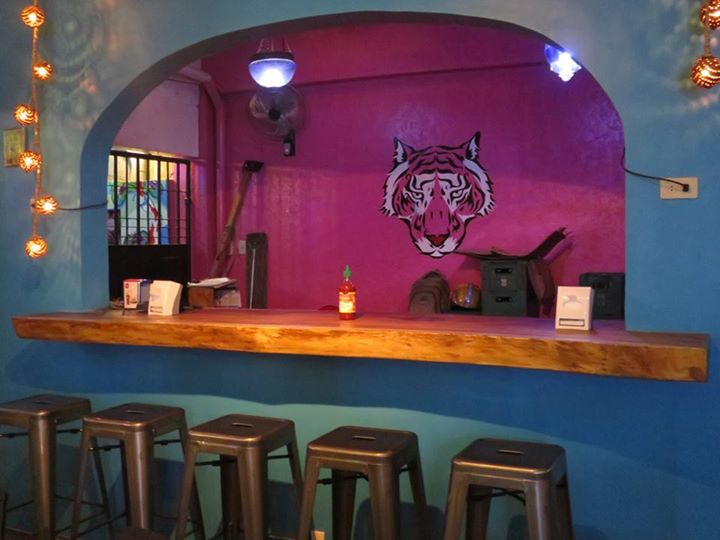 4986 P. Guanzon Street, Poblacion, Makati City
(02) 8941769 | Facebook Page
Open daily from 5pm to 12mn
P600 for two people
Perfect for: A Chill-out with the adventure crew
With the food's explosive Southeast Asian flavors, exciting cocktails, decently-priced beer and relaxed vibe, Crying tiger will definitely match your crew's adventurous spirit. Take a night off from the usual plans of mountain climbing to have your crew's version of a Christmas dinner. Recount the best trips you guys have had over Mee Goreng, Thai Pork Barbecue and Malaysian Wings, washed down with tons of their Lemongrass Lime & Thai Basil Mojito.
7. Marcia Adam's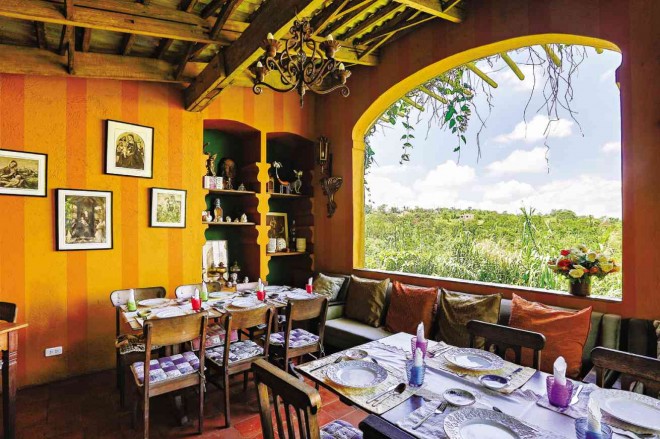 J. Rizal Street, Barangay Sikat, Alfonso, Cavite
09178011456 | Facebook Page
P1800 for two people
Perfect for: Quality family time
The road trip up to Tagaytay will give you and your family lots of time for bonding. When you finally get to Marcia Adam's, you'll be welcomed by beautiful garden scenery that your mom will surely gush over. The cool breeze and incredible view will serve as the perfect background for tasty Mediterranean dishes. Marcia Adam's offers three-course menus with an appetizer, entree and dessert. A menu that's a sure pleaser consists of the Amalfi Prawns, Italian Pork Chop and delightfully ended with the Pavlova.
Don't leave without taking full advantage of Marcia Adam's rustic interiors and lush gardens for your family's holiday photos. Take lots, show everyone back home, and don't be surprised when they ask whether you came from Tuscany.
6. Dohtonbori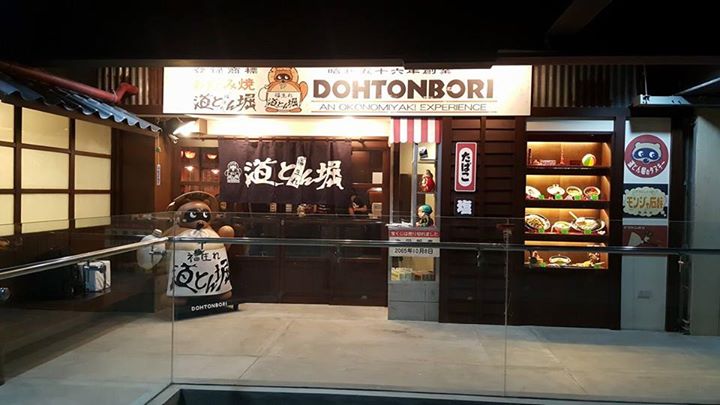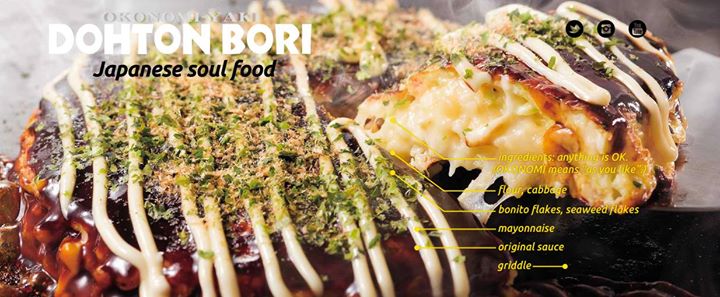 8 Missouri Street, Northeast Greenhills, San Juan City
(02) 5702756 | Facebook Page
Open daily from 11am to 10pm
Perfect for: Casual "hangout" with the possible bae
Go to a restaurant that encourages diners to interact and to do fun things other than eat. It'll be a great way to get to know your "friend" more and to finally find out what's the real deal with you two. You might just get a new bae for Christmas this year. For that plus awesome Japanese food and a quirky ambiance, try the newly-opened Dohtonbori.
This restaurant specializes in Okonomiyaki, a Japanese pancake with seafood, meat and vegetables. You and your "friend" can make your own, so this is your chance to see his/her cooking skills. Enjoy other great dishes like Gyu-Suji Yakisoba, Ramen Tonkotsu and their deconstructed Sukiyaki.
5. 12/10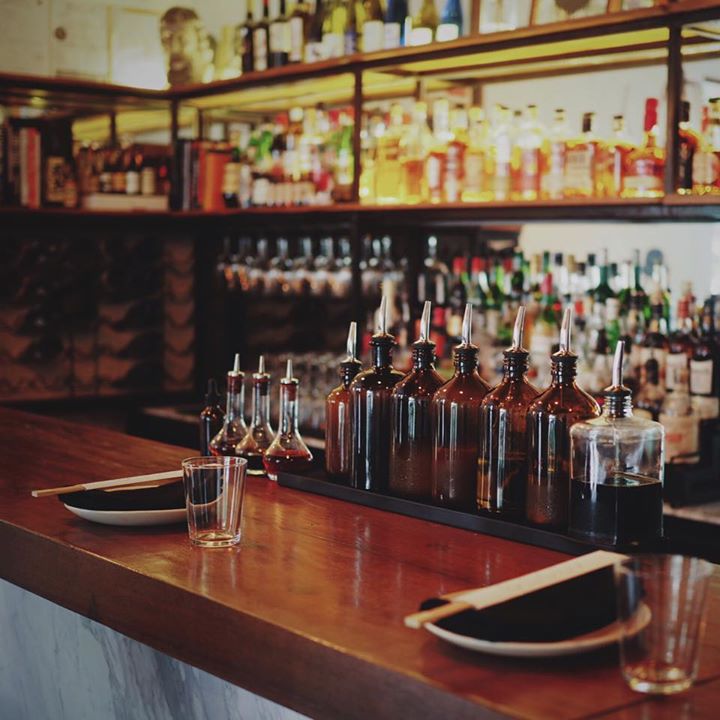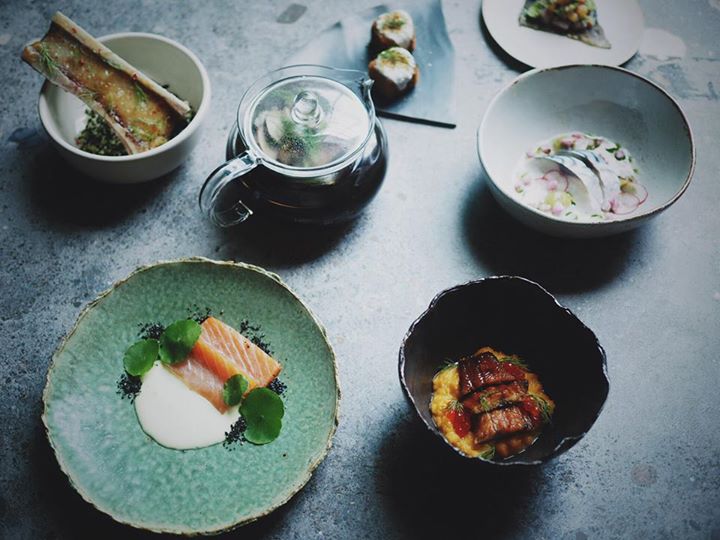 7635 Guijo Street, San Antonio, Makati City
09156632823 | Facebook | Website
Open Monday to Saturday from 11am to 2:30pm then 5pm to 11pm
P800 for two people
Perfect for: Catch-up sesh with the college blockmates
You've probably spent most of your days with your college blockmates either in the stressful halls of school or in shady places offering the cheapest booze. Make this holiday season an excuse to clean up, go someplace nice and eat something fancy with your favorite people from college.
12/10 is perfect for that. This hip Izakaya joint is modern and classy without being intimidating. It'll be the perfect venue for non-stop kwentuhan, fueled further by their great cocktails and big-flavored small plates. Don't miss out on trying their specialty, the Whiskey Sour, and crowd-favorite dishes like Korean Fried Chicken and Salmon Kushiyaki.
4. Señor Pollo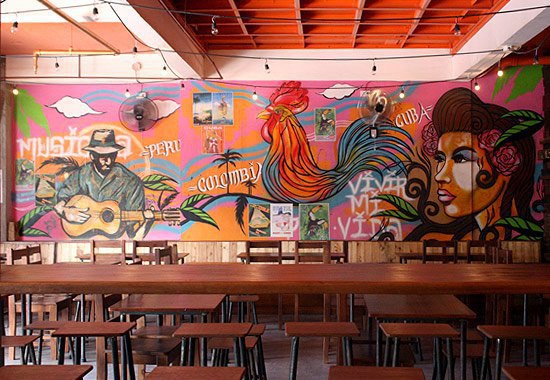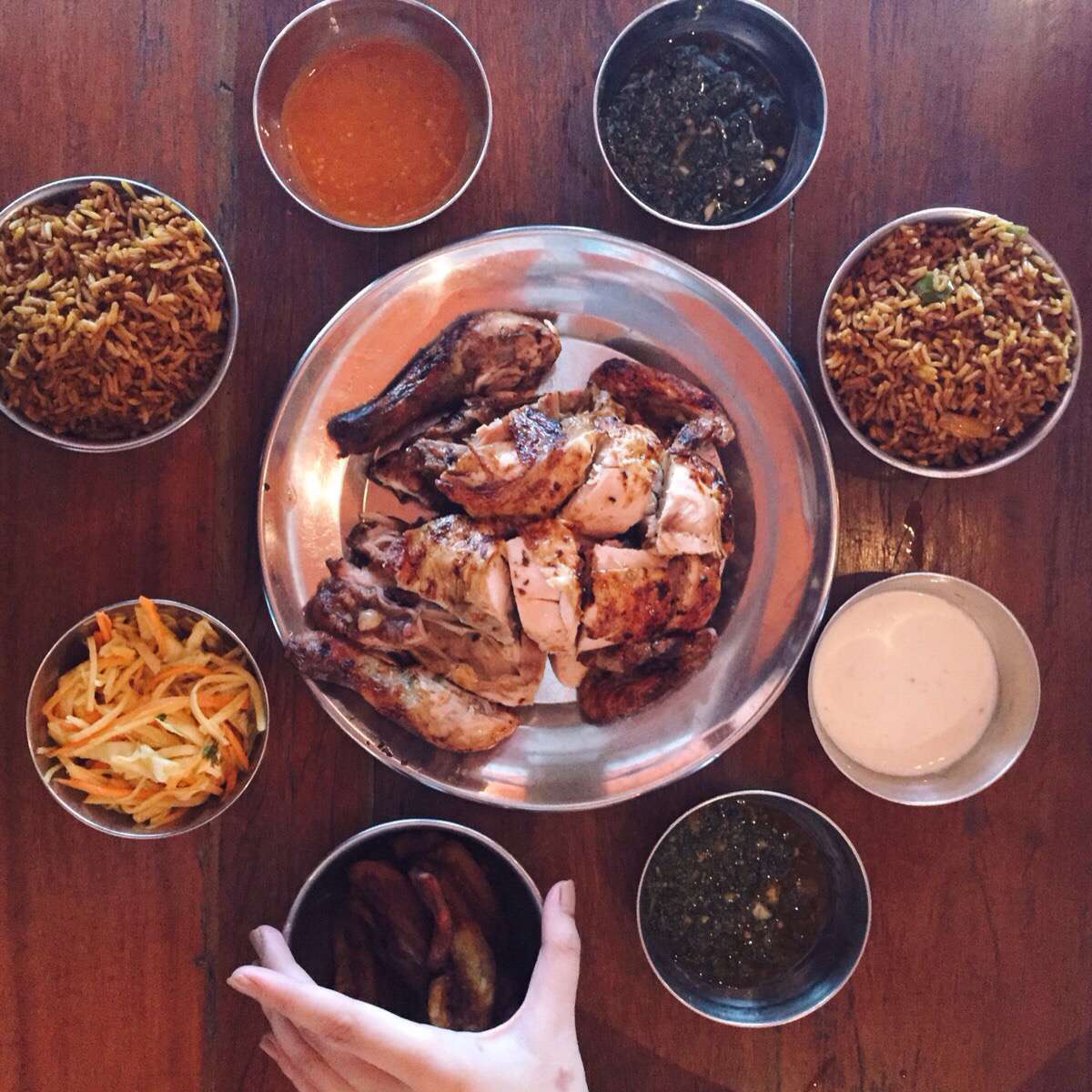 F7 Building, Scout Rallos St. Cor Tomas Morato Avenue, Laging Handa, Quezon City | 5767 Ebro St, Poblacion, Makati City
(02) 3517235 – Quezon City, (02) 8316945 – Makati City | Facebook Page
Quezon City branch: Open Sunday to Thursday from 12nn to 11pm then Friday to Saturday from 12nn to 1am
Makati City branch: Open Sunday to Thursday from 11am to 2am then Friday to Saturday from 11:30am to 3am
Perfect for: Night out with the officemates
Señor Pollo's ultra-flavorful chicken just might be the trick to make you and your officemates forget the work stress (even for just a night). The vibrant yet chill environment will be perfect for letting loose and getting to know your officemates more. Make your holiday gathering truly a treat by accompanying your order of the famous Señor Pollo Roast with exciting sides like the cilantro garlic rice, sweet potato mash, patatas bravas and jalapeno mac & cheese.
3. Balay Dako
Aguinaldo Highway, Tagaytay City
(046) 4834847, 09432641680 | Facebook Page |Website
Open Sunday to Friday from 11am to 9pm and from 7am to 10pm every Saturday
P1200 for two people
Perfect for: Welcoming the balikbayans
Your balikbayan loved ones will surely be excited to eat Pinoy comfort food as soon as they step in Philippine soil. Make sure that their first helping of Filipino food won't disappoint by taking them to Balay Dako. Great Pinoy dishes will be accompanied by an incredible view of Taal volcano and by thoughtful service that Antonio's is known for. Balay Dako is from the makers of renowned Antonio's, so you can look forward to the extension of excellence.
Balay Dako is wealthy with Filipino favorites that balikbayans will probably want to order – Sisig, Kinilaw na Tanigue, Crispy Pata as well as various kinds of Sinigang and Kare Kare. They also have set menus for 10 persons and buffet breakfasts on weekends, which are both perfect for family feasting. Before leaving, treat your balikbayan loved ones to Balay Dako's pasalubong options. Set them free in the heavenly room filled with all sorts of goodies like jams, bottled fish, Bacolod treats and many more.
2. Highlands Prime Steakhouse
2F North Wing, Entertainment Mall, Mall of Asia Complex, Pasay City
(02) 5560768, (02) 9013243 | Facebook Page | Website
Open daily from 10am to 10pm
P3000 for two people
Perfect for: Romantic date with the bae
The holidays is the perfect time to show your special someone your appreciation, love and generosity. One of the best ways to do that is through an ultra-winner meal set in a really nice restaurant. Eat at Highlands Prime Steakhouse to fulfill not only your bae's heart, but also your bae's belly.
Whether you're craving for steak or seafood, you can count on Highlands' to deliver only great quality dishes. You can start with Vodka Glazed Mussels then have the Prime Rib or the Chilean Sea Bass for mains. End it right with one of their great desserts like the Choco Lava cake or the Panna Cotta. All throughout the night, you and the bae will enjoy a very classy and romantic ambiance.
1. Rustic Mornings
11 Isabelo Mendoza Street, San Roque, Marikina City
(02) 5106914, 09178146824 | Facebook Page | Website
Open daily from 8am to 4pm
P700 for two people
Perfect for: Hugot reunion with the highschool barkada
Avoid the after work traffic, and opt to have a lovely brunch gathering with your highschool barkada instead. With so much kwento to catch up on and so much hugot to let out, you'll need to meet up with them while the sun's still up. Gather the barkada for a road trip to a destination that's truly worth the drive and early wake up call.
Aside from tons of Instagrammable spots around, you'll enjoy Rustic Mornings' wide selection of brunch comfort food. Their Crispy Waffle Churros is a must-try, but you can opt for more conservative dishes like cinnamon french toast, various kinds of silog dishes or omelette combinations for sure satisfaction.
Got invited to other kinds of holiday gatherings? Share below, and we'll give a suggestion for where to hold it! Enjoy the holiday feasting!