Onward reunites MCU stars Chris Pratt (Guardians of the Galaxy) and Tom Holland (Spider-Man: Far From Home as Barley and Ian, two elf brothers who embark on a quest to spend a day with their father, who passed away before Ian was born. Is the film an instant classic like Up and Coco? Read our Onward movie review below to find out!
The Age of Pixar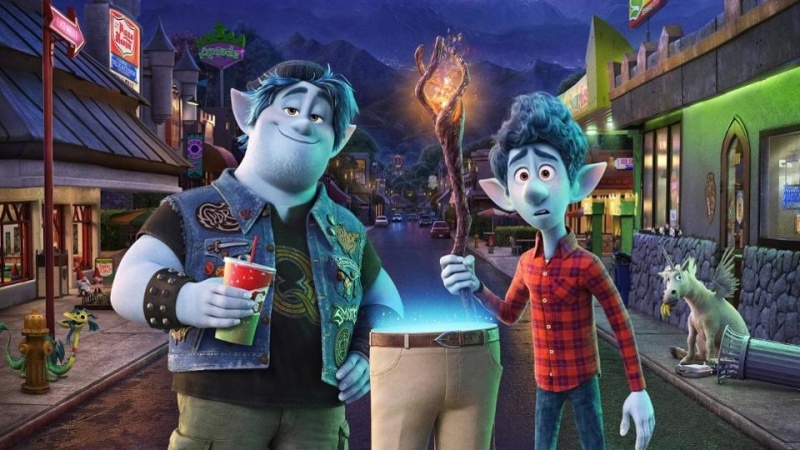 There was a time that Pixar ruled supreme in the arena of computer animated family films, with titles such as Toy Story (1995), Monsters, Inc (2001), Finding Nemo (2003), and The Incredibles (2004) setting the standard that led to their 2006 acquisition by Disney. While Pixar would prove that it could still put out massively original, heartfelt works with the likes of Wall-E (2008) and Inside Out (2015), they began to display an increasing reliance on sequels to their past hits. But for every superlative Toy Story sequel, or Finding Dory, there was a Cars 2 or Monsters University – films with enough charm in their own right, but nowhere near the quality of their classic progenitors.
The New Challengers
Perhaps it was a case of being spread out too thin, as Pixar's new owners had the bottom line of a multi-billion-dollar multimedia corporation to worry about, but the genre that the studio helped create was no longer their exclusive province. Numerous challengers have popped up over the years, from Dreamworks Animation (How to Train Your Dragon, Shrek) to Fox's (now owned by Disney) Blue Skies (Ice Age, The Peanuts Movie, Spies in Disguise), and even Disney itself (Wreck-It Ralph, Frozen, Zootopia).
When all was said and done, the age of Pixar's dominance was over, and they would have to work harder to make their films stand out. Cars 3 was an unexpectedly great follow-up to what was arguably Pixar's worst sequel, while The Incredibles 2 and Toy Story 4 were welcome returns of familiar faces, but over the last 5 years, Pixar's only original films were Coco and The Good Dinosaur.
So, is Onward as brilliant as Coco, or just an okay diversion, like The Good Dinosaur?
The Quest
New Mushroomton is a town in a world where mythological creatures like cyclopses, elves, and dragons roam, and magic exists, but has been supplanted by science and technology. Ian (Holland) Lightfoot is an insecure high schooler, while his brother, Barley (Pratt) is a lover of magical history and table top role playing games. On Ian's 16th birthday, the boys' mother, Laurel (Julia Louis-Dreyfus, Seinfed, Veep), bequeaths him with a magical staff with the power to bring back their father –who died before Ian was born– for one day.
Desperate to meet him, Ian tries out the spell, but only succeeds in bringing back his father's lower half. With 24 hours before the spell wears off, Ian and Barley embark on a quest to retrieve a precious gem that could give them the reunion they never imagined possible.
The Cast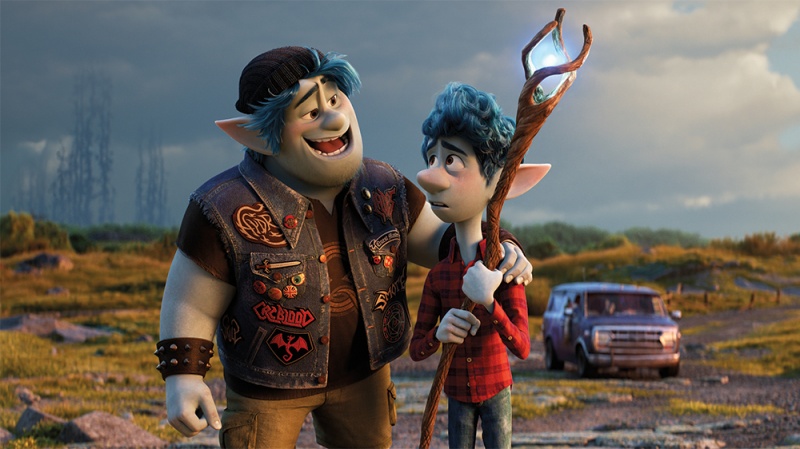 Of the cast, it makes great marketing sense to have two of the Marvel Cinematic Universe's breakout stars top bill this film; Holland uses the same in-over-his-head American inflection that made his Peter Parker an affable dork, while Pratt tries so hard to invoke Jack Black's manic geek rocker energy that one wonders why they didn't just hire Jack Black in the first place.
Together, Holland and Pratt form a decent comedic pairing, as Barley's knowledge of arcane magical history plays off of Ian's desire to see his father. Towards the end, the film takes a narrative left turn that tugs on the emotions, but it is one that is more bittersweet than heart-wrenching, so anyone who bawled at Up (2009) and Coco (2017) should be safe. Matter of fact, in a genre packed with no end of orphans and parental issues, the film's swerve into the area of fraternal bonds is somewhat refreshing.
It's Okay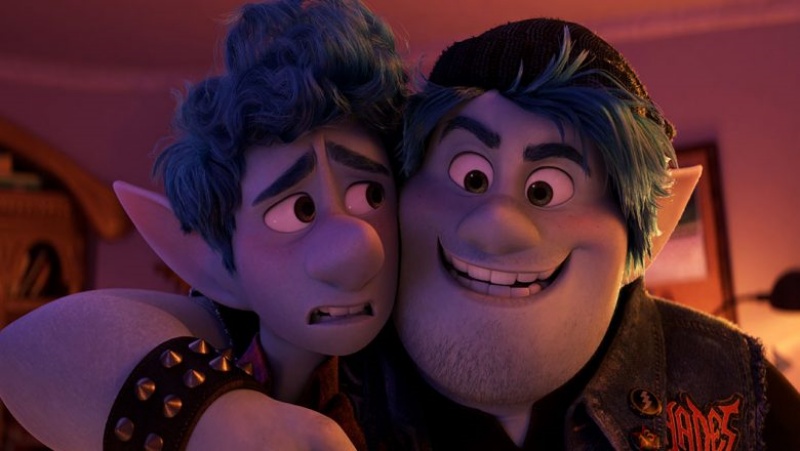 This is a buddy comedy through and through, with two individuals of contrasting personalities embarking on a journey towards a common goal. Over the course of adventures (and misadventures), the pair come to learn that they have in more in common than they initially believed, giving way to mutual respect and/or friendship.
Sadly, the film plays the formula so straight as to be predictable, with only the nods to myth and fantasy lore serving to spice things up, as when repeated references to a gelatinous cube pay off at a critical moment. For the most part, though, the film is content to rely on the time-tested bickering, emotional outbursts, and eventual realization/reconciliation that usually characterize such films.
Land of Enchantment
Perhaps the story would have been better served if it took place in a world more distinctly removed from our own; the world of Onward, while showing some promise with its garbage can-feeding unicorns, looks, for all intents and purposes, like ours, except with mushroom houses and mythological creatures in place of humans.
This isn't to say that Pixar should have leaned into the sort of fairy tale-based puns (Farbucks coffee, anyone?) and sight gags that Shrek did, but where Zootopia boasted a meticulously-imagined, animal-based universe from the ground up, the aesthetic of Onward is certainly lacking.
The Side Quest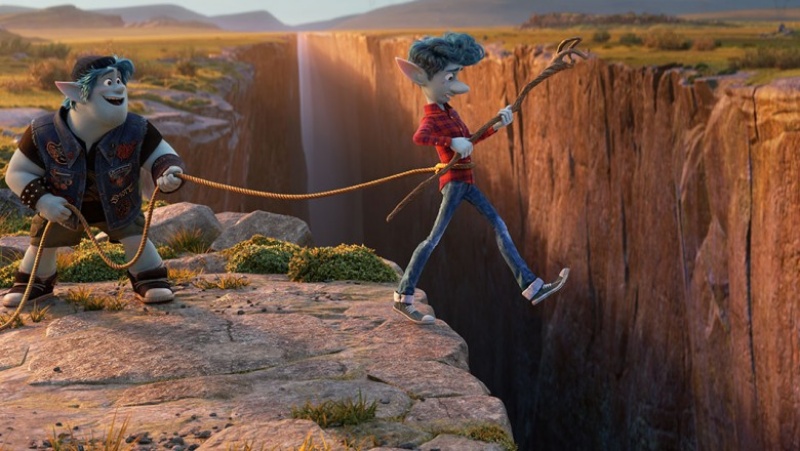 Ironically, the more entertaining portion of the film is the subplot of the boys' mother teaming up with Corey (Octavia Spencer, The Shape of Water), a formerly fearsome manticore (who's since retired to run a themed family restaurant) on a mission to find them. I'm not sure if it's the fact that it's two women on a quest (which we rarely see), or the fun nature of their dialogue, but theirs is the more delightful of the two adventures taking place, and one would happily pay to see Corey and Laurel in their own spin-off.
The Bottom Line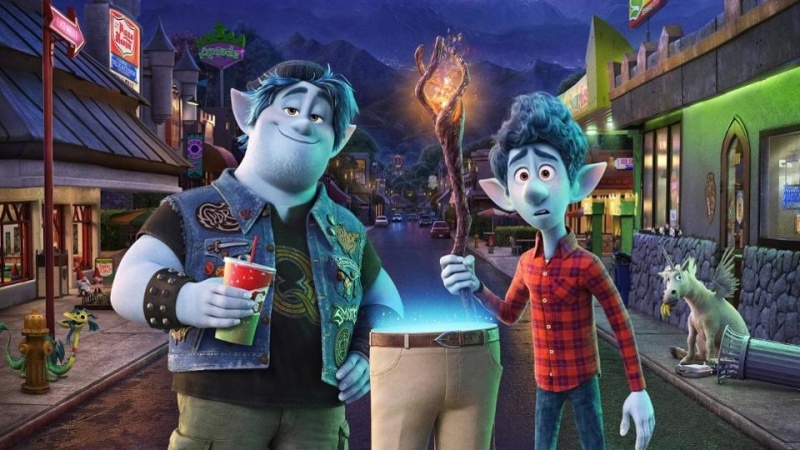 All things considered, Outward falls into Pixar's "okay" category (sorry, Good Dinosaur fans), consisting of a serviceable story with likeable characters, an emotional core built on familial ties, and gags aplenty to keep kids entertained for ninety minutes. What's missing, however, are the narrative twists and genre subversions that made titles like Up (2009) or Toy Story 3 (2010) into instant classics.
This is in no way a bad film, and it's definitely enjoyable in spots — it just isn't up to the bar that Pixar raised for itself.
Onward will start screening in cinemas all over the country on March 4, 2020.