From Kanye to Khalifa: The Keys to Paradise IMF
Mar 26, 2016 &nbsp • &nbsp 8List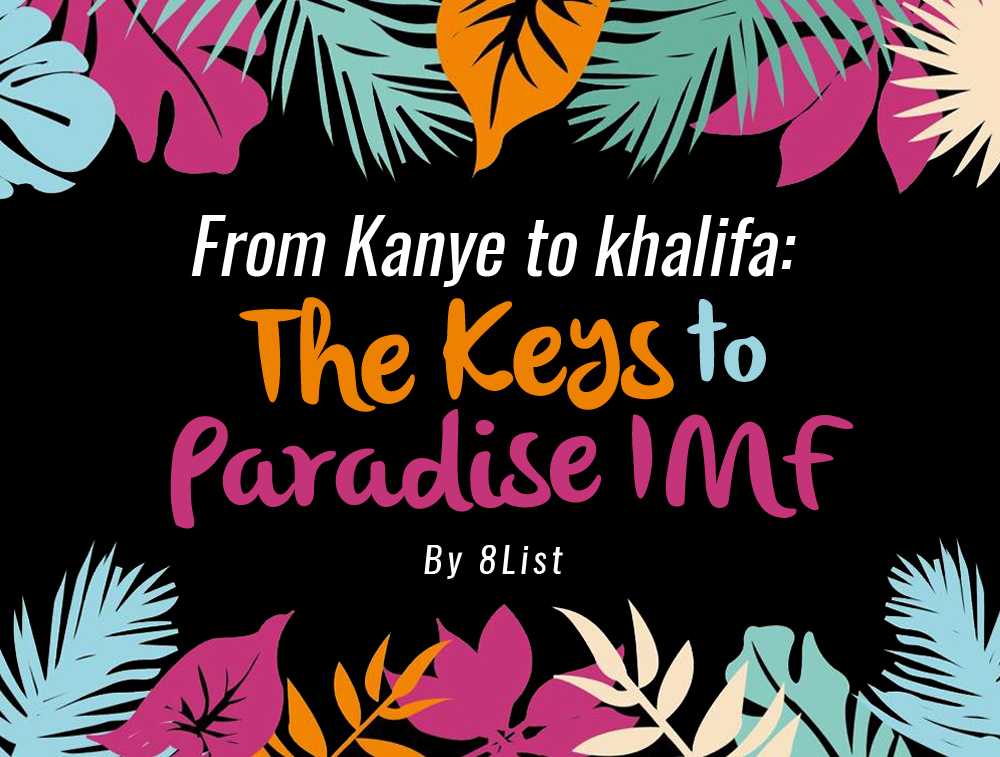 Less than a month until the festival date and we've already got our groove on. Come April 9, the Aseana City grounds will be flooded with music fans and festival goers, all clutching their respective keys to Paradise IMF, ready for what could be the best night of their lives.
With the earth-shattering announcement that Wiz Khalifa will be joining Kanye West, Afrojack, Rudimental DJ, Austin Mahone and the other awesome artists at the Paradise International Music Festival, 8List.ph sat down with Vian Serranilla, one of the organizers behind this history-making music festival, to get a better feel for one of the year's biggest and brightest festivals.
8. On changing the face of the Philippine music scene
8List: Where did the inspiration to organize Paradise IMF come from?
Vian: It came from watching videos of festivals from around the globe, from Coachella to Glastonbury to Tomorrowland. Seeing people have that experience inspired us to bring that feeling, that experience, to Philippine shores.
7. The magic of music bringing people together
8List: What difficulties came up when you were organizing the festival?
Vian: I wouldn't say "difficulties." It's been very exciting. Organizing a music festival is difficult in itself but it's also fun at the same time, from building the line-up and talking to all these different acts.
As we create the Paradise community, I'm most excited about the faces of the festival goers as we all share in the experience—it's going to be magical. When festival day arrives, we'll really see all our hard work pay off, then we can really say everything was worth it.
6. Building a brand that lasts
8List: Why did you decide to have a one day festival rather than a two day one to accommodate more artists?
Vian: Since it is our first year, we wanted to give the best possible experience to all our festival goers. We wanted to focus, to maximize what we could accomplish with a one-day festival. We are, after all, building a brand, so we thought it best to have a one-day event—to let people get a feel for what Paradise IMF is all about.
We plan to do this every year, and we'd love to do extend to a full a weekend maybe even three days of Paradise IMF in the future, but that's farther down the line. We wanted to focus on creating something amazing.
5. Experience is still the best teacher
8List: What's the most important thing you've learned in the process of putting up this monumental event?
Vian: Trust. You have to be surrounded and work with people you trust.
4. On what audiences can expect
8List: Which band are you looking forward to the most?
Vian: We're all big fans of every artists we have performing at the festival. Personally, I'm looking forward to Kanye performing a full 90-minute set—the lights he'll be using are the same as the ones he used at Glastonbury, so that's gonna be really exciting to watch. There are other acts I'm also super excited to watch live, but I cannot say for the moment who they are. We're far from releasing the full list of artists in the festival line up!
3. Strange backstage demands
8List: Did any of the artists have any strange backstage demands? We've heard that Kanye asks for a barber's chair and shower shoes.
Vian: I don't know if the artists' demands are strange. Some of them are quite amusing but not really strange.
2. Collective experience
8List: What are you personally looking forward to the most at the festival?
Vian: I don't think if there's one thing I'm looking forward to the most. But I'm really excited to hear Power, All of the Lights, Lay it All On Me, SummerThing!, Blue Sky, Kahit Pa, Tadhana and, well, the list goes on.
1. A Day in Paradise
8List: Do you have any tricks up your sleeve for the festival goers? Should we prepare ourselves for any special surprises?
Vian: They'd have to attend to find out what surprises we have in store for them. I would say, prepare for musical bliss, musical ecstasy, prepare for musical PARADISE!
Get your keys to Paradise while you can! See you at the festival!