Pinoys Want a Reality Travel Show Starring Melai and Jason's Daughters
Jul 26, 2023 &nbsp • &nbsp Kyzia Maramara
Comedienne Melai Cantiveros' mini vlogs and Instagram Stories from her family vacation in South Korea are peak entertainment for Pinoys. It included updates on her and her husband Jason Franciso's family. And the highlights of the whole trip? Their two daughters Mela and Stela who have obviously inherited their mother's hilarity, much to the delight of Pinoys on social media. Watching the Francisco family's antics and shenanigans made everyone realize one thing: They deserve a reality TV travel show. And if you're not convinced, here are 8 times the Francisco family made us laugh during their South Korea trip.
Reacting to sea creatures
YUNG BADTRIP KO SA #SONA2023 AY NAWALA DAHIL NA NAMAN SA KANILA 😭 pic.twitter.com/sc8jtL7VlZ

— ALTStarMagic 💫 (@AltStarMagic) July 24, 2023
TBF, this is the only acceptable reaction when visiting an aquarium. We bet even the sea creatures are delighted that the contagious albeit exaggerated reactions.
This isn't the first time Mela's zany character went viral. If you're well-versed in your memes, you'd remember that she also made rounds on the Internet last year with her over-the-top gratitude for being served chicken nuggets. "Mama, thank you very much! You know that I love chicken nuggets!"
Stela calling out Melai for teasing her lola
A petition for a reality show featuring the family of Melai and Jason tangina yung tawa ko 😭 pic.twitter.com/uWcrxGIa6Q

— ALTStarMagic 💫 (@AltStarMagic) July 19, 2023
One of the most viral clips from their trip was when the family were piling inside their vehicle. Melai was taking a video of her mom who was struggling to take off her backpack. While helping her, Melai commented, "'Wag ka kasi mag-bag ng ganito kung hindi bagay sa katawan mo."
Stela just had to rebuke her mother: "Huy mama, mama mo 'yan!"
Twitter user ALTStarMagic just had to upload the clip on Twitter, much to the delight of the 2.7 million viewers. "A petition for a reality show featuring the family of Melai and Jason t****** yung tawa ko," they captioned the tweet.
The karate moves in a hanbok
I AM LIVING FOR STELA JUSKO KA ANAAAAAAAAAAK 😭 pic.twitter.com/QcPWWOCdJP

— ALTStarMagic 💫 (@AltStarMagic) July 19, 2023
This family can turn anything into a joyous affair, even while adorably donning a hanbok while visiting a palace in Seoul. Stela somehow gets possessed by the ghost of a karate kid and starts busting out some moves, much to the delight of the Internet.
Their similar smiles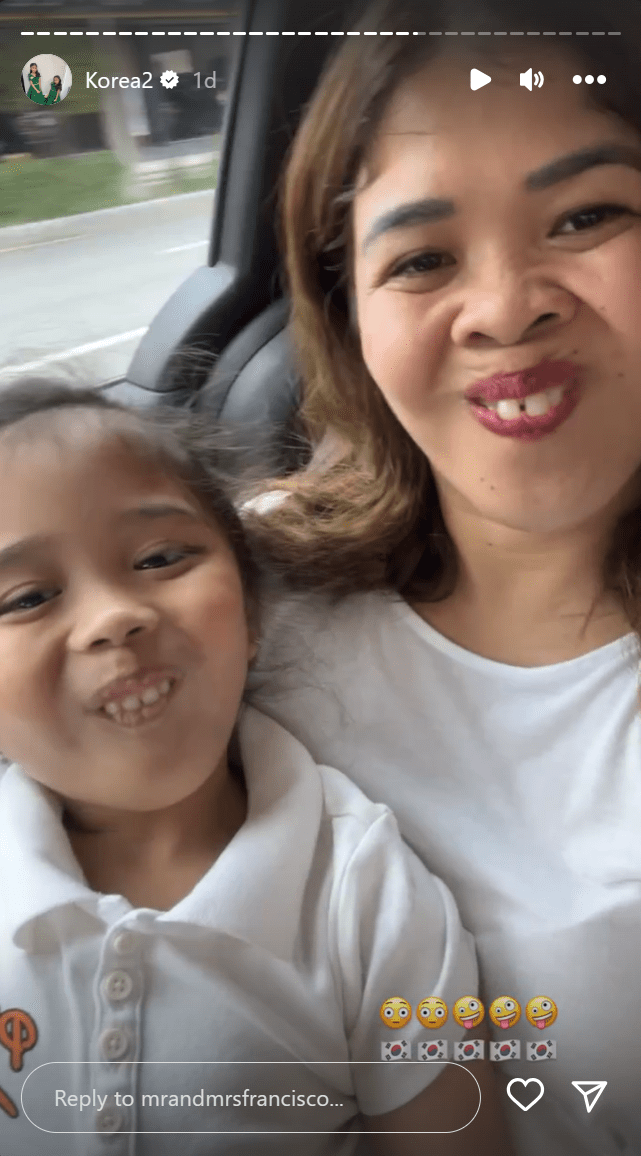 The cute Stela also has other quirks up her sleeve, like boasting about her and her mom's "simiral" smiles, a great example of a Cantiveros gene passed down to the next generation.
Swarming Jason Francisco
Hindi ko talaga alam kung saan kinukuha ni Jason yung energy niya sa 3 Melai.
🤣🤣🤣🤣🤣 pic.twitter.com/DZ4HltLMFS

— …..…….. (@ssantokki_12) July 24, 2023
"Hindi ko talaga alam kung saan kinukuha ni Jason yung energy niya sa 3 Melai," said one tweet reacting to a video of Melai, Mela, and Stela all fighting to get his attention. But we love a patient man!
Stela imitating getting stung by a sea creature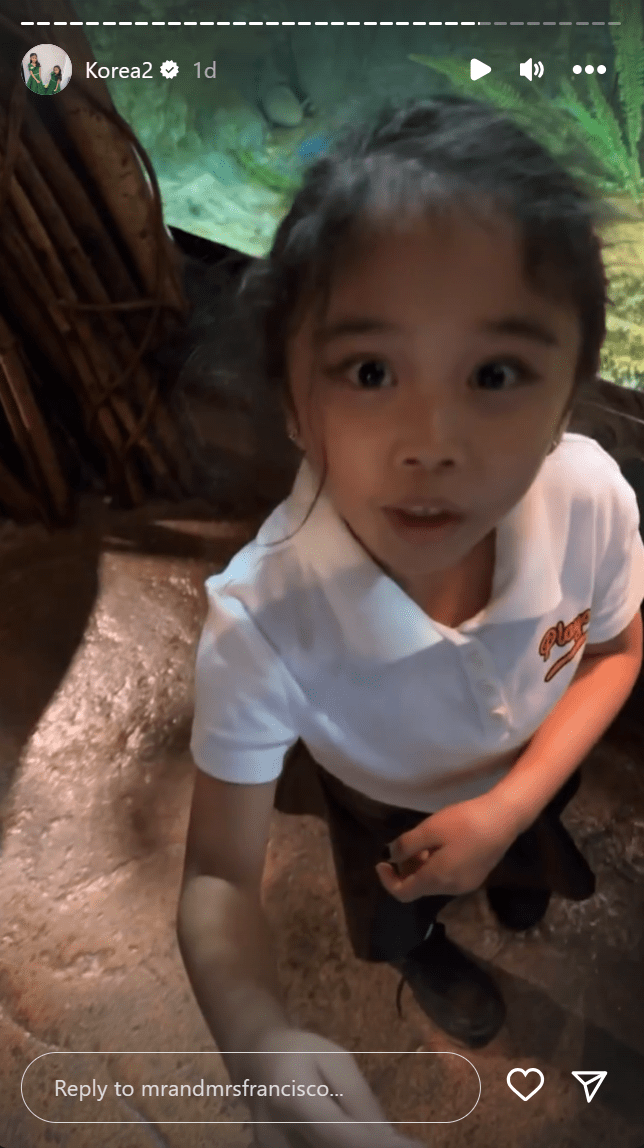 We don't exactly know what that specific fish is, but Stela seems convinced that if it makes contact with humans, it will electrocute them. She even mimes it in a hilarious way.
The random dancing
HAHAHAHAHAH SHUTA TALAGA ANG PAMILYANG KAMSAMIIIIII HINDI KO KINAKAYA ENERGY NI STELA HAHAHAHAHAHAHAHAHA 😂😭 pic.twitter.com/j1SfvHxdUY

— KAP⁷ ᵇʸ ᴶᴷ ☼☽ (@homewithBTS_) July 24, 2023
After their trip to the aquarium, Melai just had to flex her daughter's dancing skills. Randomly. In the middle of a mall. Stela proceeds to give it her best, wiggling her tiny body and pairing it with a comical facial expression.
"Shot puno"
Me as a pabebe sa mga kainuman ko. pic.twitter.com/Hy38f1asBC

— @pauloinmanila and 99 others (@pauloMDtweets) July 24, 2023
Stela never lets anyone know her next move. Case in point: Yelling "Shot puno" while holding a tall tumbler of smoothie. ICYDK, that's a popular local slang for drinking a shot in one go.
Pinoys are thoroughly entertained and want more of the Francisco family:
sobrang funny ng pamilya ni melai at jason potek na 'yan HAHAHHAHAHAHAHHAHAHAHAHAHAHAHHA

— waiting (@shedontknowhim) July 19, 2023
grabe ig stories ni melai, i want more i need more 😆 bilib din ako kay jason grabe paano niya kinakaya yung tatlong melai sa buhay niya HAHAHAHA

— ᴊᴀᴇ⁷ (@southkourea) July 19, 2023
If you want more of this chaotically witty family, you can follow Melai Cantiveros on Instagram and watch their South Korea trip on her highlights.
Check us out on Facebook, Instagram, Twitter, TikTok, and YouTube, to be the first to know about the latest news and coolest trends!