Regardless of your political inclinations, it's pretty obvious that the Philippines has a political elite that lives and thinks in its own strata. More often than not, these people simply do not know what it's like to live a day in the life of a common Filipino, and thus find themselves putting their foot in their mouth when they comment about things and issues that they experience in a vastly different way from the majority of us.
We call their attention to these statements not just because we want to ridicule them and knock them down a peg, but because these are supposedly the people who represent us and make the big decisions that directly impact our daily lives. If they are woefully out of touch, how can we even have the faintest hope of being properly represented by them?
But yes, we also do want to ridicule them and knock them down a peg while we're at it. It's really all we have to console ourselves with at this point, anyways.
The Context: Secretary Roxas expressed this sentiment to downplay the unbearable traffic situation currently besetting Metro Manila, which doesn't explain why other parts of the Philippines can achieve comparable levels of success while not experiencing comparable levels of aggravation.
Why It's Out Of Touch: You have to be exceedingly short-sighted to assume every person going through the daily rush hour grind is personally experiencing this economic boon, and assuming that the traffic situation can be handwaved as a small price to pay when it actually hinders continued economic growth. The side effect is not a small price to pay, and neither is it a cause for celebration. That's like taking Viagra, dying of a heart attack because of it, and this showing up on your tombstone:
At least, he died happy.
The Context: Recently, Senator Juan Ponce Enrile managed to pay off a P1.45 million bail bond so he could get out of jail while he still faces massive graft and corruption charges, including plunder.
Why It's Out Of Touch: The justice system working for people who can afford to post a million Pesos in bail? How does this vindicate anyone who isn't a rich 90-year old Senator who managed to make almost everyone forget about the role he played during the Marcos regime? I suppose it's nice it's working for him, but can you say the same for the thousands of impoverished Filipinos who can't afford to spend on bail. Who, remember, are not yet guilty in the eyes of the law because they aren't even on trial yet?
You know who didn't miss him? His ambusher. Because that guy never existed.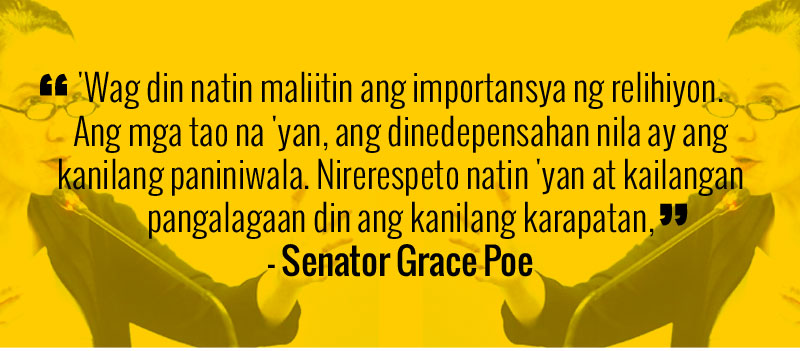 The Context: Recently, the Iglesia Ni Cristo sect decided to launch a protest action against Leila De Lima and the Department of Justice for supposedly meddling in internal church affairs. Senator Poe made this statement to show support and solidarity with the perceived cause of the INC.
Why It's Out Of Touch: Nobody in their right mind would claim the INC don't have rights, but what the good Senator seemed to be ignoring was the fact that everybody else has rights, too. Especially the people who were supposedly illegally detained by the INC against their will. Those guys had rights, and the DOJ, regardless of presence or absence of political agenda, was simply doing its job to protect those basic rights. Furthermore, nothing the DOJ did ever prevented the INC from practicing their religion as they always have, unless this whole "kidnapping your errant ministers" thing has been integral to their religion for a long time, which it shouldn't have in the first place. If Mayanism ever became an actual religion again, do you really think the government would just let them carry out human sacrifices again, no matter how noble their reasons might be?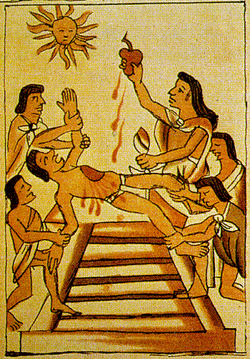 Para sa Team Gilas! Puso! Puso!
The Context: When asked about maybe apologizing for his late father's transgressions to the country, this was Senator Marcos's response.
Why It's Out Of Touch: To this very day, we see how apologetic Germany is about that whole killing of 6 million Jews thing. Japan has been so apologetic for its WWII past that when its current Prime Minister tries to deviate from that script, his own people promptly rebuff him over it. We get that these are symbolic, vestigial gestures for the most part, although there have been cases of monetary reparations.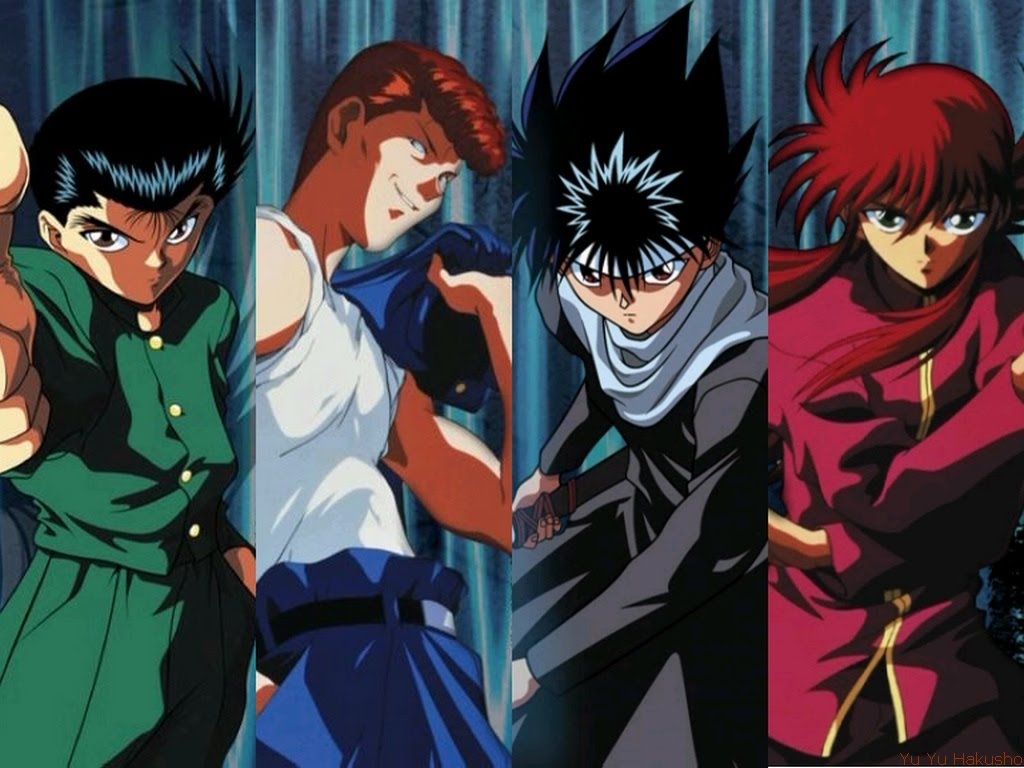 Sorry, Japan. Ghostfighter only almost qualifies as enough of an apology. Only almost.
Meanwhile, the son of the 1986 Guinness World Record holder for "biggest thief in history" refuses to so much as make an apology for the, oh, 107,240 instances of alleged human rights violations, according to Amnesty International, which is 107,240 instances too many. But hey, what's 107,240 human rights violated if it meant people could read better and we had nicer roads and buildings, right?

The Context: When asked about random checks for Balikbayan Boxes due to potential smuggling, this was the reply of Secretary Lina. Indeed, if we have nothing to fear, why should we worry about these inspections?
Why It's Out Of Touch: Because we do have something to fear. It's called the BOC.
The only time we appreciate this much stealing is if it's in a basketball game, and it's happening to the opposing team.
The Context: This is the explanation offered by the Senator as to why the Makati City Hall is so ridiculously opulent and allegedly priced at 2 Billion Pesos.
Why It's Out Of Touch: There is something worrisome about having a "world class" City Hall that you supposedly spent P2B on, whose elevators mysteriously break down at the most convenient of times. How could it be a source of pride for your city to have this P2B-building practically overlooking these slums?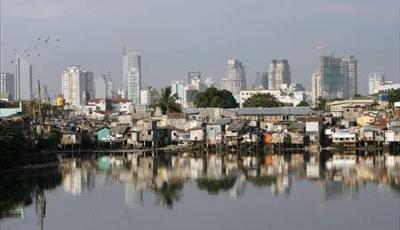 An area that really could have used that 2 Billion Pesos more.
The Context: Secretary Abaya believes that while heavy traffic thanks to ongoing roadwork issues is indeed an annoyance, it certainly isn't going to kill anybody.
Why It's Out Of Touch: You mean aside from the scientific proof that heavy traffic can increase your risk of dying prematurely by 7%? Or the other studies that explain the increased health risks of traffic jams which completely invalidates Secretary Abaya's dismissive rationalization for not doing his job properly? How about the fact that instances of road rage have been on the rise locally for years as the traffic situation steadily worsens? How about the jeepney driver who got shot in the head last week by an irate pedestrian?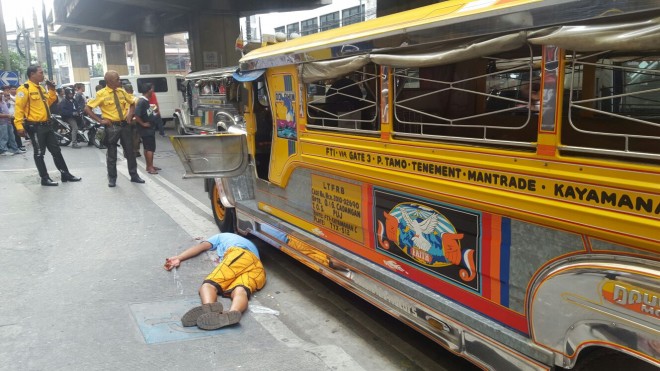 "Eh, he just got a little dinged up with that bullet to the head. He can walk it off."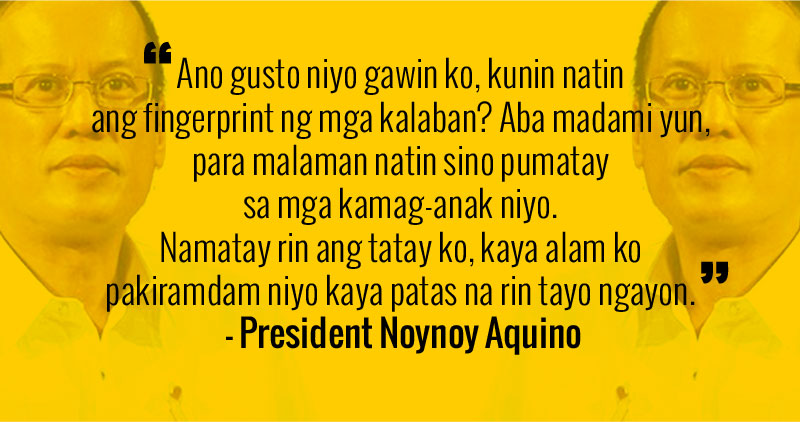 The Context: The President actually said this to the family of the Fallen 44 in one of his meetings with them.
Why It's Out Of Touch: Really, Mr. President? You're going to tell us about your dad, who was a senator, whose martyrdom lionized him in this country so much that you rode his sacrifice and your mom's death all the way to the presidency, and somehow, that makes you "equal" to the families of 44 fallen policemen who now have to rely on you for financial help to get on with their lives? Sure, Mr. President. If all 44 families end up having someone from them elected president someday, then we can definitely say "patas" na kayo. Otherwise, I suggest you look long and hard at whoever was your press agent who let you say this, because they needed to be fired for not stopping you.
Such wasted potential, Mr. President. The last time a rich dude's parents got shot in cold blood, he certainly handled it better than you did.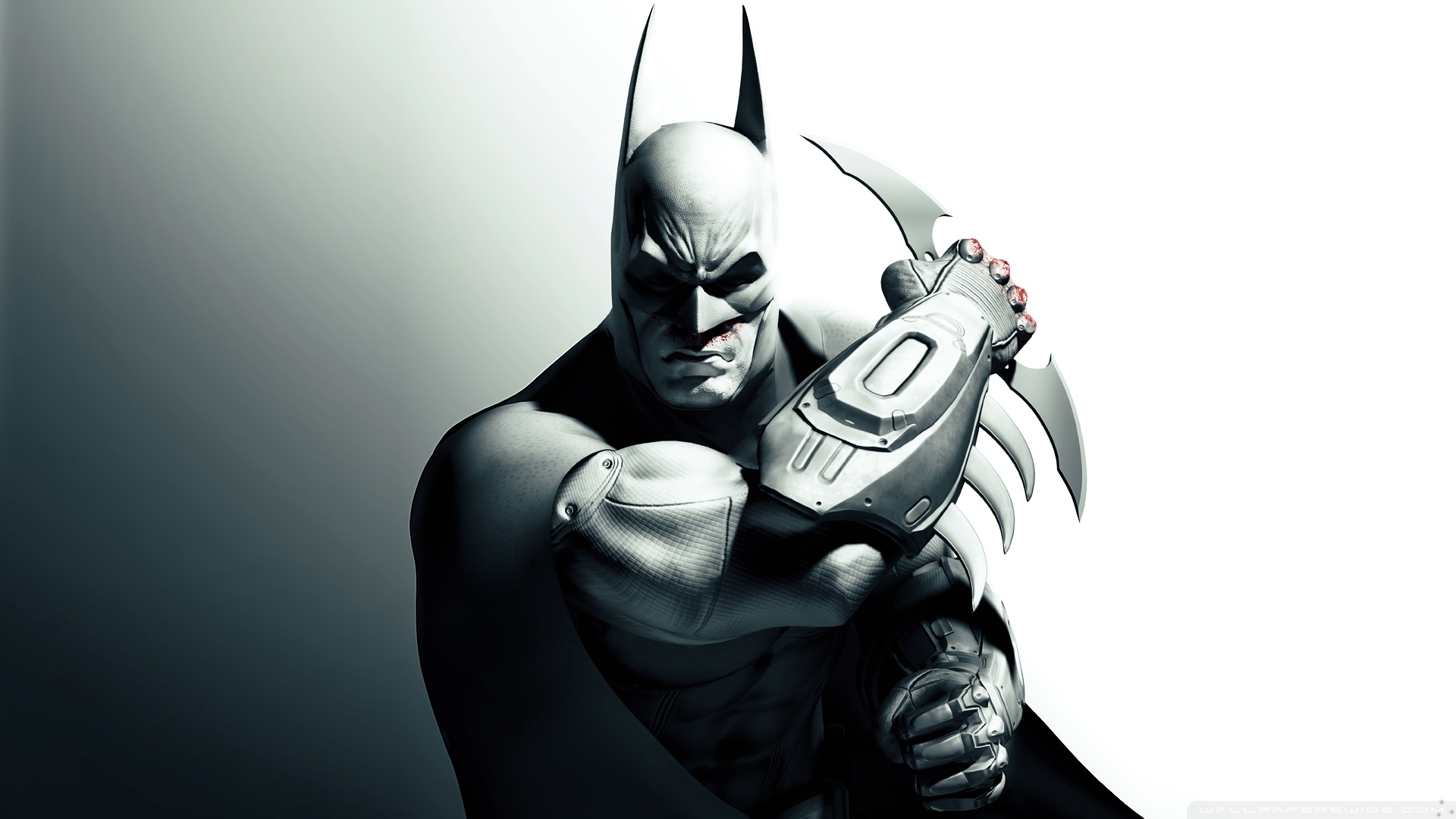 This could have been you, PNoy! This could have been you!!!
Do you know any other ridiculous things Pinoy politicians have said recently? Share your opinion in the comments section below!