8 Ambient Masterpieces to Drown Yourself in this Rainy Season
Jun 22, 2015 &nbsp • &nbsp Jorge Juan Wieneke V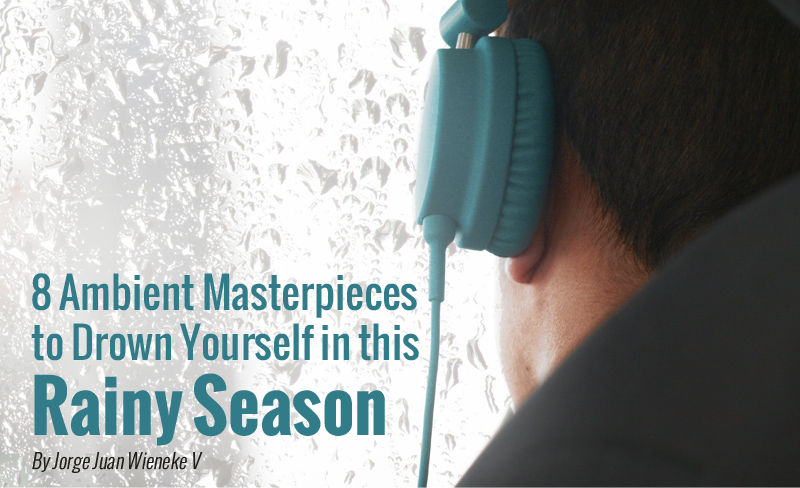 With the rainy season fast approaching, it only makes sense to have some moody sentimental music on-hand for those introspective moments that tend to come and go with the rainy weather. Here are 8 tracks that will go with the season:
8. William Basinski – WaterMusic II
This single track minimal-ambient album is reminiscent of the sounds of deep underwater worlds. Grab your favorite floater and glide away.
7. Aphex Twin – Selected Ambient Works vol. 3
Lost and unreleased material from a soundcloud dump by Richard D James resurfaced, and follows the series of the same title which gained popularity in the electronic music scene of the 90's.
6. Biosphere – Substrat
This track is a cold, quiet, suspenseful musical painting of images of glaciers, Alaskan mountain ranges and running water. This album is considered to be one of the classics.
5. Stars of the Lid – Music for Nitrous Oxide
This one is a masterful minimal drone music of varying lengths and tensions.
4. Harold Budd – Avalon Sutra / As long As I can hold my breath
A hazy and emotionally neutral album, Avalon Sutra is warm with classically lush string arrangements that bring you a sense of peace and solitude with slight hints of melancholy.
3. Laraaji – Universe
Ambient Pioneer Laraaji gives us a breathtakingly intoxicating celestial journey through heaven and back.
2. Robert Rich – Echo of Small Things
With its slow droning soundscapes that blend through Folley and casual sounds (among other things), it's easy to see that this album was inspired by everyday ordinary things that provoke more than the ordinary from its listeners.
1. Brian Eno – Music for Airports
Music for Airports is one of the first albums ever released under the label "ambient music". It is soft, subtle and sentimental, but at the same time ever evolving and looping, which is characteristic of music that serves its purpose of being crafted to relieve nervousness.
What tracks and albums are on your rainy day playlists? Share the ambient vibes with us in the comments!