Call It Love, the K-drama series streaming on Disney+, is captivating audiences with its heart-wrenching love story of two lost souls. Now that it's nearing the finale, we can't help but wonder what will happen in the end. Just in case you still haven't checked out the series, here are eight reasons why it's worth your time:
It's so much more than it appears to be
On the surface, Call It Love appears to be simply a romance between two individuals seeking revenge. But it's so much more than that. The story revolves around Woo Joo, whose life is sent into a downward spiral after learning about her father's infidelity. And when her father dies and his mistress kicks her out, Woo Joo becomes hellbent on getting revenge. However, when she meets Dong Jin, the mistress's son, she develops unexpected feelings for him.
"Call It Love focuses not only on loving and being loved but also how one's life changes by such love," says Lee Kwangyoung, the K-drama's director. "And love in this show doesn't necessarily have to be romantic. It could be love between friends, family, or in any sort of bond."
As Lee explains, the series also shows that though love can sometimes weigh you down, it can also help you withstand hardships and strive for more in life.
At its core, it's about life
Call It Love is more about the comfort and understanding that different characters offer each other as they come to terms with their painful pasts.
"Living a life comes with emotional scars and loneliness," says Director Lee. "Despite being so, we live on. I wanted to tell the audience, or myself, that this is how we all live. But as Woojoo meets Dongjin, and Dongjin meets Woojoo, they take a step forward. We also can take a step forward with the smallest trigger. This is the consolation and hope that I wanted to bring to the audience."
8 Must-Watch Slice of Life K-Dramas About Growing Up and Growing Old
8 Must-Watch Slice of Life K-Dramas About Growing Up and Growing Old
Kyzia Maramara | Mar 11, 2022
Its aesthetics are on point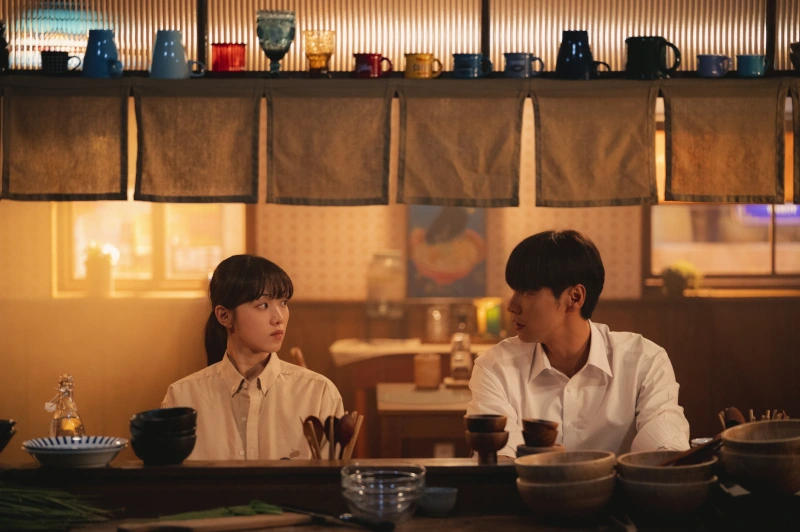 In one interview, Director Lee called the color of the K-drama that of a "ruby orange glow of the sky at sunset". Not only are the show's aesthetics pleasing, they also complement the story.
"I attempted, quite, boldly, to add a drop of warmth by using a ruby red and orange-ish color palette which would represent both a feeling of desolation at sunset and a hint of hope at daybreak," says Director Lee.
He also used vacancies and idle spaces in the framing to highlight the characters' loneliness. "I tried my best to create an environment in which actors could express those emotions without any barriers," adds Director Lee.
It's got the perfect soundtrack
Call It Love's theme song "Secret Garden", sung by Wonstein, was chosen by Director Lee after he heard it on the radio while working on the show.
"I was familiar with the song but since my head was filled with Woojoo and Dongjin at the time, the lyrics came to be in a different light.
"Everyday it'll get better little by little. You're watching me. I gotta get it together. I'm going to be happier.
I was hooked on this line. You start loving someone and don't just want them to make you happy, but rather, you want to make yourself happier because you know that person is watching you. I thought that chain of thought was quite like what Woojoo and Dongjin would have felt," he says.
Lee Sungkyung stretches her acting chops
Female lead Lee Sungkung's previous roles have previously been perky, cheerful characters in romcoms like Weightlifting Fairy Kim Bok Joo and Cheese in a Trap. Her role as Woojoo in Call It Love is a complete departure from her usual, but it works.
Because Woojoo is such a blunt (often tactless) character, she might have easily come across as unlikeable. However, Sungkyung manages to make Woojoo's bluntness charming.
"Sungkyung was just beyond my expectations," says Director Lee. "When her innate cheerful vibe was met with those blunt words, it just created a totally new blend. I see the same scene dozens of times when editing, but every time I see the same scene I would chuckle. She thinks she's the most hopeless person on Earth and cuts herself off from the world but when people see her they see her careless and loveable side and actually want more to do with her."
Kim Youngkwang dives deep into his character

Director Lee and Youngkwang worked together for The Secret Life of My Secretary (2019).
"I have infinite trust towards him," says Director Lee. "He is never in disguise when he's acting. He really deep-dives into the character to truly understand him. So instead of giving him advice, I would talk a lot with him about the feelings Dongjin has. I trusted the Dongjin Youngkwang created and made a storyboard to follow through with his flow of emotions. On the other hand, when there was a scene I wanted to portray in a certain way, Youngkwang would also ponder on it and help me create the scene. Whenever I was unsure of something, I would leave for the set thinking, 'Dongjin will work something out!'"
It's got a fantastic ensemble

The supporting characters in Call It Love bring depth and personality to the story. Yoon Jun is the ideal guy friend that many can relate to, with a no-frills attitude and blunt speech. Kim Yewon is endearing and lovely, with a down-to-earth quality that makes you instantly like her. Minyoung, on the other hand, is the character that broke Dongjin's heart, yet she remains lovable and someone that can easily make others fall for her.
The actors who portray these characters embody their personalities in a remarkable manner that allows viewers to connect with them and understand their roles in the story. Overall, "Call It Love" has a fantastic supporting cast that complements the main characters' story beautifully.
You can binge it all before the finale on Disney+
Call It Love is nearing its end, so you still have a chance binge all the episodes before the finale drops on April 12!