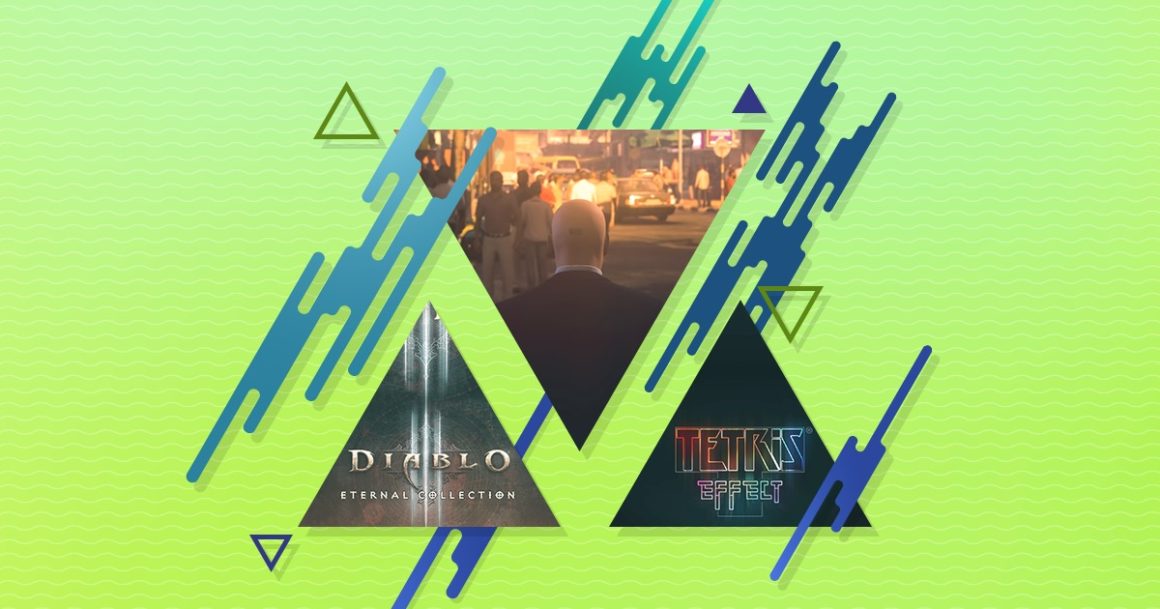 Give thanks to this month for the bounty of demon-slaying, block-dropping, steath-killing, dragon-platforming, mutant-shooting, monster-catching, royale-battling, sin-slaying action we are about to receive, through games, our love, amen.
Diablo III: Eternal Collection
November 2, 2018 on Nintendo Switch
The legendary action RPG is now on the most beloved portable hybrid console. And by that I mean, the only console that will let you fight the forces of Hell on your living room TV and on-the-go. This new release includes the Reaper of Souls post-launch expansion that comes with the Crusader, the recently added Necromancer and drop-in drop-out couch co-op multiplayer.
Tetris Effect
November 9, 2018 on PlayStation 4
Named for the hypnagogic phenomenon in which people see Tetris blocks in every day life after sustained Tetris playing, this psychedelic new spin on Tetris is a collection of sights and sounds to behold. It was developed by Tetsuya Mizuguchi and his team at Enhance, who have worked together to before on synesthetic wonders like Rez Infinite and Lumines.
Hitman 2
November 13, 2018 on Xbox One, PC and PlayStation 4
Agent 47 returns in this sandbox stealth murder simulator. After the success of 2016's Hitman which introduced episode-based content and highly detailed missions that presented incalculable ways of achieving your objectives, the sequel promises more. Denser, richer mission maps will make for more interesting murder combinations and the game's first elusive target will be THE Sean Bean.
Spyro Reignited Trilogy
November 13,  2018 on PlayStation 4 and Xbox One
This collection remasters the classic trilogy for modern consoles, as is the custom these days. But for a legend like Spyro – who you might recognize as the flagship Skylander – developer Toys for Bob has given the royal makeover, with all assets not just upscaled, but redone entirely. That's right from PlayStation 1 pixels and polygons to fully rendered three-dimensional cartoon glory, Spyro is back.
Fallout 76 (November 14)
November 14, 2018 on PC, Xbox One and PlayStation 4
The famed post-nuclear role-playing RPG makes its debut as an multiplayer shared world experience, bring all the survival mechanics, the shoot-outs and kitschy post-war Americana into the online world. After the bombs have dropped on America, players emerge from an undergound shelter in West Virginia. It's up to them to survive against the wasteland together or drop nukes on each other.
Pokémon: Let's Go, Pikachu! And Let's Go, Evee!
November 16, 2018 on Nintendo Switch
The beloved monster catching franchise makes its debut on the Nintendo Switch, doing double duty as an expansion of the core ideas in Pokémon Go and a remake of 1999's Pokémon Yelllow. Intuitive motion controls make for a more immersive monster catching experience and drop-in co-op multiplayer takes advantage of the salient features of the Nintendo Switch. It's Pokémon for the next generation.
Battlefield V
November 20, 2018 on Xbox One, PC and PlayStation 4
Effectively a follow-up to 2016's Battlefield 1, this installment of Battlefield brings this year's large scale shooter conflicts to the theater of World War II. The multiplayer maps will be large, the game modes will be many and single-player offline stories follow the dramatic lives of individual soldiers. Battlefield V will also feature four player co-op Combined Arms missions and a Firestorm mode that brings battle royale to Battlefield.
Darksiders III
November 27, 2018 on PC, Xbox One and PlayStation 4
Darksiders III continues the saga of the divine and unholy creatures fighting for control of a post-apocalyptic Earth. As in previous games, you play one of the horsemen of the apocalpyse. As Fury, you're on a quest to destroy the Seven Deadly Sins. This entry draws inspiration from Dark Souls like games with slower combat and an emphasize on defensive maneuvers.