Nation, in one of the most bewildering moments (as if we didn't have enough of them already) in recent memory, RJ Jacinto, y'know, Mr. RJ Bistro himself of 100.3 RJFM fame, has been appointed as undersecretary for, get this, the Department of Informations and Communication Technology (DICT).
You read that right, folks: the man who makes every single day a Throwback Thursday has just been named as one of the key people to push the Philippines further forward into the Digital Age.
You'll be surprised to find out though that despite how it looks, RJ Jacinto is actually perfect in his position right now. Here are 8 reasons why.
8. He has a way of explaining things.
Have you seen RJ Jacinto hawk his Kickstarter Project for his 5-in-1 Guitar, made of mango wood? If not, you're in for a treat.

We heard it goes great with bagoong.
So with his amazing guitar skills and his silky smooth sales pitch, surely, he got far more than the measly $15,000 he was looking for and is selling Super Vintage guitars like hotcakes, right? Well, not even half. Ah, well. Can't win 'em all!
7. He's got tech, tech, and more tech.
Have you seen his 16 guitar shops all over the country? The man has been making electric guitars since 1988! That's a lot of experience in cutting-edge technology for…
… for Guitars.
[Image from RJ Guitar Center SM Southmall's FB Page]
Oh! You mean he has nothing in his portfolio — not guitars, not paint, not steel, not roofing — that has anything to do whatsoever with computers or information technology? Ehhhhh. Close enough.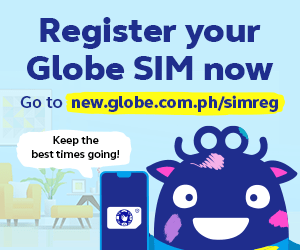 6. He also led the way in cutting-edge innovations in the Philippines.
Remember Home TV Shopping? Yeah, he started that in this country on RJTV 29 (Is there anything he won't put his name on?). Remember that?

Kinda like this, but ten times less funny and ten times more depressing.
[Image source]
Innovation like that means RJ Jacinto can also innovate in the world of ICT. He's definitely a better fit there than James Reid is as celebrity ambassador for the Department of Agriculture. What's James going to do? Bridge the synergy, synergy gap, bridge the synergy gap all while he's in DA?

It's now stuck in your head.
5. He will fight for freedom and progress.
During the Marcos era, RJ Jacinto's family assets were seized and forcibly placed under military control, leading to RJ staying in exile for 14 years until he came back swinging like a freedom fighter, as one of the people who stood up for freedom.

Sugod, mga Ka-Bistro!
With him as DICT undersecretary, surely, he will also be pushing for the same kind of freedom and progress under the administration of President Duterte, a known Marcos supporter. Welp!
8 Reasons Why Marcos is a Hero
8 Reasons Why Marcos is a Hero
8List | Sep 11, 2017
4. His boss is former Senator Gregorio Honasan
If Gringo Honasan can be the secretary of DICT, anyone will look like a tech genius right next to him.


Pictured: Gringo with the most high-tech thing he ever held in his hands. Probably.
Compared to RJ Jacinto, Gringo Honasan is practically a dinosaur, yet there he is, running DICT. Let's not forget that this man's understanding of RAM is massively different from how Silicon Valley understands it.
3. RJ does duets with everybody.
From Sitti to Ely Buendia to a bunch of international artists, we've seen RJ do duets with practically everyone. This means that when it comes to tech, he will be able to co-exist and work with anyone. Oh. He's still woefully unqualified? Well, how about now?

Here he is, getting ready to duet with the embodiment of Philippine Christmas.
[Image source]
2. He knows what's what with the internet.
If you know Rule 34, then you know what the internet really is for. Apparently, so does RJ. Have you seen his logo? It gives the words "audio jack" a brand new meaning.

Is "strumming his guitar" what the kids call it these days?
[Image source]
And believe us. That's not the only time that guitar got hella metaphorical.

Hanging pretty low there, partner.
[Image source]
1. It's just ridiculously appropriate.
What makes any of us think for even a moment that Mr. RJ Jacinto is not befitting of being called a small DICT head, seeing as former Senator Gringo Honasan is the big DICT head? Surely, there is absolutely nothing wrong with that!
Photoshop Department: No, we're not depicting that, sorry.
*The views and opinions expressed in this article are solely those of the original author. These views and opinions do not necessarily represent those of the 8List.ph.