Being stuck at home 24/7 is no fun — unless you get creative. Right when cities started quarantining all over the world, the Getty Museum challenged their Twitter followers to recreate their favorite works of art at home:
We challenge you to recreate a work of art with objects (and people) in your home.

🥇 Choose your favorite artwork
🥈 Find three things lying around your house⠀
🥉 Recreate the artwork with those items

And share with us. pic.twitter.com/9BNq35HY2V

— Getty (@GettyMuseum) March 25, 2020
And because people had plenty of time on their hands, they went all in. Take a look at some of the best takes on the Getty Museum Challenge for your daily dose of entertainment and culture! What more could you want?
The Ugly Duchess by Quentin Matsys, 1513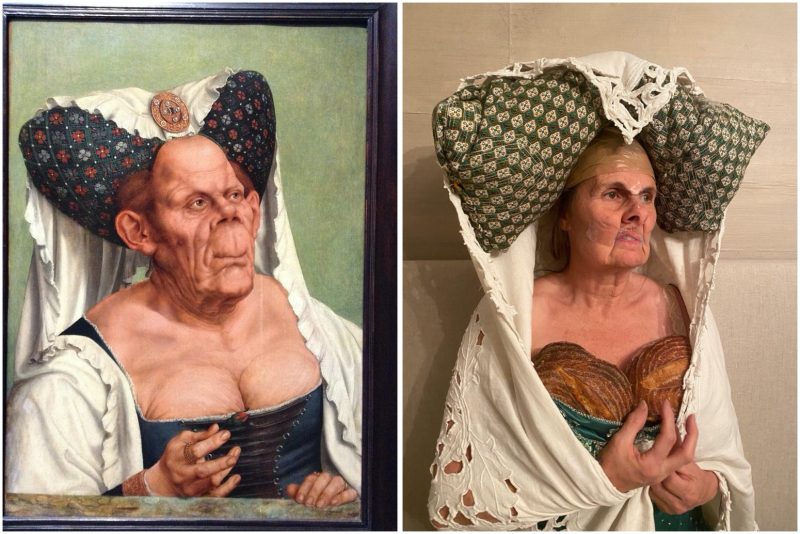 We're not sure what we like more — the genius way she used tape (packing tape AND scotch tape) to contort her features, or how she used bread to mimic the Duchess' withered breasts.
Did you know? This painting was the basis of the Duchess in Alice's Adventures in Wonderland, which was illustrated by John Tenniel. (See below)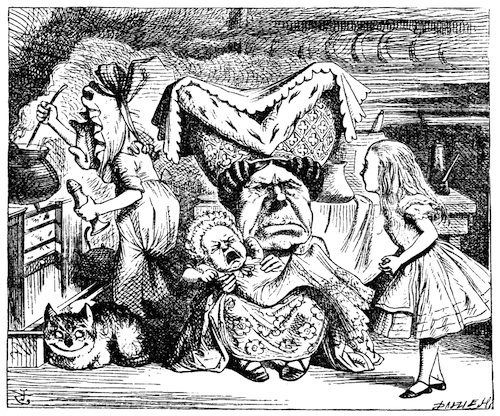 Woman in Gold by Gustav Klimt, 1907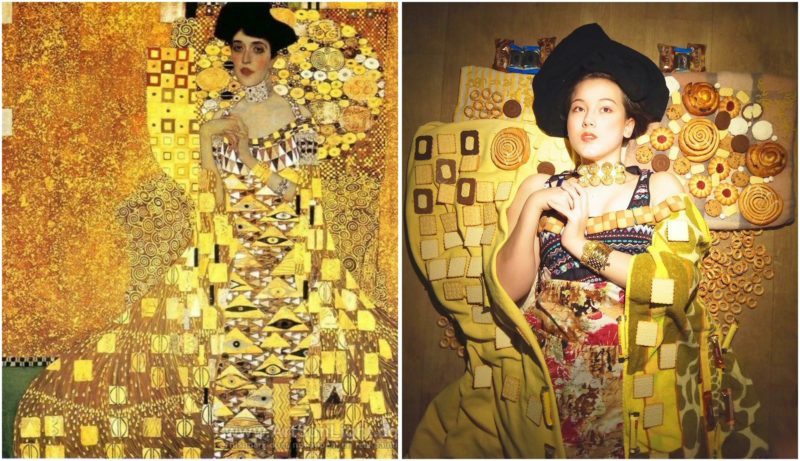 Binge-watching snacks, but make it art.
Did you know? This painting was a portrait of Adele Bloch-Bauer, whose wealthy husband Ferdinand Bloch-Bauer, was a Jewish industrialist. They owned several of Klimt's paintings, much of which were stolen by the Nazis during WWII. In 1998, it was returned to one of Ferdinand's nieces, who auctioned off the painting for $135 million in 2006 — making it the most expensive painting at the time.
The Creation of Adam by Michelangelo, 1512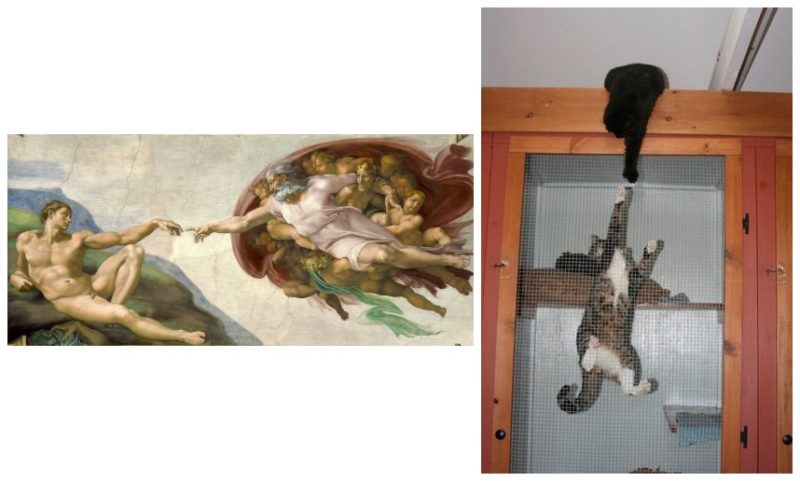 Sure, Michelangelo's painting is a masterpiece. But look! Kitties!
Did you know? The architect Bramante resented Michelangelo for his work on the Pope's tomb, so he sabotaged the artist by convincing the Pope to commission the artist to paint the ceiling of the Sistine Chapel. Why? It was a medium that was totally unfamiliar to Michelangelo, so Bramante thought that he might fail.
Portrait of Martha Thannstetter ne Werusin by Bernhard Strigel, 1515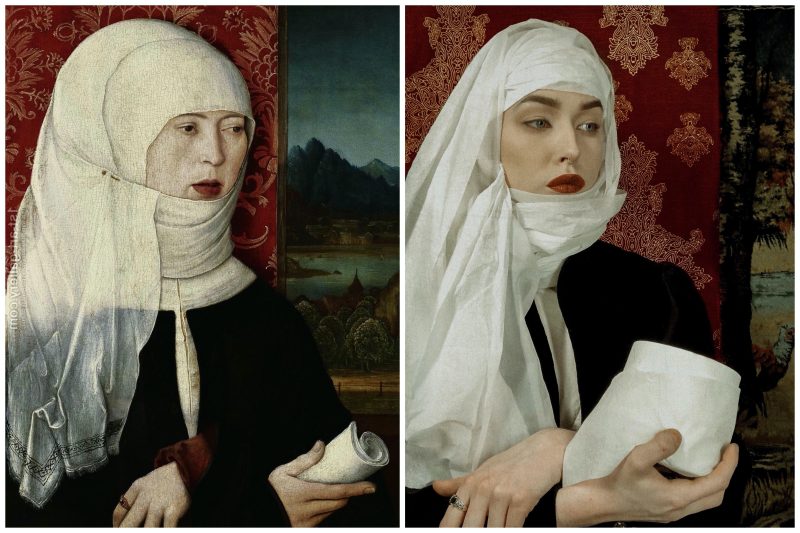 Toilet paper never looked this elegant.
Did you know? Since the early middle ages, married women would typically cover their head and neck with white linen fastened with a pin, much like the headgear pictured here.
The Birth of Venus by Sandro Botticelli, mid-1480s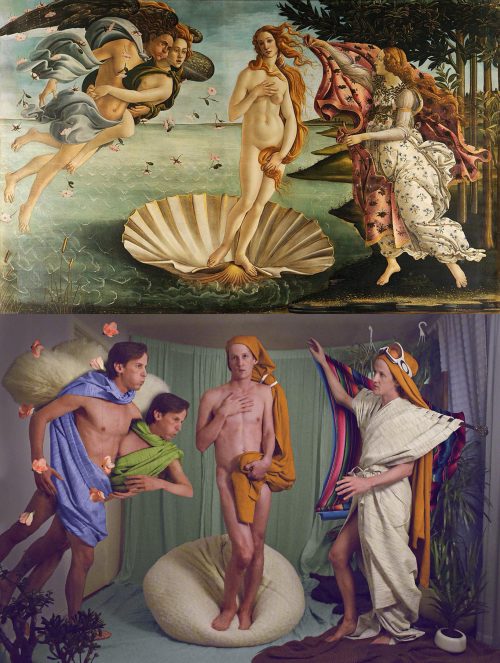 The artistry here is *chef's kiss*. And yeah, Botticelli's painting's not bad either.
Did you know? The muse behind The Birth of Venus was Simonetta Vespucci, who was said to be the most beautiful woman in Florence. Botticelli was buried beside her, though she was a married noblewoman.
Portrait of Barbara van Beck by Unknown artist, 1640s
Just think of the split-ends.
Did you know? Barbara Van Beck, who was an entrepreneur and celebrity who toured as part of a high-end traveling show, was likely born with a rare congenital condition known as hypertrichosis or Ambras Syndrome, which causes excessive hair growth on almost the entire body.
Psyche Opening the Door into Cupid's Garden by John William Waterhouse, 1903

Next time you find yourself raiding the fridge, remind yourself that you're not hungry, you're just bored.
Did you know? The English painter John William Waterhouse who worked in the pre-Raphaelite style. He was known for his depictions of women from Greek mythology and Arthurian legend.
After the Ball by Ramon Casas, 1895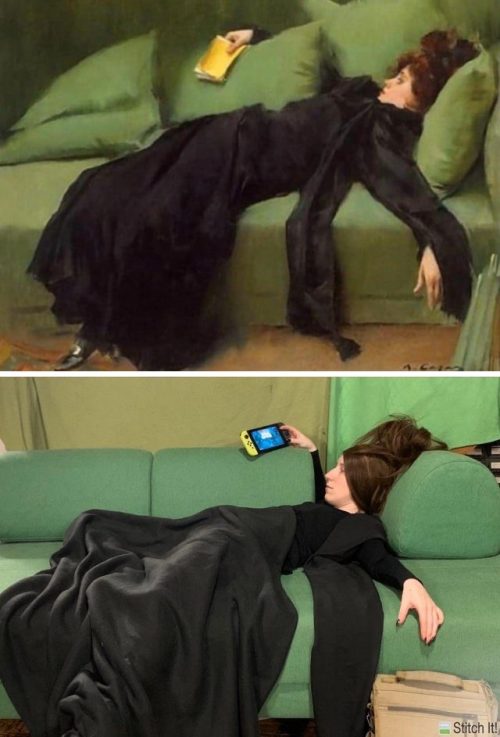 Replacing the book with a Nintendo Switch, the 2020 pandemic version has aptly been renamed "After the Bells".
Did you know? Ramon Casas was a Spanish artist who was known as a portraitist, his subjects usually the intellectual, economic, and political elite of Europe. After the Ball is his last 19th-century work.
Would you take on the Getty Museum Challenge?