Roundup of People's Reactions to The "Bukbok Rice" Fiasco
Sep 4, 2018 &nbsp • &nbsp Blair Perez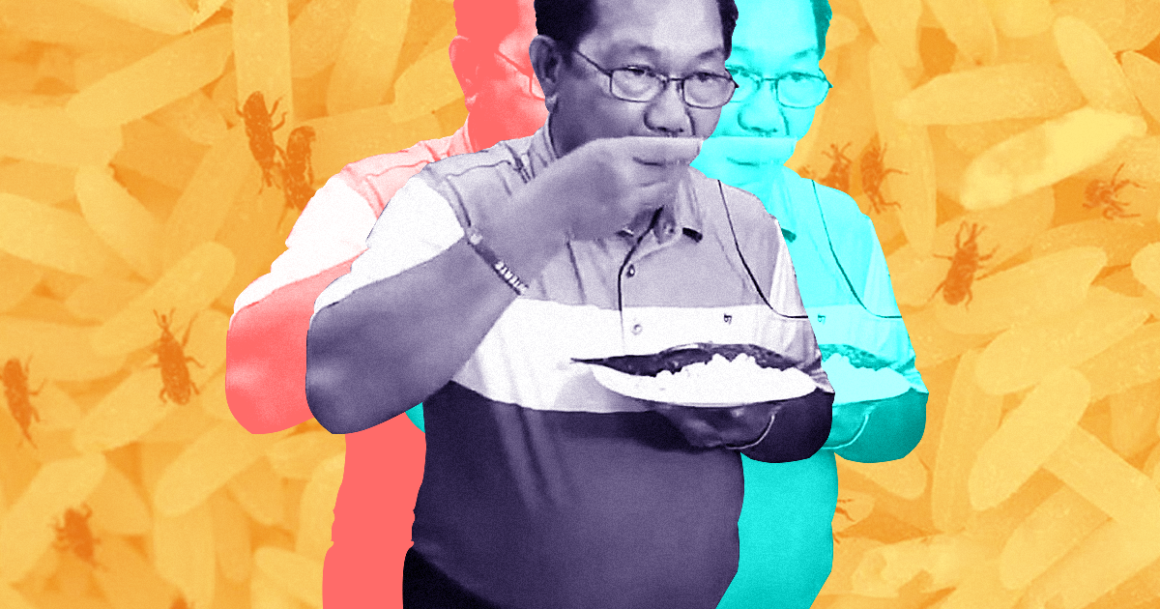 The government is on the hot seat again; this time, because of an issue concerning our main staple: rice. Aside from the near-depletion of NFA rice stock over the past years, the Department of Agriculture has a bigger problem in the form of weevil-infested rice.
Weevils or bukbok are product pests that attack rice, wheat and maize. While they are said to be harmless when eaten, they apparently destroy the rice itself as they feed on them. In Subic, thousands of rice sacks imported from Thailand were found to be infested, thus will be fumigated before the distribution to warehouses. This has sprouted online uproars and physical protests from people over the "poor management of the government." The government, however, is claiming that bukbok rice is still safe to eat, thus the food tasting show on social media.
Here's what people have to say about this:
Madam Ethel has spoken
You deserve to eat bukbok rice but don't serve it to our kababayan. Charot! https://t.co/b0Du6heFKl

— Ethel Booba (@IamEthylGabison) August 30, 2018
Jim Paredes turned it into the song
Singing while cooking bukbok rice.

'Weevil
Weevil
ROCK YOU!'

— Jim (@Jimparedes) August 30, 2018
New rice toppings!
Bukbok rice is real!

Salamat President Bukbok Duterte! pic.twitter.com/e0Zcf6U8Gh

— Has the TRAIN Law helped the poor today? (@TrainLawPH) September 3, 2018
Here's Sen. Kiko Pangilinan's statement:
Kung matibay ang sikmura ng mga nasa pamahalaan sa bukbok na bigas, hindi ang taumbayang pinaglilingkuran natin. Tumataas na nga ang presyo ng bigas, may bukbok pa? pic.twitter.com/k64gW1yZsm

— Kiko Pangilinan (@kikopangilinan) September 1, 2018
Bukbok + Formalin? Yum!
Kaning may bukbok tapos uulaman pa ng isdang may formalin. Sarap!! Charot! https://t.co/YgKkQZ1bZP

— Ethel Booba (@IamEthylGabison) September 1, 2018
Bukbok rice, anyone?
Dear Fellow Filipinos,

Kain na! Brought to us by President Bukbok Duterte.#SilentNoMorePH pic.twitter.com/TkogSHqo5d

— Silent No More PH (@SilentNoMorePH) September 3, 2018
Two cents about the DFA secretary
Sa buong buhay ko, ngayon lang ako nakarinig ng Agriculture Secretary na pinagmamalaki pa ang bigas na may "bukbok".

Mapili ang mga Pinoy sa bigas na sinasaing. Tinatahip pa nga dati eh, para walang bato. Walang bumibili ng bigas na madumi o napeste.

— Tonyo Cruz (@tonyocruz) August 30, 2018
Style mo, #Bukbok
Style mo #Bukbok pic.twitter.com/4lXWv0LSWg

— Jose Mari Callueng (@thejoncallueng) September 3, 2018
What do you think of the bukbok issue? Do you agree with the people's reaction? Sound off below!