If there's a human version of snow, it's Aurora Aksnes, a 20-year old singer-songwriter from Stavanger, Norway who has done the world a favor by giving us her mystical, fairy tale-ish, LOTR-ish and GOT-ish music that can make you discover and befriend the demons (whether from a bad experience or a personal wall you built up) inside you. Her pure voice, minimalistic sound and her unique performances (her body language when performing is otherworldly) intensifies her beautiful lyrics to get much deeper under your skin, and it's a delight to see that such a rare artist exists in our time.
Although often called the love child of Bjork and Sia for her sound, Aurora is in her own unique bubble if you listen closely. And going to 2017's Laneway Festival on January 21, 2017 is the perfect opportunity for you to get into that bubble.
If you're curious to see and hear one of the best performers in Laneway, let these ethereal music videos of Aurora feed your curiosity.
8. Runaway
.
Let's start off with the first song that made Aurora viral. "Runaway," the lead single of her first album All My Demons Greeting Me As A Friend, is a delicate number that starts off dark and slow but then gradually creeps into a pop lullaby thanks to Aurora's notes. The video gives the song justice with its setting somewhere in the mountains where Aurora runs while singing and begging to the world to take her home. If you get some Game of Thrones feel from the video, you're not alone.
7. Half the World Away
.
Commonly known as the song of the incredibly touching Christmas ad of John Lewis in 2015, Aurora's version of "Half The World Away" blew the world away as expected. "Half The World Away" sings of someone who's stuck and wants to leave the hole they've been given – a soft cry of declaration of freedom (or the realization of it). And doesn't the line "My body feels young but my mind is very old" just pinch your heart?
.
Oh, and let's not forget that this song was composed by Noel Gallagher and performed by Oasis.
6. I Went Too Far
.
A little more dance-y is "I Went Too Far" with lyrics that are a little different from Aurora's usual vague and metaphor-filled songs. "I Went Too Far" is about a one-sided love that, as usual, didn't get a good ending. In the chorus, Aurora is actually begging for her lover to give her some love. Ouch… But don't worry Aurora, your fans in Laneway will give you that love.
5. Running With The Wolves
.
"Running With The Wolves" is the perfect battle cry for when you're about to take on a challenge in life. Whether it's an exam in school, a big presentation to a potential client, coming out to your fam, or commuting at 6 p.m. in Metro Manila (bless your soul), "Running With The Wolves" is the perfect song to pump up your spirits. You won't be able to resist dancing to this in Laneway, fan or not.
4. Conqueror
.
In the video's description, Aurora writes, "This video is for the little boy who couldn't find the conqueror in himself. The conqueror is within you." What's interesting is that the binary code the boy is writing on, when converted to text, translates to "Boy" in text, which explains why he disappeared when his pencil broke–He's already realized the conqueror in him. Aurora is then left stuck in whatever that place is because she is yet to discover the conqueror in her. *cries*
Oh, and Aurora's fans made a dance version of the song and it's also awesome.
3. Murder Song (5, 4, 3, 2, 1)
.
So here's a song of Aurora that might fuck you up. It's a beautiful song, it is, but the lyrics are creepy the longer you try to decipher it.
"5, 4, 3, 2, 1 / He holds the gun against my head / I close my eyes and bang I am dead / I know he knows that he's killing me for mercy" But does he really know that, Aurora? Does he?? What if he was a psychopath? What if you were murdered for the sake of murdering? And what does "killing you for mercy" even mean? Isn't killing inherently unmerciful? Please do explain in Laneway. Please.
To make things a little more positive, here's an alternative version of the song:
2. Winter Bird
.
"Sometimes I fear our technological progress will slowly take over. We meet people through texts and screens. Is it setting us free? Or are we slowly wrapping ourselves in, depending too much on it? The fall is bigger when our hopes are not realistic, not human. What has no heart can't give us love and true happiness." This is in "Winter Bird's" video description and although, the metaphor is quite literal, the video is astonishing and very well-made. If Aurora wants to slay in Laneway, she better give those drones a cameo.
1. Into The Light
.
"Into the Light" isn't really a music video, it's more of a short interview with Aurora and short bits of her songs. In the video, Aurora shares how she started writing music at 9-years-old and how she feels like Alice in Wonderland with all the beautiful music around her.
"As long as one person tells me that she or he needs my music then I'm gonna feel more like I'm useful. I hope that I still like doing music, I hope it doesn't only become a job. That will be the saddest thing. Like losing your heart."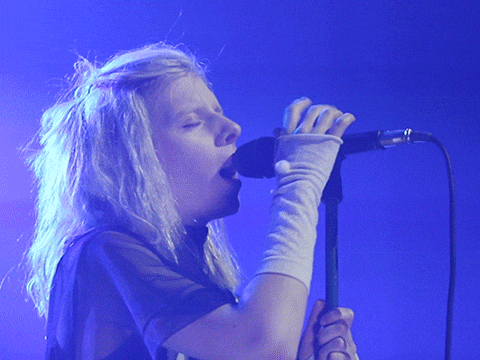 Catch Aurora alongside other acts like Glass Animals, Gang of Youths, Nao, and Tycho, among many others, in 2017's St. Jerome's Laneway Festival in Singapore on January 21, 2017. Check out their website for more info. Get your tickets here!