Marvel's Shang-Chi and the Legend of the Ten Rings was released in theaters in the U.S. today and our timelines are awash with praise. As expected of a Marvel movie, this one did not disappoint fans who have already watched it. The plot nestles itself quite neatly in the Marvel Cinematic Universe (MCU) everyone has come to love for the past decade. But in case you need prodding, here's why you should anticipate the day you finally get to watch this film.
It's Asian-led
View this post on Instagram
One word: Representation. Shang-Chi is the first Asian-American superhero in Marvel history to ever get his own movie, a huge step for Asian and Asian-American representation. The Master of Kung Fu titular character is played by Simu Liu (Kim's Convenience) with supporting characters Tony Leong (In the Mood for Love), Awkwafina (Ocean's 8), and Michelle Yeoh (Crazy Rich Asians) to name a few. Even those who work behind the camera are largely Asians which, according to Asian-American director Destin Daniel Cretton, helped them to "really understand what it means to have one foot in Western culture and one foot still in Chinese culture."
LOL

— Simu Liu (刘思慕) (@SimuLiu) July 21, 2019
"For many of us who grew up in the west, whose parents immigrated, we never really saw ourselves on screen meaningfully," said Liu who has time and again lobbied for Asian representation in the MCU. That's why he's excited for his character to spark conversations.
The official soundtrack album will get you hyped
Shang-Chi and the Legend of the Ten Rings: The Album is cherry on top of the Asian-led film. The OST features Asian arts collective 88Rising artists Rich Brian, NIKI, Warren Hue, and Seori. Other Asian artists were also on the album: Mark Tuan of K-pop group GOT7, Keshi, DPR Ian, DPR Live plus international artists like Anderson.paak, Swae Lee, and Jhené Aiko. The 17th track even features Liu himself singing Hot Soup.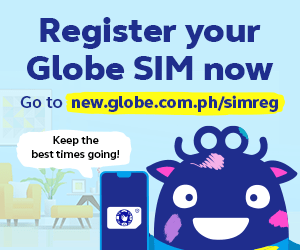 It has high ratings on Rotten Tomatoes

Whenever there's a new film released, people hop on to Rotten Tomatoes ASAP to assess whether it's worth watching. Film enthusiasts know this is a great tool to see what folks think of a movie or TV show. Shang-Chi currently has 99% on the Audience Score which ranks higher than other Marvel movies like Avengers: End Game (90%), Spider-Man Into the Spider-Verse (93%), and Black Panther (79%).
As for Shang-Chi's Tomatometer, it currently has 92% with 189 reviews. And those reviews are dripping with praises too: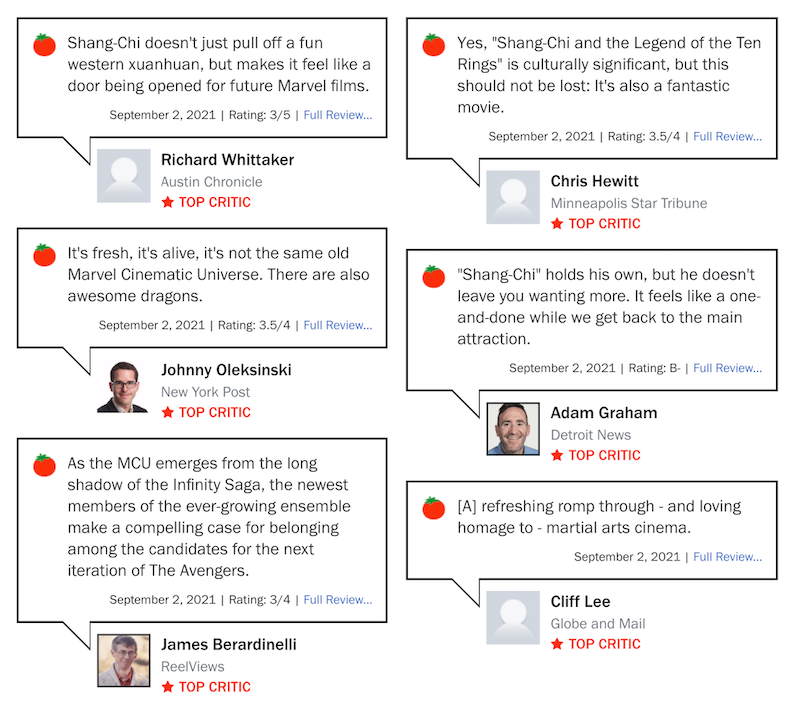 The epic fight scenes
Holy hell.

From performances to music to spectacle, #shangchi was magical.

Amazing work, @SimuLiu. pic.twitter.com/ZeqqCqvfzZ

— Greg Miller (@GameOverGreggy) September 3, 2021
Shang Chi doesn't let up. Epic, fantasy, kung-fu brilliance. Perfect nods to its influences, taking the Marvel franchise in the best new directions. Wild. 👏👏

— Alex Gaskarth (@AlexGaskarth) September 3, 2021
Shang-Chi's trailer and teasers whetted our appetite on what to expect for the film's fight scenes — and they didn't disappoint. According to those who already watched it, at least. Expect epic well-choreographed fight scenes, including that bus scene on the trailer which Liu says took four weeks to film. The dedication!
Look at Simu Liu doing the legwork in this epic behind the scenes he shared on Twitter:
The hype train has left the station, so grab on and hang tight. Make history with us on September 3rd. pic.twitter.com/0q3jFY8IxH

— Simu Liu (刘思慕) (@SimuLiu) August 31, 2021
It starts the MCU Phase 4
Shang-Chi is the next Marvel movie chronologically taking place after Avengers: Endgame (Black Widow was a prequel and Spider-Man: Far From Home was co-produced with Sony). It might have looked like the kung fu master came out of nowhere without any hint from the previous two dozen Marvel franchises, but the world he lives in was actually hiding in plain sight. It dates as far back as the first MCU movie Iron Man in 2008 when Tony Stark was captured by terrorist organization Ten Rings. The criminal group goes on to be mentioned in and connected to a few more Marvel movies: The Incredible Hulk (2008), Iron Man 3 (2013), and Doctor Strange (2016).
The post-credits everyone's waiting for
That #ShangChi post credit scene…🤯

— Matt Ramos (@therealsupes) September 3, 2021
While Endgame marked the end of some of our favorite superheroes' story arcs, Shang-Chi will kickstart a new era. That much is clear with not one but two post-credits scenes we're given. During the first one, we see a few of our beloved Marvel heroes assembled at a base and being consulted by Shang-Chi. The second post-credit scene gives us a glimpse of a future villain as well as how the MCU is planning to move forward.
No-context spoilers we can't wait to laugh at
#ShangChi spoilers without context pic.twitter.com/cE9HWmEuh3

— Pablo Iglesias (@PabloIglesiasTV) September 3, 2021
Let us in on the joke, guys! Bookmark these tweets so you can understand them once Shang-Chi is made available on our shores.
What's the next Marvel movie we're waiting for?
After Shang-Chi's theatrical debut, Marvel fans are left with more dates to mark on our calendars. Next on our list is Eternals — immortal beings with superhuman powers — slated to hit the screens in November 2021. After that we get the much-awaited Spider-Man: No Way Home on December 2021.
Pinoy Marvel fans have to hold on a little longer since Shang-Chi is yet to be released in the Philippines (our cinemas haven't been opened since the start of the pandemic!). But it's expected to land on Disney Plus in mid-October after the movie's theatrical run. While we don't have Disney Plus in the country, we do have the ultimate weapon for those living outside the US and that is a VPN.
If you haven't seen the epic trailer for Shang-Chi and the Legend of the Ten Rings yet, check it out:
Check us out on Facebook, Instagram, Twitter, and YouTube and be the first to know about the latest news and coolest trends!