8 Childhood Shows We'd Like Rebooted
By Jon Carlos Rodriguez

It's 4 p.m. and you make a mad dash for the school bus, eager to get home to a warm plate of pancit canton–the perfect companion to watching Kevin Arnold getting his heart broken by Winnie Cooper for the nth time. This was the TV experience in the early 90s, when streaming and downloading shows (legally!) were still unbelievable futuristic concepts.
Welcome to 2017: we can now watch our shows anytime we want; pancit canton is still awesome; and sad TV moments are still the best TV moments. Knight Rider and Charmed are set to return, so it's about time these other childhood shows got a reboot.
The Wonder Years
For six seasons, The Wonder Years was the undisputed champion of Heartbreaking TV Moments. Told from the point of view of an adult reminiscing about the good old days, the series ran the whole gamut of emotions felt by a young Kevin Arnold on the brink of manhood. From his whirlwind romance with Winnie Cooper to the struggles of being a bullied bunso in the suburbs, Kevin became the quintessential hero of sensitive young males and hopeless romantics everywhere.
The show revealed what happens to everyone in its final episode in 1993, pretty much closing the door for any potential reunion. But you have to wonder, what would Kevin be like as a dad?
Finders Keepers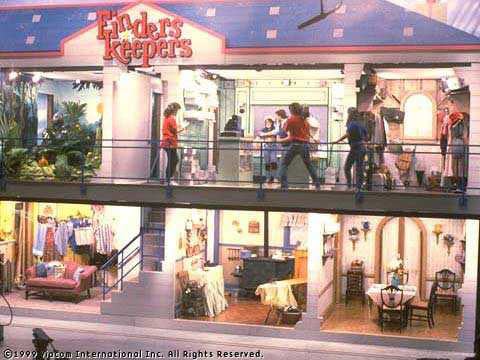 Finders Keepers kept it simple: contestants are split into two teams, objects are hidden in rooms, whoever finds  said hidden objects first wins. The game was frantic and highly entertaining, and there was something oddly satisfying in watching kids ransack small rooms inside the Finders Keepers house. After Richie Rich's mansion ("You have your own McDonald's?!"), the Finders Keepers house, which was always left in a state of disarray, comes a close second on the dream house list. Seeing a 2017 version of that house is enough reason for a reboot.
Small Wonder
Small Wonder was a show that aired way ahead of its time, finding laughs in the struggles of VICI, a girl robot trying to blend in with her inventor's family. Its bizarre premise didn't quite make for engaging TV in the pre-Internet mid-80s, but VICI's monotone speech, the annoyingly catchy theme song, and jokes that pick on next-door neighbor Harriet were enough to keep the show relevant.
Imagine a 2017 reboot of Small Wonder with VICI–as the same old fashioned, 10-year-old girl in a red-and-white pinafore dress–in a constant battle of wits as she tries to keep up with the Siris, Robins, and Jarvises of the modern world.
Ghostwriter
Ghostwriter was about a group of friends solving mysteries through the help of a "ghost" that could manipulate words on signs and books. Talk about another bizarre premise. The "ghostwriter" also used a less creepy update of the Ouija board to type words like "help" and "answer me" in all caps on a computer (this was the early 90s). Wouldn't it be cool to see Ghostwriter sending cryptic messages via Viber or Whatsapp? Please give us Ghostwriter back, but this time with better special effects and updated methods of communication. Perhaps Samuel L. Jackson can reprise his role as the cool dad? Yes, Nick Fury appeared for three episodes.