8 Signs You Might Be Part of a Cult
Sep 4, 2015 &nbsp • &nbsp Tim Henares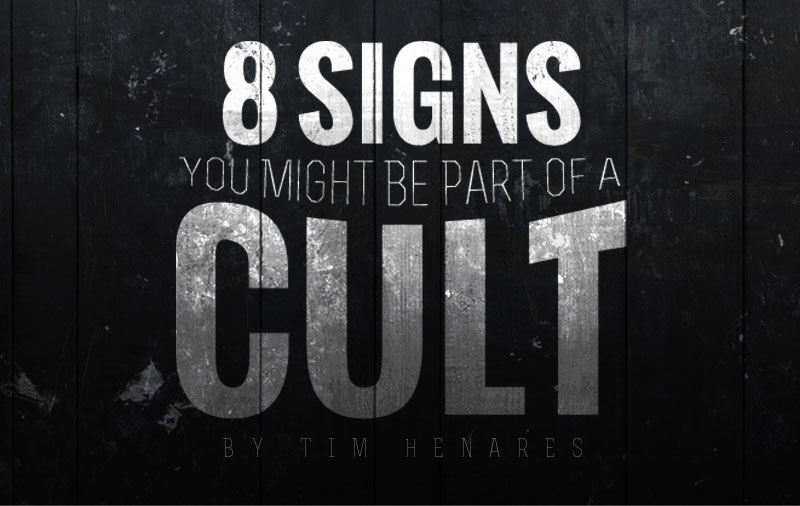 We've heard all week long about how a certain religion might be a cult, but it isn't our place to confirm or deny this allegation.
Instead, we've come up with 8 signs that you might be a part of a cult. The differences between a cult and a more mainstream religion might seem very small, but they are actually big enough for the differences to be cause for alarm. If even one of these applies to the belief system you're currently part of, you might want to not drink the Kool-Aid when it's inevitably offered to you. Just saying.
True, a militant atheist might come up to you and say all of organized religion exhibits cult-like behavior. Despite that, and the irony is, the more you see lackadaisical cafeteria members from a particular church, the less likely it is to be a cult, simply because its members can question its leadership without too much trouble.
Most of the mainstream religions today engage in active dialogue with other faiths, because we know that extremist examples are not the norm. If the norm for your church involves actively shunning everybody else as "the enemy," then you are being brainwashed to trust nobody but your church. This is what keeps a cult so strong: it feeds on one's sense of belonging, especially if you are convinced that the rest of the world sucks, and these are the only people who understand you.

Yes, we know a lot of religions make money. We know a lot of them have ostentatious displays that belie the supposedly simple, frugal beliefs they try to lecture about. What makes a cult a cut above this is the brazen way they don't even try to hide this greed, and how they pray on the very people who have so little money already, all with the false promise that God will reward them, as if God is some kind of divine slot machine.

A devout member's way of life is practically wedded to the cult. Schooled by the cult, trained by the cult, and bereft of life skills that are particularly useful outside the cult, these members are the hardest to convince of their cult's cultiness because their life almost literally depends on it.
Most mainstream religions just kinda feel bad you leave their flock. A cult will make sure you regret it.
If the leadership ever thinks it is above the laws of man because of some kind of divine designation, you might want to think twice about believing these people. A cult always thinks it's the exception to the rules everyone else complies with.

Feudalism died in the middle ages, yet somehow modern-day cults still party like it's 1521.
The easiest way for a cult to establish control is to make them your family by necessity. If they convince you that there is no life outside the cult, then leaving them requires a Herculean effort.
Cults are dangerous not just because of whatever kind of self-serving doctrine they might be spouting. Cults are dangerous because they abuse the concept of belonging and use it to manipulate their flock into blind and reckless zealotry. If you believe you are part of a cult after reading this, you probably are. Unfortunately, escaping a cult is not exactly an easy feat by any means.
Do you know any other telltale signs that someone is a cult member? Share them in the comments below!