8 Things You Need to Know About Sinag Maynila Film Festival
Mar 16, 2015 &nbsp • &nbsp 8List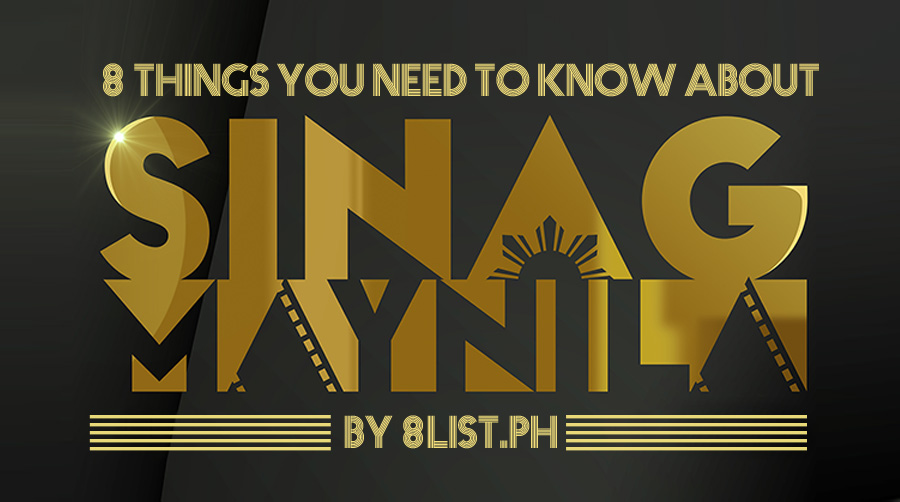 The first film festival for this year is on the way. The first ever Sinag Maynila Film Festival launches this month. Here's all you need to know about it.
8. Organizers
The festival was founded by Solar Entertainment Corporation CEO Wilson Y. Tieng and 2009 Cannes Film Festival Best Director Brillante Mendoza. Tieng serves as the festival's Executive Producer while Mendoza is the Festival Director and Creative Producer. The two handpicked each of the filmmakers for the festival's inaugural run.
7. Dates

6. Locations



5. Imbisibol

Directed by Lawrence Fajardo

Four Filipino migrant workers in Japan–Linda, Benjie, Manuel and Rodel–are suddenly caught together, amid their individual struggles, in a complex game of hide-and-seek where staying invisible is the only way to survive.

Starring Allen Dizon, Ces Quesada, Bernardo Bernardo, JM de Guzmang, Ms. Cynthia Luster and Mr. Ricky Davao.
4. Ninja Party
Directed by Jim Libiran
Students of an elite Catholic all-girls high school explore their sexuality via an underground sex soiree.
Starring Odette Khan, Annicka Dolonius, Julz Savard, Bea Galvez, Elora Espano, Teresa Loyzaga and Mariz Reyes.
3. Balut Country
Directed by Paul Sta. Ana
Jun, an heir to the duck farm left to him by his late father, must decide between selling the property to secure a future with his partner, or sparing the family of the land's loyal caretakers from inevitable displacement.
Starring Rocco Nacino, Ronnie Quizon, Vincent Magbanua, Angela Cortez, and Nanette Inventor
2. Bambanti
Directed by Zig Dulay
The search for a missing watch instigates the painful quest for the truth in Belyn and her son's life.
Starring Alessandra de Rossi, Shamaine Buencamino, Julio Diaz, Delphine Buencamino, Lui Manansala, Erlinda Villalobos, Celio Aquino, Kiki Baento, Abegail Edillo, and Micko Laurente.
Directed by Remton Zuasola
A young father is torn between solving a crime and committing another crime when one day his only son is kidnapped and the criminals demand him to steal another man's child in exchange for his.
Starring Dionne Monsanto, Matt Daclan, Mon Confiado, RK Bagatsing, Jess Mendoza, and Ligaya Rabago
Let's talk about your Sinag Maynila experience in the comments section below.