After sparking lots of negative feedback and discourse on diversity on Twitter, Black Sheep's reality dating show, Sparks Camp, is finally here. Having seen almost every shady tweet about the production and its cast, I was determined to see it as soon as it came out to see whether the immediate judgment on the show was even warranted or if it was entertaining enough to devote my next several Wednesday nights to. And so, right after dinner, I plopped on the couch, turned on the TV, and went to Black Sheep's YouTube channel.

This is my experience watching the premiere episode of Sparks Camp.

[Some spoilers ahead.]
No longer a BL!
Immediately upon opening Black Sheep's YouTube page, I was pleased to see that the video of the episode was labeled Queer Dating Reality Show. Previously marketed as the first-ever BL Dating Reality Show, the decision to change it to Queer is a step in the right direction. It not only avoids coming off as bandwagoning on the success of a genre of fiction, but it also helps normalize the usage of this more inclusive term amongst the Filipino audience.
And so with a little more hope, I pressed play.
Meeting the cast

I have to admit: considering the kind of guys who get into het reality dating shows and having seen another queer reality dating show from Thailand called Bromance, Sparks Camp's cast does feel diverse, at least as far as dating shows are concerned. They're not all conventionally attractive or drop-dead gorgeous guys with ten percent body fat. Most of them do exude femininity that one would very rarely see in BLs or dating shows. And from the get-go, the show already hints at these people's varying backgrounds, so… yeah. I think Twitter's judgment before the premiere was pretty rash.
Sparks Camp, We Have Thoughts
Sparks Camp, We Have Thoughts
Eli Magsaysay | May 19, 2023
First impressions

It is too easy to see why Twitter wasn't a fan of one of the cast members in particular. And considering some choice confessional clips included in the episode, it seems production is aware of why. Do they have a planned story arc for the Tiktoker whose content Gabe finds obnoxious? I hope so. Because right now, it's giving queer Stifler from American Pie. And if I wanna see Stifler from American Pie, I'll just watch American Pie because at least that's done in one sitting.
Nat says he likes himself and you know what? Good for him. If I looked like '90s Robin Da Roza I would like myself, too. I wonder if may tatlong yaya talaga siya though. Half charot. Oh, and kudos to Stanley for not being a huge fan of Atenistas who look too clean. Not everyone's as strong as you.
But the party doesn't really start until Bong arrives, whose personality and energy immediately added more life to the screen. They were louder than most for sure, but not in a way that projects or calls attention to themself. Right off the bat, they felt the most authentic, relaxed, and sure of themself.
Alex arrives soon after and Stanley suddenly becomes a poet. "He was giving me ocean vibes and I love the ocean!" Then Dan, who I know my college self would totally have a crush on. I don't understand why anyone would unfollow that guy on all social media platforms!
Halfway point
After the last camper, Nick Deocampo (not the film historian!), "Mother Sparker" Mela Habijan arrives, beautiful in her flowy sundress, to officially welcome the campers and give them their first task. I pause the video and realize that the episode is already halfway done and that they've been standing in that same area for 17 minutes already. This confirms my feeling that the editing so far could've been snappier and makes me think that the episode will most likely not be as satisfying as I hoped.
First spark
The campers draw lots to play a game called "Hold Me Tight" where those who got numbers in their lots get to pick who they wanna be paired with and this is where the first hint of a spark happens for me: Dan picking Karl. There's an immediate attraction between the two based on their confessionals. And the way Dan coyly says Karl's name while waving his number in a cutesy anime way? Rom-com material!
The rest of the campers pick their pairs. And yeah, I think Nat and Justin are promising, albeit in a masc-for-masc way. Aaron ends up with Gabe, who finds his TikTok obnoxious, which should be interesting.
Ah, yes. Obligatory bare torsos.
Their task is to steal the opposing pair's spark (read: sticker), basically a game of tag but in pairs and with one guy's arms wrapped around his partner's waist. And uh, it gets a little too physical for my liking.
We are "treated" to several shots of bare torsos and some more shots of the campers applying oil to their partner's bodies. What's a dating show without some skin, I guess? And then the game proper finally begins before the 24-minute mark of this 32-minute episode. I was right. This will not end as satisfactorily as I hoped. But hey, at least after multiple rounds of these guys pushing and pulling at each other and each other's clothes, my ship wins! When Dan and Karl win, I win!
(Jeez. I guess I'm already shipping them, so the show may really be working for me.)
The twist

Dan and Karl won so I'm happy. The winners get to go on a date, after all. I've seen enough BLs and followed enough love teams to tell when I'm catching the shipping disease. The earliest sign is like the opposite of COVID because you can actually taste the flavor and, yes, Karl and Dan got it strong. But then, Mother Sparker reveals the twist and now I'm pissed.
Yes, the winners will go on a date. But the winners will go on a date with anyone of their choice from the losing campers! I am fuming. I am gagged. Dan and Karl are gagged, too. And visibly disappointed because they wanna be together! (See? I'm already shipping.)
And then the episode ends.
Verdict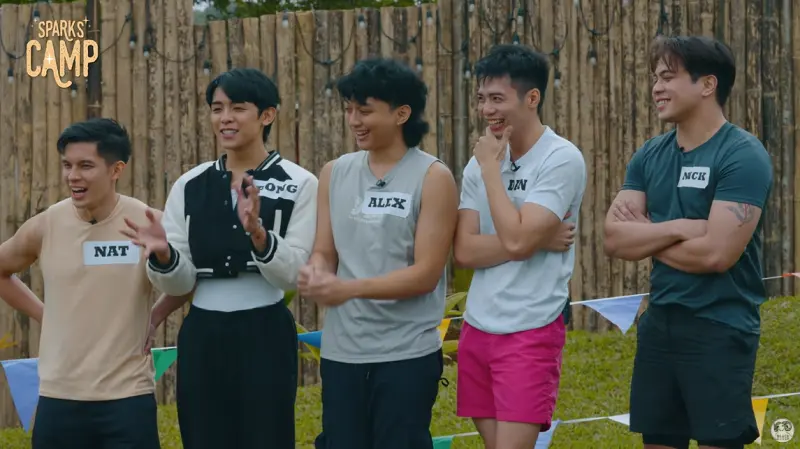 So, obviously, I enjoyed it. I guess it was really their intention to end the premiere on a cliffhanger, but I still think the editing could be tighter so that the first half didn't feel too long. Or maybe they should've situated the campers in another area and didn't make them stand in that same uneven area for too long because it got visually boring at some point.
But hey, sparks were promised, and sparks there were. Whether they're enough to build a fire, I don't know. I just know that right now, I am angry. I wanted Karl and Dan to go on that date. Dan did not choose Karl, waved his number to him in tiny, and went ballistic during that game just so production could give him away to some other camper. I hate you, Black Sheep. How dare you! See you next Wednesday!
Check us out on Facebook, Instagram, Twitter, TikTok, and YouTube, to be the first to know about the latest news and coolest trends!