There is no shortage of action-packed quirky animated movies vying for the attention of entertainment-gorged kids—and weary parents who'd gladly sit through the most inane feature film for an hour and a half of relative peace. And while I fit in neither of these categories, I found 20th Century Fox's Spies in Disguise a delight. Read on for 8List.ph's full Spies in Disguise review, but be warned: mild spoilers ahead.
It's got Will Smith in his element
It's been 16 years since Will Smith lent his voice to the animated comedy film Shark Tale, and while that film left plenty to be desired, Smith's talents were perfectly suited for Spies in Disguise. In this movie, he plays the suave superspy Lance Sterling. With a clear resemblance to Smith—see goatee, dapper tuxedo, and overall swag—Lance is a character who seems to have been written for the Men in Black star.
Unsuitable: 'MiB International' Provides the Romp, and Little of the Amusement
Unsuitable: 'MiB International' Provides the Romp, and Little of the Amusement
Mikhail Lecaros | Jun 19, 2019
It's got Tom Holland playing the overeager fanboy (yet again)
Tom Holland is in real danger of being pigeonholed (pun unintended) into the fawning fanboy character. In this film, he plays Walter Beckett, a brilliant yet socially inept young scientist who develops tools for Lance's intelligence agency. Though ingenious, Walter's unorthodox methods (e.g. glitter and kitten hologram bombs, anyone?) have made him the underdog in the agency.
Amazing chemistry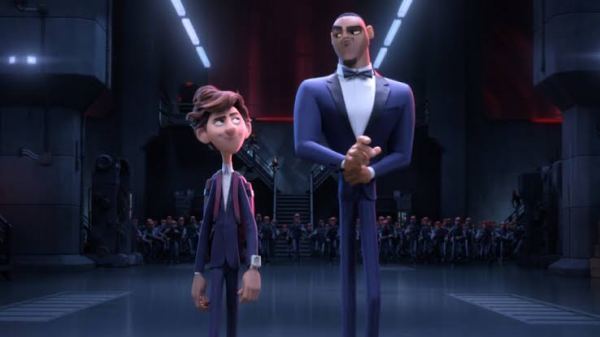 Lance and Walter are polar opposites, which is a prerequisite for buddy spy comedy films like this is. Yeah, it sounds a little paint-by-numbers, but trust us, Holland and Smith's chemistry makes it work. Hollywood, we need more movies with this tandem.
It's ridiculous
So we've got a debonaire superspy and his bumbling scientist sidekick. Nothing we haven't already seen before, right?
Here's where things get a little off-kilter: while looking for one of Walter's inventions to make him disappear, Lance drinks a concoction that turns him into a pigeon. Yup, a pigeon. And Walter doesn't have an antidote. Cue the hijinks.
The action
One would expect fast-paced and dynamic action sequences from an animated spy feature, and Spies in Disguise does not disappoint. With colors that pop, brilliantly designed characters, and an amazing soundtrack to boot, your eyes will be glued to the screen.
Speaking of the soundtrack…
As I mentioned above, the soundtrack is bomb. Mark Ronson is the film's executive music producer, and his funk and vintage soul sound is perfect for setting the film's tone. The soundtrack features Anderson .Paak (see link above), Lil Jon, and even some K-pop (TWICE, NCT Dream, Monsta X).
It's hilarious, yet thoughtful
One ridiculous situation is followed by another, keeping the audience in stitches. But it's not just a gag-filled feature. Under its buffoonery, Spies in Disguise has a compelling message about problem-solving and teamwork, which gives parents plenty of great discussion points to take up with their kids after the credits roll.
The bottom line
Spies in Disguise makes no attempts to reinvent the wheel, and that's okay. It knows what it is: a light, fun, family-friendly romp. Entertaining and undemanding of its audience, it's perfect for those moods when you just want to turn your brain off and have a laugh. (Which—if you're anything like me—is basically all the time now.) In a nutshell, Spies in Disguise is formulaic, but it works, and is worth checking out.
Do you agree with our Spies in Disguise review? If you haven't already, catch Spies in Disguise while it's still in the cinemas!