There's nothing much to write home about in the second movie of the franchise, Sponge Out of Water. It's plot continues one of the running storylines in the series: Plankton's desire to possess the secret formula to make the Krabby Patty burgers that give Mr Krabs and the Krusty Krab its fast food cuisine dominance over Bikini Bottom.
Dovetailing it in parallel is the tale of pirate Burger Beard (Antonio Banderas, for real) who travels to Bikini Atoll in his quest to obtain a magical book that makes any text written upon it come true. Said book narrates the story of SpongeBob and the meta tale of the characters (Krusty Krab vs Chum Bucket, etc) and, when Burger Beard writes into the book that the secret formula should be in his possession, this sets the whole of Bikini Bottom into chaos (Mad Max reference included) and motivates the two camps two team up and go to the surface to take back the Krabby Pattie formula and restore order to their town.
There are three main things to take away from this 2015 movie: Banderas has fallen so far in the celebrity scale that he's already off alphabet (albeit he does do a good job of being a pirate); this thing is a lot of fun to watch and reminds us how relevant the Spongebob series still is; and, it's not as hilariously delicious as the first movie.
Then again, the 2004 movie knocked it out of the park with the jokes and featured A-listers like Scarlett Johansson, Jeffrey Tambor, Alec Baldwin and, the Hoff himself, David Hasselhoff. I also loved the ambitions to grandiosity of the first one with a plot that included King Neptune in the mix.
Still, you can't underestimate the appeal of this animated juggernaut. There's still a lot of life in the legendary fry cook and the adventures of his barkada. And with this movie in 3D the added CGI delights just keep on coming like endless Goofy Goobers.
Here are the 8 archetypes in the Bikini Bottom dramatis personae that most probably make up your own cast of friends.

Extroverted, cute as a button, and dumber than a ton of bricks. You keep them around for the laughs, the way they look light years better without clothes than with, and the novelty of their reactions; e.g. joke times usually go like this with him/her: "Ahahahahahahahaha! . . .Di ko gets?"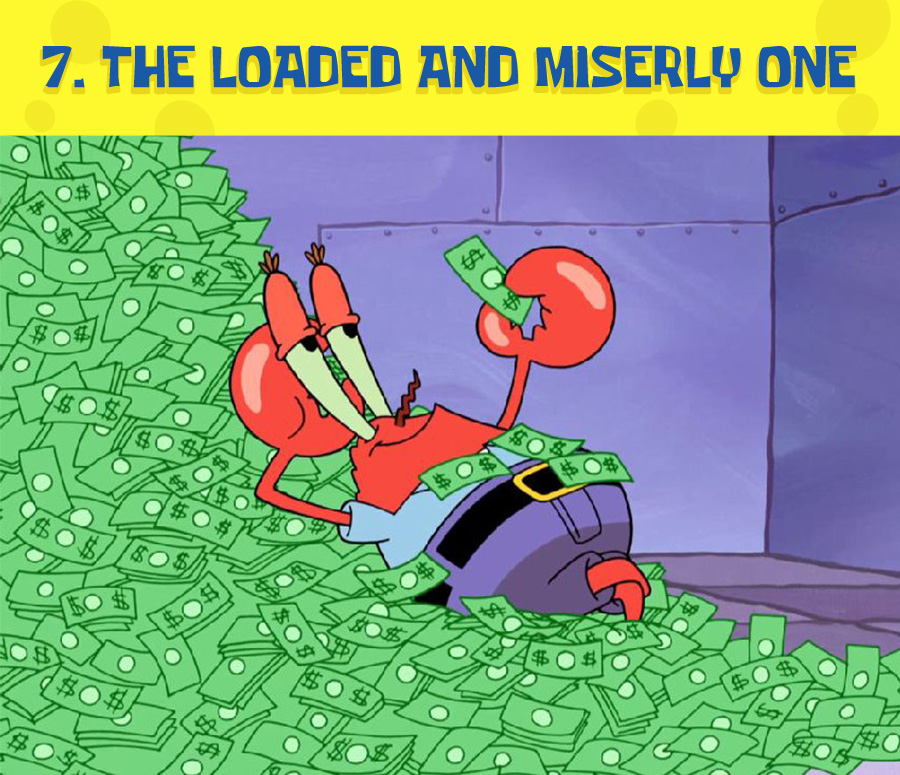 Hello! He likes money! And he always wants to go Dutch.


Climbing that mountain? Wrangling gigantic sea worms? Running that 10k? No problemo. Best line: "Why are you guys so hingal na? That was just 10k?!"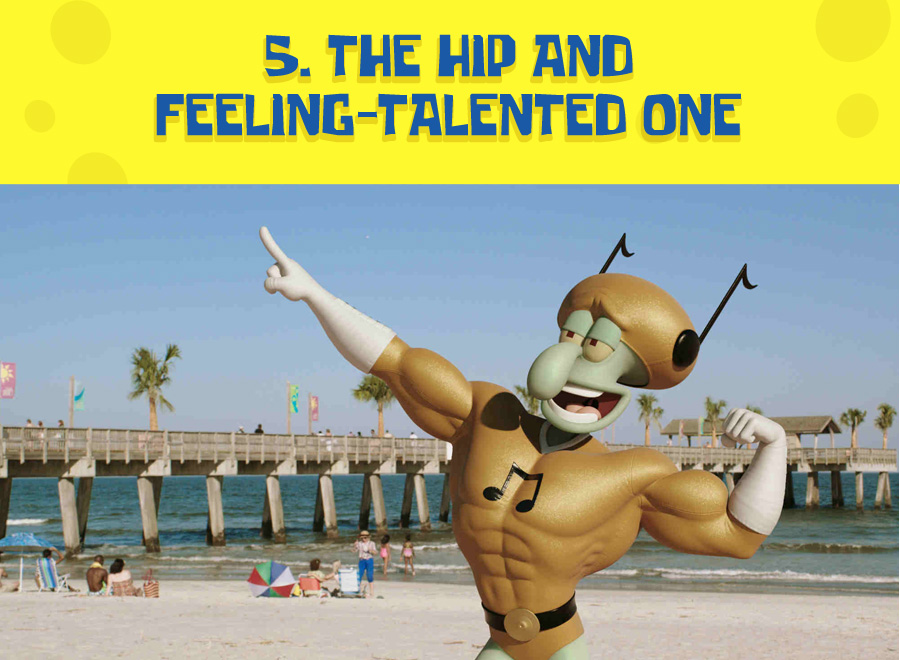 That clarinet solo isn't going to stop anytime soon. Snobbish and educated, also so avant garde that he knows so many up and coming bands/movies/plays/books that don't even exist yet. And he believes "culturati" is the height of modern civilization.


Has shady friends and even shadier relationships. Never leave him alone with your TV, microwave, or passport; never trust him to chaperone your pretty sister or cousin. But he does steal some pretty swank stuff for the barkada and gets you into the most happening of places.


This is the socially inelegant friend who belongs right in the center of the nerd/geek/otaku Venn diagram. She has a keen, analytical mind wrapped in a ripped ice queen, steel-wired body. And she knows how much everyone owes to the centavo when the bill comes. Weird thing is, the guys really, really like her.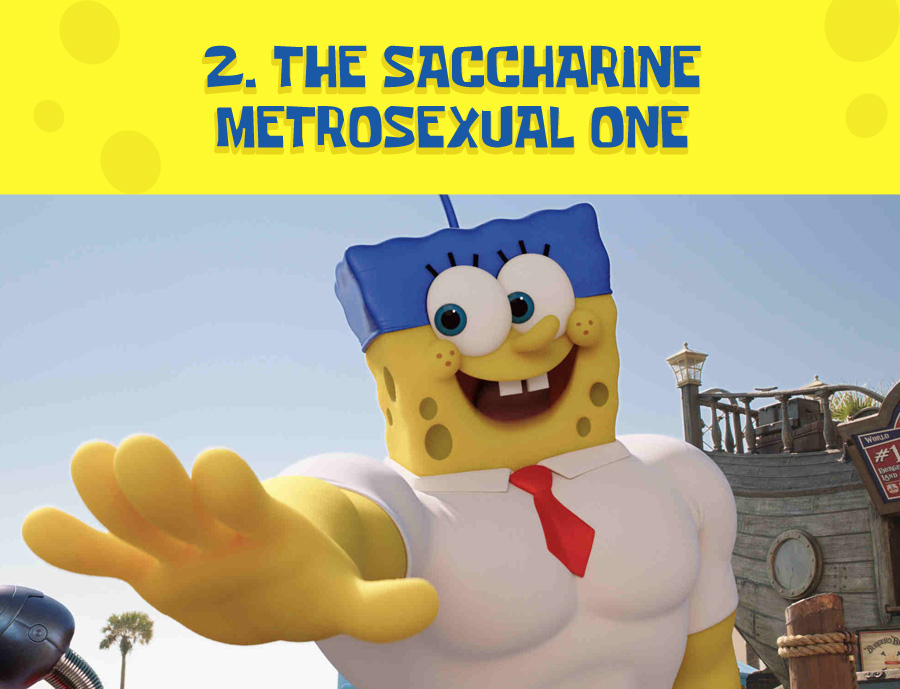 You keep asking each other the question, "Is he or isn't he?" He likes Barbra, he's rodonkulously ripped/mad wiry (with matching one-size-too-small shirts), and he's a really good cook (not that there's anything wrong with that). He's incredibly sweet and full to the brim with positivity, you want to punch him in the face. With rainbows.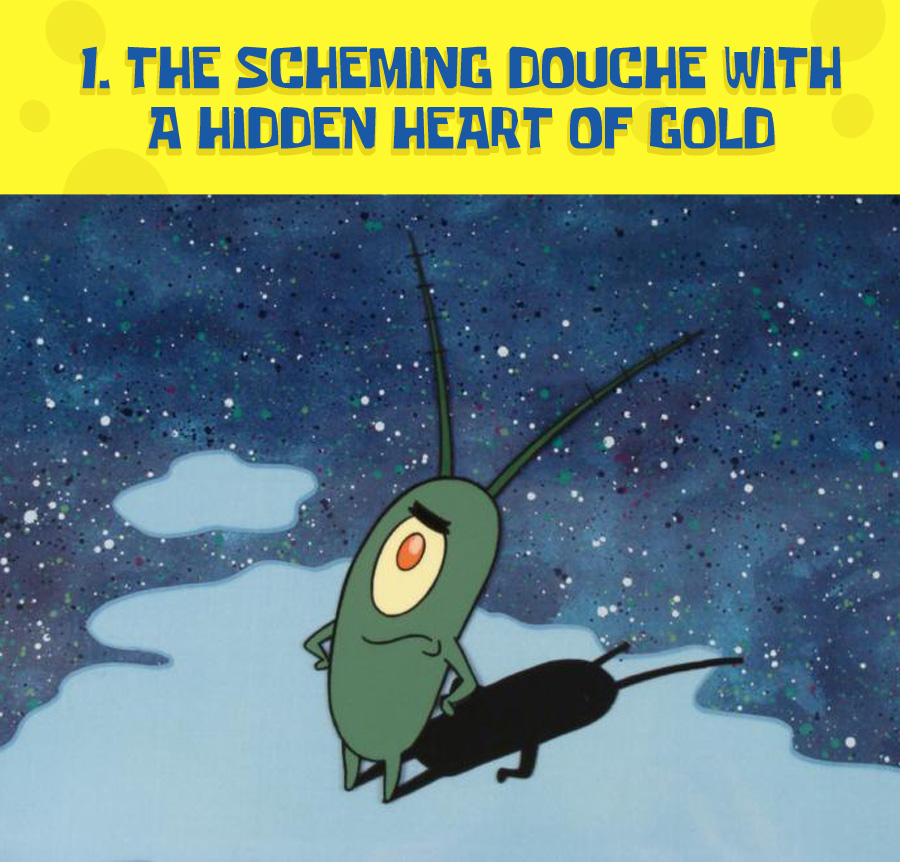 There's only ever room for one of these dickwads in your life. Moody, disconsolate, with a constant desire to sabotage barkada plans just to watch them burn (especially if the Loaded and Miserly Guy made said plans). Sometimes, he actually surprises everyone by coming through when the chips are down. He would probably be the evil ruler of the world if he had more money and was taller/better endowed.
All photos courtesy of UNITED INTERNATIONAL PICTURES
"SpongeBob Movie: Sponge Out of Water" is now showing across the Philippines in 3D and 2D.