In 2016, Netflix unleashed Stranger Things, an original work that owed as much to 80s movie tropes as it did to modern-day prestige television. Set in fictional Hawkins, Indiana, in 1983, the show told the story of a group of children who come face to face with inter-dimensional horror when one of their own disappears. Complicating matters is the arrival of a young girl with telekinetic powers, her only identification being the number 11 tattooed on her wrist.
Despite being pre-packed with endless callbacks and references, Stranger Things was no lazy exercise in nostalgia, blending science fiction and horror to deliver an engaging plot built around some of the most entertaining, fleshed-out characters we'd seen in years. Strong writing was one thing, but Stranger Things' ace in the hole was its cast, populated by known names and newcomers all seemingly-born to play their parts. The show was an immediate hit with audiences and critics, refreshing the careers of its veterans, and making instant celebrities of its young stars.
With a successful first season under its belt, year 2 (released in 2017) expanded the world of Eleven, Mike, Will, Lucas, and Dustin, while simultaneously introducing new characters and terrors for them to face. Slight missteps notwithstanding, the sophomore season was a thrilling binge-watch, proving that Stranger Things was no one-hit wonder, deftly leaving audiences hungry for more.
 THE STORY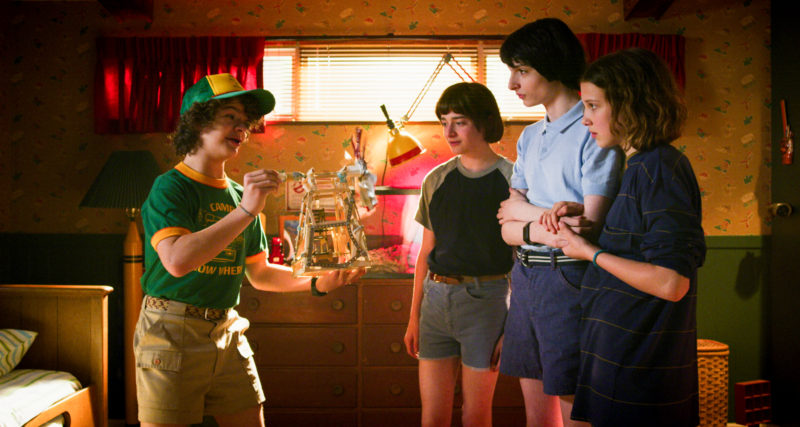 It's been a year since Eleven (Millie Bobbie Brown, Godzilla: King of the Monsters) used her powers to forcibly close the gate between our world and the Upside Down, a year spent settling comfortably into her new identity as the daughter of Police Chief Hopper (David Harbour, Hellboy). Well, maybe a little too comfortable for Hop, as Eleven and boyfriend Mike are fully in the throes of young love, testing boundaries and driving dad up the wall.
Of course, this being Stranger Things, the sense of normalcy doesn't last, and the party of Mike, Will, Lucas, and Dustin is soon drawn into a mystery involving (another) secret lab, an invading force, the return of an enemy long thought defeated, and a girlfriend who may or may not exist.
So how does it stack up?
THE MORE THINGS CHANGE…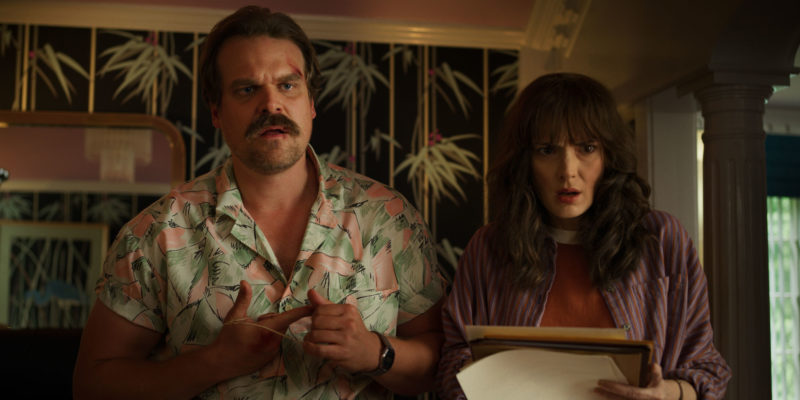 Right off the bat, returning to Stranger Things is like coming home, as the story loses no time in re-immersing us in the world of Hawkins. For better or worse, this homecoming is laced with a sense of growth, both in the town and the characters who inhabit it. Even as our heroes go through their respective stages of adolescence, the town's introduction of a shopping mall under the purview of Mayor Kline (Cary Elwes, The Princess Bride, Saw) has resulted in the shuttering of a number of local businesses.
Inasmuch as the youth are enjoying the wonders of the mall, the older generation is having difficulty in letting the past go, from owners of mom and pop stores, to series stalwart Joyce (Winona Ryder, Reality Bites, Beetlejuice), who is still mourning the loss of Bob (Sean Astin, The Lord of the Rings, 50 First Dates). Ryder excels in the part, getting infinitely more to do here than in Season 2, where she just had to look concerned 90% of the time. Here, she is an active protagonist, displaying fortitude, empathy, and surprising wiliness as she recruits Hopper in her quest to discover why the magnets on her fridge no longer stick.
Hopper himself isn't spared the winds of change; as someone who turned to alcoholism when he lost his real daughter, he really hasn't had time to learn how to raise a teenager, much less one who can slam doors with her mind. Parental woes aside, Hopper and Joyce's investigation forms one of the main plotlines of the season, showcasing not just the chemistry they've always had, but Ryder's little-seen capability for comedy. For his end, a Hawaiian-shirted Hopper spends most of the season acting like a cranky version of Magnum PI, his short fuse giving Ryder plenty of material for Joyce to play off of.
LEAVING CHILDISH THINGS BEHIND
As in previous years, the children anchor the show—they may be older and more wary of what lies in the shadows, and their interests have begun to mature (sorry, Will), but these are still recognizably the same characters we met back in Season 1.
What has changed are the character dynamics, with Will (Noah Shnapp) bemoaning the fracturing of their beloved party. Able to convey intense emotion through the use of his eyes and body tics, Shnapp has always been one of the show's strongest actors, despite his character frequently being relegated to the status of plot device. Here, he serves in much the same capacity (take a shot whenever he puts his hand to his neck), but gets a showcase moment when Will takes out his adolescent frustrations on his beloved Castle Byers in a twisted reflection of how it was built.
THE HAIR AND THE ROBIN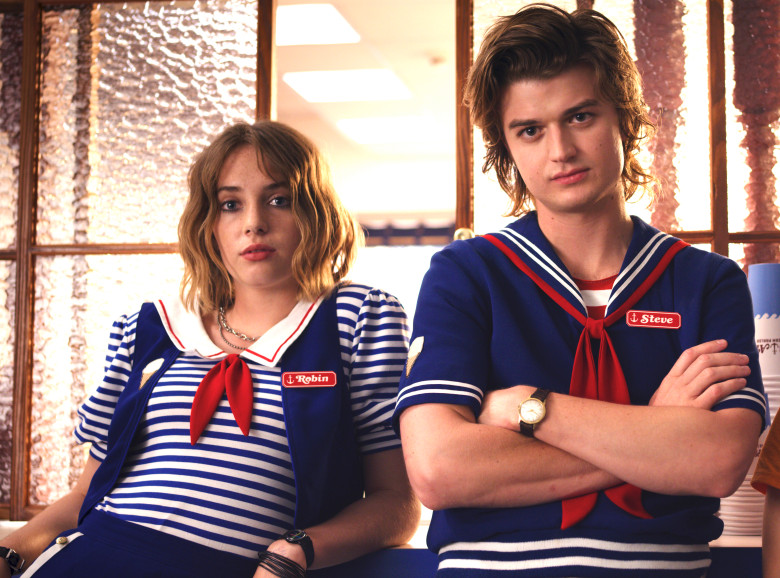 Of the main cast, no character has seen more change than Steve Harrington (Joe Keery), whose evolution from remorseless bully to Dustin's pal to reluctant babysitter and series hero has been a joy to watch. Much of this stems from Keery, who makes Steve's transition believable—he isn't going to pretend that he wasn't a horrible person before, but he sure as heck isn't going to let it define him moving forward.
Unable to get into college, Steve is working at the mall's Scoops Ahoy ice-cream parlor, bedecked in a (less-than-flattering) nautical-themed uniform. Joining him behind the counter is Robin (Maya Hawke, daughter of Uma Thurman and Ethan Hawke!), a new character whose integration in the cast is handled far smoother than that of Max's (Sadie Sink) from last season. Beloved as Max has become, her character was held pretty much at arm's length until Season 2's plot called for her to join in; Robin's role and placement here are natural, and when she joins in the inevitable fray, it's not out of contrivance—it actually makes sense.
Together, Hawke and Keery have remarkable chemistry, forming the sort of onscreen bond that the very best movie relationships are made of. Their comedic timing is also on-point, as seen when the duo stumble into the light of the mall after a long night's chemical-induced wooziness. The subsequent bathroom conversation that takes place further solidifies Steve's transformation to full-blown hero, as he and Robin pour their hearts out in a manner neither they (nor the viewers) could have seen coming.
SIGNS OF THE TIMES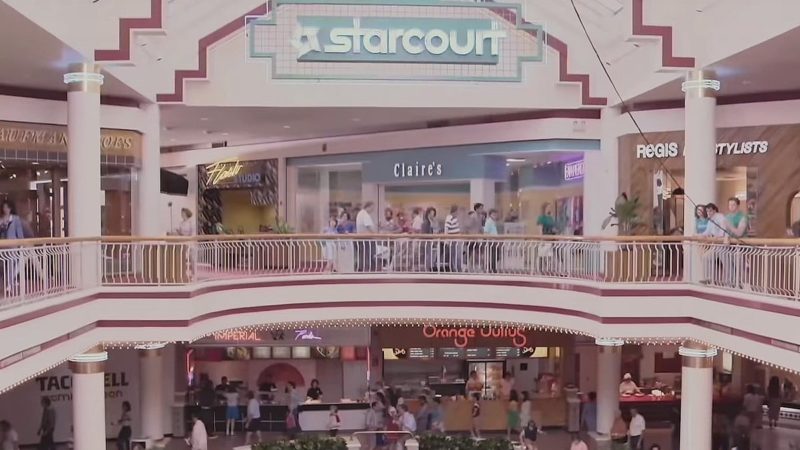 As a commentary on the crass commercialization of small-town America (heck, America in general) that took place in the 80s, the Starcourt mall stands out against the Hawkins landscape, its garish neon announcing it as a temple to consumerism that the youth are all too happy to congregate for. For this reviewer, being born in America two years before the season takes place, the mall serves as a shockingly accurate distillation of the time period, to say nothing of a rollicking ride down memory lane. Burger King, Jazzercise, Sam Goody, and JC Penny all get shout-outs (some more shameless than others), along with the likes of Miami Vice, Rambo, and The Terminator. All told, save for a cringe-worthy ode to (the disaster known as) New Coke, the Duffers ensure that such references (largely) don't detract from the story being told.
Perhaps the most inspired throwback involves Dustin and his new love interest, Suzie (Broadway performer Gabriella Pizzolo), who deliver a musical number that not only brings the house down, but delivers a nostalgic shot of adrenaline straight to the heart. Given its placement in the overall narrative, this sequence shouldn't work (much less delight), but it does, and it's nothing less than a hoot. And, while we're on it, Dustin has a girlfriend? One who actually exists?!
MONSTER SQUAD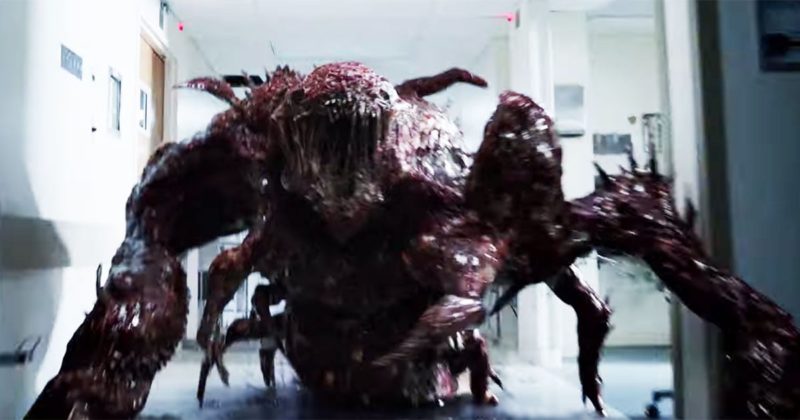 This year, the monster in question is one that takes elements of John Carpenter's classic, The Thing (1982), liberal doses of body horror, and a pinch of Invasion of the Body Snatchers (1956) added in for good measure. First revealed in shadow, the monster's final form is a grotesque hodgepodge of tooth, bone, and flesh ripped right out of a Cronenberg fever dream.
By this point, barricading themselves in familiar surroundings while awaiting otherworldly horror is second nature to these characters, each assuming their roles with an expertise borne of deadly necessity—this isn't the first time they've had to do this, but to save each other, to save the world, they'll do what they have to. After two seasons of Eleven charging in to save the day, it's nice to see the burden of taking on the baddies spread out among the cast. Somehow, it's comforting to know that, no matter what happens, whatever the challenge, these friends will always have each other's backs. In any case, who wouldn't want to be backed up with friends like gun-toting Nancy or wrist rocket-wielding Lucas?
TRUTH AND CONSEQUENCES
When Bob died last season, it was tragic, but not heart-rending; he was a newcomer, after all, not one of the main characters. For all of the conspiracies and monsters and disturbing imagery, Stranger Things was never been the kind of prestige TV show that bumped off major characters to highlight the stakes.
Until now.
The character death that the Duffer Brothers go with is heartbreaking; but, if one thinks about it, it was a development that was perhaps necessary. With his character having become a bigger and bigger caricature in this and the preceding season, there was simply no place else for him to go. For as long as we've known him, his pain and anger defined him—the second he had something to look forward to, he was a marked man. The letter he narrates in the season's final scene, as characters prepare to continue living their separate lives, is somewhat on the nose, but done in so earnest a manner that it is genuinely devastating. When Eleven cries, we all cry.
THE BOTTOM LINE
The show may be set 35 years ago, but its themes of friendship, family, and love in the face of unspeakable evil (now, with 100% more government corruption!) are as pertinent now as they've ever been. With big visuals and bigger stakes, Stranger Things 3's creators put their characters through the ringer, changing them in ways big and small, but never losing sight of what made us love them in the first place.
In a summer season of largely disappointing blockbusters, Stranger Things 3 single-handedly puts nearly every major film of the last three months to shame, offering a near-perfect blend of story, humor, character development, and excitement, with none of the diversionary fat  ("The Lost Sister" episode) that distracted last season. Simply put, this is as joyful and entertaining a viewing experience as you can get, and with a fourth season all but assured, the Duffers have their work cut out for them, because this is going to be a tough one to beat.
Bravo.
Do you agree with this review? Tell us your thoughts below!