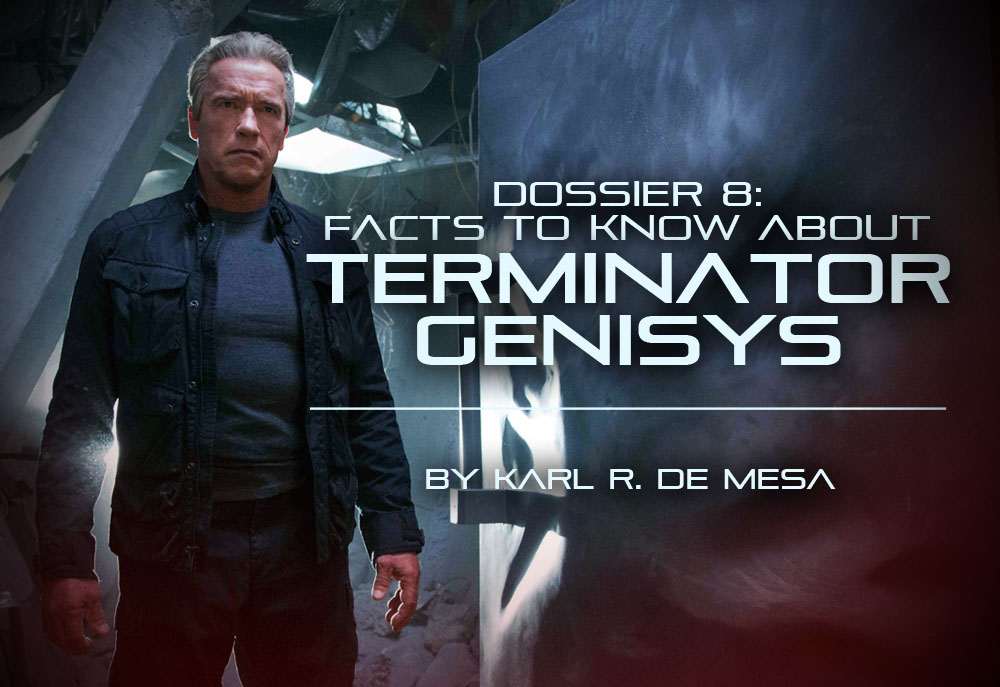 There's something to be said about time travel and killer robots as a niche of science fiction that has sustained appeal. I personally get giddy with nostalgia whenever a rerun of the first two James Cameron-helmed Terminator movies shows up on TV.

This is the sixth (fifth, in the movies canon) in the franchise that's played around with the tropes of a dysfunctional family, post-robot apocalypse survivalism, and how humanity likes to design its own demise with nary a consideration for the Frankenstein monster as cautionary tale, and any of the iterations thereof.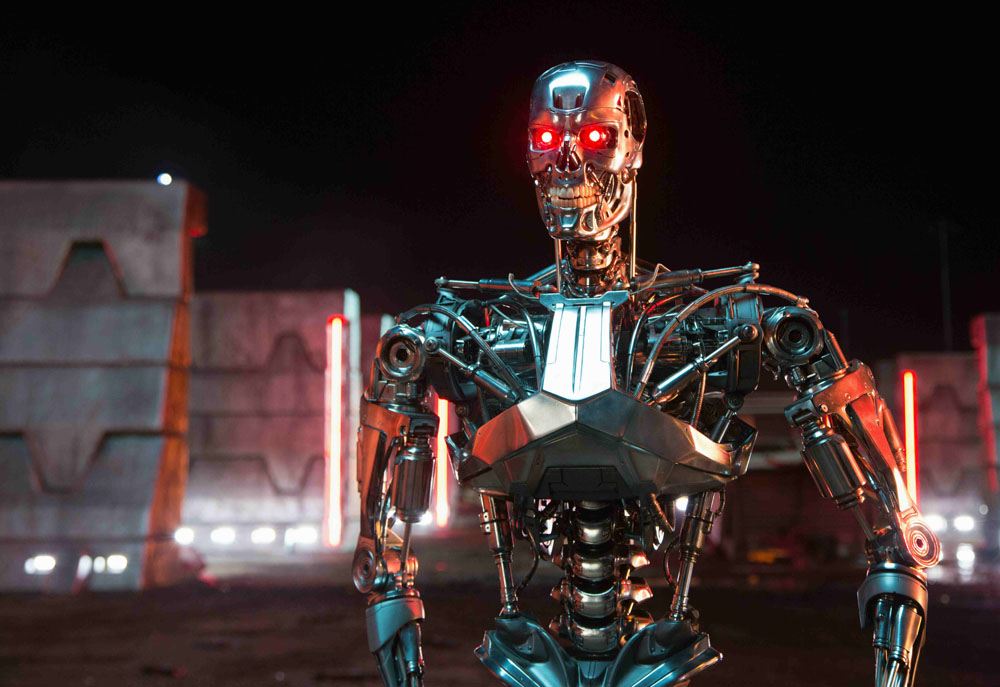 Meaning : do we really need another Terminator installment? Nope. Does anyone really want to see the Governator reprise his 80s role, now as a senior citizen mouthing the "Old, not obsolete" platitude like it'll suddenly give this tangle of canon timelines sudden gravitas? No, and hell no.
That doesn't mean director Alan Taylor, under the auspices of new franchise owners Skydance Pictures, hasn't done a good job of making this thing as visually exciting as possible. Despite the morass of self-referential jumble, Genisys manages a galloping pace 'til the end and enough setup for snark and genuine comedy – something that the original movie and the sequel had at apt moments, and was sorely missing from the last three movies.
As much reluctance as I had coming into the theater, I was enjoying myself with the explosions, plot twists, and robot vs human mayhem (and even the Old Arnold vs Young Arnold combat) that this "reimagining" brought to my lap.
The movie starts in 2029. The Skynet machines have taken over and humans are clinging on to life as part of an underground resistance. Their leader is the scarred and heroic veteran, John Connor (Jason Clarke), Sarah's "future" son.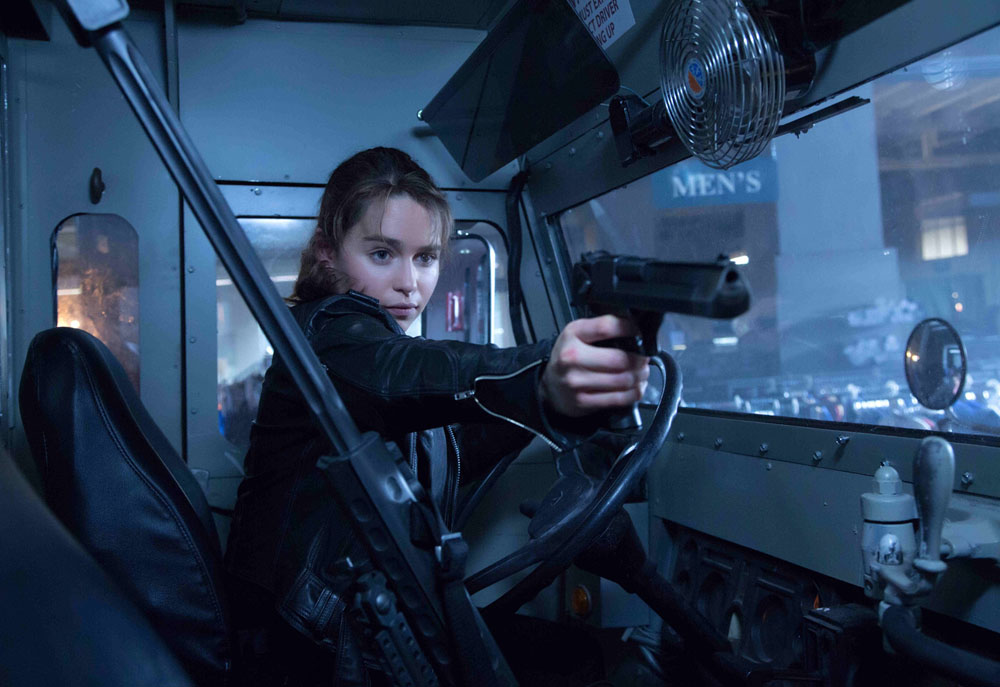 Back in 1997, on Judgment Day, the machines turned against the humans and three billion people were killed. John Connor has a bold plan to destroy Skynet at its roots but learns that a T-800 Terminator has been sent back to 1984 to assassinate Sarah. He therefore recruits his young protegé Kyle Reese (Jai Courtney) to head to the 80s to save her.
So yeah, the machines have risen, the end of the world is nigh, only a handful of people burdened by heavy artillery and a classic Cassandra Complex can save us. So on and so forth. All old news. Anyone with a passing familiarity of the franchise can push these to the back of their viewing plate and just enjoy the add-ons.
It helps that Emilia Clarke as Sarah Connor (who likely took notes from "Game of Thrones" co-star Lena Headey, another Sarah) commits to the cliché lines of the script with all the intensity she can muster without having you think she's just channeling a modern Daenaerys version. It also helps that Arnold and Courtney have great chemistry during their solo scenes.
Jason Clarke (no relation to Emilia) steals the show with his portrayal of John Connor; his change from reluctant messianic figure to reluctant enemy of humanity is actually nuanced and restrained. He's probably the only one who didn't go "full retard" in a movie that expects an over-the-top performance, a thespian skill in action movies that often gets overlooked for all the shooting and charging through walls.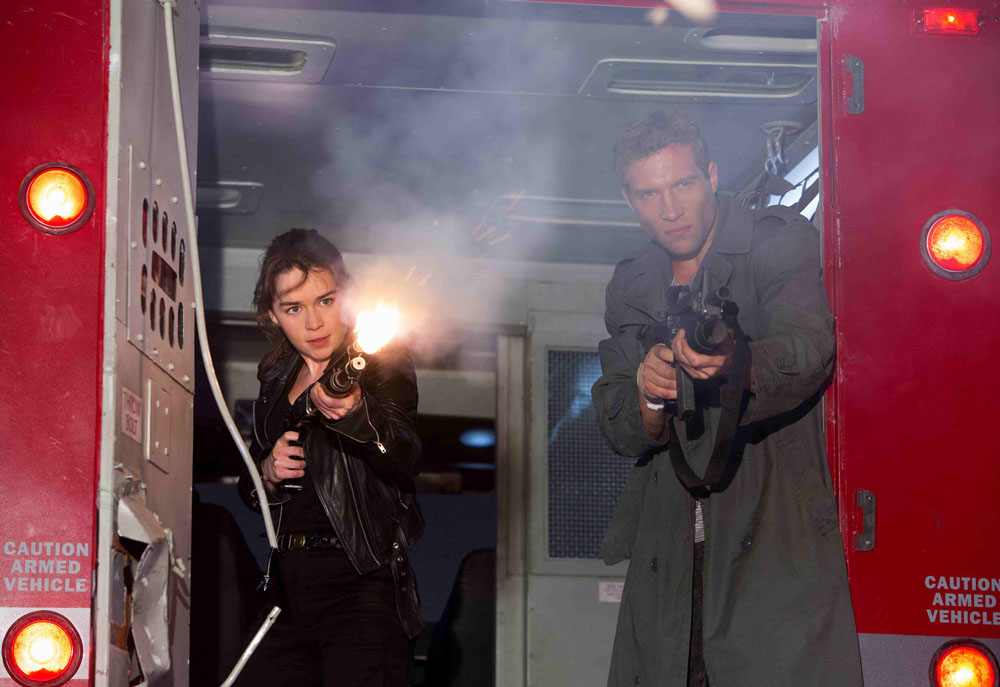 What makes this work during the often confusing motivations for solving the timeline conundrum by jumping from 2029 to 1984 to 2017 and circumventing Judgement Day are the new dimensions in the the interactions between Sarah, Reese, and the old T-800 Arnold. They're a dysfunctional family burdened by fate, their own prejudices, and their levels of inability to be affectionate in a milieu careening to ruin. It makes for very good cinema and sometimes very funny exposition.
Here's a quick dossier on what you can expect from the movie, sans spoilers, so you don't get lost in all the time travel mumbo jumbo.
8. ALT TIMELINES: EVERYTHING'S THE SAME EXCEPT DIFFERENT
According to producer David Ellison, "'Terminator Genisys' is not a remake, it's not a reboot, it's not a sequel—it's really a reimagining based on the Cameron source material. Viewers don't have to be familiar with any of the previous films at all—this is definitely a stand-alone."
It's currently 2029 and the human resistance rallies led by John Connor and Kyle Reese, and believe they have conquered Skynet, only to discover that the machines have launched their version of a fail-safe—the first tactical time displacement weapon, sending a Terminator back in time to kill Sarah Connor, John's mother, before she has a chance to conceive and give birth to the future leader of the human resistance.
Fans will no doubt recognize the Terminator's arrival in the Los Angeles of 1984, but will also soon realize that this story launches into new, splintered directions. The 1984 that our characters travel back to has been drastically altered since the original movie. Events have transpired that have driven it in a completely different direction. Also those films were always set in present day, not in the future, not in the past. This movie bends that set-up. And so, through a series of events, the characters find themselves traveling forward to 2017 in an attempt to stop Judgment Day from ever happening.
"What we've tried to do," says director Alan Taylor, "is to begin in timelines that we know from the mythology and then take them in new directions, and do it in a way that makes sense so we see a future that we saw glimpses of in the previous movies and then we dive to a past that we've seen glimpses of in the past movies but this film tries to take us into new territory behind that while not contradicting any of the things we already know about this mythology."
7. T-800 THE GUARDIAN, OR ARNOLD THE OLD
In "T2: Judgment Day", one of the best monologues came from Sarah Connor: "Watching John with the machine, it was suddenly so clear. The terminator would never stop. It would never leave him, and it would never hurt him, never shout at him, or get drunk and hit him, or say it was too busy to spend time with him. . .Of all the would-be fathers who came and went over the years, this thing, this machine, was the only one who measured up. In an insane world, it was the sanest choice."
Now, the new movie posits a big What If. What if the T-800 was sent back in time to protect Sarah Connor instead of John? Hence, the reinstatement of Arnold, as he is now, with the premise that the flesh of the T-800 has changed but not the machine parts inside.
Producer Ellison notes, "In this movie Arnold is playing a character that was sent back in time to when Sarah Connor was nine-years-old—he was not able to save both her parents, but he was able to save her and raise her since that time. He's been her protector, her warrior, her Guardian. Fighting for that long, he has a little wear, a few glitches. Also, his learning processor has been on that whole time, so by the time he's traveled forward, he's had more than 30 years to answer that question of can he actually be human? How does he interact with Sarah in that role, and then once Kyle comes along, how does Kyle's falling in love with Sarah change that?"
6. SARAH CONNOR, THE YOUNG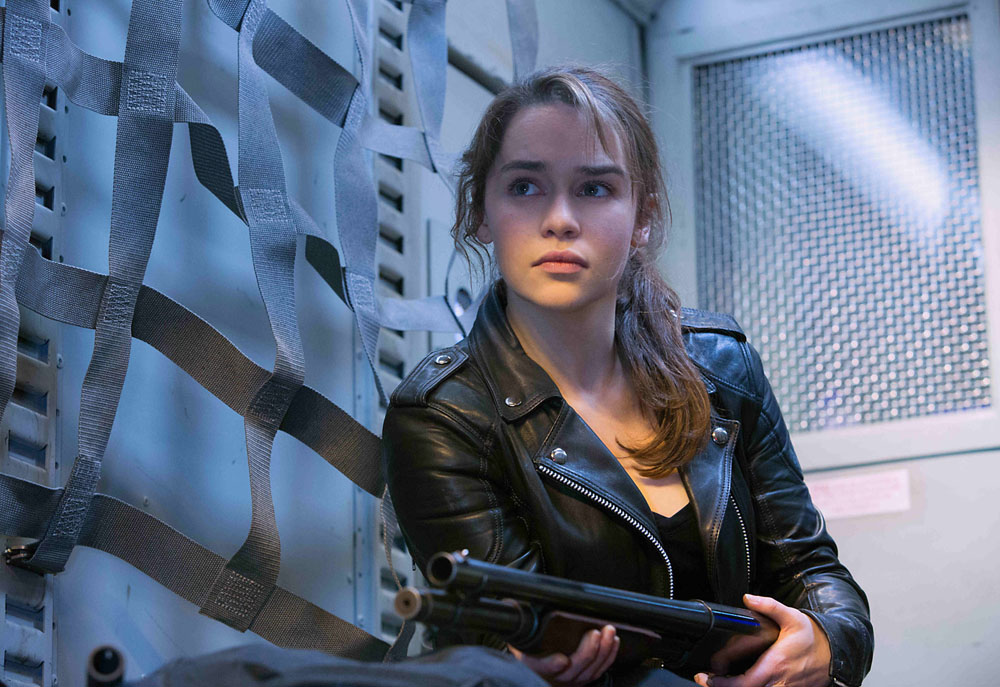 While the guardianship of Sarah has had an effect on the Guardian, the Guardian's presence has also affected Sarah – incidentally, she calls the T-800 "Pops."
Jason Clarke, who plays John Connor, feels, "Emilia brings a strength in femininity—the Sarah we pick up now is different. She didn't have to grow up without a strong parental presence. I think there's a bit more confidence in the woman, not just the paranoia of knowing there's a future out there that's trying to end her existence. There's a bit more 'girl about town' that I think helps—you can see her truly start to fall in love with Reese."
Producer Ellison interjects, "Probably what I love the most about this script is the relationship between the Guardian and Sarah. It's the heart. It's beautiful. We get to see his character in this whole other gorgeous light. Watching her all this time has kind of softened him—except, of course, when people have tried to kill her."
Emilia Clarke jokes, "This Sarah was brought up by a Terminator to be a warrior, so she has a huge body of knowledge when it comes to fighting and survival. So a lot of what was done was to help me feel comfortable embodying that part of Sarah, always being prepared."
5. THE INFATUATION OF KYLE REESE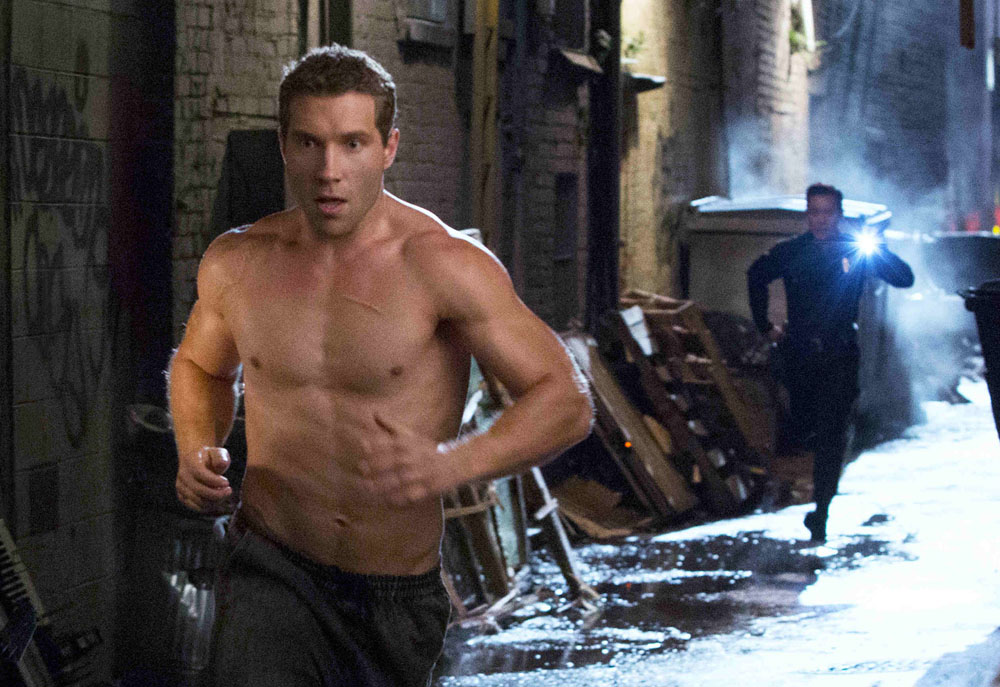 At the heart of it all, felt the "Genisys" filmmakers, is the "dysfunctional family' and its love story James Cameron placed at the center of the films.
Kyle Reese (Jai Courtney) goes back as he did before, being told that Sarah Connor is a fairly helpless woman working as a waitress—she'll have no idea what you're talking about, but you'll need to save her, even though she doesn't believe. Then, not only is he greeted by a Terminator, which completely surprises and confuses him, but then Sarah arrives in a huge fashion, and it's her character that has the famous line, 'Come with me if you want to live.'"
Producer Goldberg comments, "To me, great science fiction is always more than just the bells and whistles of things blowing up. I still remember watching 'The Terminator' and thinking, way back then, 'Oh wow, this is a love story.' It's this amazing science fiction movie and Arnold Schwarzenegger is this killer robot—it's all incredibly cool. But to me, it all boiled down to the line, 'I came across time for you, Sarah.'"
4. SCARFACE SAVIOR: JOHN CONNOR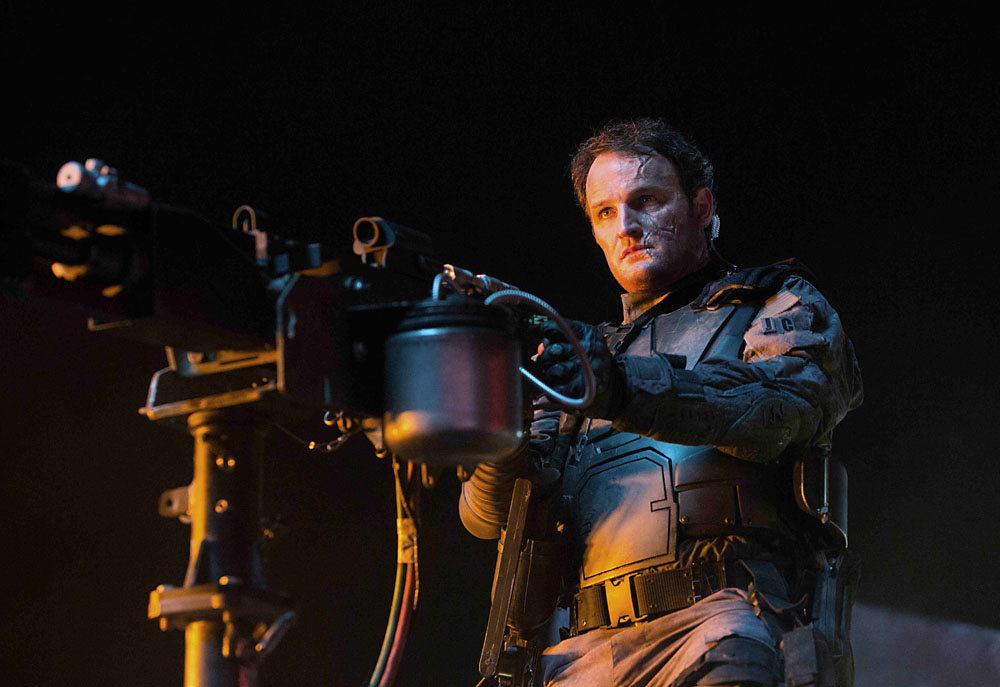 Warrior, general, prophet, and savior of humanity all rolled into one. David Ellison says, "The thing about John Connor is he's tortured. For some, he's a prophet, but he says in our movie that he cheats, that his mother raised him and told him everything that was going to happen. That's a huge burden—he will lead all of these people and, in reality, he knows that a great deal of them are going to die."
Casting the part of John Connor—particularly for this John Connor, whose character runs the gamut from messianic to maniacal—was an acknowledged challenge among filmmakers. Dana Goldberg says, "We knew John Connor was going to be one of the hardest roles to cast—here's the guy people who have no hope choose to be their hope. These are people who've had everything taken away from them, and yet, when this man stands up and says that it's time to fight, they'll go to the ends of the earth for him."
Goldberg ass, "There's a moment in the film where John wishes a soldier good luck, and the soldier says that he doesn't need luck—he has John Connor. . .We think people are going to be blown away by Jason Clarke in this movie."
3. LIQUIFIED NINJA: T-1000 REDUX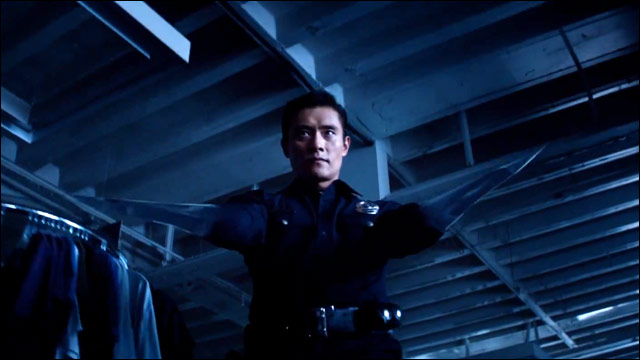 People think of Robert Patrick in the T2 movie whenever they hear the T-1000. But G.I. Joe's Byung-hun Lee fits the physicality of the role adeptly. He says, "I have some history with this movie. I was really influenced a lot by it when I was a teenager. When I was in high school, everybody called me Terminator, because they thought I looked like him and because I was the champion of arm wrestling. So it was kind of a coincidence to get a part in this project—it was really great."
Both the 1980s' worlds of global politics and filmmaking that gave rise to the original films have changed tremendously. The Terminator proclaimed "I'll be back" a full five years before the fall of the Berlin Wall, and when the realization of the full potential of computer generated imagery was still decades away.
"The Cameron films to me were really Cold War era films," notes producer Ellison, "where the analogy that was being laid on top of the story was very much the threats felt during that time period. The advancements in AI give us the ability to really update the franchise to today, to where Skynet no longer has to break free—we're actually lining ourselves up and giving away our privacy, our freedoms, our information."
2. THE T-3000: MARRYING MAN + MACHINE
A perfect blend of human and machine (alloy nanobots), this insidious new model is a big step up from either the T-800 or the T-1000. What its capabilities, strengths, and weaknesses are, are as of yet unconfirmed.
1. T-5000: ONE KILLER APP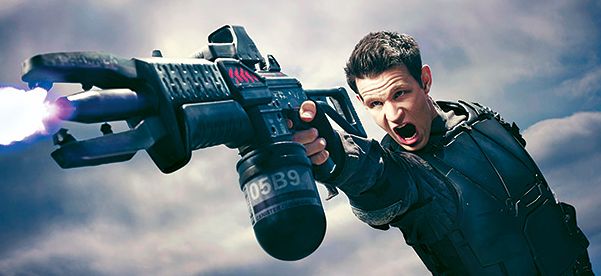 Matt Smith, from Dr Who, is seen briefly as the top of the line Terminator the T-5000 – the physical embodiment of the singular app, the operating system, and the digital storage cloud that could possibly rule all of future tech. Is it the harbinger of Judgement Day? Possibly.
Terminator Genisys is currently screening in theaters across the Philippines. All photos courtesy of United International Pictures.