Premiering at the Toronto International Film Festival in 2019, there was no way anyone could have predicted just how prescient — and timely — The Platform would turn out to be when its Netflix release coincided with the COVID-19 crisis. Today, as governments all over the world grapple with the pandemic, issues of money, privilege, and the inherently classist nature of capitalism are being brought to light in a manner and extent never before seen.
For better or worse, there's never been a better time to watch The Platform.
The Story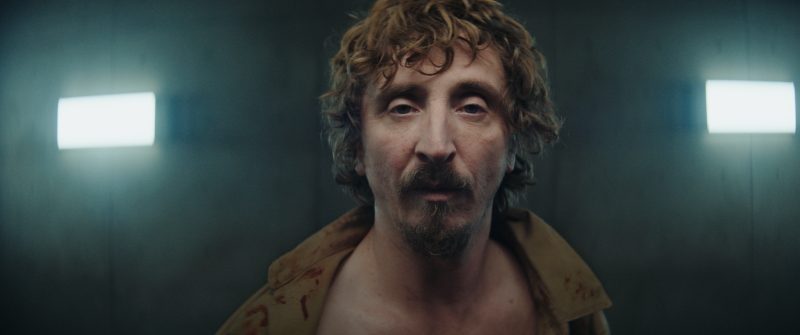 A man named Goreng (Iván Massagué), wakes up in The Hole, a "Vertical Self-Management Center"-concept prison that he has willingly confined himself to in exchange for academic recognition. His cell is sparse, with only one other prisoner, Trimagasi (Zorion Eguileor), for companionship. A lone platform descends from the ceiling once each day, delivering food. Starting out at the top level, overloaded with delectable dishes, the amount of food available for those below relies entirely on everyone only eating the bare minimum for survival. But with everyone's assigned level changing on a monthly basis, and an estimated 200 levels, the prisoners make the most of every meal, leaving those lower than them scrambling for whatever they can get, by any means necessary.
Speculation and Subtlety
The finest speculative fiction has traditionally served as a societal mirror, examining notions of technology, ideology, and morality as they pertain to the human condition through the use of allegories, metaphors, and stand-ins. On good days, that can mean an exploration of identity and individuality by way of cyberpunk action (The Matrix), while, on others, it can be a painfully-earnest discussion of racial inequality. Take, for instance, that '60s Star Trek episode where a species of half-black and half-white aliens hated one other for being mirror opposites of each other. Granted, subtlety wasn't old-school Star Trek's forte, but that episode was made 51 years ago and, just as that franchise's allegories improved — Star Trek: Into Darkness, notwithstanding — one would hope that audience sensibilities have likewise evolved from requiring such bluntness.
Sadly, a glimpse at social media would seem to indicate otherwise. If ever there was a time for thinly-veiled morals and life lessons presented as entertainment, now would most definitely be it. Which brings us to The Platform, Gaztelu-Urrutia's absolutely on-the-nose indictment of capitalism. The film makes no bones about its premise, with its Netflix description stating upfront precisely what you're in for: "A slab of food descends floor by floor in a prison. The inmates above eat heartily, leaving those below starving and desperate. A rebellion is imminent."
Entering the Food Chain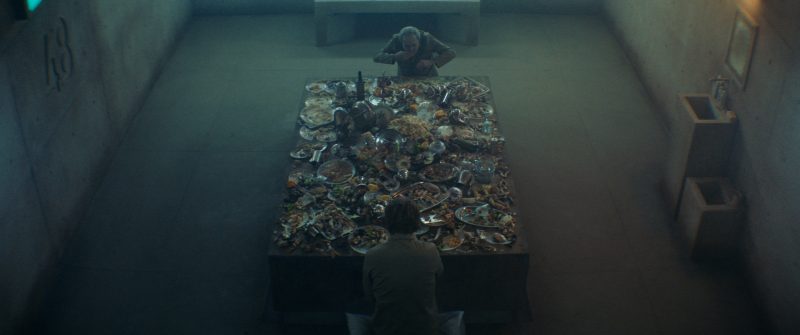 As the film proceeds, Goreng realizes, the hard way, the nature of the hellish existence he's willingly condemned himself to. "I can't shit upward," he says, at one point, sullenly acknowledging the nature of privilege and upper society's (non-)relationship with rules and regulations. It is precisely moments like this that the film's ham-fisted allegory should have fallen on its face, but somehow, the actors are able to make it work.
As Goreng's first few days turn into months, he begrudgingly becomes a part of the system he is initially repulsed by. When Trimagasi lays down his pillow to kneel before the platform and gorge himself on half-eaten food, Goreng learns to start doing the same. Perhaps most crucially, when the duo is assigned to a lower level, Goreng finds out that a copy of Don Quixote may not have been the most practical item for him to bring along.
The Inmates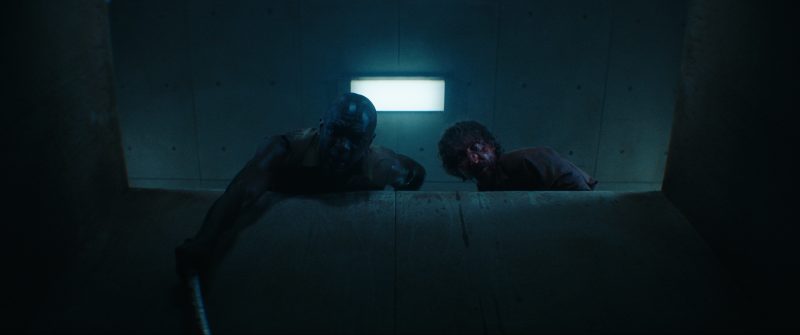 A prison film is only as interesting as the prisoners in it, and the leads are well-cast, their well-honed comedic chops preventing the proceedings from becoming too downbeat. Despite having to deliver some incredibly depressing dialogue, the duo's chemistry forms the backbone of the film, as the younger Goreng learns the ropes from Trimagasi.
Along the way, we are introduced to a number of fascinating characters, including Baharat (Emilio Buale Coka), a man whose faith and optimism has kept him alive far longer than one would expect, and Miharu (played by Spanish-born Filipina Alexandra Masangkay), a madwoman who regularly rides down with the platform to find her lost child, oblivious to the fact that the facility doesn't house anybody below the age of 16.
Keeping Things Interesting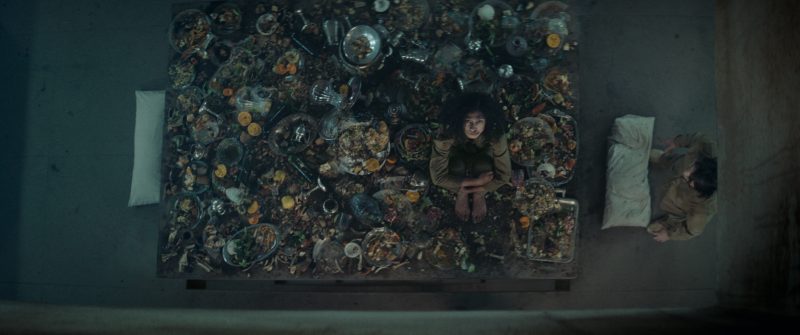 Taking place in a series of identical cells, the film essentially has only one set to work with, but thankfully, David Desola and Pedro Rivero's script, along with some interesting camera angles, works overtime to keep the story moving – each sequence progresses the plot, revealing pieces of information to Goreng (and the audience) that pay off in various ways.
A specific device that works better than it should is the reappearance of previously-killed characters as figments of Goreng's imagination. It's something that we've seen a hundred times before in a hundred other shows and/or films, but its use here is effective, nonetheless. As the different facets of Goreng's psyche manifest and seek dominance of his deteriorating mental state, one actually beings to question how or if he will manage to escape.
Blood and Guts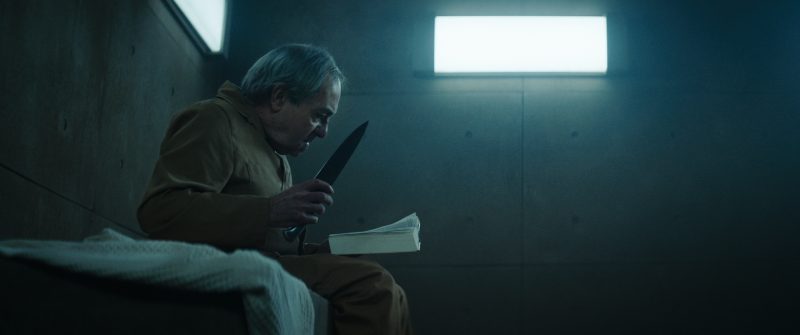 Much has been made of The Platform's visceral imagery — this isn't a fable for the faint of heart, starting with Trimagasi shoving handfuls of partially-eaten food into his face, before escalating to graphic violence, gore, and attempted sexual assault. Whether or not it was necessary to show the majority of these is, of course, debatable, but it can't be denied that their inclusion is appropriate to the world being depicted. In bringing their "Vertical Self-Management Center" to life, the filmmakers are relentless in driving drive home the idea that, left unchecked, human beings' self-serving nature would render them little better than animals.
Given the decidedly-literal execution of the film's subject matter, there are no lines to read between here, as none of the prisoners consider themselves responsible for their states, predictably choosing to blame their behavior on the actions of those above or below them
The Final Level
Sadly, whatever inspiration the filmmakers drew on to grant their brash concept credibility is almost entirely for the film's ending, which eschews everything that came before in favor of unearned sentimentality. While the film does tease that there's more to Miharu's madness than Goreng is initially led to believe, the manner in which the film's final twist is executed is as simplistic as it is contradictory to everything we've been presented with up to that point. Simply put, it's too convenient, even for a film as deliberately straightforward as this one.
But then, perhaps that's the point.
In choosing to end their anti-capitalism exercise with a message rooted in hope, Gaztelu-Urrutia's and his cohorts have crafted a tale that nevertheless chooses to hang its hat on a twisted sense of optimism. The final act isn't the cherry on top of a 90-minute epitaph for humanity, it's an ode to our potential to be better and the notion that maybe, just maybe, we can get our collective act together to build a better tomorrow.
Is it a great ending? Not in the least — there are still loads of questions that need answering, like why everybody's names are Indonesian words — but for all its manipulative cheesiness, it works in context.
The Bottom Line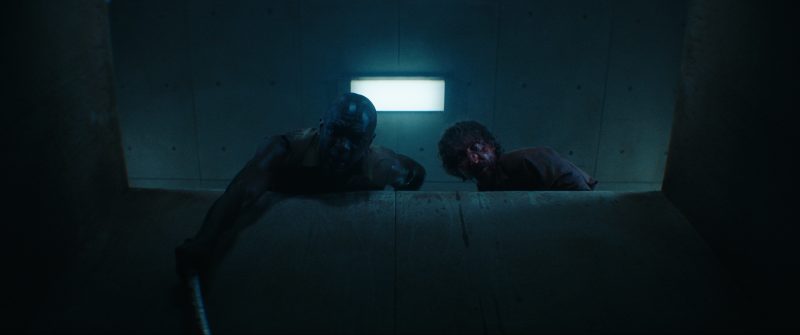 Arriving at a time when a global pandemic is bringing the worst and best of humanity to the fore in equal measure, it's impossible to say what kind of impact The Platform will have when things return to some semblance of normalcy. But with things being what they are for the foreseeable future, The Platform is probably just the sort of old-school, un-subtle speculative fiction the world needs right now.
Heaven help us.
What did you think of The Platform? Tell us below!