What if your only your only daughter suffered the worst fate imaginable to a parent and, months later, the police had yet to turn up a single lead? What would you do to honor their memory, and how far would you go to avenge their loss?
The Story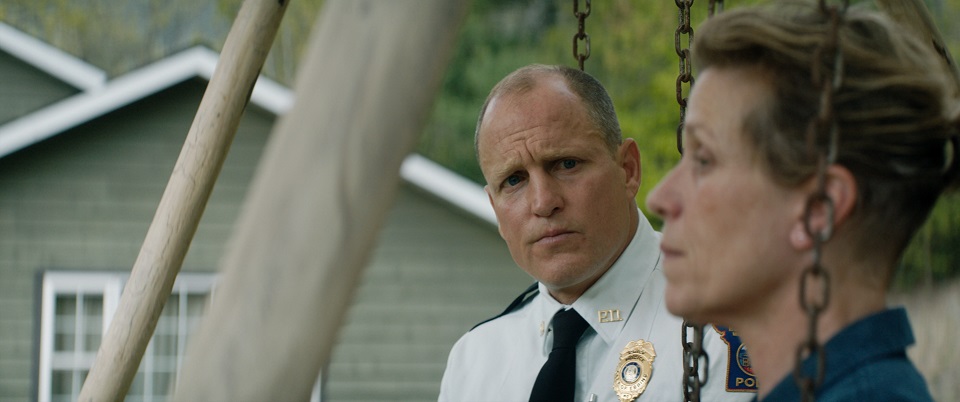 Unfortunately for small town gift shop worker Mildred, (the ever-excellent Frances McDormand, of 2012's Moonrise Kingdom) these questions aren't hypothetical. Which leads her to lease the film's eponymous billboards to send a message, effectively goading her town's police (headed up by Woody Harrelson's well-meaning Chief Wiloughby) into action via public humiliation.
Woman on a Mission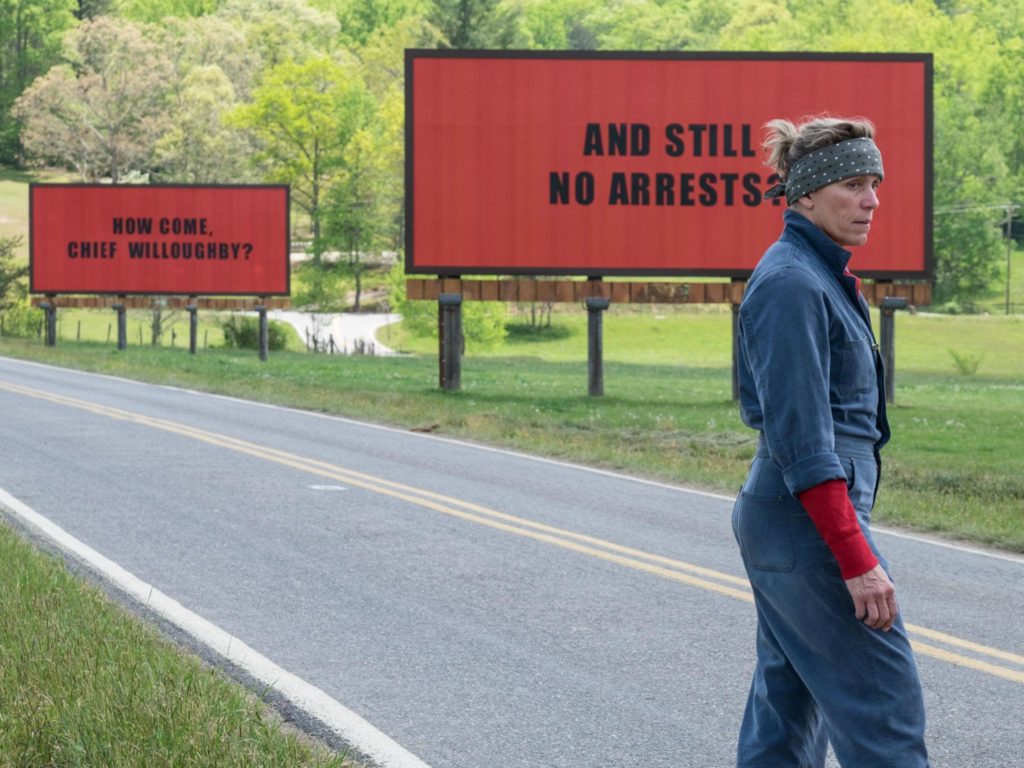 While Mildred is the sort of role that a lesser performer could very easily have reduced to parody or caricature, McDormand comands your attention, not through theatrics or big monologues, but by simply, believably, inhabiting the headspace of her character. As the film's emotional core, Mildred is trying deeply to make sense of the world, her tough as nails façade fractures at times to reveal an inner grief she is unable to contain with her bratty son or jerk of an ex-husband. This isn't to say she's above kicking someone in the crotch or setting fire to a police station mind you, but the manner in which McDormand is able to make us root for such a clearly broken character is no small feat.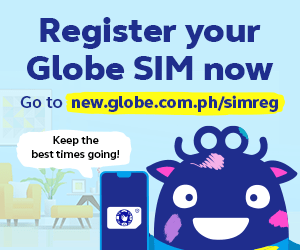 Small Town Chief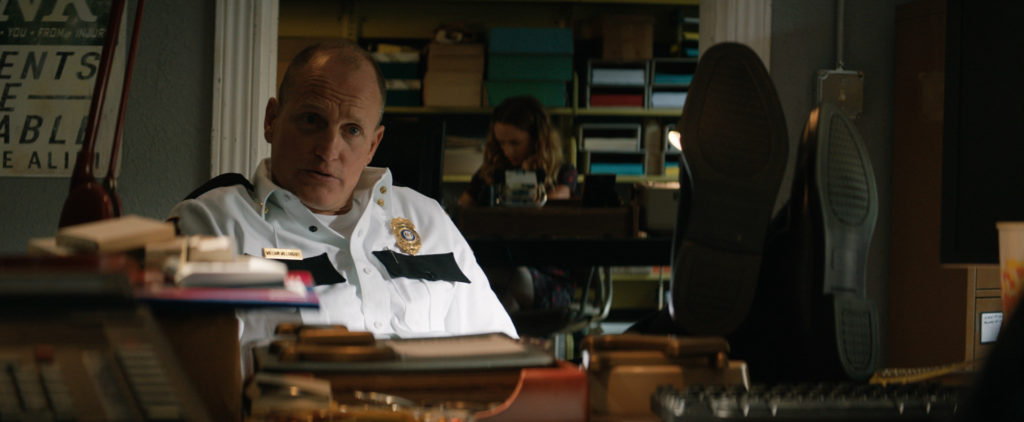 Rather than providing Mildred – or, for that matter, the audience – with any of comfort or solace, the Ebbing Police Department adds to the overall sense of melancholy. At the head is Harrelson's Sherrif Willoughby who, while being an altogether decent fellow who empathizes with the grieving mother, has his own problems to deal with.
Blessed with a beautiful wife (Abbie Cornish, Sucker Punch) and two lovely daughters, Willoughby is nevertheless forced to contend with the prospect of his own mortality in the cruelest way, ultimately choosing to contend with the inevitable on his own terms.
Small Town Idiot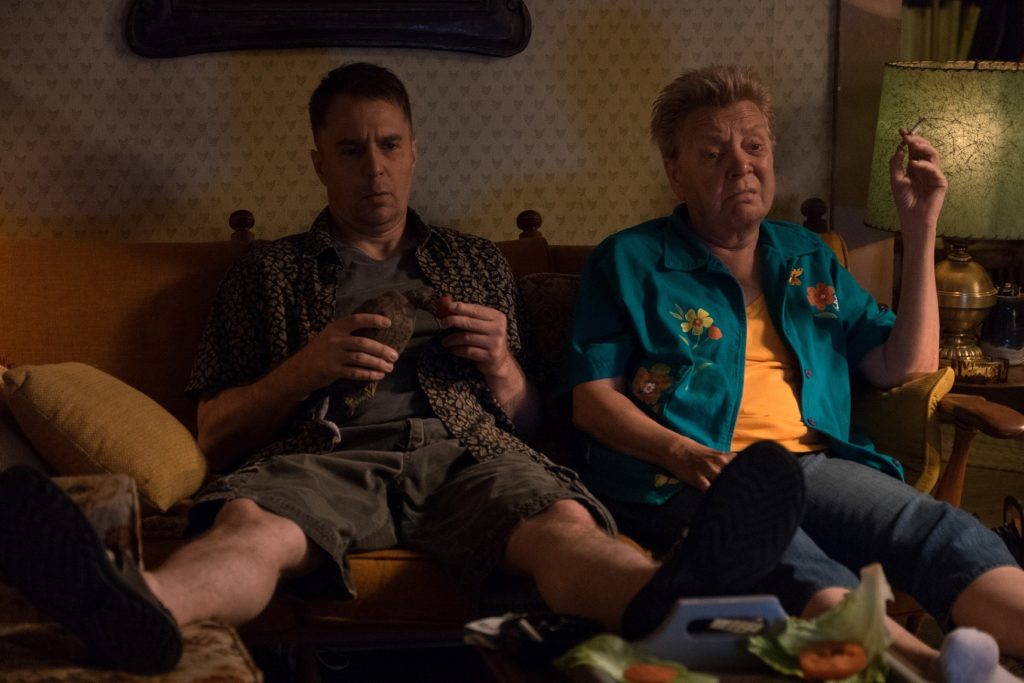 No matter the movie, Sam Rockwell (Moon, Iron Man 2) is the kind of performer who never phones in a performance, always giving his best, even when the film around him doesn't. In Three Billboards, the talent definitely doesn't go to waste, as Rockwell plays a haplessly racist – yet not altogether incompetent – deputy named Dixon. Henpecked by his overbearing mother and more often found reading comics rather than solving cases, Dixon comes with a short fuse, as seen in a brutal one-shot sequence that comes to define the character.
An Intimate Examination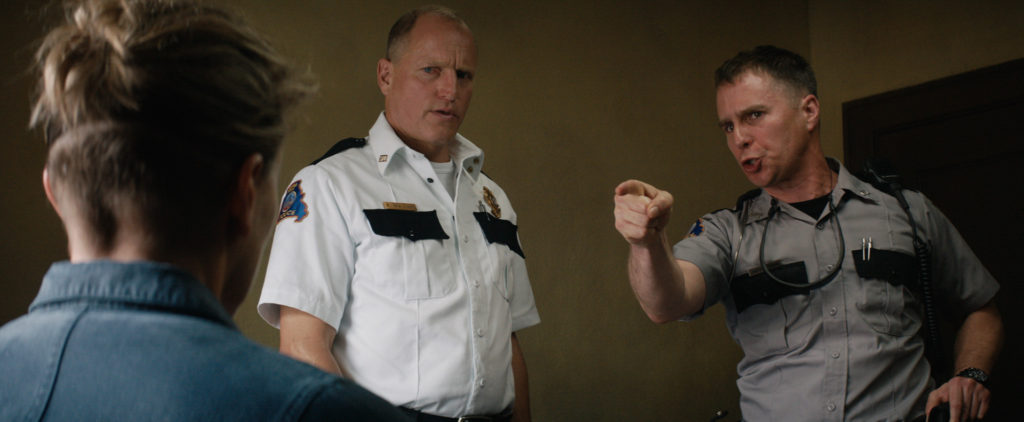 Macabre premise notwithstanding, Three Billboards Outside Ebbing, Missouri avoids the police procedural route, with writer-director Martin McDonagh (Seven Psychopaths, 2012) opting instead for an intimate character study into the effects of loss, as framed through a stark lens of cause and effect. Quite often during the Three Billboards runtime, the tragic and the absurd go hand in hand, making for an experience that's funy, sad, affirming, and depressing – all at the same time.
The Road to Perdition
It's been said that the road to damnation is paved with good intentions. If Three Billboards is anything to go by, then part of that road must run right past Ebbing, Missouri, because these people aren't fundamentally bad, but they are definitely miserable, and none more so than Mildred.
This film includes in more than one instance where Mildred (and, by extension, the audience) is forced to just roll her eyes and power through whatever new indignity life has chosen to throw at her. From a date with the town dwarf (Game of Thrones' Peter Dinklage, exuding dignity and wounded pride in equal measure) to her ex-husband parading around his 19-year old girlfriend (a former zoo keeper, though how a town this small has a zoo is never really explained), Mildred must frequently dig superhumanly deep in order to push past the bleakness.
Her inability to give up and constant refusal to accept bullshit make her endlessly watchable, and when she gets her moments of catharsis, we're right there along with her.
It Only Hurts When I Laugh
A comedy of errors that's blacker than pitch, Three Bilboards may not have been directed by the Coen Brothers (whose award-winning effort, Fargo, first introduced McDormand to mainstream audiences back in 1996), but it's not hard to imagine their films having had some influence.
Under McDonagh, Three Billboards never goes the easy way, with the plot's deviations managing to be consistently surprising while never coming across like the oft-pointless mystery box format.  At any rate, McDonagh, much like life, definitely has a wicked sense of humor, maintaining an impressive rate of making you laugh and then quickly forcing you to question yourself on the propriety of it. Indeed, by not pulling its punches, Three Billboards manages to come across as altogether more honest than the usual awards bait.
Speaking of awards…
Oscar Forecast
Currently nominated for seven Academy Award nominations, look for this to score big in the Best Supporting Actor (both Rockwell AND Harrelson are nominated), Best Screenplay, and Best Actress categories. Both men did fine with their parts, but there is no doubt that McDormand OWNS this flick, giving possibly the best, most nuanced performance of her career. On the other hand, Best Picture might be a lock, given the caliber of this year's competition. But Three Billboards did go home with the big prize at the Golden Globes, so don't count this one out yet.
Three Billboards Outside Ebbing, Missouri is now showing at Eastwood, Shangri-la Plaza Mall, Century City Mall, Commerce Mall, Festival Mall, Fisher Mall, Gateway Mall, Fora in Tagaytay, and at Vista Cinemas: Evia, Las Pinas, Sta. Rosa, Bataan, Pampanga and Daang Hari.