The Toys are Back in Town in 'Toy Story 4'
Jun 20, 2019 &nbsp • &nbsp Mikhail Lecaros
Difficult as it is may be to fathom that nearly a decade has passed since Toy Story 3 (2010) wrapped up the adventures of Woody, Buzz, and the gang in brilliant, emotional fashion, it's even harder to believe that it's been 24 years since we were first introduced to them in 1995's Toy Story. The world's first full-length computer-animated feature film, Toy Story won over audiences and critics alike with its sharply-written characters, winning story, and (for the time) state-of-the-art visuals. Of course, being in a pop culture climate where beloved characters never really go away, 2019 brings us Toy Story 4, and one would be lying if he said it wasn't good to see them back in action.
THE STORY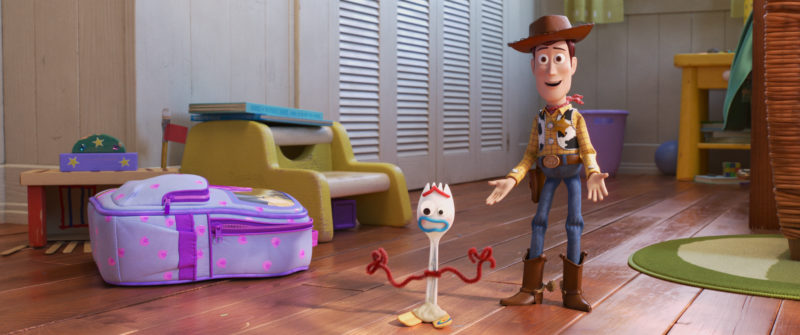 The last time we saw the titular toys, owner Andy had bequeathed them to Bonnie, a sweet little girl who is just about to start kindergarten when Toy Story 4 opens. Of the classic characters, Sheriff Woody (Tom Hanks, Forrest Gump) has been receiving the least amount of playtime, gathering dust while his friends while his friends take part in Bonnie's imaginative scenarios. Everything changes when Bonnie creates a new toy from discarded materials, Forky (Tony Hale, of TV's Arrested Development), who immediately suffers the sort of existential crisis one doesn't usually encounter in films of this type. Taking it upon himself to teach Forky how to be a proper toy, an unexpected reunion will make Woody realize that his new spork pal isn't the only one going through a crisis.
CONTINUING A CLASSIC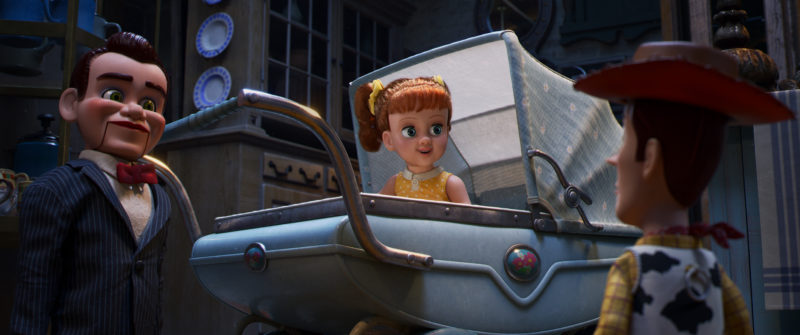 After the absolutely tear-jerker of an ending to Toy Story 3, it didn't seem possible that there could be any more pathos to be drawn from Woody and co., but the story, conceived by a veritable battalion of writers accomplishes this with aplomb. Granted, Woody facing the potential end of his playing days was a plot device present in the last two films, but contrasting his need to feel wanted with Forky's abject refusal to be a plaything puts a fresh spin on things. Even the ostensible antagonist of the piece, a talking doll named Gabby Gabby (Christina Hendricks, TV's Mad Men, Firefly) is given a surprising amount of depth for what could easily have been a one-note character. Arriving on the scene with nightmare-inducing bodyguards, Gabby is disturbing, yet nuanced in a way that keeps her from being a mere retread of villains past.
AN OLD FLAME RETURNS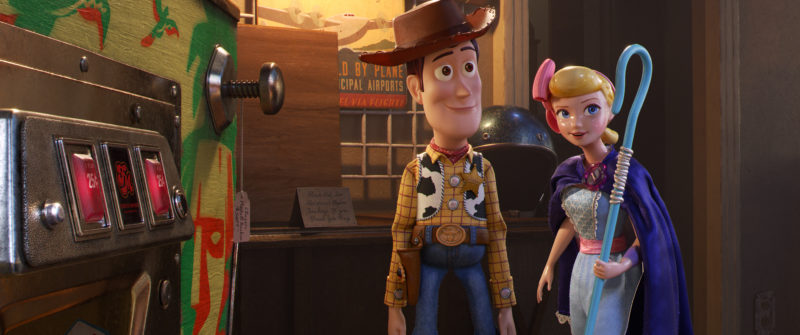 Director Josh Cooley (a former Pixar storyboard artist who co-wrote Inside Out) has a lot of narrative plates to keep spinning here, not the least of which is the return of fan-favorite Bo Peep (Annie Potts, Ghostbusters), who's been MIA since her last appearance in Toy Story 2 (1999). Potts doesn't miss a step in the expanded role, simultaneously exuding a newfound toughness while reminding both Woody and the audience just why our favorite sheriff was once so smitten with her.
PUTTING AWAY CHILDISH THINGS

This being a Pixar production (that isn't Cars 2), there's quite a bit more here than just rekindling old flames; if Toy Story was about overcoming differences, and Toy Story 2 was about putting someone else's needs above one's own, and Toy Story 3 was about accepting that things change with time, Bo's personal journey in Toy Story 4 speaks to anyone who's ever felt their current job, state, and/or relationship to be the zenith of their existence. By forcing Woody to look beyond the role that he's allowed to define his identity, Bo helps the sheriff realize that his angst isn't so much about being wanted as it is about accepting the need to move beyond his comfort zone – it's time for the toy to grow up.
THE PIXAR TOUCH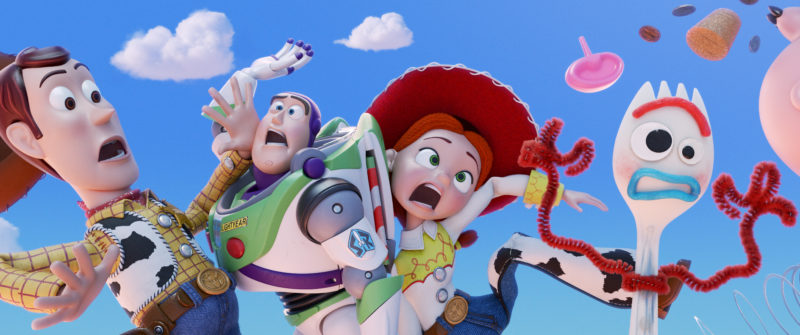 By this point, making films built on universal truths that nevertheless entertain audiences of any age is a Pixar hallmark; remember how The Incredibles 2 was about subverting preconceived gender roles, and Cars 3 was about growing old with grace? Toy Story 4 is cut from the same heady cloth, and handily mixing drama, thrills, and comedy. Truth be told, the only part of Toy Story 4 that falls somewhat short is the reductive subplot for Buzz (Tim Allen, The Santa Clause); seeing the Space Ranger on a rescue mission isn't anything new to begin with, but the punchline with his voice features drags on for too long to be truly amusing.
THE NEW TOYS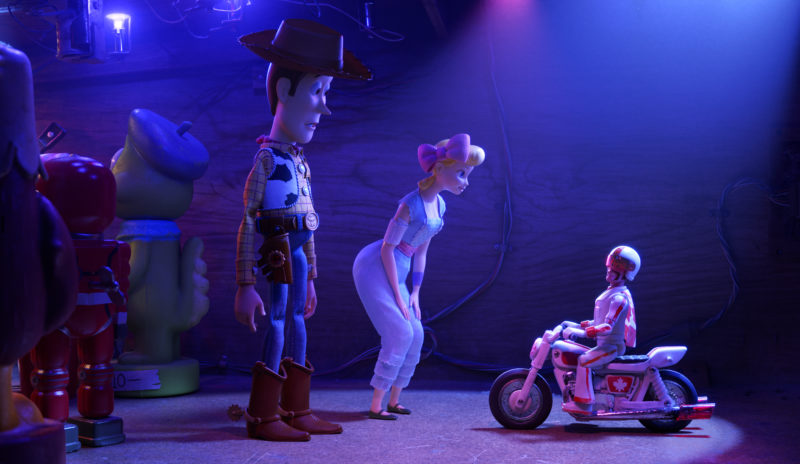 With much of the film taking place in a carnival and an adjacent antique store packed with curios, memorabilia, and vintage toys (watch out for the Kenner Star Wars shout out), Toy Story 4 presents us with a plethora of new characters. This does mean that many of the old favorites don't get much screen time, but given the abundance of riches here, it's hard to complain.
Leading the new character charge are carnival prizes Ducky and Bunny, as voiced by the irrepressible duo of Keegan-Michael Key and Jordan Peele, showing much of the comedic chemistry that characterized their acclaimed Key and Peele sketch show. Cute, fuzzy, and unabashedly homicidal, the two give the film a shot of energy whenever they're onscreen.
Standing in a class of his own is Duke Kaboom, brought to life by the unmistakable tones of Keanu Reeves (Speed, John Wick). An action figure of Canada's greatest stuntman, Kaboom hangs out in the antique store where much of the film's action take place. Surrounded by Kaboom comes complete with a motorcycle whose engine is at least as big as his performance anxiety.
A MATTER OF LIFE AND FORKY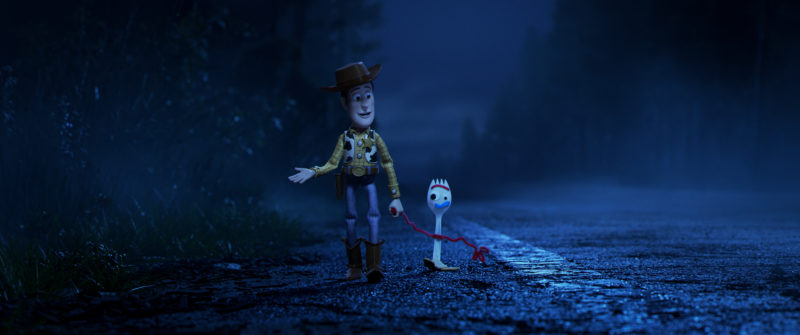 By far, the film's breakout star is Forky. Channeling every bit of neurotic energy he had as Buster Bluth, Tony Hale rises above and beyond the waste that the Alvin and the Chipmunks films made of his talents. As Forky, Hale is a spork who never asked to be brought to life, much less tasked with a massive responsibility on the word of a cowboy he literally just met. Though this does have the unintended consequence of making one wonder if literally everything anyone in the Toy Story universe has written their names on magically comes to life when they aren't looking, the film doesn't concern itself with such matters, and neither should you.
All hail Forky!
THE BOTTOM LINE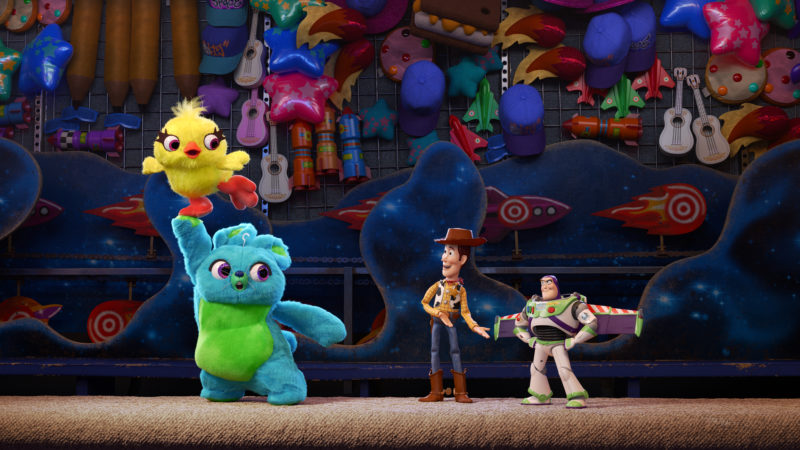 Thankfully, Pixar hasn't allowed sequel fatigue to blemish their crown jewel, and if they can manage to maintain the level of love and care that they've shown for it thus far, there's no reason the series shouldn't continue. Incredibly, the Toy Story franchise has grown beyond its original parameters to become a generational tale – the children going to see this one have likely been raised by parents who grew up on the originals. As one of the former children who gasped in awe at the brave new world Buzz and Woody brought to cinemas back in 1995, this writer can happily attest that this nostalgia trip is one well worth taking – to infinity and beyond.
All photos courtesy of Disney
Have you seen this one yet? Tell us what you think of it below!