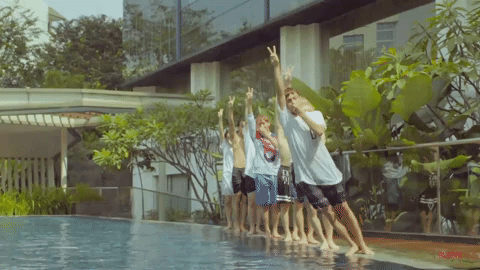 These K-Pop Jams Belong on Your Summer Playlist
By Andy Flores

Heat up your summer playlist with K-Pop tunes! From chill deep house beats to Latin-inspired dance music, we rounded up eight Korean pop music tracks perfect for lazing by the pool, daydreaming during long road trips, and hitting beach parties this sunny season.
1. View by SHINee
In the title track of their 2015 full album "Odd," popular quintet SHINee – best known for their experimental approach in music, choreography, and even fashion – blends light synths with deep house, creating a surprisingly fun and sexy track only they could pull off.
2. I'm Serious by Day6
Listening to "I'm Serious" will take you on a joyride with the guys of Day6. A rather breezy tune that features peppy vocals and easy acoustic guitar strumming, it is a complete yet pleasant break from the band's dominantly-rock discography.
3. Red Flavor by Red Velvet
Everything about "Red Flavor" screams summer. In fact, watching its music video will make you feel strangely rejuvenated. Bold and percussion-heavy, this hit will surely get you clapping, dancing, and nursing a case of last song syndrome over the next couple of days.
4. Sunset Glow by Bigbang
Big Bang's rendition of the 1988 Lee Moon Se classic "Sunset Glow" is often overshadowed by the group's more recent chart-toppers. But ask any VIP for a summer song reco, and they'll most likely tell you to listen to this jumpy party single.