We're all suckers for love; well who isn't? Just the amount of romantic comedy movies being released every year says a lot about our interest in the subject of falling in love. While we thoroughly enjoy moments when the guy and the girl are happy (or done) with their relationship, let's not forget how these two people met.
As cliché as it sounds, these meet-cutes in movies involve the guy being the girl's knight in shining armor, the guy being awestruck with the girl's beauty, and so on. Read on to see which films had us wanting to have our own meet cute with our crush.
The Wedding Planner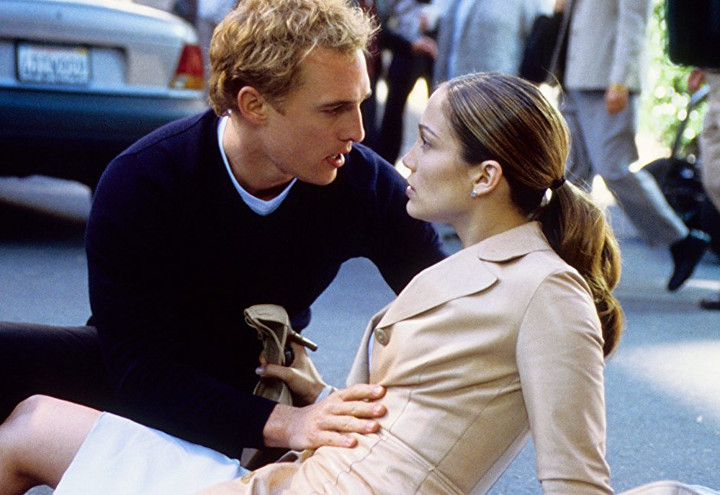 Arguably the most cliché out of all meet cutes, Mary's (Jennifer Lopez) heel gets stuck in a manhole while a dumpster is barreling down the street, headed towards her. Thanks to the heroic antics of Steve (Matthew McConaughey), Mary is able to swerve death and end up in the arms of her (future) prince charming.
Notting Hill
One of the requirements of a meet cute is the perfect location. In Notting Hill, Will (Hugh Grant) is a normal guy who owns a bookstore in Notting Hill. One day, A-list actress Anna (Julia Roberts) enters his shop to innocently buy books. Just when he thought that he saw the last of her, Will literally runs into Anna, spilling coffee on her shirt.
Bridesmaids
Who wouldn't fall in love with a dancing Kristen Wiig? One of the most memorable meet cutes in rom com movies, Annie was stopped by Officer Rhodes (Chris O'Dowd) for erratic driving. Thanks to her dancing (and baking skills), Annie gets a free pass and a guy.
Maid In Manhattan
One of the most unrealistic (but romantic) films ever made, aspiring senator Chris Marshall (Ralph Fiennes) meets Marisa (Jennifer Lopez) through her son. The two soon finds an attraction with each other even though Chris doesn't really know Marisa's true identity.
Cinderella
Cinderella and the Prince's meeting in Cinderella will make you grin the whole day. The two meets in the forest and both took a liking of each other. What makes this scene cuter is the fact that Cinderella doesn't really know that it was THE Prince she was talking to.
Trainwreck
The instant attraction between Amy (Amy Schumer) and Aaron (Bill Hader) is what makes this meet cute adorable. And for the record, we also had moments wherein we pretended to know about sports just to impress a cute guy.
Serendipity
One of the meet cutes that will make you say "really now", strangers Jonathan (John Cusack) and Sara (Kate Beckinsale) grabs a hold of the same pair of gloves. The two then go on a date (even though both of them are in a relationship), leaving their relationship's future up to fate.
50 First Dates
Henry (Adam Sandler) sees Lucy (Drew Barrymore) building structures out of her waffles and is instantly smitten with her. Finding out about her medical case, Henry decides to win her over everyday.
Which of these meet cutes made you say "aww" the most? Tell us in the comments below!