Traveling to any place will not be complete without tasting the unique cuisine they offer. After all, to truly get to know a place, you must do what the locals do and eat what the locals eat. The Department of Tourism know this all too well, which is why their new campaign, Eats. More Fun in the Philippines aims to let the world experience what it's like to be a Filipino through our gastronomic local food. In partnership with our very own beloved Jollibee, the campaign puts the spotlight on Pinoy unique dishes that we proudly offer to tourists around the globe.
We Pinoys love our food
Jollibee is cooking up something tasty with theDepartment of Tourism – Philippines — coming to your screens on September 1! ASC Ref No: J122P082219J

Posted by Jollibee on Friday, August 30, 2019
Over 7,000 islands of the Philippines is gifted with an abundance of flavors through colorful local cuisine all waiting to be discovered by the world.  It's no secret that we Filipinos love eating, we even make up an excuse just to celebrate with a feast! It could be a birthday, an anniversary, or simply just missing a friend or it's the sweldo weekend. Unforgettable moments with the barkada and family always come with food.
Pinoy cuisine in international spotlight
The late Chef Anthony Bourdain once predicted the Filipino food will be big in the international scene someday. Our own lechon, adobo, and pansit have different variations and are loaded with different flavors in every region. It's the variety that makes it exciting to introduce the local food scene to tourists and foreigners. One unique thing about our cuisine is that in every region has their own specialty and when combined makes for a dining table that's sure to satisfy anyone's palette.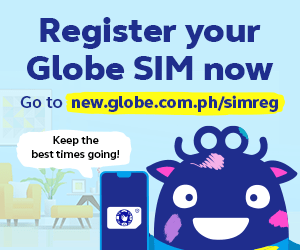 There's no taste like home
There's probably no other fast food chain that understands us Filipinos better than Jollibee. The local food giant serves as a comfort food to many Pinoys both in our homeland and abroad. Whenever a new Jollibee chain is opened in another country, you can be sure Filipinos will line up at the crack of dawn just to taste the flavor of home, a bite of that crispy ChickenJoy, or a twirl of that sweet spaghetti.
Eats. More Fun in the Philippines!
Stay tuned to find out who we've invited to take us on a fun culinary adventure this coming September 1! Department of Tourism – Philippines ASC Ref No: J124P082219J

Posted by Jollibee on Friday, August 30, 2019
DOT partnered with Jollibee for a crucial campaign that centers on the Pinoy culture of eating that we love to experience by sharing meals with friends and family. As a people, we are hospitable and generous and we want others to get to know our country as a destination that's like no other. Tourism Secretary Bernadette Romulo-Puyat explains that Eats. More Fun in the Philippines aims to highlight the country as a food destination, and with Jollibee as their partner, a brand which understands what being Pinoy truly means, we're sure they'll create buzz around the world!
Celebrity chefs and a Pinoy-favorite comedian
Taste the joy and fun with our #DOTxJollibee endorsers – Chef JP Anglo, @fork_knife, and @MikeyBustos! #EatsMoreFunInthePhilippines pic.twitter.com/PH0Fmfn8Bs

— Bestfriend Jollibee (@Jollibee) August 31, 2019
Aside from Jollibee, the jolliest chef, DOT's campaign also features two award-winning chefs and a well-loved comedian — Chefs JP Anglo and Jordan Andino, and Mikey Bustos. These ambassadors add their own flavor and expertise into the mix. Both chefs are behind famous restaurants that champion Filipino cuisine while Content Creator Mikey Bustos is using his platform as a way to humorously show the world our culture as Pinoys and how it's more fun eating in the Philippines.
See and taste the Philippines
The Department of Tourism – Philippines in collaboration with Jollibee are proud to present a food tourism campaign that promotes delicious Filipino food to the world. Watch out for it this September 1! ASC Ref No: J140P082819J

Posted by Jollibee on Friday, August 30, 2019
Chef JP Anglo (Sarsa Kitchen + Bar, Kafe Batwan, Liberation Shawarma), shares that chefs like him look up to the people who made the Pinoy cuisine landscape the way it is — the street vendors and market people who have been practicing their trade for decades. If not for them, discovering and defining their region's own food, there would be no Pinoy specialty on the table.
Mikey Bustos shares that pansit patil batung, the "halo halo of pansit" according to him, deserves to be appreciated on an international level. Born in Canada and raised in California, Chef Jordan Andino (Flip Sigi) credits his love for Pinoy cuisine to his grandmother where he learned his techniques from.
A tour around Islas Pinas
The Eats. More Fun in the Philippines campaign was formally launched last Saturday via a gastronomic feast-ival experience at Islas Pinas where the food tourism video was also premiered. Jollibee, DOT executives, and campaign endorsers took guests on a trip to different featured sections at Islas Pinas where short cultural performances and food offerings await.
The mouthwatering campaign video
Eats. More Fun in the Philippines

The Department of Tourism – Philippines and Jollibee are ready to show you why #EatsMoreFunInThePhilippines — with Mikey Bustos, Chefs JP Anglo and Jordan Andino also in on the fun! Watch it now! ASC Ref. No. : J148P082819J

Posted by Jollibee on Saturday, August 31, 2019
Officially launched to the public on September 1, the DOT and Jollibee Eats. More Fun in the Philippines campaign video is now online. The video features ambassadors Chef JP Anglo, Chef Jordan Andino, and YouTube content creator Mikey Bustos on different ways to eat local food. Jollibee's ChickenJoy and Jolly Spaghetti are also stars of the show.
Hit that share button and show the world how Eats. More Fun in the Philippines!