Trudeau-Like, You Say?
8 Initial Impressions
from President Duterte's
Proposed Cabinet

By Kel Fabie

Now that presumptive President Rodrigo Duterte has bared his plans for his upcoming administration, a lot of hype has been in the air for his supposed intention of having a "Trudeau-like Cabinet." Say what you will about Justin Trudeau, but his gender-diverse cabinet that includes people of different belief systems, a 50/50 split between men and women, and even a differently-abled minister on the team is something worth emulating, at the very least.
And then this update came out: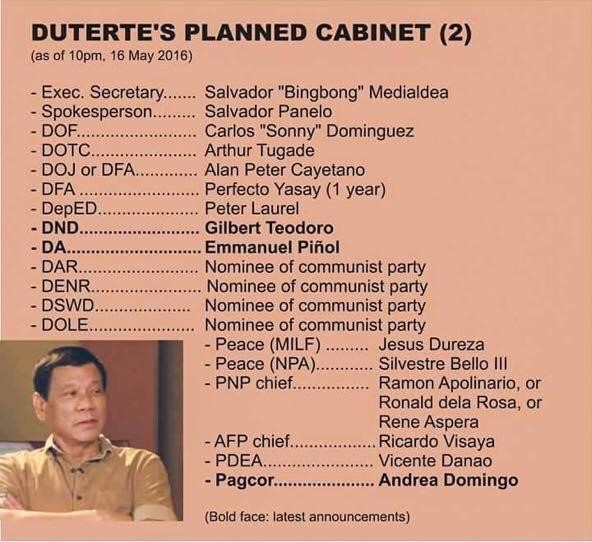 Well, if the CPP nominated exclusively Muslim women with disabilities…
Well, wow. That is a lot to unpack right now. Let's look at the 8 implications we can glean from these choices…
8.There is currently only one female nominee in that list, and apparently not a single Muslim or disabled person, either.
All this talk about being Trudeau-like would be true if we considered "alive and humans" as enough things in common with Trudeau's cabinet for one to be "Trudeau-like."
Pros: There are some promising names in there that we will get to in a bit.
Cons: Not only is this lacking the diversity that we were expecting, there are also a few questionable names in there (that we will also get to in a bit.)
Verdict: It's not really a promise, but if this proposed cabinet comes to pass, it sure is anything but "Trudeau-like." This does not automatically mean that the cabinet will be bad in and by itself, though.
7. There are four slots allocated for the Communist Party of the Philippines.
In a controversial move, the presumptive president has offered four positions in the cabinet to the CPP, an act which, while on first sight, seems ridiculous, isn't so insane when you realize every other thing we've tried hasn't worked, either. This could go a long way towards finally ending the problem between the government and the CPP.

Arthur Pacheco is better. He promised four of them, not just one.
Pros: While Joma Sison welcomes the peace talks, he politely declined the cabinet positions. Who's just after power again? It sure as heck isn't him.
Cons: We want to string up petty criminals and reinstate the death penalty, yet when it comes to the CPP, we are suddenly willing to extend all the considerations and patience? That seems a bit inconsistent, even if it's sound strategy.
Verdict: It's inconsistent with Duterte's supposedly no-compromise kind of style, but it's a strategically sound move. If it doesn't work, it's not like cabinet appointments are irreversible, unless your name is Abaya (but not for long!).
6. Defense Secretary: Gibo Teodoro?
Hindsight may have made Gibo Teodoro one of the best presidents we never had, and now, he is given another chance to strut his stuff under the Duterte administration as the Defense Secretary. That sounds a lot like Mar Roxas' resume, doesn't it?


The similarities never stop.
Pros: It's Gibo f'n Teodoro! What's not to like?
Cons: Ummm… Ondoy? Pepeng? Maguindanao Massacre? If we gave Mar so much flak over Yolanda and the Fallen 44, let's be honest and say that the NDCC under Gibo's tenure, just like its acronym, wasn't exactly the most efficient thing ever. But hey, with all those mistakes nobody wanted out of the way, and with more disaster funds to work with than during his time, maybe Gibo can do much better.
Verdict: Why get Gibo as our minister of Defense when Jerry Codinera isn't really doing anything these days?
5. DPWH Secretary Mark Villar?
Mark Villar, as in recently elected congressman of Las Pinas Mark Villar? Yep, that's the one. He recently accepted the position, which means he might actually vacate his seat in Congress.

If Manny Villar and Jojo Binay had a son…
Pros: Well, he definitely comes from a family that's very familiar with the construction process, I guess?
Cons: To be fair, any accusations against him or his family have always been nothing but hearsay. It's not like anyone sued Manny Villar over "C5 at tiyaga" after he lost the elections, so there's that. However, walking into the DPWH with all that hanging over your head? Let's hope the only thing he takes after a run in the DPWH is that huge chip on his shoulder. Still, so much for being "anti-oligarchy," Digong.
Verdict: Wait and see, but definitely rolling my eyes on this one.
4. Executive Secretary: Salvador "Bingbong" Medialdea
I have no idea who this person is, but… Bingbong!

Bingbong!
Pros: He will take us to the moon!
Cons: He might disappear!
Verdict: I have no strong opinions about Bingbong, other than… Bingbong! *sniff*

Nooooooo!!
3. Alan Peter Cayetano, DOJ or DFA secretary?
Yiheeeeeee.

Yiheeeeeeee.
Pros: APC can definitely work well with either DOJ or DFA, albeit he's probably better off handling the former than the latter. He has what it takes, and he's been ready for this for a long time already.
Cons: Nothing too overwhelming, in all honesty. I wish Alan's sister also had a role in the cabinet, though.
Verdict: I like this decision, for the most part. Alan Peter Cayetano may have some shortcomings, but he is a great fit for either position.
2. Jess Dureza, Peace Process Adviser?
A name that screams gravitas when you merely mention it, Dureza has an immense track record. Unfortunately, as an appointee during Gloria's time, one also has to give him a second look before singing his praises, by default.

With Dureza, you can supposedly trust. With Durex, you can thrust.
Pros: He's been there before, so he should know what he's doing.
Cons: He's been there before, so exactly what kind of change is coming? Along with Yasay, Gibo, and a few other names being floated about, why is it that it seems there is nothing new on the table for this upcoming government, really?
Verdict: If we really wanted change, maybe we should have had new names. Like, say Gary Valenciano as Energy secretary, or Education secretary Edu Manzano.
1. Peter Laurel, Department of Education?
Peter Laurel! He definitely knows a thing or two about education, right? After all, he hails from a clan of education pioneers, as his family founded the Lyceum. That's a lot of pedigree riding into the education department, and the massive overhaul it is definitely in need of.
Pros: The son of a former Senator, a prominent educator, there really isn't anything about this appointment that seems out of the ordinary, until…
Cons: … until you realize that Laurel is a prominent Marcos supporter. In the middle of calls to make education less politically correct and to reflect the true horrors of Martial Law in order to make sure that people never allow it to happen again, we are likely looking at more whitewashing of these issue. Way to spit on those 107,400 human rights violations, guys!
Verdict: If this is what our president thinks counts as "Trudeau-like," I would hate to see what his interpretation is for other things like "peace and order," "human rights," and "the economy." Inasmuch as we would love to give our incoming president a chance, it would help to tell him as early as now that the people he is surrounding himself with do not inspire  us with genuine confidence that things will be any different this time around.
---
Got anything to add? Post your thoughts in the comments!