Unless you're a Cebu native, the name tuslob buwa might not mean much to you. But you might have seen it trending on Twitter earlier today. Why? Apparently, the Cebuano street food's name was trademarked by a local restaurant, and netizens are — understandably — up in arms. Scroll on to read more about the tuslob buwa trademark issue.
First of all, what is tuslob buwa?
Tuslob buwa is a local street food in Cebu made from pork brains, soy sauce, starch, and oil (sometimes it also has pork/chicken liver, onions, atbp.). It's meant enjoyed with puso, which is rice wrapped and boiled in woven coconut leaves. The puso is dipped into a heated wok of bubbling "brain gravy" — hence its name ("tuslob buwa" literally means "to dip into bubbles").
None of us on the 8List team has had the privilege to try this, but it looks uh-mazing.
So why the uproar?
It all started when Cebuano eatery Azul (which was featured in the Netflix documentary Street Food) posted a "friendly reminder" on Facebook, saying that they had trademarked "Tuslob Buwa" under the Intellectual Property Office of the Philippines (IPOPHL).
"This word, phrase or logo is exclusively owned by AZUL," the post reads (emphasis ours). "Any unauthorized use of this word, phrase or logo is against the law."
Who invented tuslob buwa?
The origins of the dish are hazy, but it's commonly accepted that the dish originated in Barangay Pasil, where many people make selling the dish their livelihood.  According to Y101FM, many people believe that tuslob buwa existed "way before" the 1990s. (Azul's Facebook page says they launched in 2013.)
So why is Azul claiming it?
To Azul's credit, the restaurant did help popularize tuslob buwa in recent years. It let its patrons cook their own tuslob buwa on a butane stove and share it among friends — sorta like samgyupsal. Before eateries like Azul, the dish could only be found along neighborhood streets, and you would have to share the food with strangers. But does popularizing this concept give Azul any claim to tuslob buwa? The internet certainly doesn't think so.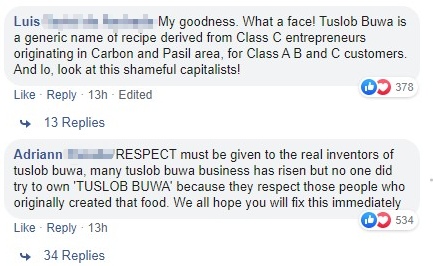 (8List has reached out to Azul to find out how they came to the decision to trademark tuslob buwa, but as of this writing, they have yet to respond.)
"It's like trademarking 'kwek-kwek'."
If you don't understand the outrage yet, let actress Chai Fonacier put it into context. She tweeted that tuslob buwa is as commonplace in Cebu as "kwek kwek and siopao and f*cking lumpia". Just imagine a restaurant trademarking your favorite street food. Feel enraged yet?
Azul, an eatery in Cebu, trademarked "Tuslob Buwa." Imagine someone trademarking "kwek kwek." That's what they did.

Azul = culture vultures. All Manila peeps who want to experience Tuslob Buwa in Cebu, do not go to Azul along Gorordo Av. Go to the more authentic ones in Pasil.

— Chai Fonacier (@bansheerabidcat) March 5, 2020
How were they able to trademark a cultural icon?
Many are asking how Azul was able to trademark tuslob buwa in the first place, because (1) they obviously didn't invent it; and (2) it's a significant part of Cebuano culture.
Other questionable trademarks
This isn't the first time the internet went up in arms over trademarks. See: Kylie Jenner's attempt to trademark "rise and shine"; Taylor Swift's many attempts to trademark long list of commonly used phrases; Facebook's successful(!) trademark claim on the word "face"; etc.
Now, the Philippines has its own ridiculous trademark claim case. (Pinoy pride wooo!)
The bright side
Back in 2003, Barbra Streisand tried to suppress photos of her Malibu Residence, only to inadvertently draw even more attention to it. This is called the Streisand effect, and we're seeing this now with this brouhaha. Thanks to this ridiculous trademark debacle, more people outside Cebu know about tuslob buwa, which is a definite win in our book.
Look the surest way of spreading an idea is by restraining it. "Tuslob buwa" as an intellectual property is an idea, but the food it stands for and the people that sell it are gonna profit from this. While at the same time making azul look stupid. It's a win-win if you ask me

— ALH (@tintahari) March 6, 2020
What do you think about the tuslob buwa trademark issue? Will you be trying tuslob buwa? Tell us what you think in the comments!