An 8-Point Primer to the UAAP Season 78 Men's Basketball Tournament
Sep 4, 2015 &nbsp • &nbsp Ace Meneses
The 78th season of the University Athletic Association of the Philippines (UAAP) is upon us.
New season, new faces, new challenges. Can National University defend their title or will a new champion emerge at the end of the year?
Let's take a look at the eight teams competing in Season 78:

Head Coach: Juno Sauler
Roster:
CARACUT, Joshua Andrei A.
GO, Jose Iv M.
GOB, John Winifred Ii P.
JOSON, Leondro Amiel M.
LANGSTON, Andrew Stuart M.
MUYANG, Larry L.
NAVARRO, Lorenzo Fernando B.
PASCUAL, Daryl Louie M.
PERKINS, Jason Andre C.
RIVERO, Rashleigh-Paolo U.
SARGENT, Julian Michael
TENG, Jeron Alvin U.
TORRALBA, Joshua A.
TORRES, Thomas Christopher B.
Outlook: The Green Archers lost a few good players in Norbert Torres, Almond Vosotros, and Arnold Van Opstal. They have a very slim frontline and will need to bank on their speed to outplay their opponents.

Head Coach: Nash Racela
Roster:
ARONG, Monbert D.
BELO, Rey Mark G.
COMBOY III, Wendelino T.
DENNISON, Ron Marvis C.
EBOÑ, Kevin Barkley T.
ESCOTO, Richard D.
ESCOTO, Russel D.
HOLMQVIST, Ken S.
HOLMQVIST, Steve S.
IÑIGO, Alejandrino Antonio Jr. Sc.
JOSE, Raymar A.
ORIZU, Prince I.
POGOY, Roger Ray B.
TAMSI, Al Francis M.
TOLOMIA, Cris Michael S.
TRINIDAD, Joe Allen C.
Outlook: FEU will miss the services of Anthony Hargrove and Carl Cruz, but expect Mike Tolomia and Mac Belo to raise their games to another level as they try to make a return trip to the finals.
Head Coach: Derrick Pumaren
Roster:
ABANTO, Nick Wilson C.
BATILLER, Edson A.
CHARCOS, Edgar Louie A.
CUDAL, Steven Syron A.
DE LEON, Ronnie Rosetom D.
DERIGE, Clark Victor R.
GAGATE, Shannon Sven R.
GONZALES, Joshua Christian A.
JAVIER, Christopher Joyce F.
MANALANG, Philip Martin D.
PALMA, Emil Renz E.
PENUELA, Ralph Fredrick B.
STA. ANA, John Jordan M.
VARILLA, Paul Andrew B.
VARILLA, Jason B.
YU, Fran Louie Y.
Outlook: Coach Derrick Pumaren is facing a tough season after losing veterans Roi Sumang, Gino Jumao-as, Pedrito Galanza, Charles Mammie, and Arafat Moustapha. With their rookie-laden lineup, the Red Warriors may not make much noise this season.

Head Coach: Michael August Fermin
Roster:
BERNARDO, Kristian Miguel R.
CAMACHO, Simon David R.
CAPOTE, Nico D.
ESCALAMBRE, Jose Carlo P.
FERNANDEZ, Gerald M.
GARCIA, Jerome V.
GARCIA, Cristian Laurent
MARGALLO, Alwin John F.
MIRANDA, Ken Mark C.
NALOS, Joseph Airo Jr. A.
NG, Harold Benjamen T.
OCHEA, Dawn Hnyric P.
POLICAN, William Rosebelt M.
SOULEMANE GAWALL, Cherif Sarr
TUNGCAB, Frederick James T.
VILLANUEVA, Ivan
Outlook: The Adamson Falcons had a forgettable season last year. It remains to be seen if they can amass wins in Season 78 but every game will be a daunting task for these young guns.

Head Coach: Rensy Bajar
Roster:
AMAR, JR., Agustini D.
ASILUM, Renzar A.
DARIO, Diego Miguel
DESIDERIO, Andres Paul C.
GALLARZA, Joseph Rey A.
HARRIS, Andrew Michael B.
JABONETA, Felixberto IV G.
JURUENA, Mark Kevin S.
KONE, Cheick Mohamed
LIM, Jarrell Raddley S.
LONGA, Jose Piero Dominic M.
MANUEL, Jose Anton Teodoso V.
MORALDE, Christian Dane P.
PRADO, Jerson Alexander M.
VITO, Christopher Angelo C.
WEBB, Noah A.
Outlook: University of the Philippines only notched one win last season. With a new coach in Rensy Bajar and the absence of Kyles Lao, it will be difficult for the Fighting Maroons to improve on their past performance.

Head Coach: Bong Dela Cruz
Roster:
ABDUL, Karim
ABDURASAD, Osama Said S.
ARANA, Justin P.
BONLEON, Mario Emmanuel Jr. T.
CAUNAN, Enrique Jr. P.
DAQUIOAG, Eduardo Jr. D.
FAUNDO, Jeepy C.
FERRER, Kevin M.
GARRIDO, Janrey L.
HUANG, Zachary Lance Eden T.
LAO, Kent Jefferson S.
LEE, Dean Marvin M.
SHERIFF, Sheak JR. J.
SUAREZ, Janus Kyle Cristian L.
SUBIDO, Henri Lorenzo P.
VIGIL, Louie Philippe V.
Outlook: The Growling Tigers are far from the team that played in the championship in 2013. But coach Bong dela Cruz will have to rely on vets Kevin Ferrer, Karim Abdul, and Ed Daquioag to try and snatch a final four berth this season.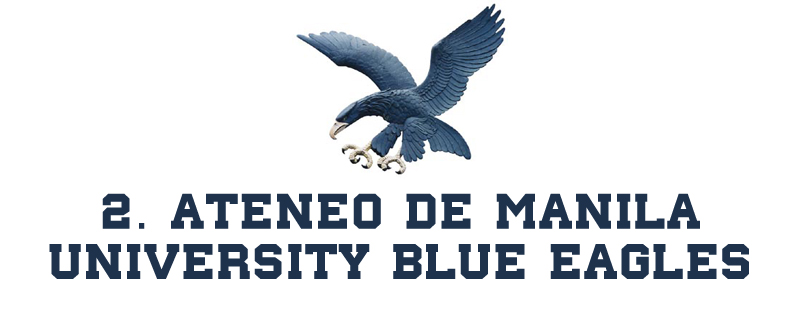 Head Coach: Bo Perasol
Roster:
APACIBLE, John Gerald L.
BABILONIA, Gideon Ira M.
BLACK, Norman Aaron D.
CAPACIO, Gwyne Matthew D.
GO, George Isaac Y.
GOTLADERA, Alfonzo F.
IKEH, Chibueze I.
NIETO, Michael Joseph M.
NIETO, Joseph Matthew M.
PESSUMAL, Von Rolfe V.
PINGOY, Jerie Marlon A.
RAVENA, Kiefer Isaac C.
TOLENTINO, Arvin Dave D.
TOLENTINO, Manuel Vicente D.
WONG, John Adrian A.
Outlook: Chris Newsome and Nico Elorde are gone. Good thing for Ateneo, they still have the reigning MVP Kiefer Ravena who is playing in his final season. Coach Bo Perasol said he'll expect a lot from Ravena in Season 78, but he'll need other guys like Von Pessumal and Arvin Tolentino to step up as well.

Head Coach: ALTAMIRANO, Eric
Roster:
ABATAYO, Nico Angelo P.
ALEJANDRO, Rodolfo Iii H.
ALOLINO, Joshua Angelo C.
CELDA, Reden M.
DE CASTRO, Kevin Edrick D.p.
DIPUTADO, Adven Jess L.
DONG AROGA, Alfred
JAVELONA, Nico Paolo D.
JAVILLONAR, Joeffrey J.
LASTIMOSA, Ronnel Jay B.
MORIDO, Reggie Nal A.
NEYPES, Kyle Drexler S.
RANGEL, Tzaddy John Q.
SALIM, Mohammad Al-yusouf C.
Outlook: National University will be marked men in Season 78 after winning the championship last year. But the Bulldogs face a daunting task of defending their title after losing some of their core players like Troy Rosario, Glenn Khobuntin, and Alfred Aroga.
What are your predictions for this UAAP season? Sound off in the comments below!