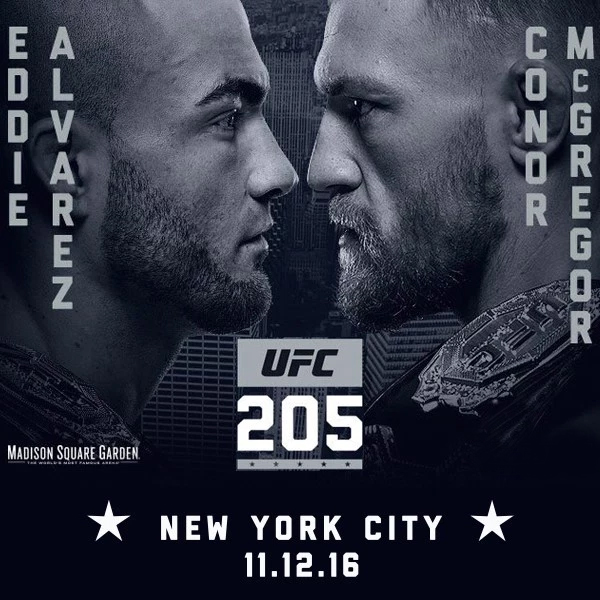 UFC 205: Fearless Predictions and a Critic's Guide to 8 Epic Fights
By KARL R. De MESA

There's big MMA cards and then there's gigantic ones, and UFC 205 on Nov. 12 (airing on the morning of Nov. 13 on Ph time) at Madison Square Garden in New York looks to be the biggest and most important of them all. This one's also historic since it's the actual first big card to grace NYC with the blessing of the city fathers, MMA having been banned in the state until recently.
So here we have three titles on the line and a slew of potentially explosive match-ups that has the main card running almost to four hours of combat sports. Yeah, four damn hours. That's because title fights are five rounds each.
We wish all Pinoy MMA fans tuning into the PPV fortitude and the suggestion of turning in early night the night previous.
Grappler's Delight: Jim Miller vs Thiago "Pitbull" Alves
Alves was supposed to fight against Al Iaquinta but a contract dispute on pay grade has proven enough to cancel his future in the promo until it's resolved so that bout fell by the wayside.
So, consider this: two UFC vets are now set to duke it out, with the longtime welterweight Alves making his debut at lightweight. Alves is also doing this for the first time without the aid of his nutritionist Mike Dolce, hopefully ditching the dude will be better for him (BJ Penn has had similar problems with Dolce's "effectivity") and he has expressed in media interviews that he feels confident he'll make the limit cleanly this time even with the bigger weight cut without losing muscle mass—even if he's struggled in the past to make welterweight.
What an easier weight cut means is that Alves should retain all his signature power with his excellent Muay Thai and the battering force of his leg kicks. And all his takedown defense courtesy of American Top Team.
Jim Miller is a submission machine with brutal jiu-jitsu but he hasn't really been himself in the past few fights and he even thought his last one would be at UFC 200 in July (he looked sloppy at UFC 196 against Diego Sanchez). Albeit he looked good in the Takanori Gomi fight he barely eked out a win against Joe Lauzon and he's been plagued by injuries both physical and mental.
Our office critics' consensus is leaning towards submission machine Miller (either by early sub or KO) but let's not forget that an Alves, when on point, has stuffed the best grappling of wrestlers and BJJ guys like Matt Hughes, Chris Lytle, and Josh Koscheck. It only takes two to three leg kicks to ruin Miller's night and his ACL.
8List Critics' Prediction: Miller wins by submission.
Sambo-Mania: Khabib "The Eagle" Nurmagomedov vs Michael "The Menace" Johnson
.
Does American Kickboxing Academy (AKA) have too many uncaged beasts in its fight roster or are its training practices just too brutal?
UFC President Dana White has certainly been vocal about their savage training camp and had the same retort when Nurmagomedov claimed he should have already gotten a title fight instead of Alvarez getting McGregor at lightweight. "This is a kid who is tough, has done good things, is undefeated, but has pulled out of a lot of fights," White said in an interview with ABC news. "That all factors into this. You can't have the things that have gone on with him, only fight once in two years, and then be like, 'That's it, I want my title shot right now.'"
So, yeah, something should happen for "The Eagle" if he wins against Johnson but meanwhile, there's the Blackzilian striker to deal with, the same bad dud who KO'd Dustin Poirier last September in the first round.
The 8List MMA critics' pool favors the Dagestani heavily with either a TKO or decision win and it's easy to see why what with nuclear weapon of his combat Sambo honed sharper against the likes of Daniel Cormier and Luke Rockhold speaking for itself in the cage. Johnson offers power but is weak in precision and footwork (have you seen his fight against Nate Diaz?) and there's much that needs improvement in his grappling against a guy who's been wrestling bears as an ethnic Avar kid on the western shore of the Caspian sea.
The stats don't favor Johnson either: Khabib is 23-0, while Johnson is 17-10 with 6 of his 10 career losses coming by submission.
8List Critics' Prediction: Nurmagomedov wins by Submission
True Grit: Miesha "Cupcake" Tate vs Raquel "Rocky" Pennington
Tate held the bantamweight title for all of five minutes until it got brutalized from her by Amanda Nunes. That draining weight cut where she barely made the limit might have had something to do with it but Tate confesses it's not really one thing that made the difference.
Tate is now 30 and may have just one title run left to her (maybe two on the outside) and she can't rest easy against former TUF standout Pennington. They've also worked together as sparring partners and Tate even asked Pennington to go to Las Vegas to prep in her last fight against Ronda Rousey, so they do know each other's styles and strengths.
We're somewhat at odds with this one since Tate manages to make a dog fight out of nearly all her bouts through her submission wrestling pedigree and Pennington is clearly the hungrier and more athletic fighter in this one even if she lacks polish. Tate is favored by a slight margin.
It's either Tate eking out a decision or an early sub finish. If it's Pennington, she'll likely grind out a decision with her more powerful strikes keeping Tate at bay.
8List Critics' Prediction: Tate wins by Decision
God Wills It: Chris "All American" Weidman vs. Yoel "Soldier of God" Romero
Anybody remember Romero's "stoolgate" incident back in UFC178? Too bad the Cuban wrestler will forever be known for this catastrophe even if he's won seven straight in the Octagon.
And be sure he does need a win against Weidman is he's to make a case for that belt. He may be a heck of a wrestler and a freak athlete but his striking is pretty much amateur at best and we have to remember he's in his late 30s.
Romero has one lone supporter in our critics pool here but he does make a good case for such talented brute strength and polished technique (hello, he's an Olympian in freestyle wrestling), but it's still hard to go up against somebody like Weidman, whose stellar record has become historic despite the loss to Rockhold. If Weidman sticks to meat and potatoes striking (and clean setups) and his wrestling holds up against the best the Cuban has to offer, then the path forward should be clear despite how many chair-sits the "Soldier of God" pulls and prays for.
8List Critics' Prediction: Weidman wins by TKO.