8 Unresolved Crime Cases We Want Televised
By Tynne De Leon

Pinoys have always been fascinated with real-life mystery cases, especially when they are adapted on-screen; ABS-CBN even has its show, Ipaglaban Mo! which dramatizes real crime cases in digest form.
Its popularity is understandable. After all, there are a lot of open cases that are so screwed, they make us go, "What the f*ck really happened?!"
While some of these have been televised already on GMA's Case Unclosed, maybe it's time that we pull off a Sherlock, or even a Making A Murderer, and see resolutions to these cases once and for all. Here are crime cases that we want to be solved on TV:
8. Hultman-Chapman murder
It was unclear to us why Claudio Teehankee Jr., son of the late former Chief Justice Claudio Teehankee, Sr., decided to shoot and kill two innocent young people in Makati the night of July 13, 1991. But one thing's for sure: he is now a free man.
Maureen Hultman, Roland John Chapman and Jussi Leino were driving home from a party that night, 25 years ago, when Teehankee stopped the car, asked for an ID and gunned them down. Hultman and Chapman died while Leino was seriously injured. Although Teehankee served prison time since 1991, he was granted executive clemency by former President Gloria Macapagal Arroyo in 2008, and was released based on "good conduct time allowance."
What could have been Teehankee's motive for killing them?
7. Ninoy Aquino assassination
The famous death that paved way to the rebirth of Philippine democracy is sadly a mystery up until now. After three years of self-imposed exile in the United States, former Senator Benigno "Ninoy" Aquino, Jr. decided to return to the country, only to be welcomed by a gunshot leading to his death. After two separate investigations from the Marcos and new Aquino government, they haven't really confirmed who really murdered Ninoy.
It's about time to re-investigate it and finally put this case to rest.
6. Nida Blanca murder
The sudden, high profile death of actress Nida Blanca has shocked us with its brutality and the fact that the top suspect was her husband, American actor Rod Strunk. She was stabbed inside her car in a parking lot at Greenhills, San Juan City.
Philip Medel, a self-confessed killer, owned up to the crime, saying Strunk hired him to kill Blanca. He recanted his statements later, but he was still held in jail until his death in 2010. Meanwhile, Strunk escaped justice after being released from jail by the U.S. government. The Philippines filed two extradition cases against him, but both were denied.
However, he committed suicide in 2007, making the pending case even more complicated, as the people initially involved are both dead.
5. Ramgen Revilla murder
The news of the murder of Ramgen Revilla spread like wildfire in 2011, as he's also an actor and member of the prominent Revilla clan. The main suspects—his siblings, Ramon Joseph "RJ" Bautista and sister Ramona "Mara" Bautista—only made it more sensational. It all made for a truly fucked up telenovela after investigations showed that the motive for the crime was the management and distribution of allowances given by their father, Sen. Ramon Revilla Sr. The suspect siblings, together with five others, were then jailed, except for Mara who has fled the country. Their father claims RJ is innocent, but we're all still in the dark on this.

4. The "chop chop" lady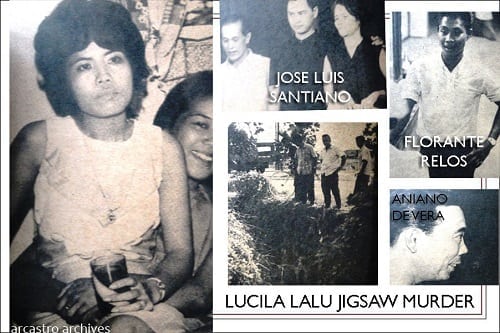 They say it's a crime of passion that led to businesswoman Lucila Lalu's death in 1967; she was chopped, and her body parts were found on different cities of Metro Manila. The initial suspects were her lover Florante Relos, her husband policeman Aniano de Vera, a dental student named Jose Luis Santiano and an unnamed printing firm executive—all said to be her lovers. Reports say that de Vera has the strongest motive to kill Lalu since he had recently discovered the affair and was the last person to see her before her death. However, they turned to a different angle when Santiano confessed the crime to investigator Sgt. Ildefonso Labao. Two days after, a certain Dr. Nora L. Ebio testified that Labao coerced Santiano to own up to the crime. So what really happened? We would definitely want to put some sort of closure to this case.
3. Vizconde massacre
It was the night of June 30, 1991 when three members of the Vizconde family, the youngest just 6 years young, were stabbed to death by a group of men in their house at BF Homes, Paranaque City. The family head, Lauro Vizconde, was in the United States for a business trip when it happened. The lead suspect was Hubert Webb, son of famous actor and politician Freddie Webb, plus 7 of his friends said to have been from prominent families. The trials started in 1995 after Jessica Alfaro, claimed to be the ex-girlfriend of one of the alleged suspects, came out in public and named Webb and his friends as the perpetrators. They were found guilty in 2000, and were sentenced to reclusion perpetua. However, 15 years later, The Supreme Court acquits Webb and his friends for insufficient evidence of guilt. It was one of the most heartbreaking cases, as Lauro Vizconde died early this year without knowing who the real killers were.
2. Dacer-Corbito double murder case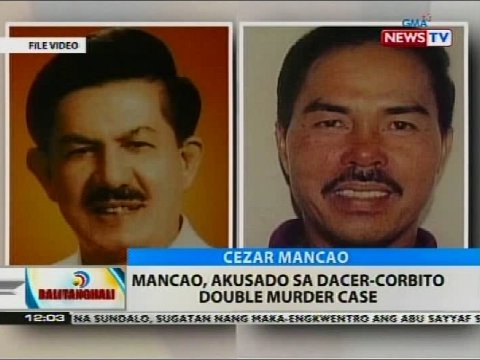 Fifteen years ago, political publicist Salvador "Bubby" Dacer and his driver Emmanuel Corbito were abducted, tortured and killed by police officers. Senior Supt. Glenn Dumlao, the deputy chief for operations of Presidential Anti-Organized Crime Task Force (PAOCTF) Luzon was arrested in 2001. In his affidavit, he said that former President Joseph Estrada and Sen. Panfilo Lacson were involved in the killing, and Lacson's aides, Senior Supt. Cezar Mancao and Michael Ray Aquino were included in the group who plotted it. After a twisted turn of events, with most of them even fleeing the country years ago to escape trial, we are left with no clear suspect to this day. Estrada and Lacson's names have been cleared, and Mancao said last year that he "is willing to surrender". So what now?
1. Pepsi Paloma case
Pepsi Paloma was a 14-year old budding actress handled by talent manager Rey dela Cruz. Stories say that she was picked up from a bar by Vic Sotto, Joey de Leon and their friend, comedian Richie D'Horsey then brought her to a hotel to rape her. It was also said that Tito Sotto covered it up by "co-ercing" Paloma to sign an "Affidavit of Desistance" to drop the rape complaint against the three comedians. Paloma died three years after; she was found in her apartment with a rope looped around her neck. It was ruled as a suicide and no charges were filed.
Paloma may be long dead, but the case continues to be controversial to this day.
Know of any unresolved crimes that should be on this list? Share them below!