The local music scene is very much alive these days, with more young acts being discovered and veterans releasing new music. Gig spots are always full house! Whether you're a frequent gig-goer or you're just starting fall in love with OPM, we made a list of local gigs you should check out this month to unleash the music lover in you:
8. The Nest Taguig Presents: Ebe Dancel and Autotelic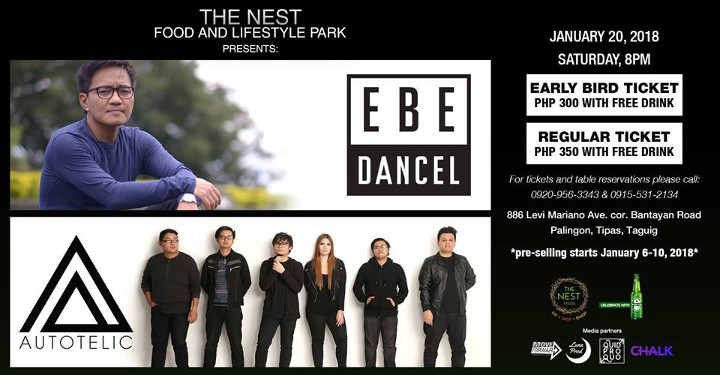 Loved Ebe Dancel and Autotelic's Coke Studio collaboration? Don't miss their first-ever collab gig! You might chance upon hearing Autotelic's new song or Ebe Dancel singing a Sugarfree hit.
Click here for the event details.
7. Side A @ Social House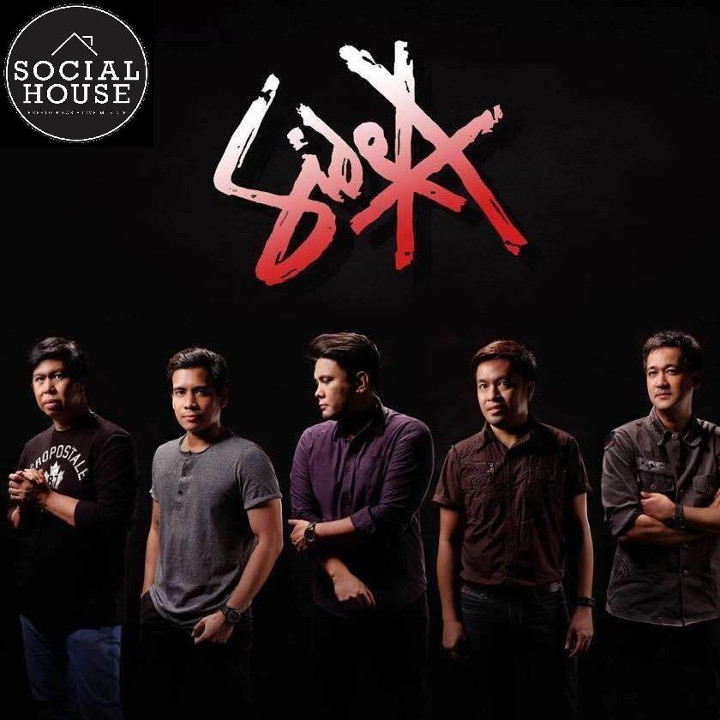 The songs "Forevermore" and "Set You Free" are such classic hits, and you'll get to hear them live in a chill night with Side A on January 20. What a nostalgic way to end your Saturday night!
See the details here.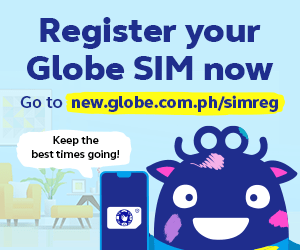 6. TWS: Tonight We Sleep 10th Anniversary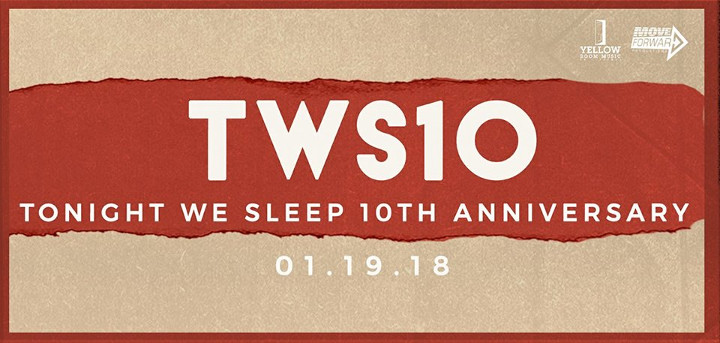 Join the local alternative rock band Tonight We Sleep as they celebrate ten years of rock 'n roll! Some of your favorite OPM bands will also be there Limited copies of their EP, Fractions/Intervals will also be sold in the venue.
Know more about the event here.
5. Shirebound and Busking Single Launch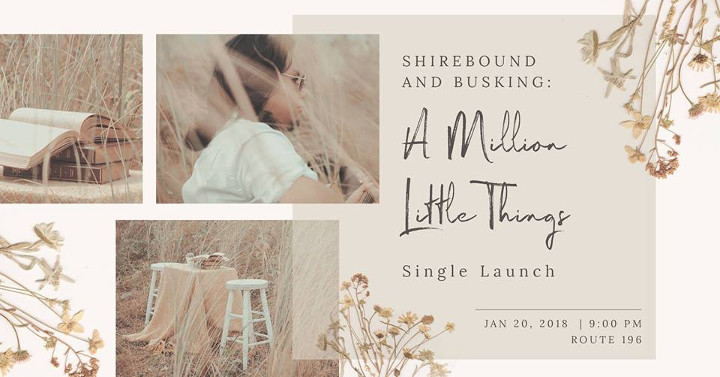 Shirebound and Busking's songs are total eargasm, and his newest single will surely be one too. "A Million Little Things" will be launched at Route 196, with special guests including BP Valenzuela, BLKD, Tom's Story, Munimuni and Ian Penn. You don't want to miss it!
See the details here and click "Going".
4. Sa Wakas, The 15th Anniversary
Sugarfree songs have defined our adolescence, and each of them reminds us of a certain memory from the past. That is why we can't be more thrilled when Ebe Dancel announced an all-Sugarfree set for his next gig for the 15th anniversary of their album. Yes, it's been 15 years!
Click here for more details.
3. The Ransom Collective: Laneway Send-off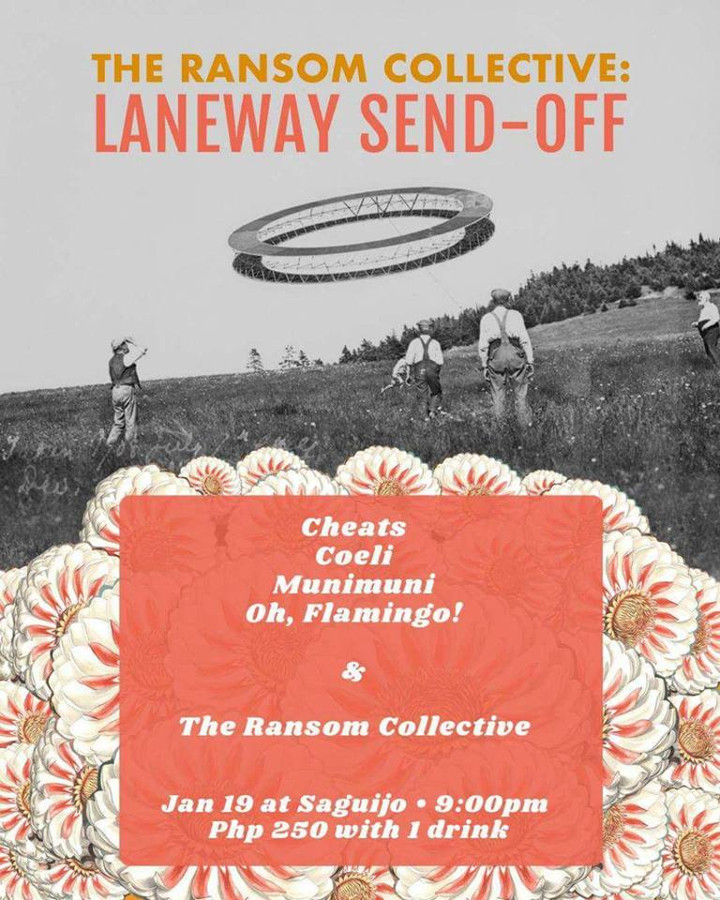 If you haven't heard, indie-folk band The Ransom Collective will play at this year's St. Jerome's Laneway Festival in Singapore! They're the only Filipino band to play this year, so it's another feat for the indie scene. Watch them live before they fly out to SG!
More details here.
2. UP Fair Gig Series 1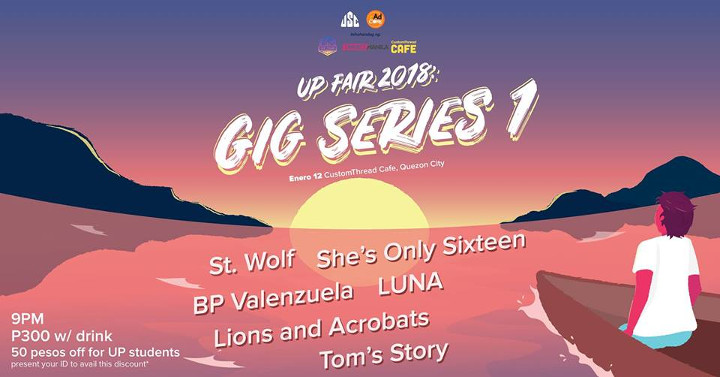 UP Fair is one of the most anticipated events during February, and if you can't wait until the next month, attend their gig series! Head to Custom Thread Café on January 12 for the first leg of the series and the solid lineup will surely hype you up for the main event.
Click here to know where to purchase tickets.
1. GenWe: Ultimatum
Kaya Natin! Movement for Good Governance and Ethical Leadership, a non-government organization will be holding a music fest and advocacy fair this month! Catch classic OPM artists like Noel Cabangon, True Faith, Sinosikat? and Ebe Dancel live. The best part? Admission is free!
Click here for the full lineup.
Know other gigs around the metro? Share with us in the comments section below!