Created in 1988 to menace Marvel Comics' ever-popular Spider-Man, there have been multiple attempts to the bring the Venom character to the big screen, dating back to the 90's, when Dolph Lundgren (Rocky IV) was in talks for the role. Venom would finally appear in 2007's poorly-received Spider-Man 3 (in the form of That 70s Show's Topher Grace, no less) and, despite a franchise reboot The Amazing Spider-Man in 2012, rumors persisted of a solo adventure.
WE ARE VENOM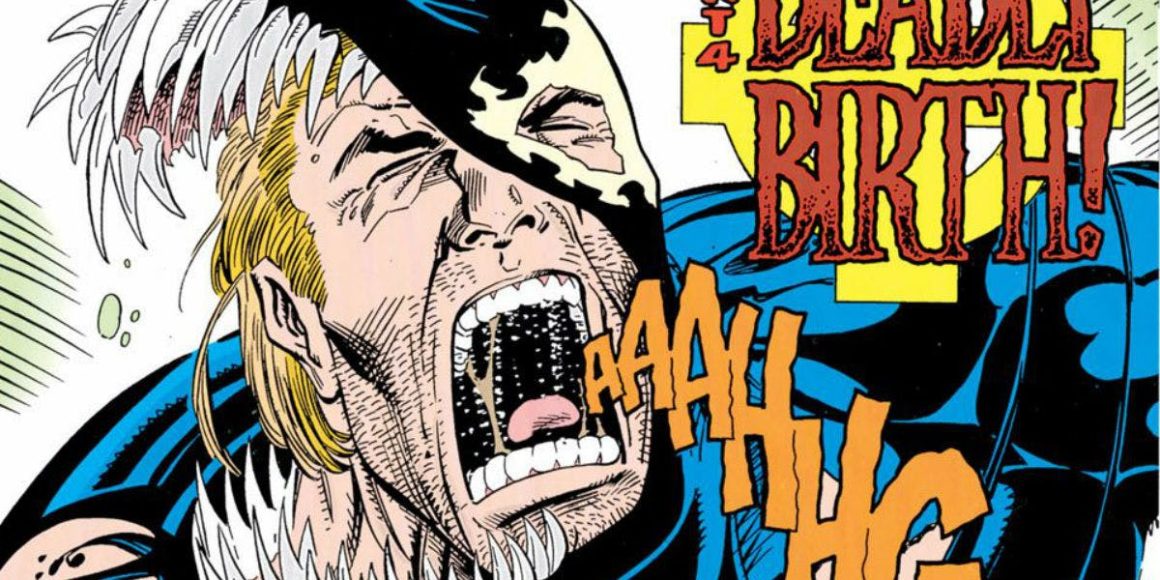 2018's Venom comes courtesy of director Ruben Fleischer (Zombieland), with Academy-Award-nominated actor Tom Hardy (Dunkirk, The Dark Knight Rises) in the dual role of the titular antihero and his alter ego/human host (it's complicated), Eddie Brock.
Set in a separate continuity from those occupied by Disney's Avengers or Fox's X-Men, the script takes pains to diverge from the source material (specifically, anything involving Spider-Man), while retaining the basic elements of Brock as a disgraced journalist with an overinflated ego.
The general plot of the film takes inspiration from the 1993 "Lethal Protector" miniseries, saw Brock move to San Francisco, where he assumed the role of guardian to the city's homeless. While this storyline had been announced as a starting point before production even began, it is worth noting that his alien costume's arrival on Earth here borrows heavily from 1994's Spider-Man the Animated Series (minus the part where the amorphous blob first chose to bond with Peter Parker, of course).
THE RUNDOWN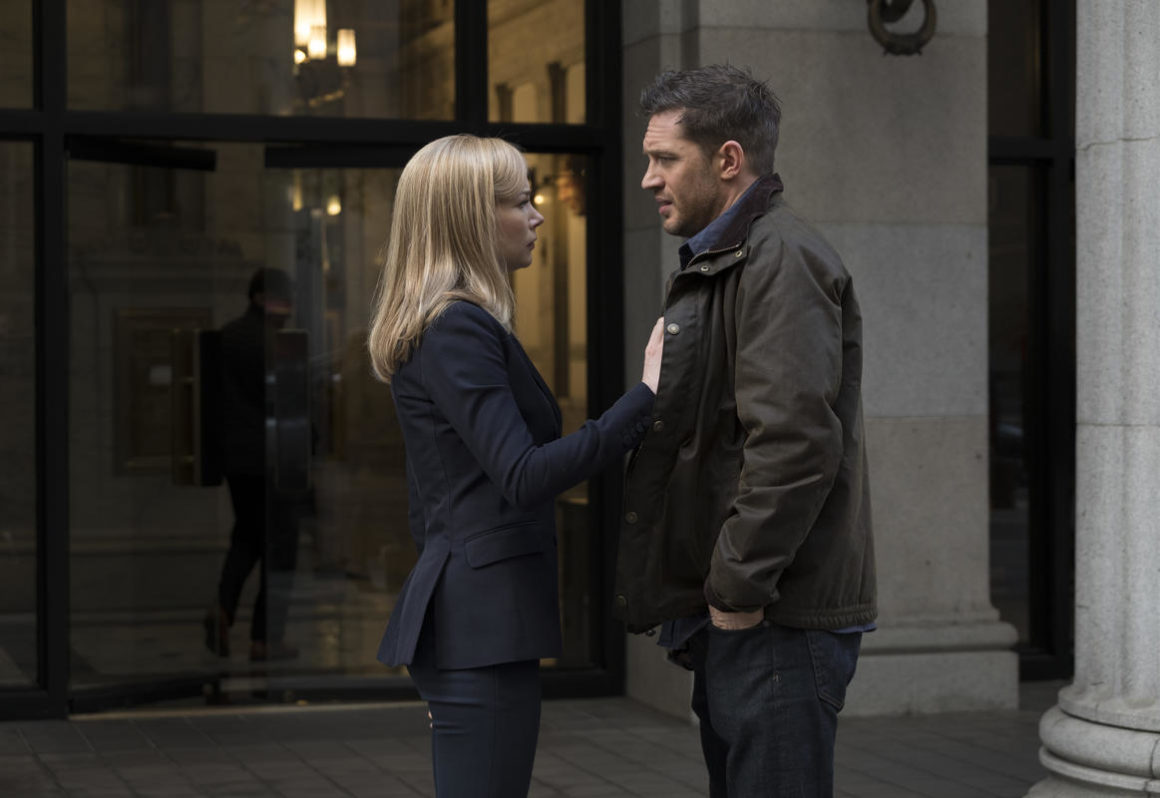 The film opens with Brock having rebuilt his life in the City by the Bay following an unspecified scandal in New York. He is engaged to Atty. Anne Weying (Michelle Williams, The Greatest Showman, Brokeback Mountain), and has a journalistic reputation for exposing big businesses' illegal practices. Brock's world comes crashing down when he unwisely attempts to use confidential information from Anne's computer in an interview with tech billionaire Carlton Drake (Riz Ahmed, Rogue One, playing a riff on Elon Musk).
As it turns out, Drake's crimes go beyond unethical cancer research: his scientists are using the homeless of San Francisco as human guinea pigs in hopes of finding compatible hosts for symbiotic alien parasites discovered by his astronauts. When one of the scientists (Parks and Recreation's Jenny Slate, in a decidedly non-humorous role) reaches out to Brock to expose the operation, one of the symbiotes escapes and bonds itself to Eddie (of course).
With the symbiote encasing him like an angry alien muscle suit, Brock receives enhanced strength, instant healing of his injuries, and the ability to mold the entity into simple weapons. In order to survive, the symbiote needs to consume raw meat to sustain itself (lest it decide to feast on Brock himself), which leads to some painfully unfunny scenes involving voiceover, Tater Tots, and, at one point, a lobster tank.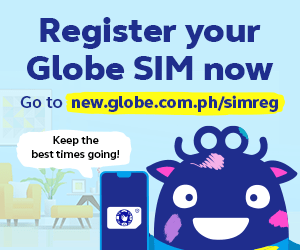 CRASH AND BURN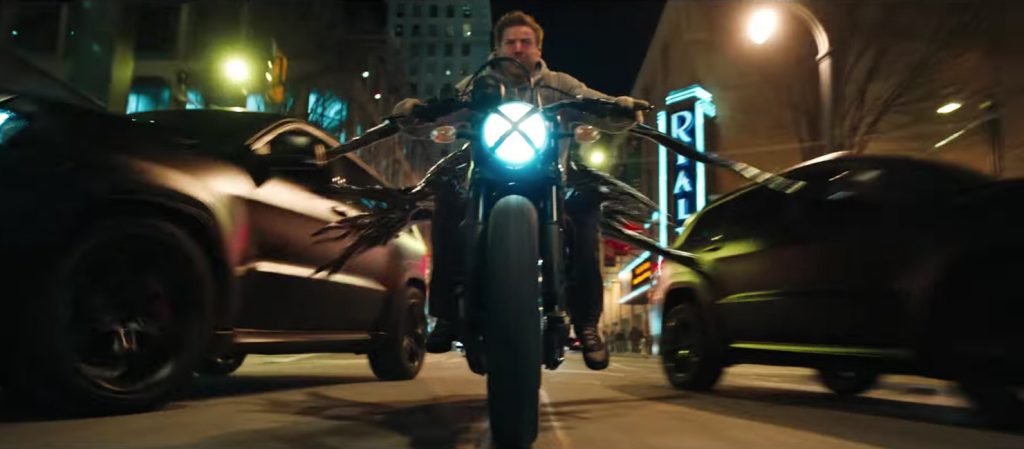 Of course, as with most blockbusters (and blockbuster wannabes), failings in logic and narrative could be somewhat forgiven if the action was any good, but such is not the case here. Fleischer proves himself a poor fit for family-friendly action, displaying none of the talent that made Zombieland's chaotic, tension-filled finale so memorable.
Here, the action sequences are presented in as unimaginative and pedestrian a manner as possible, while sub-par CGI eliminates any sort of tension or thrill they may have otherwise had. While it can plausibly be argued that the PG-13 rating was a factor in the lack of gore and over-the-top violence, there is no excuse for an overly-long motorcycle chase (?!) being the main set-piece in a Venom movie.
SLAPSTICK OVER SUBSTANCE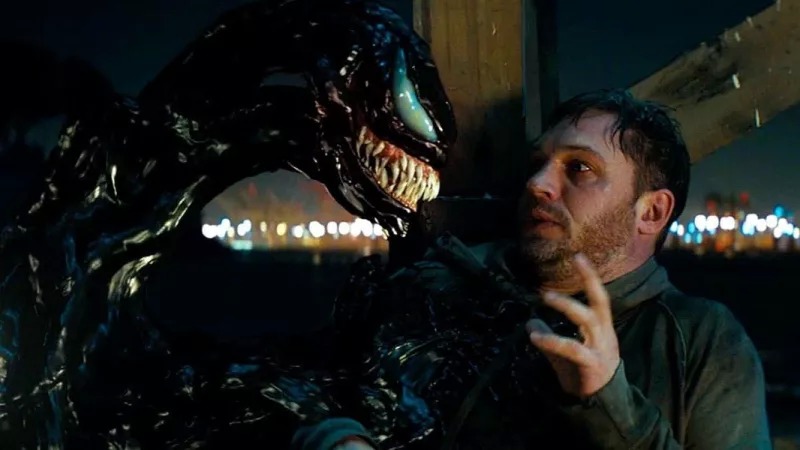 Sub-par action notwithstanding, there was still an opportunity here to craft a gripping psychological character study or commentary on the duality of human nature. Any aspirations to Jekyll and Hyde that may have existed, however, are eschewed in favor of Odd Couple-style bickering that stoops to the level of sitcom gags, complete with "wacky" misunderstandings and physical slapstick.
The perfect example of how aboslutely tone-deaf the screenplay gets is a line that will doubtlessly be remembered as the film's worst, as Venom threatens to rip the limbs off a common criminal and leave him, "Rolling down the street like a turd in the wind."
THE HARDY SHOW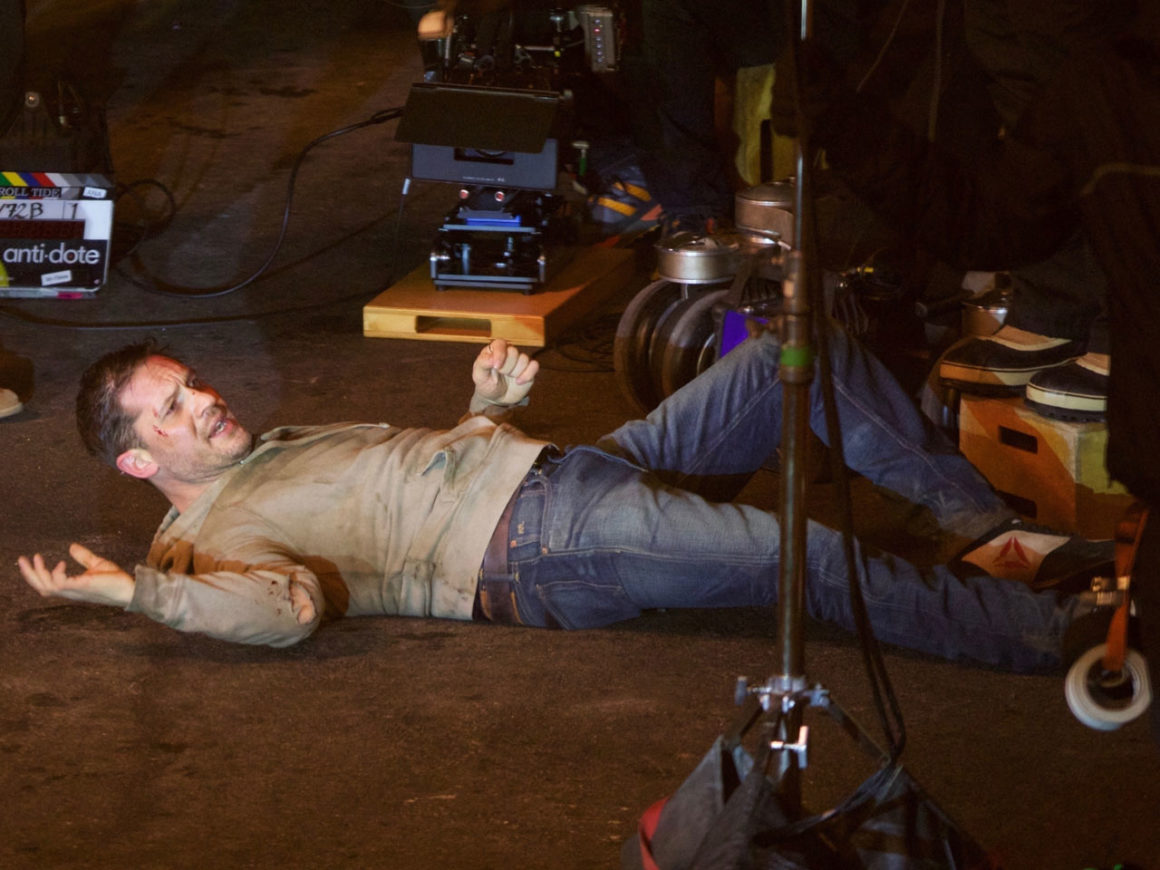 Literally the only thing that makes Venom at all watchable is Hardy's trademark willingness to throw himself into his performance, no matter how inane the story gets. What he can't overcome, however, is an utter and complete lack of chemistry with Williams. No matter how hard the film wants us to believe that they are TOTALLY IN LOVE, the two Academy Award-nominated actors have about as much heat between them as a wet rag.
And it certainly doesn't help that Williams plays Weiying as an ineffectual whiner whose talents inexplicably include being perhaps the only lawyer in the world who both knows how to work an MRI machine and operate the controls in a space shuttle control room.
DELUSIONS OF FRANCHISE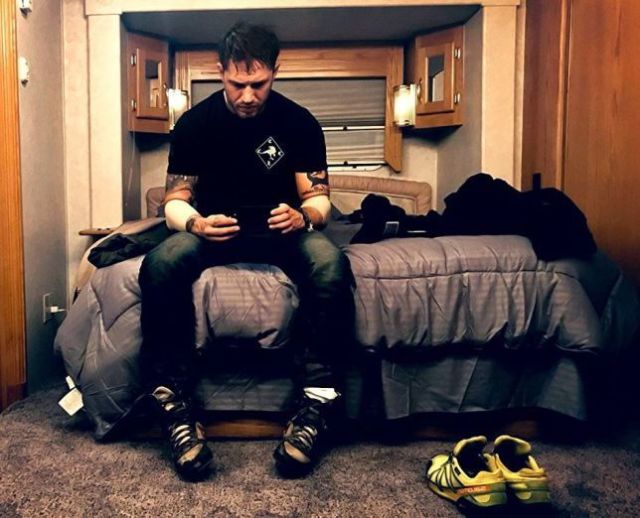 With Sony Pictures having wisely entrusted Spider-Man's current live-action adventures to Disney in the ongoing Marvel Cinematic Universe, their decision to pursue their own series of live action Spider- films WITHOUT the titular wall-crawler comes across as the shameless cash grab that it obviously is.
But here's the thing: the majority of Spider-Man's supporting cast just isn't all that interesting without Spider-Man.
SINS OF THE PAST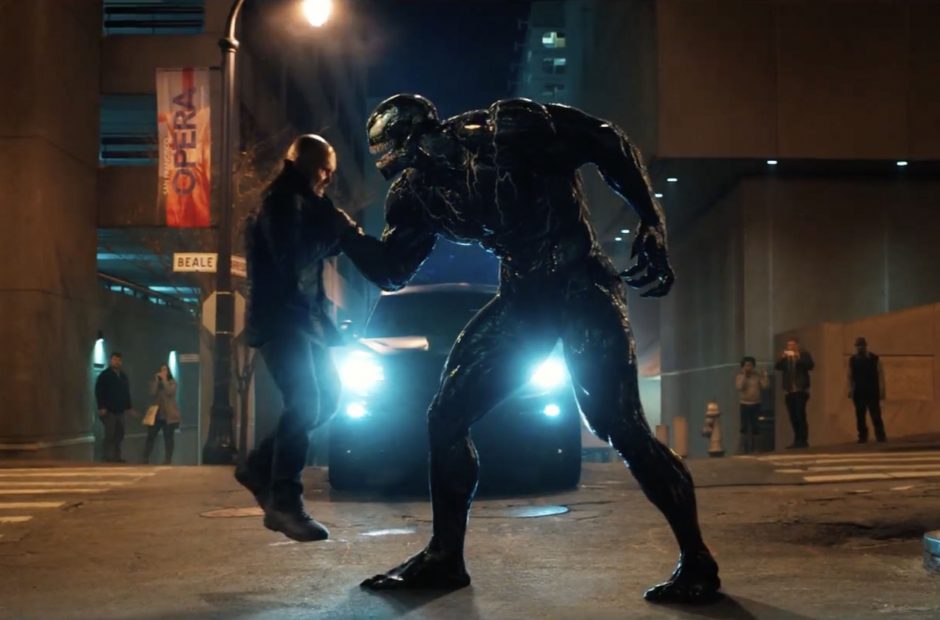 As Warner Brothers discovered when they tried to do Catwoman without a trace of Batman back in 2004, name value can only get you so far; audiences have precious little reason to invest in popular characters when they're stripped of the traits that made them popular in the first place.
With wonky CGI, sloppy action, and no ties to the universe that made the character famous in the first place, Catwoman was an unmitigated disaster that even the talents of Academy Award-winner Halle Berry couldn't save. 14 years on, Venom seems like a deliberate attempt to repeat every single one of those mistakes, to a degree greater than common sense should have allowed.
FINAL THOUGHTS
While the responsibility for its ultimate misfire will surely be debated in the days to come, it is a sad state of affairs when the single best thing about your movie is what comes after the end credits.
What do you think of the movie? Tell us below!