<
Aaand what is this??? https://t.co/yC4BtdLgqP pic.twitter.com/AVL8ss6Cqp

— Greg Pak (@gregpak) May 3, 2019
Marvel Comics introduced Pearl Pangan, AKA Wave, the first Pinay superhero from the House of Ideas in War of the Realms: New Agents of Atlas #1. Designed by superstar artist Leinil Yu (Ultimate Wolverine VS Hulk), the hero made headlines last week when preview pages showed her debating jurisdiction with Aero, a Chinese hero whose presence in Philippine territorial waters she calls into question. While an underwater explosion prevents us from seeing how the dispute would have ended, it's thrilling to see local events interpreted through the lens of superheroes and villains.
Unbeknownst to many, Philippine artists have been working in the US comic book industry for decades, and they aren't afraid to wear their heritage on their sleeves, working sly references, shout outs, and in-jokes on many a page. Here are 8 favorite instances of the Philippines working its way into our favorite comics.
METROPOLIS LOVES CHOWKING, SUPERMAN DRINKS PH BEER
Superman: Birthright #4 (2003)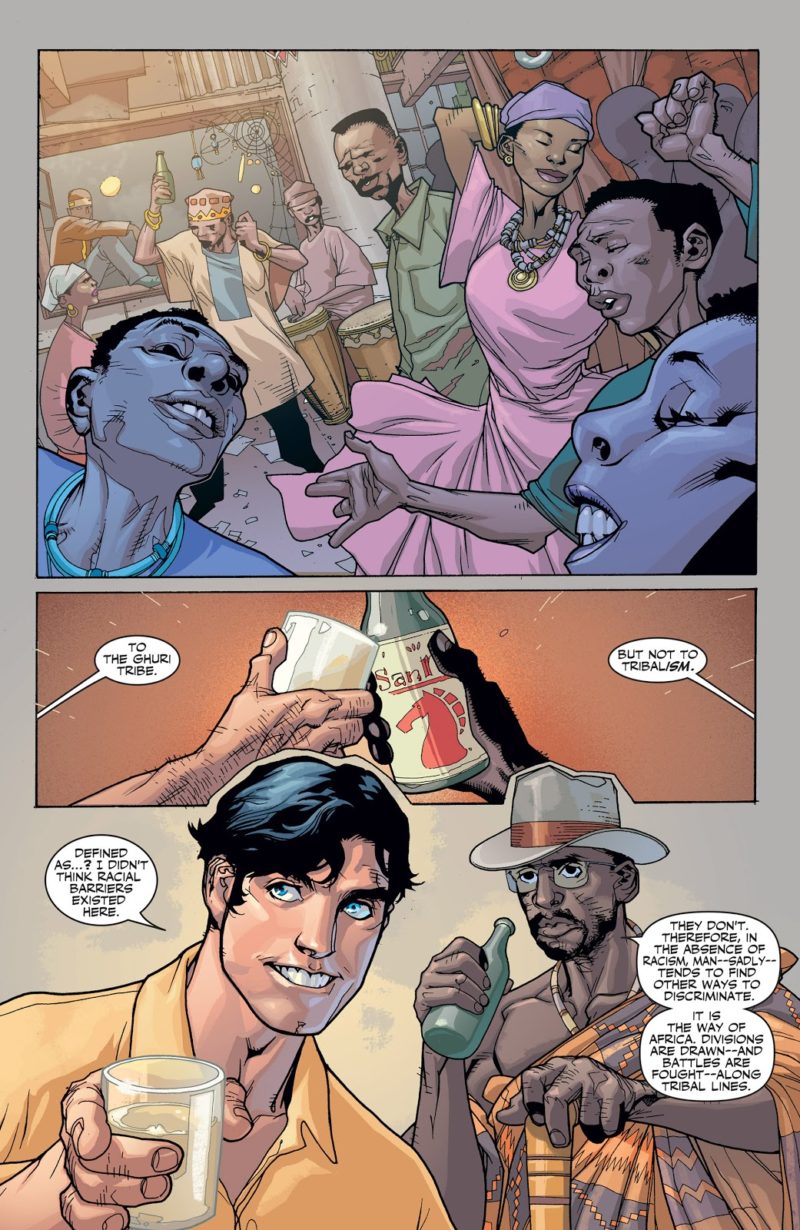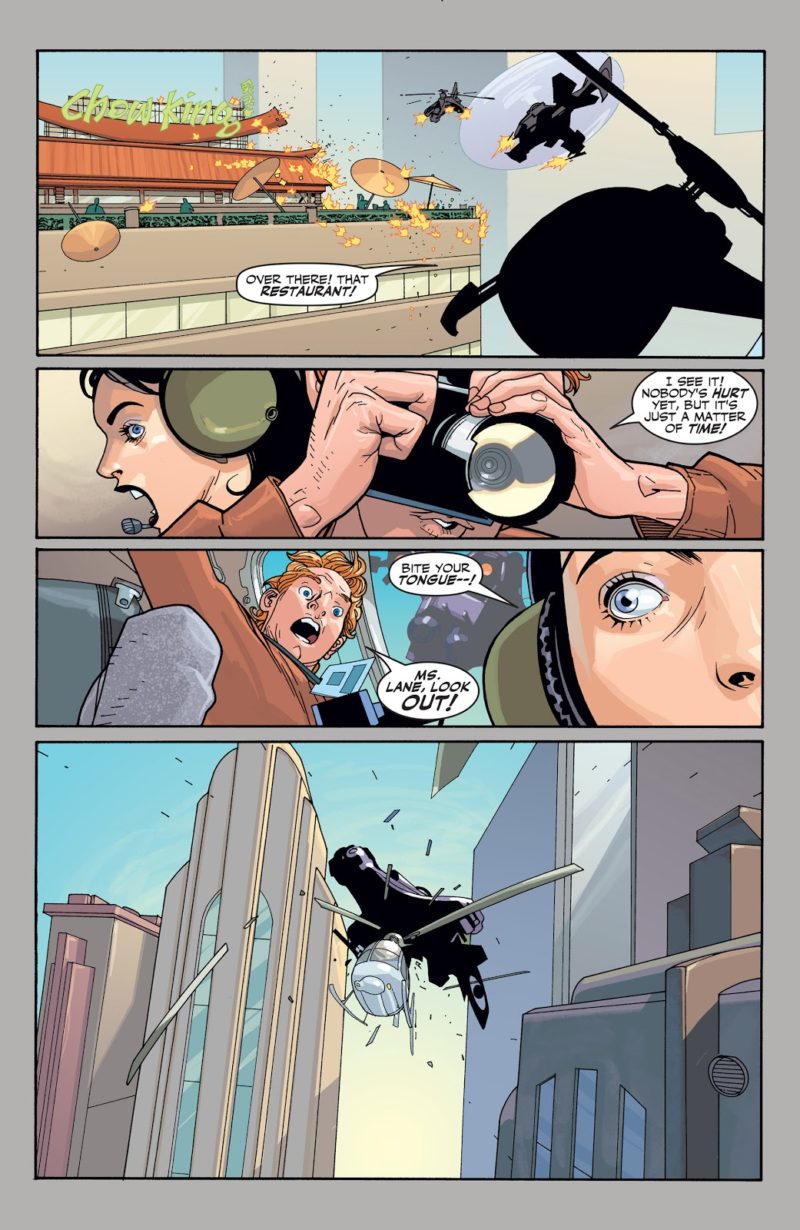 The first major retelling of Superman's origin following John Byrne's 1986 "Man of Steel", superstar artist Leinil Yu brought writer Mark Waid's (Kingdom Come) vision of the hero's early days with trademark style. The Philippine shoutouts here are subtle, with a young Clark Kent partaking of beer with a certain crimson stallion on the bottle, and a rooftop(!) branch of Chowking visible when Superman makes his first costumed appearance in Metropolis. While it never happened on the page, we like to imagine Supes popped in for a lauriat after saving Lois Lane from certain death for the 8 millionth time.
GMA IS A SECRET INVADER
Secret Invasion #5 (2008)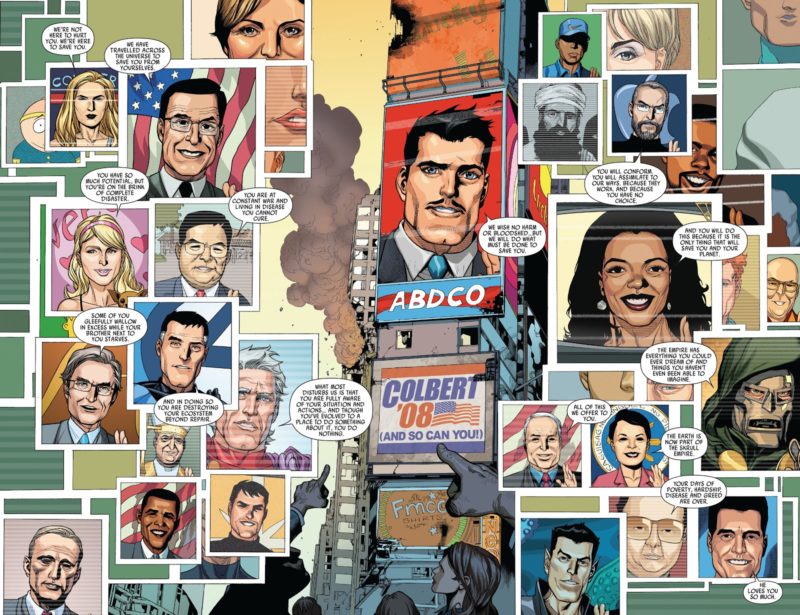 Secret Invasion told the story of the Skrulls, a race of short, aesthetically-challenged, power-hungry alien shapeshifters posing as world leaders, celebrities, and superheroes to sow distrust on Earth. In #5 of the 8-issue limited series, amidst doubles of Oprah Winfrey, Steve Jobs, and Barack Obama calling for the Earth's governments' surrender, one of the Skrulls poses as then-Philippine President Gloria Macapagal Arroyo to declare the planet under their unconditional rule. Seeing as we're predisposed to distrust politicians as it is, the Skrulls probably should have chosen some other face to keep us in line.
COLOSSUS IS MAKULIT
Uncanny X-Men Vol. 1, #290 (1992)

A classic bit of Pinoy fanservice from Bishop co-creator Whilce Portacio (Wetworks), Russian X-Man Piotr Rasputin, AKA Colossus can be seen sporting a bomber jacket with a Philippine flag and the word, "makulit" at the back. Aside from the fact that seemingly every other Marvel hero in the 90s wore a bomber jacket over their super suits, Colossus' civilian outfit is outright restrained, as far as these things go. Of course, some eyebrows were raised at the flag's being depicted with the red side on top, representing a state of war, fans just chalked it up to Portacio himself being "makulit" about the whole thing. A popular visual gag, Whilce still gets people at conventions all over the world asking him about it to this day.
JOLLIBBEE SIGHTED IN CENTRAL CITY
The Flash Vol 2, #77 (1993)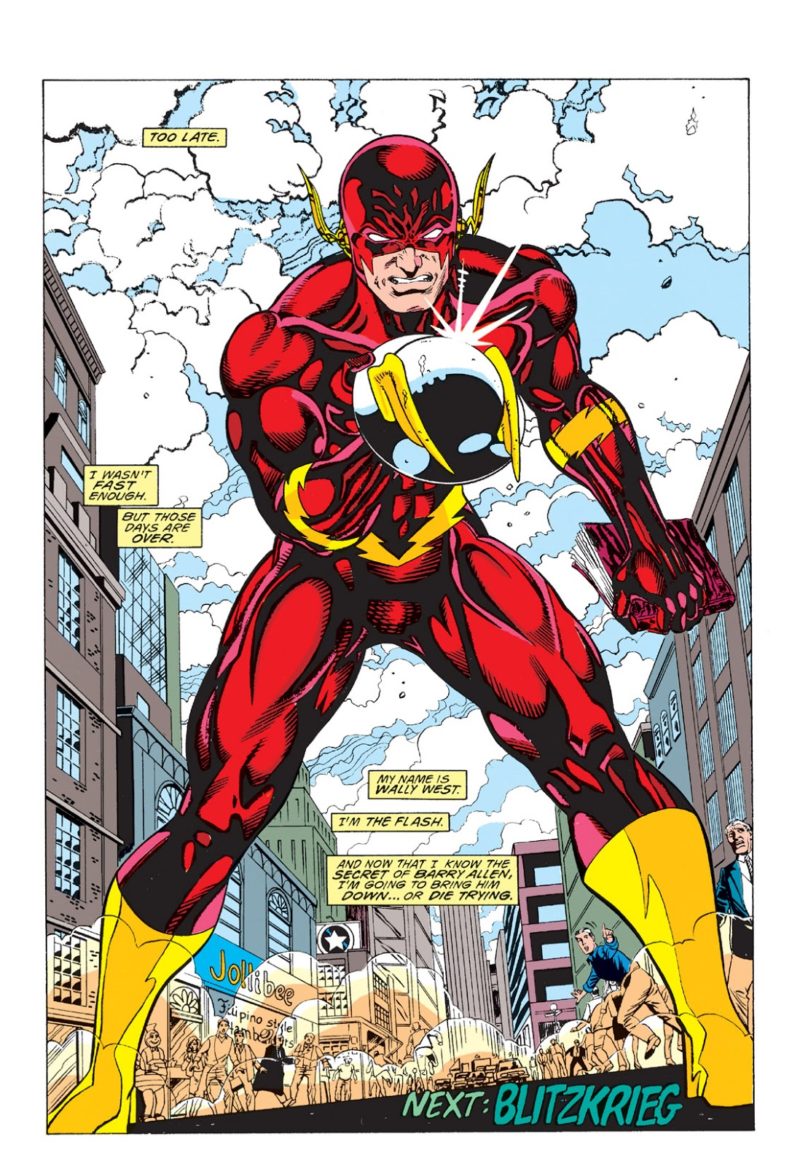 The Flash is the fastest man alive, and his need to chow down on food to keep up his incredible metabolism is well-documented. Thus, it warmed many a Pinoy heart to see that the superhero's Central City was home to a very familiar fast food franchise. While the story in question, "The Return of Barry Allen" wasn't penciled by a Pinoy, artist Greg LaRoque (Marvel Team-Up) was based in the Philippines at the time, and snuck a shot of a Jollibee restaurant, complete with mascot into the background of a crucial moment. In this scene, a mentally-unstable Barry Allen, having reclaimed his hero identity from then-current Flash Wally West, is facing off against fellow speedsters Jay Garrick, Johnny Quick, and Max Mercury. Sadly, we'll never know if the whole situation could have been avoided if they'd they all just sat down for a bucket of Chicken Joy.
BLADE GOES TO SIQUIJOR
Marvel Anime: Blade (2011)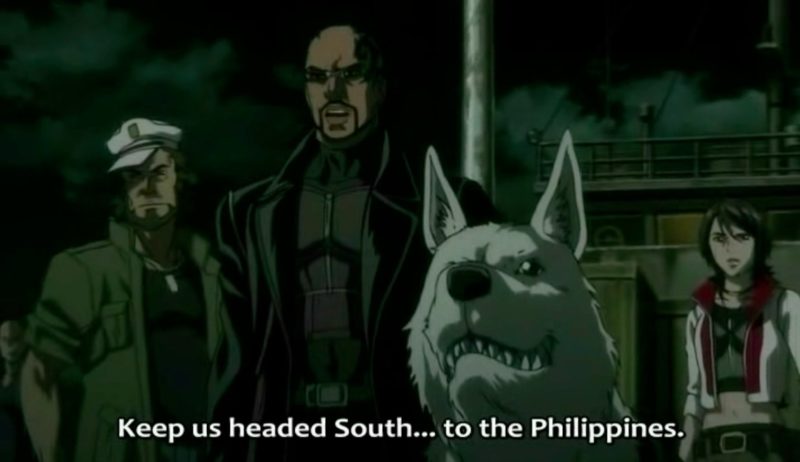 From 2010 to 2012, Marvel teamed up with Japanese animation studio Madhouse (Death Note, One Punch Man, Vampire Hunter D) to create one-season anime versions of X-Men, Wolverine, Ironman, and Blade. In Blade's 4th episode, the half-vampire hero teams up with a local team of demon hunters to take on nemesis Deacon Frost in the Philippines. Together, they take on mandurugo in Manila and manananggal in Siquijor, the latter described as, "the one part of the Philippines they [the Spanish] never got around to colonizing," due to its being "cursed." Madhouse went above and beyond here, rendering the streets of Manila and supernatural foes with excellent attention to detail that definitely whet the viewer's appetite for Netflix's upcoming Trese animated series.
CAPTAIN STEEL IS PINOY
Earth 2 Annual VOL. 1, #1 (2013)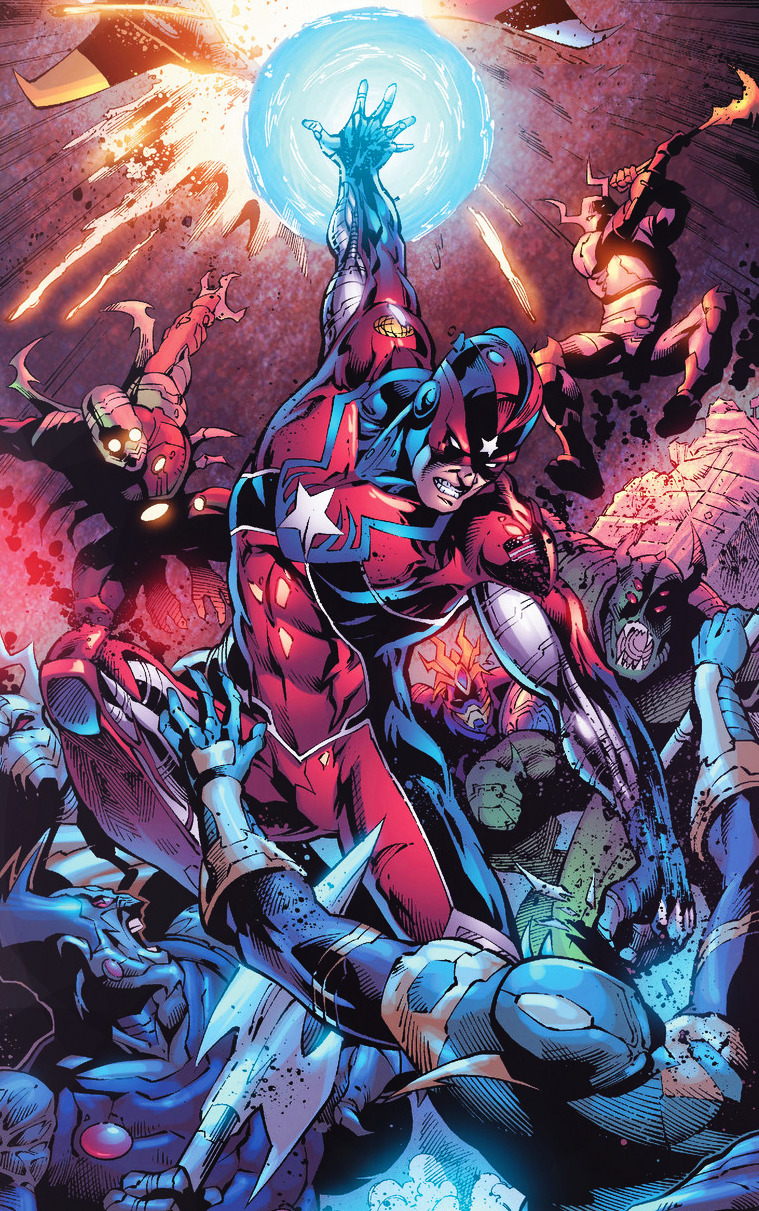 Captain Steel is an alternate reality reimagining of an existing DC Comics character who's been operating since World War 2. In this version, Steel is a Philippine-born hero who was born with brittle bones, resulting in his scientist father binding metal to his skeleton in order to save him. Side effects of the procedure left Steel with invulnerability, super strength, and the ability to control machines with his mind. While his being from an alternate Earth does diminish his mainstream legitimacy somewhat, it's nice to know there's a Pinoy-born hero fighting the good fight out there.
TRAGEDY AND TRIUMPH DIVISION
Invincible Iron Man VOL. 2, #2 (2008)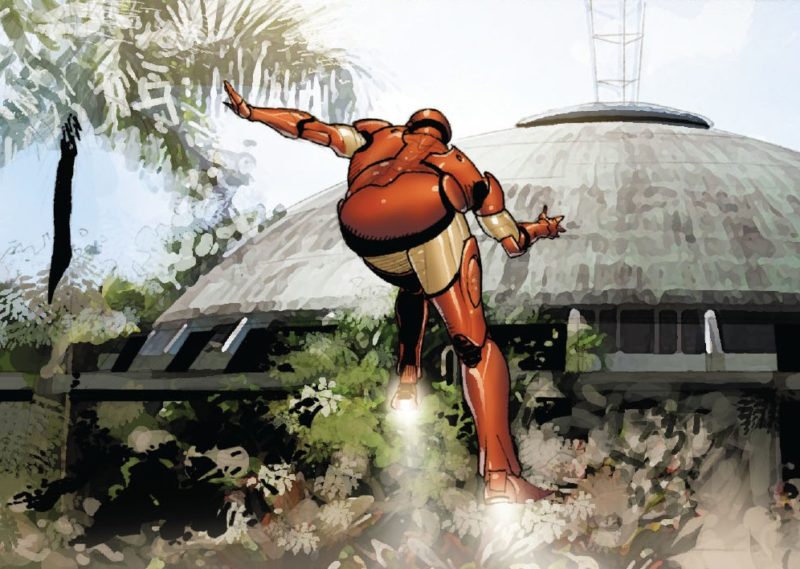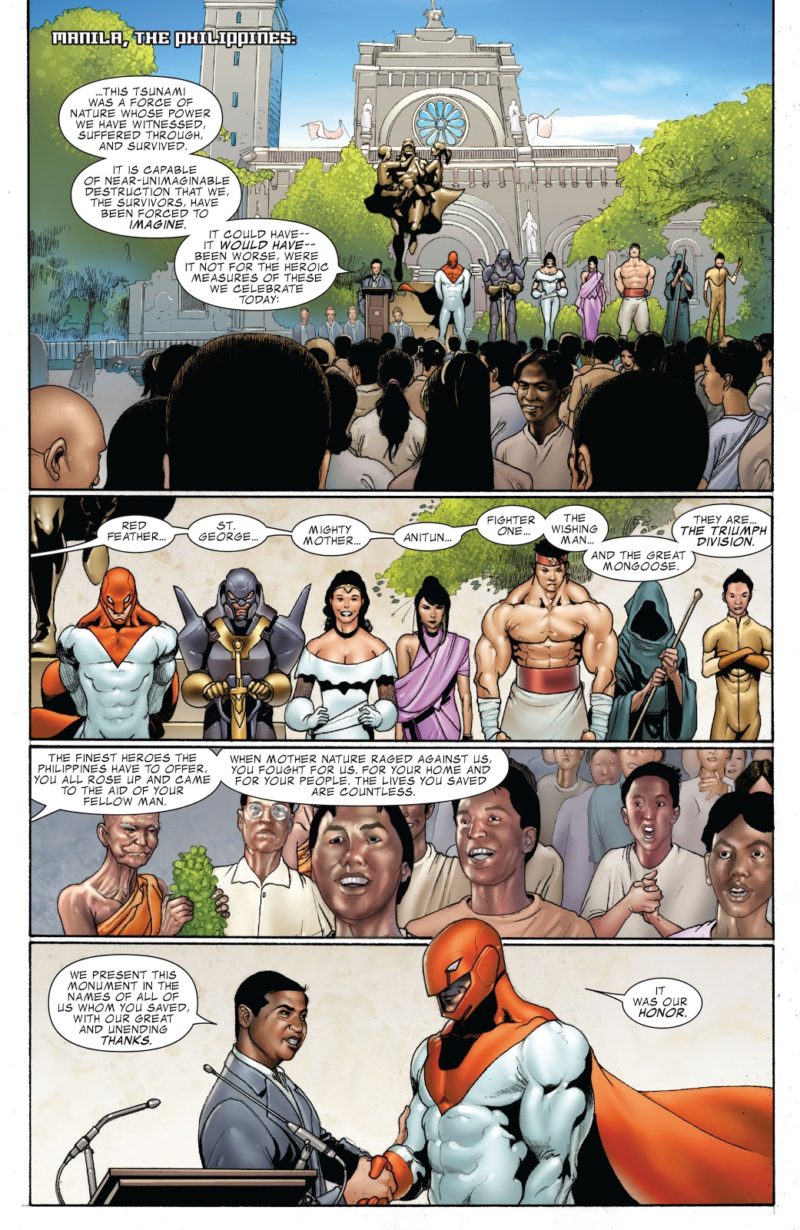 In this issue, the Philippines is finally depicted as having its own Marvel super team, the curiously-named, "Triumph Division", consisting of the even-more-curiously-monickered, Red Feather, St. George, Mighty Mother, Anitun, Fighter One, The Wishing Man, and the Great Mongoose. When we first see them, the Triumph Division is being honored in front of the Manila Cathedral with a statue as thanks for their efforts in protecting the country from a recent tsunami.
The team's time in the spotlight is short-lived, as a group of extremist Buddhist monks approach the stage and explode, killing everyone in the Plaza de Roma. Iron Man later pays his respects to the slain heroes at Triumph Hall (with design inspired by the University of the Philippines' Parish of the holy Sacrifice), while Thor attends the funeral of Anitun, who had been serving as host to a diwata. Not the most auspicious debut for a Pinoy super team, but it's nice to see local landmarks depicted in a mainstream American comic.
SUPERHUMAN SHOWDOWN ON EDSA CORNER ORTIGAS
Wonder Woman Vol 5 #37 (2016)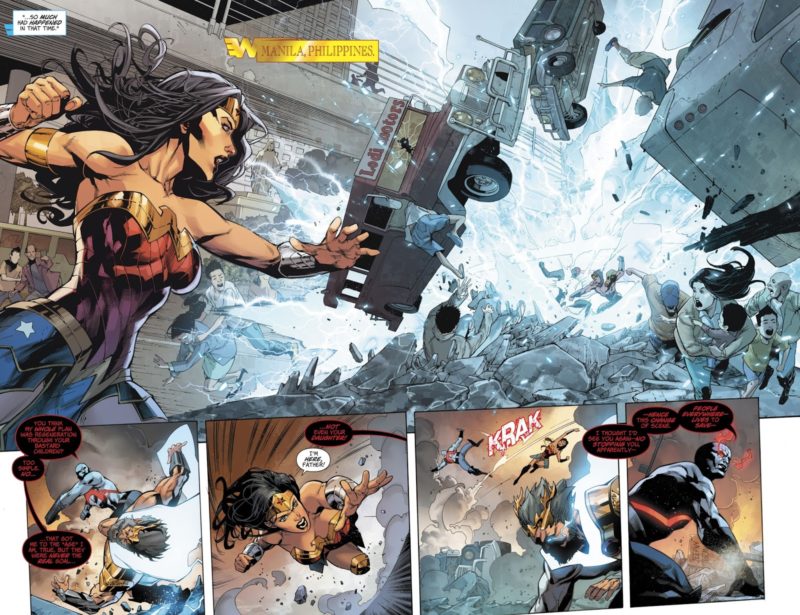 Filipino artists have long enjoyed hiding Easter eggs in the backgrounds of their work, but few have gone so far as to depict entire sequences explicitly set in the Philippines. Written by British scribe James Robinson, the art here is by Pinoy artist Stephen Segovia, with colors by Romulo Fajardo. In this issue, the Amazon princess engages Darkseid in immortal combat through the San Juan-Ortigas intersection, complete with a "Lodi Motors" jeepney being flung through the air against the backdrop of a relatively traffic-free  EDSA. As the fighting intensifies, destroying Robinson's Galleria, Diana is joined by her comrades in the Justice League in a splash page that happens to include the EDSA Shrine. You know you're in trouble when you have the entire Justice League staring you down with a statue of Mother Mary backing them up.
What other sightings should be on this list? Share them with us below!