I'd daresay that the most ancipated HBO series this year – that is one that isn't bowing out on its eighth and final season with Starbucks cup in hand – is Watchmen, based on the DC Comics created by Alan Moore and Dave Gibbons. And given the work's legendary status among comics literati and a major motion picture adaptation by none other than Zack "Dawn of Justice" Synder, you might think you already know quite a bit about it.
But the series is not a direct adaptation of the comic. Series creator and showrunner Damon Lindelof (The Leftovers, Lost) wrote that he and his team "have no desire to 'adapt' the twelve issues Mr. Moore and Mr. Gibbons created thirty years ago." Instead they will be "remixed" by taking the premise of the comic – in which the tensions of a post-vigilante world spill into armageddon – and extending it into the present day.
"Those original twelve issues are our Old Testament. When the New Testament came along, it did not erase what came before it," Lindelof wrote. The result will be characters and stories that bring Moore and Gibbon's ideas into an uncomfortably modern context filled with angry populist movements and law enforcement driven to the brink. At least that's what we're sure of from the first full teaser. Here's what we learned.
Walter Kovacs Was Right

Image source: HBO
 A series of reverse zooms focus on a group of men in homemade Rorschach masks. "We are no one, we are everyone, and we are invisible," says one. It seems that in the alternate present of HBO's Watchmen, the troubled and morally obstinate vigilante Rorschach has gained a cult-like following. "Tick tock," they chant throughout the teaser trailer.
Time Is A Flat Circle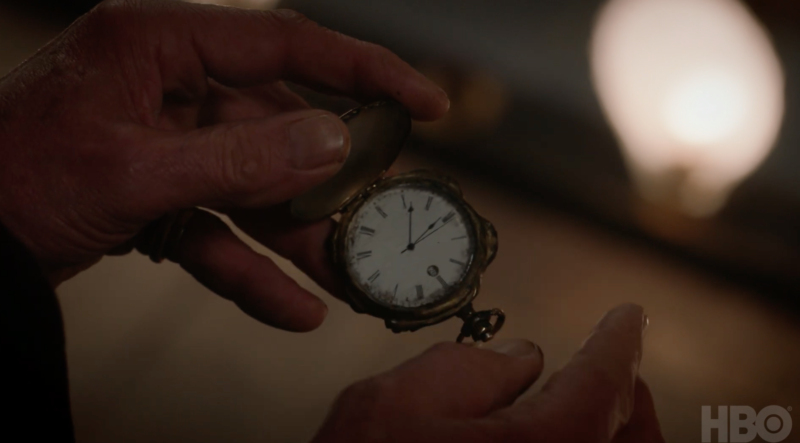 Image source: HBO
 There's no way of determining whose hands hold this pocket watch, but it definitely feels like the fixation on time is a shout out to Jonathan Osterman, the physicist who would become Doctor Manhattan. The omnipotent superman saw time as a fixed property in which all things are inevitable.
Cowls On Patrol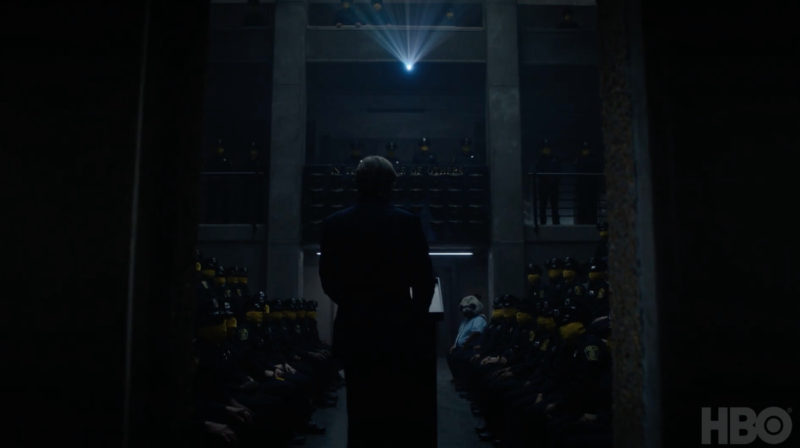 Image source: HBO
All the police officers in the new teaser appear to be wearing masks, hiding their faces under yellow cowls. Could it be that in the absence of masked adventurers – outlawed in 1977 by the Keene Act – the police have adopted the very measures that allowed vigilantes to act with impunity while retaining their freedom and privacy?
Gaze Upon Me And Despair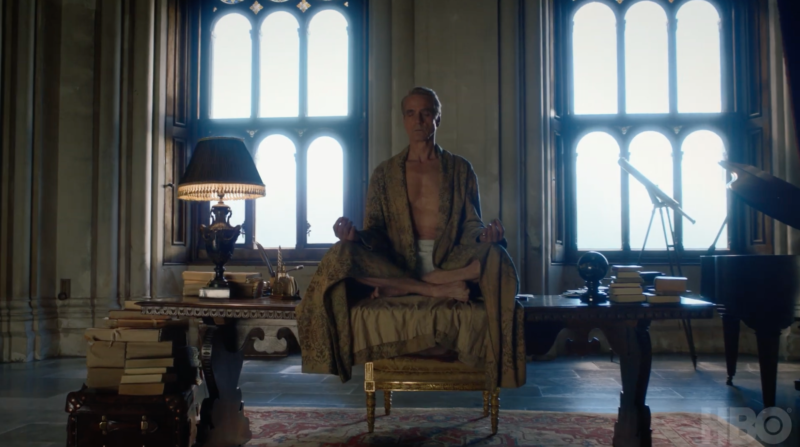 Image source: HBO
 The big link between the TV series' alternate 2019 and the 1985 of the comic is Ozymandias, or Adrian Veidt. As a younger man, he engaged in mass murder, psychic terrorism and deception to bring about world peace. As an older man played by Jeremy Irons (Reversal of Fortune) it appears he's not entirely out of the game. Though an apparent recluse, he's still planning shenanigans it seems.
Law and Disorder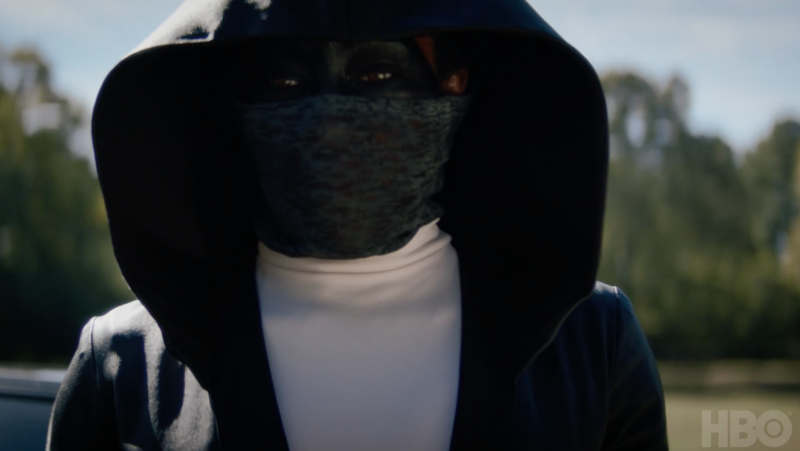 Image source: HBO
We're introduced to one of the leads of the series, Angela Abraham, played by Regina King (American Crime). Described as "fiercely intelligent, unapologetically independent," Abraham "wears many masks as mother, wife and cop." And apparently she dresses up in a costume too, complicating the relationship between law enforcement and mask imagery.
Into A Mirror, Darkly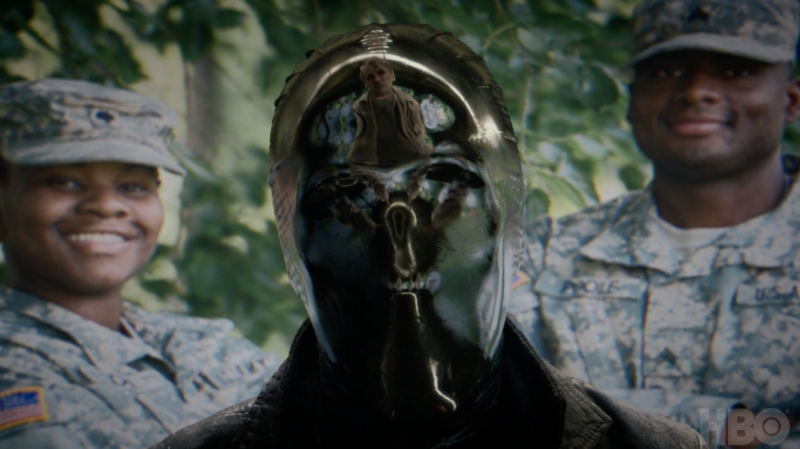 Image source: HBO
It's safe to presume that the man in the silver mask is Looking Glass, played by Tim Blake Nelson (Netflix's The Ballad of Buster Scruggs) Described as a cop who "isn't simple as his rural accent makes him appear to be," he's a "top interrogator and behavioral scientist, [who] may also be a bit of a sociopath." Lindelof beefed up the role after Nelson signed up for the part.
Tides of Darkness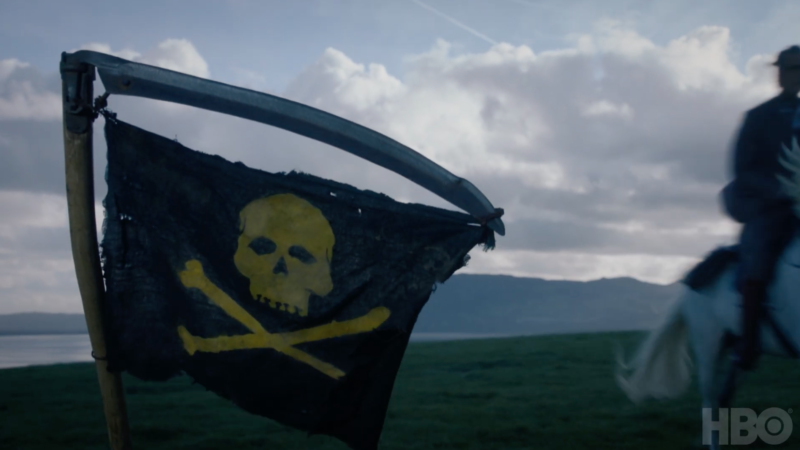 Image source: HBO
This flag can only be a shout-out to Tales of the Black Freighter, the comic within a comic of Watchmen. With costumed vigilantes in existence, pirate adventures became the bread and butter of American comics instead of superheroes. If HBO wants to evoke this neat Easter egg, it should have a TV show within the series that serves a similar function of juxtaposing the themes of the season with those of in-universe entertainment.
You Wouldn't Steal A Shotgun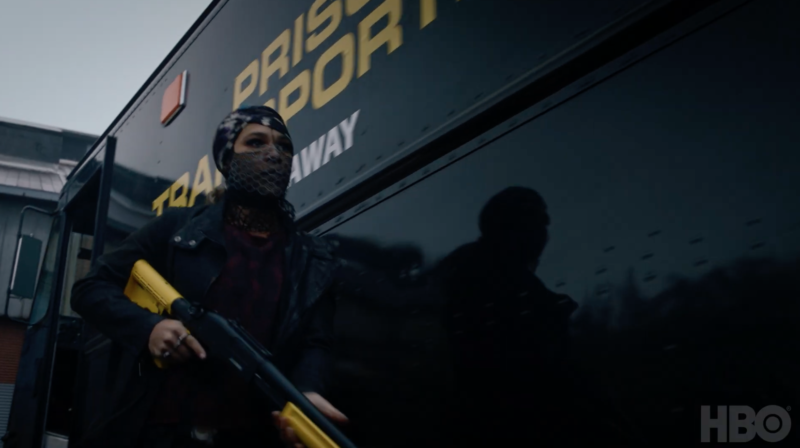 Image source: HBO
It's hard to be certain but the bandanna suggests that this our first look at Pirate Jenny, (played by Rectify's Adelaide Clemens) who takes her name from the song that inspired Tales from the Black Freighter. Her outfit and police issue longarm closely matches her official description as a "bisexual cop" and an "anarchist at heart."
 How excited are you for this show? Tell us below!