This Week in Weird News: These People Need Jesus
Apr 15, 2017 &nbsp • &nbsp Kevin Christian L. Santos
Hey gang! It's the long weekend! If you went to the province to kick back and relax or stayed home to avoid the crowd, newsflash: PEOPLE ARE STILL TERRIBLE. Might as well avoid them as much as you can. As further proof, people turned their weirdness all the way to 11 this week, of the holiest of weeks. These people need Jesus. People like:
1. There was an actual dead bat found in a pre-packaged salad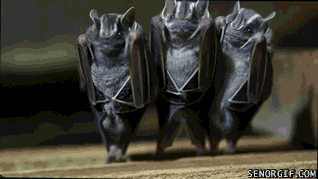 In taking all-natural diet to a whole new level, a couple in Florida made quite the discovery when they found an ACTUAL dead bat in their pre-packaged salad. The Center for Disease Control and Prevention says the bat and the couple themselves are currently being checked for rabies. The CDC also said that the bat was already in a decaying condition and were inconclusive on whether or not the bat did in fact have rabies. The CDC adds that the couple aren't demonstrating any sign of the sickness and are currently in good health.
How does a dead bat get in your salad? Maybe someone at the factory thought, hmmm, this would be great for protein! You sir, need to quit your day job.
2. This girl wanted a poop-themed birthday party because why the hell not?
Quick, what's the most badass birthday party you had when you were a kid? Marvel superheroes? Nice. A Jollibee birthday when it was raining Chickenjoy and spaghetti with hotdogs in it? Double nice. Toddler Audrey from Missouri had other, more epic plans for her birthday.
When her mom Rebecca asked her three-year old daughter what theme she wanted for her birthday, her answer was clear: POOP.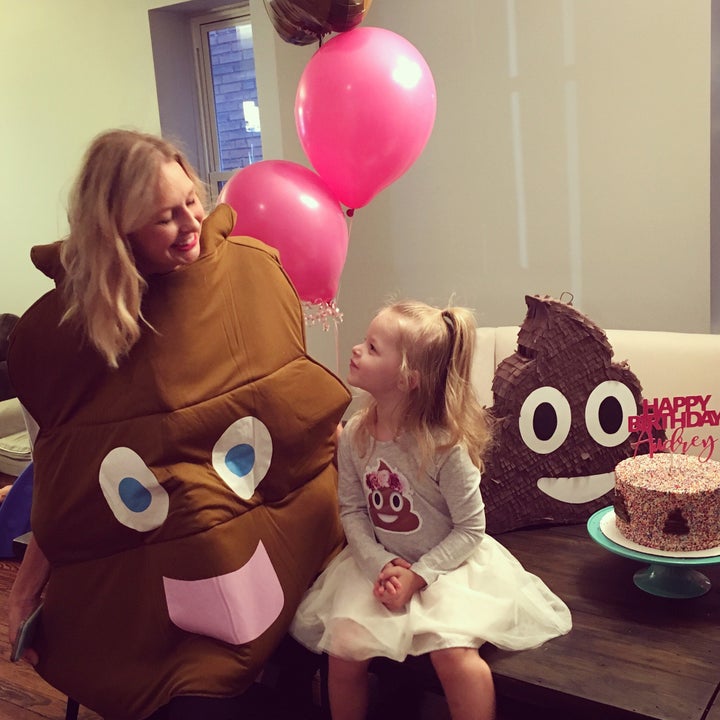 Speaking to the Huffington Post, Rebecca said Audrey was pretty firm with her crappy theme. "For months, every time we mentioned her party, Audrey requested 'poop balloons and a poop cake."
Rebecca and her husband eventually gave in and let Audrey "embrace her weird" and threw her a cool poop party. Guests played "pin the poop," smashed a poop-shaped piñata filled with Hershey's Kisses and Tootsie Rolls, and more. Audrey even dressed up in a poop costume.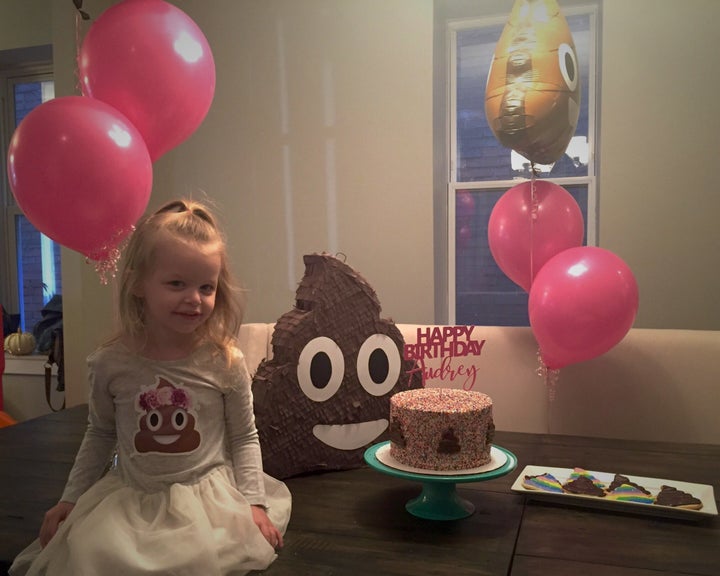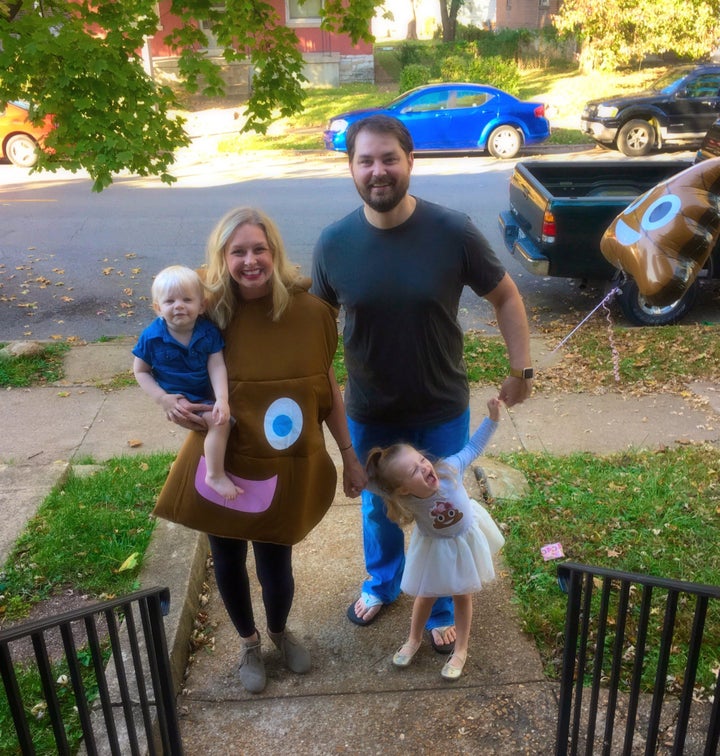 Rebecca adds, "I feel like in this time of Facebook and Pinterest, we sometimes get caught up in trying to impress other adults. This party wasn't for me, it was for Audrey. I love that we will look back at pictures, and it will represent her at 3 ― my funny and quirky little girl."
What a fun party. Fun, yet shitty.
3. Man rides rollercoaster, gets hit in the neck by pigeon
This could happen to anyone.
A man was filmed having the time of his life aboard the Red Force roller coaster in the Ferrari Land theme park in Spain when tragedy struck. A pigeon tragically lost its life when it slammed right on the man's neck.
The incident took the man on a roller coaster of emotions. First we see him ecstatic over the pulse-pounding ride he's on. We see him wince in pain as the pigeon flies out of nowhere and charges at him right in the throat. We see him confused and horrified upon the realization that a DAMN PIGEON rammed him in the neck, as he wipes the pigeon's blood off his face and explains to his bro seated next to him. The man, seemingly unharmed, goes back to having the time of his life as he waves his hands in the air, a futile attempt to forget the fragility of life. All we are is dust in the wind.
4. Guy eating a photo of Jason Segel everyday almost dies after eating photo of Jason Segel
Noah Maloney is on a noble mission. Not as noble as finding the cure for AIDS. Not as noble as ending world hunger. Noah's mission is to eat a photo of Jason Segel everyday, until Segel eats a photo of him. Segel has yet to respond. Also, Maloney almost died in his quest.
Speaking to The Daily Dot, Maloney says he dipped a photo in some beer, turned into one big ball and tried to swallow it whole. The photo got lodged in his throat. "I tried to get it down with more beer but it was stuck and there was 15 seconds where I came to terms with the fact that that was how I would go… Jason Segel would have killed me. But then I threw up the ball of paper and beer onto my friend and ate it after so it's all good."
You'd think this would put an end to Maloney's goal, but this is a man with a steely resolve. He's still eating a photo of Segel each day, and we're not sure this is going to end on a high note.
5. This glass-bottom pool lets you swim 500 feet and you might just pee yourself
Houston's Market Square Tower recently unveiled its glass-bottom pool on Instagram lately. Suspended 500 feet in the air, the pool gives you a knee-trembling view of the street below.
Nope nope nope nope nope, and lastly, nope.
6. Indian girl found "living with monkeys" shows much darker story
Over in India, a girl found "living with monkeys" drew comparisons to Mowgli from "The Jungle Book," but experts reveal that there's a much darker story surrounding the girl. The girl was reportedly naked, walking on all fours, and screeched at passers-by.
Doctors believe that the girl has mental and physical disabilities, and was in fact recently abandoned by her caretakers by dumping her in the forests of Katarniya Ghat.
Speaking to The Guardian, district chief forestry officer JP Singh said "I think the family members of this girl had been aware that she is not able to speak, and they may have abandoned her near the forest road. If she was living with monkeys it would have been for a few days only, not for a long time. It is clear from first time view, if you see the girl, that she is only eight or nine years old, but her facial expressions show that she is disabled, not only mentally but also physically."
Since being hospitalized, the girl has shown drastic improvement. She is now walking upright and will soon be moved to a children's home to continue her recovery.
7. Dudes are drawing penises on their GPS trackers for a good cause
Went balls out for Testicular Cancer. I wanna see yours now! @edwardgains @kurtstrong @TheBloodster#GOBALLSOUT pic.twitter.com/5pknMQFUBw

— Scott Kelly (@scottfromnz) April 2, 2017
In New Zealand, people are drawing dicks and balls with their GPS trackers. No, it's not because they have the maturity of a 12-year old, but it's for a good cause.
The #GoBallsOut campaign aims to raise awareness on testicular cancer by, you guessed it, drawing a man's no-no parts on maps.  Testicular Cancer New Zealand is asking people to draw a penis with their GPS-apps whenever they go for a jog. Upload it on social media, and tag two of your friends to do the same. It's playing with your dick for the sake of good! Wait, that didn't come out right.
Got my run in today! Happy Testicular Cancer Awareness Month! #GoBallsOut @lancearmstrong pic.twitter.com/LHOsquSk4o

— Skeeter Smith (@Skeeter__Smith) April 11, 2017
You don't have to just run either. This guy decided to one up everyone and goes on a helicopter ride to raise awareness.
Graeme Woodside, CEO of Testicular Cancer New Zealand, said "Asking people to #GoBallsOut raises awareness of Testicular Cancer in a provocative and visual way. Ultimately however, we want people to 'check their balls' and keep themselves safe."
8. Pensioner has sex with dogs, is spared jail time because reasons
Meanwhile in the UK, 64-year old pensioner Carol Bowditch was documented having sex with a St. Bernard, a black Labrador and an Alsatian and claimed she didn't know HAVING SEX WITH DOGS was illegal. A judge spared her jail time.
She would have gotten away with it too, if it wasn't for some meddling ki— we mean an RAF police investigating a man organizing a sex party. In the party, owners watched their dogs having sex with women, and in turn the women would then have sex with the men. The men did know what the women were just doing, right?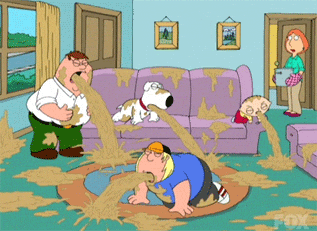 The details of the party was then posted on a bestiality forum (which is an actual thing), and this led police to visit the home of Bowditch. Officers found a DVD and a USB drive with footage of her having sex with dogs.
Prosecutor Victoria Rose told the Lincoln Crowd Court the following details:
Those images portrayed persons committing penetrative sexual acts with dogs.
"Also included were images of this defendant herself carrying out sexual activity.
"Included was an eight minute and 59 seconds video of Mrs Bowditch engaging in vaginal and oral sex with a St Bernard dog named Oscar.
"When the defendant was interviewed she admitted she had penetrative sex with dogs.
"She accepted it had taken place over several years. She was unaware it was illegal."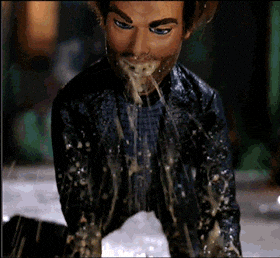 The maximum sentence for having sex with dogs was a two-year jail sentence. Instead, Bowditch received a community order with 12 months supervision and a 16-week night-time curfew.
This takes "doggy style" to a whole new level.
What was the weirdest of the week? Share them with us below!