January isn't even over yet and there's already quite a handful of what-in-the-weird-actual-f_ck scenarios that happened this week. Why is the world like this? Why can't it be normal for once?
Strap your seatbelt and put your tinfoil hats on as we take a look at the weird happenings for the week.
1. Demon allegedly shows up in Arizona for the New Year.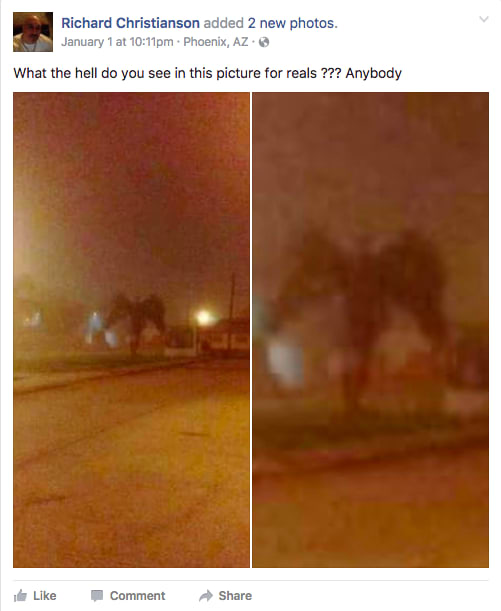 If you don't believe in the supernatural and only believe in science, it's time you start changing your New Year's resolution because we got bad news for you. Arizona Facebook user Richard Christianson uploaded (and later deleted) a grainy photo of what looks like a rejected balrog from Fantasia lurking in the streets.
With so much crazy stuff happening in the world, this was maybe a sign that a lot of MFers need Jesus. Prior to being deleted, the post garnered almost 90,000 shares and more than 20,000 comments, with one saying the Revelations is upon us. Some Twitter users offered their take on the creature:
Scary Stuff..#hrva #Virginia @FOXLA pic.twitter.com/68PPyGpx1p

— Steve Jackson Show (@VIPMediaEvent) January 4, 2017
@FOX10Phoenix it's Megatron 😅😅😅😅😅😅

— Panchito Nora (@RiseUpBigRed) January 4, 2017
While one user was a clear voice of reason:
@FOXLA It's a fucking tree. Jesus fucking Christ.

— ANOTHER SCORCHER (@notabevigoda) January 4, 2017
Tree or not, that tree looks like it wants to eat your soul.
2. For the first time ever, vampire bats are now feeding on humans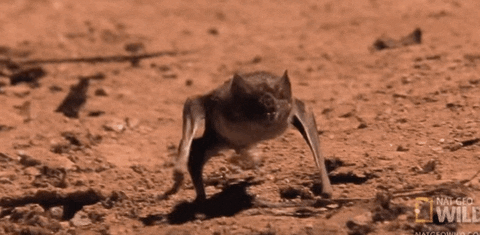 Despite what you normally see in movies or TV, vampire bats aren't harmful to humans and could care less about our blood. They don't take enough blood to kill their prey and only one of the three species, the common vampire bat (Desmodus rotundus) feed on mammals, and said mammals of choice are domestic cows, horses and pigs. Two other species, the white-winged vampire bat (Diaemus youngi) and the hairy-legged vampire bat (Diphylla ecaudata) feed on birds. However, that may change soon.
Researchers in Brazil recently found that vampire bats have decided to expand their diet by feasting on human blood. While Enrico Bernard from the Federal University of Pernambuco in Brazil and his team were investigating the diet of vampire bats in northeast Brazil, they made an astounding discovery. Genetic analysis of 15 fecal samples showed contained bird DNA, but three of those samples contained a mix of bird and human DNA. This shows that these hairy-legged nocturnal creatures have been dining on both. One of the researchers says that "House conditions in Catimbau are usually poor, and domestic animals are usually in close contact with humans, what may explain the occurrence of both chicken and human blood in our samples." However, this doesn't explain how the bats are able to process the protein-heavy blood of humans when they were evolved to digest the fat-heavy blood of birds. Take note that when blood of pigs and goats where made available to bats who were used to bird blood, many of them chose to fast and even starved to death.
In any case, lock your windows and close your doors.
3. Deer and monkeys are apparently having sex now.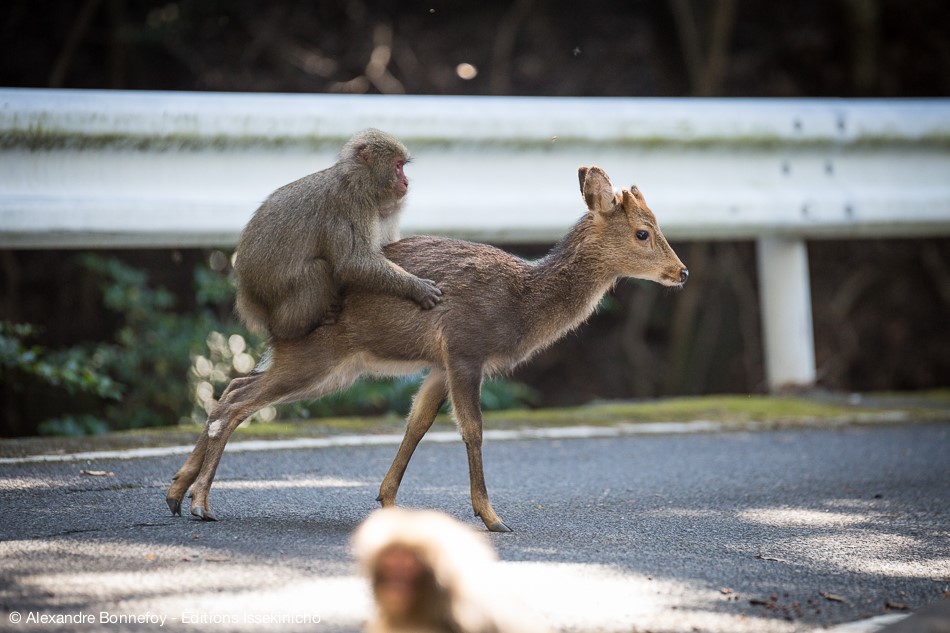 In what could be the weirdest porno ever, monkeys and deer are now having consensual sex with each other. In a new paper titled "Interspecies sexual behaviour between a male Japanese macaque and female sika deer" shows you guessed it, a macaque and a deer engaging in consensual sex in what may be the first ever recorded incident of two different animals taking each other to Pleasure Town.
Sex among different animals isn't totally new, but it only occurs with animals that are genetically similar to each other (like ligers). The research says that macaques have had a habit of riding deer in the literal sense, but the new study shows this particular monkey behaving sexually towards several deer. Some deer objected, while some "accepted the mount." The study also says that one deer was even licking the sperm the monkey left on its back.
Scientists are saying that the reason for this behavior might be due to "mate deprivation." The theory suggests that animals who don't have access to females have a higher chance of displaying this kind of behavior. Though this is only the second such reported incident of such a case (the first one was a seal having sex with a penguin, but behavior showed it was not consensual), scientists hope that this incident leads to more research on interspecies mating, and why some people get turned on by animals. So hopefully we get more insight on why people like watching and reading stuff on people getting banged and banging horses and dinosaurs. Macaque's pretty horny. Ok, we'll stop.
4. Owls without feathers look like sheer nightmare fuel.
I just googled what owls look like without feathers and I am severely shook pic.twitter.com/B12IJ1atYl

— Dana Schwartz (@DanaSchwartzzz) January 8, 2017
Author Dana Schwartz was presumably bored out of her skull one day and decided to Google what an owl without feather looks like. She tweeted her grim discovery of what looks like a creature that has no problem stabbing your eyeballs out.
TFW someone interrupts you when you're in the middle of the spookiest meeting of all time pic.twitter.com/RqojCv4R5S

— Dana Schwartz (@DanaSchwartzzz) January 8, 2017
This left other Twitter users #SHOOKT, and some were even Googling what other hairless animals looked like:
@DanaSchwartzzz Bald hedgehogs are testicles with a face pic.twitter.com/v7VNUdHu9W

— James H (@angusprune) January 8, 2017
@looks_last @tittenkits @patel_jesse @DanaSchwartzzz I would like to submit a hairless possum for your enjoyment. pic.twitter.com/jnI8xcCp6X

— aggro (@argobagdr) January 9, 2017
@patel_jesse @DanaSchwartzzz I did as you suggested (oh my god) and this wee wizard popped up in image results. pic.twitter.com/KVrz1Pccy3

— Jane (@looks_last) January 8, 2017
This hairless bunny looks like it's wise beyond its years, will spit out enlightening one-liners on you, and beat the living hell out of you with its rabbit kung fu.
5. How many legs does this woman have?
Another day, another optical illusion. From "the dress" to "#croptopgate" to missing legs, another photo has left people scratching their heads. A Reddit user shared a photo of a kneeling girl who appears to have three legs. However, if you spot what's really going on, you can't unsee it.
The girl is holding an urn with her right arm. Said urn matches the color of her stockings and the size of her legs. It's a lot of coincidences in one photo. Why was she posing with an urn, we don't really know. However, one thing's for sure: THE DRESS WAS WHITE AND GOLD, YOU MORONS.
6. A star might explode in five years and we all get to watch.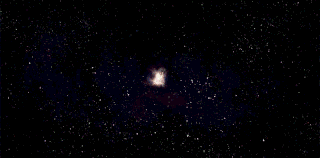 In what could be one of the biggest astronomical events to man, a star might explode in 2022 and it's going to change the night sky.
Scientists are saying that binary star system KIC 9832227, located in the Cygnus constellation will merge and explode in a "red nova" event in 2022. Should this happen, the star's brightness will increase 10,000 fold and will in turn become one of the brightest objects in the night sky, and will be visible to the naked eye. No need for telescopes or binoculars! Though the star will explode, another one will take its place, just like how your ex was easily able to move on with a new bes.
Speaking to National Geographic, Calvin College astronomer Larry Molnar says "It will be a very dramatic change in the sky, as anyone can see it. You won't need a telescope to tell me in 2023 whether I was wrong or I was right."
7. Donald Trump allegedly enjoys golden showers.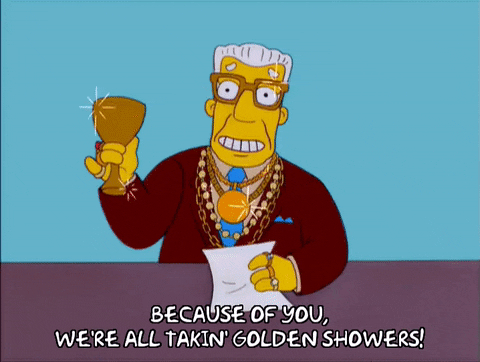 Donald Trump is pissed, with good reason. Buzzfeed recently released a dossier compiled by a British intelligence officer that allegedly shows how Russia has compromising information on Donald Trump. In particular, Trump enjoys watching "golden showers." Buzzfeed does say however that the dossier is unverified and contains errors.
Golden showers in Obama's hotel bed! https://t.co/IGdKmM04pB pic.twitter.com/DalEmYNdD9

— Farhad Manjoo (@fmanjoo) January 10, 2017
Obviously, Trump wasn't too happy:
FAKE NEWS – A TOTAL POLITICAL WITCH HUNT!

— Donald J. Trump (@realDonaldTrump) January 11, 2017
Given that the internet is full of mature, sensible individuals, Twitter users started posting about #goldenshowersgate:
Stark contrast as Pres. Obama delivers this farewell address while Trump tweets about allegations he paid prostitutes to pee on a hotel bed.

— Jon Lovett (@jonlovett) January 11, 2017
"If you're going through hell, keep going." – Winston Churchill

"Pee on my face" – Donald Trump #GoldenShowerGate pic.twitter.com/Ka7mOmscgW

— E (@esheikh_) January 11, 2017
What's the difference between a lentil and a chickpea?
Trump wouldn't pay $1000 to have a lentil on his face.#watersportsgate #goldenshower

— Julie Price (@JuliePee) January 11, 2017
Very empowering for our girls to know that one day, if they dream & work hard, they can pee on the President of the United States.

— Ken Jennings (@KenJennings) January 11, 2017
.@realDonaldTrump are there gonna be golden showers at urineauguration?

— Lauren Reeves (@laurenreeves) January 11, 2017
If you logged into Twitter looking for @realDonaldTrump jokes, urine luck. #GoldenShowers

— Amanda (@mandaguagliardo) January 11, 2017
Come on guys, stop with all the #GoldenShowers tweets @realDonaldTrump is gonna get pissed.

— Lauren Kitt Carter (@Lauren_Kitt) January 11, 2017
Never change, internet.
8. Rhinos use poop as a social network.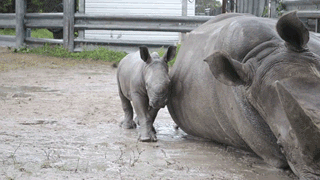 We got Facebook to pretend like we're busy at work and stalk our crushes and leave a passive-aggressive comment here and there. Rhinos got PoopFace, rather they get their source of gossip and information on their fellow rhinos from poop piles.
The National Geographic reports that white rhinos like to hang around a giant pile of poop. A new study shows the feces of white rhinos provide information on a rhino's sex, age, health and reproductive status to other rhinos that visit the communal latrine, also known as middens. Scientists also say that these middens aren't exactly hard to find. Some of them can size up to 65-feet across. That's a huge pile of poop!
For us, poop is just something that comes out of our asses as a by-product of our meals. We think of it as waste, or as something that will instantly ruin our day if we step on it. For animals however, it's a good way to communicate with each other. Animals detect chemicals in urine that gives them information on their brethren. That's why dogs like to sniff fire hydrants or like to sniff areas where other dogs have peed. What makes rhinos so different is that they like to poop in the same place.
When rhinos do it, it's called "communicating," when I poop at the office water cooler, it's "grounds for dismissal." Double standards.
What were the weirdest things you've chanced upon the internet this week? Share them with us below!