Hey guys! Fun fact: people are still terrible. Yep, seriously. It's a great time to be alive if you're mean and a dumbass.
It's also a great time to embrace your inner weird, given that the whole world is churning strangeness out on a frequent basis.
Don't believe us? There's stuff happening like:
1. Japanese wrestling has a storyline involving Donald Trump, and it is getting weird
Trump is the new owner of DDT and they're playing USA's anthem #ddtpro pic.twitter.com/lGlUFLV5QS

— Roy (@narukiroy) March 20, 2017
Ever the paragon of the weird and awesome, Japan just did its own take on U.S. President Donald Trump. Turns out Donald took a break from calling fake news, golfing, and slashing budgets to become the head of the DDT wrestling promotion in Japan. He also had the time to make romantic moves on a referee:
Matsui & Trump share a romantic moment lol #ddtpro pic.twitter.com/cEFuTfVOUD

— Roy (@narukiroy) March 20, 2017
Trump made a match for one of DDT's shows. The match in question? An "Anal Explosion Death Match." But wait. How do you win an "Anal Explosion Death Match?" You win by setting off a firework off your opponent's ass because this is Japanese pro-wrestling and your logic can go fuck itself. It will look something like this:
第6試合~試合後、山ちゃんの肛門は…!?
⇒https://t.co/23Gu7gmPWU #DDTUNIVERSE #ddtpro #南海キャンディーズ #山里亮太 pic.twitter.com/W48PV9OnPZ

— DDT UNIVERSE (@ddtuniverse) March 20, 2017
Incidentally, one of the wrestlers involved in the match is Joey Ryan, whose clip of him suplexing another wrestler with his wiener went viral some time back.
He calls it the "YouPorn Plex." You gotta love professional wrestling.
2. Huge snake vomits whole deer because DAMN NATURE, YOU SCARY
If you just ate, we got bad news. Footage shot by Jaco Kotze has gone viral recently, showing a 12-ft rock python regurgitating a WHOLE damn deer. It clearly bit off more than it can chew, so it decided to vomit the whole thing intact.
The incident took place in Kotze's farm in South Africa. He says the snake was released to a safer location after its bout with indigestion.
That said, DAMN NATURE, YOU SCARY.
Speaking of nature…
3. Introducing the world's first fluorescent frog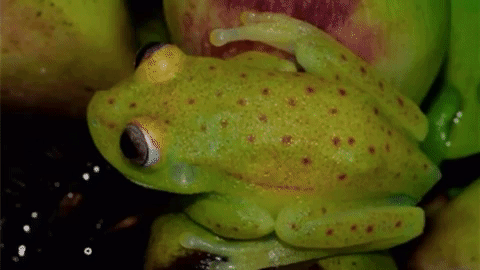 Scientists made quite the eye-catching discovery in South America when they discovered the first bioluminescent amphibian.
In a paper published in the Proceedings of the National Academy of Sciences, researchers describe how the Polka Dot Tree Frog (Hypsiboas punctatus) changes its pale yellow color with red polka dots to an intense neon green hue when ultraviolet light shines on the creature.
The compounds that are the source for the frog's glow are commonly found in plants. Researchers still aren't sure why the amphibians have this ability. It could be for mating and communication, researchers hypothesize.
Next time you're in the club, cover yourself in neon green paint. If it worked for frogs, it might help in solving your non-existent love life.
4. City builds train tracks through apartment complex
Here's a genius idea for urban design in a crowded city: build train tracks through a damn apartment.
Surprisingly, residents of the building haven't complained of any noise coming from the train, considering it's been going through the building for 11 years. Some residents even say that the cars on the street are even louder than the said train.
The Liziba Station, where you can go on between the building's sixth and eighth floor, is part of the Chongqqing Line 2 in China and was completed in 2005. What's more, developers say that the train produces only 75.8 decibels of sound, or roughly 10 decibels more than a normal conversation.
Why can't we have something like this in the PH? Oh right, our officials have never heard of good urban design and implementation.
5. K-Pop group celebrates plastic surgery procedures with before-and-after music videos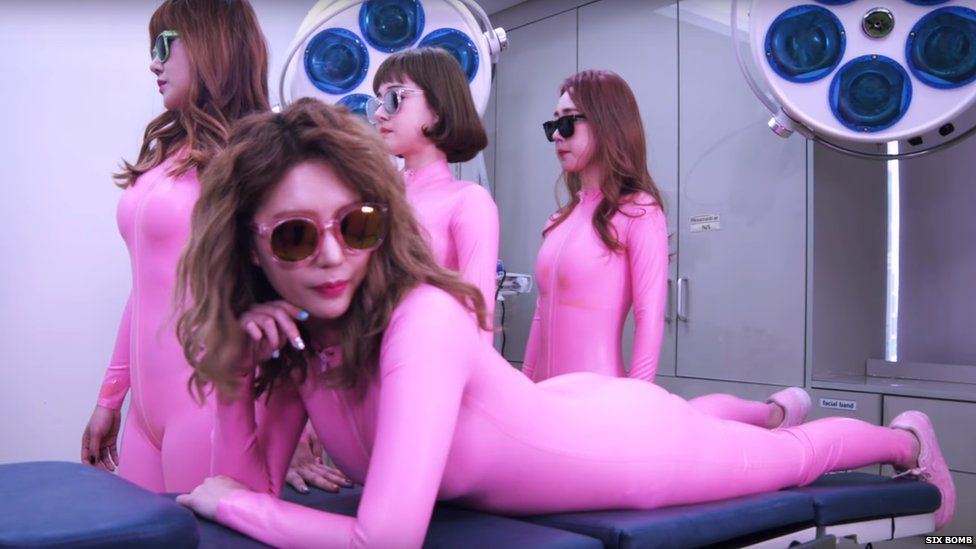 K-pop fever is taking over the globe, and one group decided to take their fame a bit further by showcasing the results of their plastic surgery.
Girl group Six Bomb showed before-and-after results of their procedures through music videos. The "before" part can be seen in their video "Becoming Prettier (Before)" and shows the members consulting a plastic surgeon for their procedure.
The second video, "Becoming Prettier (After)," shows the group dancing on an operating theater. The group's management allegedly spent around 100 million won (around Php  4,480,522) for the whole procedure.
Speaking to the AFP, the group's lead singer Dain said, "We all wanted to get some surgeries done to look prettier … and thought, 'Why not perform a song about it instead of trying to conceal it? People will notice it anyway … so we wanted to be open about this reality where many women want to look pretty."
Well that's one way to announce you got work done.
This Claymation video will make you feel things
Artist Kirsten Lepore uploaded her Claymation video "Hi Stranger" on Youtube, and people have a lot of feelings about it.
The video shows a butt-naked clay man staring at the viewer with his cold, dead eyes and uttering reassuring words. Some people were unsurprisingly creeped out:
this is SO horrible but I cannot look away https://t.co/y2Xy1Zi4P5

— Kate Bratskeir (@Kbratskeir) March 21, 2017
@Kbratskeir I felt violated and uncomfortable. I'm different now.

— Chris Olivieri (@ChrisDAPS) March 21, 2017
While some found it oddly relaxing:
Creepiness aside, this is actually very soothing https://t.co/78msp7LEi4

— Gabriel DeJoy (@gabrieldj) March 21, 2017
But seriously, this is creepy. Soothing, but as if we were violated. What will you do if you see this clay man lying on your bed naked?
7. Why does this 2-year old look like Ed Sheeran?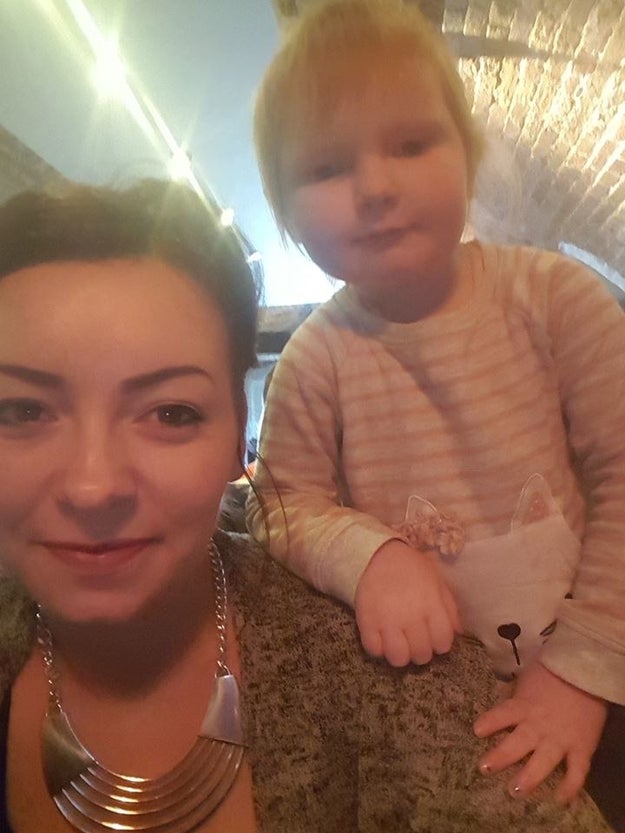 The man responsible for massive earworm is apparently now in baby form. Meet 2-year old Isla Walton. No one knows why she's basically the pint-sized carbon copy of Ed Sheeran. Speaking to Buzzfeed, her mother says that she's been getting comments on their resemblance for a while now. However, she didn't expect a photo of her child to go viral.
Why does this baby look more like Ed Sheeran than Ed Sheeran does? pic.twitter.com/3I50d7yQlh

— Tom Davies (@1TD) March 17, 2017
@1TD's tweet has gotten more than 80,000 retweets. People are even saying that Ed may be the father.
@edsheeran is this a love child of yours? https://t.co/QBtTAs4lTC

— John Aston (@thejohnnybone) March 17, 2017
@edsheeran didnt know u had a kid https://t.co/6NfJMb1ps1

— naddy (@goldxnchild) March 17, 2017
Ed should definitely have Isla in his next music video. No word yet on when the little toddler will tell us to take her in her "eleven arms."
8. This giant chicken is here to avenge the loss of his brethren
Am I the only person wondering why this chicken is so damn big pic.twitter.com/ZIWmEL2h2w

— LifesBook_Ceo (@LifesBook_Ceo) March 19, 2017
Twitter user @LifesBook_Ceo uploaded a video of a fairly normal-looking chicken emerging out of its coop and OH DEAR GOD WHAT IS THAT.
It looks like the chicken has been working hard at the gym, most likely looking to beat the living shit out of Peter Griffin and rip the rest of us a new asshole for eating its chicken brethren. Thigh part pala ha. Now it's our thighs they'll be feasting on.
People were #SHOOKt
WAS ABT TO FALL ASLEEP BUT JUS REMEMBERED I LIVE ON THE SAME PLANET AS THAT HUGE CHICKEN N NOW IM SCARED

— PUTHY PRINT (@princessg4y) March 20, 2017
THIS IS NOT A CHICKEN. THIS A FULL GROWN, 42-YEAR-OLD MAN IN A CHICKEN SUIT. HE HAS A 401K AND A TIME SHARE IN THE POCONOS. I REBUKE THIS. https://t.co/EB8Buo1n9v

— R. Eric Thomas (@oureric) March 19, 2017
@LifesBook_Ceo Bruh, this ain't no chicken. Who really finna try to cook this grown man.

— Cole⚡️ (@__Cole5) March 19, 2017
Nope, that chicken is not fake. It has all the characteristics of a Brahma chicken. They used to be the most in-demand chicken breed in the U.S. at the turn of the 20th century, and some chickens can even bulk up to more than 18 pounds. It was even believed that one Brahma is enough to feed an entire family.
Nah, they're here to bring on the chicken end times. It's their turn to deep fry us. We regret eating all those chicken nuggets and for killing its brethren. Tasty, tasty brethren.
What was the weirdest for you? Tell us below!