Hey weird team! Our country is going down into mind-numbing facepalm territory. Why? The House of Representatives just OK'd the second reading for the restoration of the death penalty. The catch? Rape and plunder are now dropped as crimes punishable by death, with the bill now focusing on drug-related crimes. Because instead of rehab, apparently our government continuously stealing from the people they promised to serve, the reason why the country is in its current state is not as bad as doing drugs. Drugs are bad, mmmmkay?
The country is in a weird state right now thanks to it being run by politicians with their heads stuck up their hairy, poop-encrusted asses. Speaking of weird, it doesn't help that other strange things are happening. Stuff like:
1. Mayor Sara Duterte-Carpio gives birth to third child, names him "Stonefish" because why the hell not
Presidential daughter and Davao mayor Sara Duterte-Carpio gave birth to a bouncing baby boy, lovingly giving him the nickname "Stonefish," because reasons. Stonefish, full name Marko Digong D. Carpio, her third child with husband Manases Carpio. Incidentally, the couple has two other children with the nicknames "Sharky" and "Stingray."

With a name like Stingray, Twitter had a field day:
: WHO IN THEIR RIGHT MIND WOULD NAME THEIR CHILD 'STONEFISH'? MAS MARANGAL PANG PANGALAN ANG 'JHEMERLYN'.

— MAJA SALVADOR DALI (@Watdahel_Marcel) March 2, 2017
Ako lang ba naawa dahil "Stonefish" ang pangalan ng apo ni Duterte? Pwede namang Lapu-lapu o kaya Bangus.

— giedefiesta (@giedefiesta) March 3, 2017
The baby's name is Pufferfish. 🐡😜 https://t.co/ypiv8OuSsb

— Professional Heckler (@HecklerForever) March 3, 2017
stonefish: us2 q n mmtaY

— sad tita (@itsluisyall) March 3, 2017
what's keeping me together from all this stress is the fact that there's a kid out there named 'stonefish'

— kate (@Keightniss) March 3, 2017
"Agenda for today?"

Expectation: "Thesis all the way."
Reality: "Bat ba kase Stonefish pinangalan niya?" pic.twitter.com/QXtvRh4D7O

— j 🌻 (@literallyjelly) March 3, 2017
It could be worse. He could've had butanding, janitor fish, blob fish, Humuhumunukunukuāpuaʻa, or slippery dick (haha). Meanwhile, I'm really tempted to name my future child "Die Hard: With A Vengeance." Also, I'm still forgetting the horrible trauma of having the nickname "sits down when he pees" and "faggot" as childhood nicknames.
2. Footage shows "possessed man" shot in the face roaming around hospital
.
Hospitals have to deal with mind-boggling shit all the time, but not like this. In OH HELL NAW news, creepy footage of an alleged possessed man terrorizing a hospital after he was shot in the face. In a report by Russia Today, the video was filmed in the public hospital Miguel Couto Municipal Hospital in Rio De Janeiro, Brazil. Footage shows the man wandering the hospital's halls with his body twisted and contorted, proclaiming that he's working with Lucifer as blood spurts from his face.
That being said, drugs are bad mmkay and let's hope this guy gets the help he needs.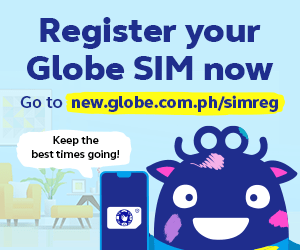 3. Tilapia now being tested to help save burn victims
Also in Brazil, doctors are testing sterilized tilapia skin as a remedy to burn victims, acting as a bandage for second and third degree burns.

According to Stat News, the reason for the use of tilapia skin was due to an unmet need. Animal skin has been used as a treatment to burn victims in first world countries. However, Brazil does not have the human skin, pig skin, and more alternatives that are available in developed countries.

Patients in Brazil are normally bandaged with gauze and silver sulfadiazine cream. However, doctors say that this method isn't really effective in debriding the wound and escalate the healing process. In addition, the bandage must be replaced everyday, which is a painful experience for patients. Unlike bandages, the sterilized tilapia stays on.

Doctors were surprised with the amount of types 1 and 3 collagen proteins tilapia skin has, which is important for scarring. This new treatment also reduces healing time by several days and greatly reduces the need for pain medication. A patient proclaimed how his pain was instantly relieved upon application.

Though trials are still ongoing, let's hope that this gets funded so it gets widely distributed and circulated to the public health system so people get the help they deserve.
4. Scientists make flour out of cockroaches and haha no thanks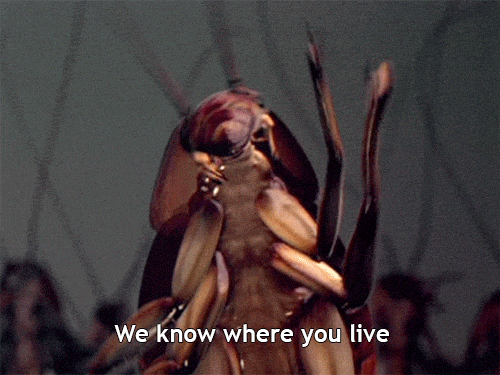 Also in Brazil (these guys are on a roll), scientists from the Federal University of Rio Grande  Andressa Lucas and Lauren Menegon have come up with a way to make flour out of cockroaches.
The scientists say that cockroach flour has 40% more protein than regular flour. Imagine all the GAINZ, bruh! It also contains eight of nine amino acids and omega -3 and -9. Incidentally, people who tasted their creation could hardly taste the difference.
The UN states that by 2050, land area for food production will be limited and we may need to look for other avenues for food production. So let's bowing and chowing down on our cockroach overlords in the near future.
5. Some maniac invented pea and mayonnaise pizza because nothing is sacred anymore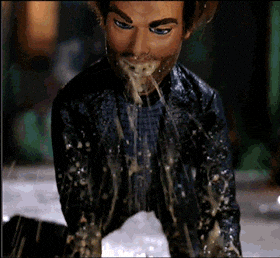 In "damn white people" news, some spawn of Satan decided to give the world the middle finger with his creation, pea and mayonnaise pizza.
Feast your eyes on this abomination:
Peas and mayonnaise pizza?! Yes please pic.twitter.com/PQK1TyYrCH

— Air-ic (@FOX152) February 27, 2017
As such, normal and sensible people everywhere unleashed their "Y THO" on this monstrosity:
UH

I
THINK
THE

F
U
u
u
U
u
U
C
K

NOT

YOU
TRICK ASS BITCH https://t.co/hWGouIXLWR

— antonio (@antoniodelotero) February 27, 2017
I'm gonna fight you once i stop throwing up https://t.co/lj7zPnyAnC

— Owen Hans (@DirtMcGirt02) February 28, 2017
This is violence. I feel attacked. This tweet is a crime. https://t.co/1vFSDUB9Gy

— Mikki Kendall (@Karnythia) February 27, 2017
On the upside, this brought people who love pineapples on their pizza and Hawaiian pizza haters on the same team:
Gotta make peace with pineapple pizza eaters to take care of this menace https://t.co/nVvaSjXhmQ

— xxxtenkaichibudokai3 (@Kohuneh) February 27, 2017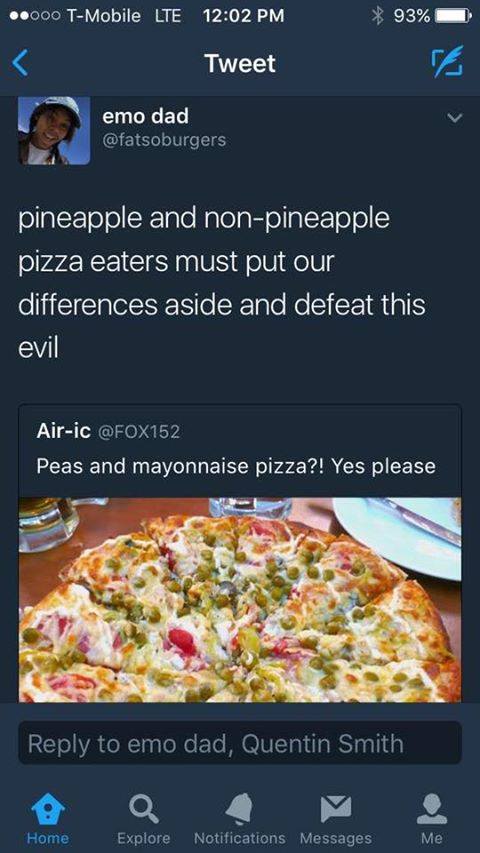 This is it. This is how the world ends.
6. Turkeys circling around a dead cat definitely isn't evil-looking
These turkeys trying to give this cat its 10th life pic.twitter.com/VBM7t4MZYr

— J… (@TheReal_JDavis) March 2, 2017
A cat was killed in the middle of the street, and a group of 30 wild turkeys were circling it…not to kill it, but like a ritual lol

— J… (@TheReal_JDavis) March 2, 2017
Twitter user @TheReal_JDavis posted a video of some creepy turkeys circling around a dead cat in the street. If you're a sane person, you'd be freaking out because LOOK AT THEM.
So what are they up to? Are they performing a bizarre funeral ritual for the deceased feline? Are they circling around it as a pre-meal observance before they eat the cat?
Speaking to the Huffington Post, researchers offered their own take. Andrew Farnsworth from the Cornell Lab of Ornithology, said that "It would be a reasonable explanation to this that, despite being dead, the cat represents a threat to the turkey that should be driven away. So they are mobbing it in the same sense that crows and many other birds mob owls." University of California biologist Alan Krakauer said some animals approach predators and circle around them in packs as an effort to make their presence known in hopes of scaring them away.
Or maybe the turkeys are summoning it to bring out the Apocalypse, like a cat version of Cthulhu. Or Cat-thulhu! We'll show ourselves out.
7. Teenager takes creepy selfie and NOPE
This is it. Ghosts are definitely real, and they don't look like the friendly type like Casper. Jessica Ogletree posted a selfie her daughter took on Facebook. It shows her daughter smiling, with her dad in the background. There's only one problem. Who in the hell is that guy with the hat?

Jessica says they don't know who that man is. He wasn't there during the photo and wasn't anywhere near them when the photo was taken. Some commenters shared similar experiences of alleged spirits popping up in their photos. Some said that the man in the hat was a mere reflection, while some suggested it could be her daughter's guardian angel.

One person decided to take things further by showing more ghosts in said photo:

Well, if there's something strange in the neighborhood, who you gonna call? Not us. Definitely not us.
8. Mysterious hairy "sea monster" washes on shore of Dinagat Island
A mysterious, giant, and hairy "sea monster" washed up on Dinagat Island. The hairy blob measures around 20 feet in length and weighs more than 4,000 pounds. It looks like it has white, shaggy hair, making some people think it's a new species. One said that it's a cross between a whale and a polar bear, and we think this person should stay in school. We kid.

However, hairy creatures such as this, called "globsters," have been washing up for years in different parts of the globe. Experts argue that it's either a whale or a manatee in an advanced state of decomposition.

Or it could be a clump of pubic hair from a giant alien that fell on earth. Don't argue with us, it's science.

What's the weirdest you've seen all week? Tell us about it below!