And what a week it has been, from the proclamation of the new senators to Kris Aquino saying she was waiting for Willie Revillame to court her all this time, we've got our social media feeds quite busy. Here's your weekly dose of the weirdest news to celebrate the weekend. Hurrah!
Woman calls 911 to report somebody about to jump off a roof, only it wasn't just 'somebody'
Today I thought I saw a woman dressed as a handmaid about to jump from a building. I called 911. pic.twitter.com/EIrz6wR0bz

— Casey McCormick (@itsmeCaseyMc) May 21, 2019
When you see someone alone, on top of a building, standing at the very edge, of course, you would panic. You know the person is about to jump and you need to save them. This is exactly what this woman did when she saw a girl apparently dressed like a handmaid (red cloak, white bonnet) ready to jump off a few buildings from her office. Police responded immediately and *surprise* found a giant red parasol for an outdoor dining table. Well done you sneaky parasol!
Netizens were quick to commend the 911 caller saying it was the right thing to do although it was a hilarious outcome.
"Do not kiss the cows. Thank you." – Austrian Government
View this post on Instagram
Meanwhile in Austria, the government had to warn people to quit kissing cows. In a bizarre online challenge named #KuhKussChallenge (Cow Kiss Challenge), Switzerland, Austria, and other German-speaking countries are encouraged to find the nearest cow, kiss it regardless of consent, record the whole thing on video and upload it. The challenge was launched by Swiss app 'Castl' in order to raise charity funds.
Austria's minister for sustainability and tourism, Elisabeth Kostinger, wasn't having any of it. She tweeted about the dangers of lip-locking with said animal stating that it might be annoyed by the perpetrator and trample him/her to death. It happened once before! But frankly, anyone stupid brave enough to get near a cow and kiss it should be responsible for their own actions.
No news yet on whether the cow will be filing a lawsuit for being assaulted.
A farmer cuts off own leg with a pocket knife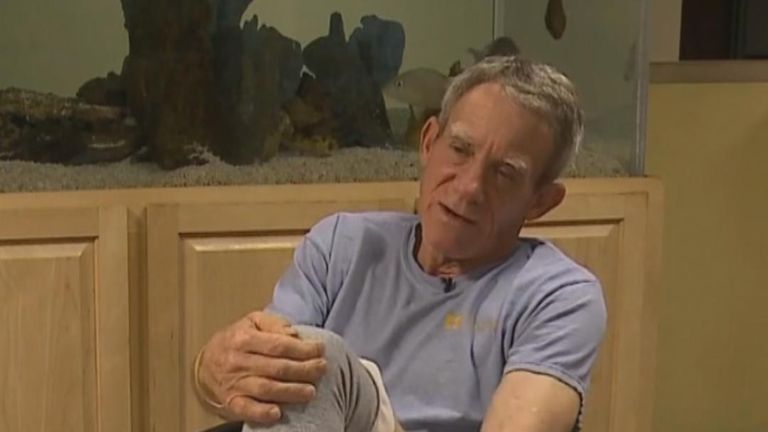 This week in News That Will Make Your Knees Week, a farmer had to cut off his own leg after his machine chomped on it and wouldn't let go. Remember that scene from 127 Hours where the hiker's hand (love you James Franco) was stuck under a boulder and he had to hack at it ~slowly~ with a knife? Remember the trauma that scene caused?
But this farmer, Kurt Kaser from Nebraska, accidentally stepped into his equipment that resembles a large drill bit, and it immediately pulled at his skin, muscle, and tissue. No one was around at that time and he quickly realized the only way to not get sucked in entirely, is to sacrifice his leg. So he pulled out his pocket knife and started sawing his leg off about 8 inches below the knee.
Afterward, he had to crawl 200 feet to get to a phone and call his son. He was brought to the hospital on a helicopter and immediately received treatment. He is now doing well. But damn if that story didn't make us weak in the knees.
McDonald's has opened a new branch but it's for bees!
The McHive, as they call it, is the world's smallest McDonalds branch. Considering that it's made for bees, the restaurant has impressive details including a drive-thru window, tables outside, and the iconic McDonalds arch towering above the entire thing. McDonald's fans are probably begging for it to be a collector's item!
But this teeny restaurant was made as a tribute to the fast food giant's Swedish branches, some of which have beehives on their roofs. It's actually an encouragement for people to cultivate bees as bees are important to the planet's ecosystem. But maybe this is McDonald's bizarre way of making peace with Jollibee and the fact that they can't defeat for the title of #1 food chain in the Philippines. You know what they say, if you can't beat 'em, join 'em. Or was that 'Keep your friends close, and your enemies closer'?
Woman jumped out of a moving van after seeing a spider on her lap
This is no laughing matter, people! This woman is a survivor and she has lived to tell the tale! It's almost like instinct took over her – fight or flight. The moment she saw the spider she knew she had to open the car door and jump out to save herself. But that's not the most bizarre part of the story – she was actually driving said vehicle! She was backing it up on a boat ramp to let her kayak down the river. After she jumped out, the van rolled into the river, GOT TOTALLY SUBMERGED, and vanished without a trace. All because of a creepy crawly.
The spider must be alive somewhere smugly telling itself "All in a day's work, Stan. We bring down this human race one by one, day by day."
An intruder breaks into man's house.. to clean it
Was it Marie Kondo? Sheldon Cooper? An ex-maid who missed cleaning the house? The Boston man who owned the house wasn't sure. All he knows is that he went out to work one day, picked his son up from school, and went home to a house that made all the nerves in his body jump. It was a clean house, and a clean house was apparently a horror to this man.
He proceeded to check every room for intruders and every room in the house was the same – clean, neat, and orderly. It was even vacuumed! Oh no, the horror! Whoever this intruder is, let this family make their life choices!
Police went in to investigate and found that according to the door sensor, the stranger was in the house for a total of 90 minutes. Which makes us think that maybe the family should hire whoever this intruder is if he/she can clean up a house that obviously took years to soil – how dare he!
Afterward, the man discovered delicate roses made from toilet paper in the bathroom, the final touching gesture of a crime that never was. I wish people would do this selfless act more often.
PDEA Wants Shanti Dope banned for his 'marijuana' song
Philippine Drug Enforcement Agency has been the talk of the town for a few days now all because they called out for a ban of OPM artist Shanti Dope's song 'Amatz.' 'Amatz' is street-slang for tama which refers to the "fly" or high feeling one gets. PDEA Director General Aaron Aquino explains that songs like these run contrary to President Duterte's campaign against illegal drugs and should not be tolerated. So based on this logic, most songs from other OPM bands should also be banned, right?
Shanti Dope has since responded saying the song was "taking a stand against illegal drugs, while at the same time pointing out that what has made him "fly" (so to speak) is not drugs, but music." Don't you have anything better to do, PDEA?
Radio announcer reveals he catches poop in hands
View this post on Instagram
When radio host Lore'l asked co-host Wax why his fingernails were dirty and if he has been handling poop, she definitely wasn't expecting his response. Wax confirms that he has indeed been handling his poop but he does it directly into a tissue. And the entire studio was so silent you could hear a pin drop. Lore'l asked Wax what he meant and he explained that he catches his poop before it falls on the toilet and when he suffers from diarrhea he does the same but simply washes his hands afterward.
Wax you have one job, and that is to sit on a toilet bowl and browse social media while doing your business but you can't even do that, can you? Well, you can bet no woman will ever be near this guy after this!
Got any other weird news you'd like to share? Comment down below!