Bakit parang hindi pa rin tapos yung Mercury Retrograde? Bakit ganun, ghorl? Sagot plz. Sana may sagot na rin sa mga tanong natin about the community quarantine. We're all so confused. And scared. And anxious. So if you can afford to, just quarantine yourself and stay at home. Let's learn from what we're seeing all over the world. Just pretend you're Rapunzel in her tower — marami siyang nagawa sa bahay niya, marami din tayong magagawa. (Sana lang may magbibigay din ng supplies. Abang-abang din.)
In the meantime, check out your weekly but still definitely unsolicited astrology from March 16 to 22, 2020. Baka may makuha kang inspiration.
Aries
The spotlight's on you, and you can definitely take a big step in your career path. Paniwalaan mo lang sarili mo. (Siguro naman kaya mo yun.)
Taurus
You're trying a new routine. (Work from home? Quarantine? Basta may bago.) Wag mag-alala, it will work out. Don't forget to love yourself.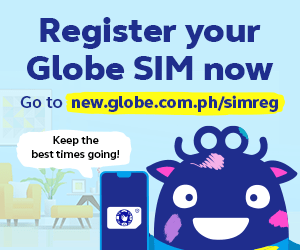 Gemini
You want to do something new and life-changing. (Sana wag naman lumabas ng bahay, medyo life-changing yan ngayon.) You're getting inspiration soon. Laban lang.
Cancer
You want to strengthen your relationships this week. (Pero please lang, social distancing muna, okay?) You might find a new friend who can teach you something new. Mag-ingat lang.
Leo
You're going to tick off a lot on your to-do list this week. Congratulations! (Baka yung chores list mo yan sa bahay.) Once you get in the grove, you won't stop. (Basta nasa bahay ka ha.)
Virgo
You're worried about something (COVID-19 probably), but you should try to have fun. Make happiness your priority (basta sa bahay). Deserve mo yan, ghorl.
Libra
It's a good time to clean up your space. (Lalo na't dapat nasa bahay ka.) Spend quality time with the family (while also maintaining social distancing, ha?). Mas magiging close kayo.
Scorpio
You're going to be talking a lot. Kaya maging honest ka sa sarili mo at sa ibang tao. People will gravitate towards you. (But keep them at a literal distance, ha? Social distancing nga kasi.)
Sagittarius
You're looking for a sense of security (I mean, sino bang hindi in this time of COVID-19). You'd want to go on a shopping spree (but just don't panic buy, k?), but don't spend all your money. You'll definitely need it soon.
Capricorn
Romance abounds in your life (just. . .  paulit-ulit na, pero social distancing ha?). Keep up the confidence and go talk to your crush. Talk to your loved ones about whatever you want. They'll listen. (Kahit from a meter away.)
Aquarius
It's crazy out there right now, and it's so exhausting. Take this time to rest (or maglinis ng bahay, IDK). You can meditate and rest — that's important, too.
Pisces
You're bursting to socialize this week, and you're keeping yourself busy (pero sana online or at least mag-social distancing!). You can channel all these energy into something productive for your community. You can give a lot of help.
So since there's a community quarantine, here's what each sign should do while you're stuck at home.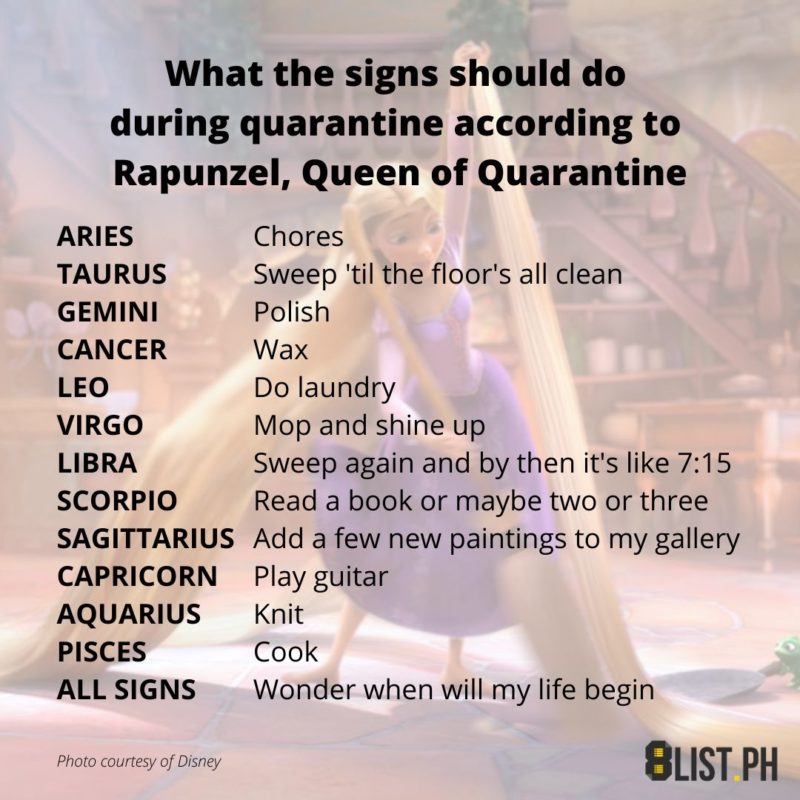 Kinanta mo rin ba? Stay safe at home, mga siz, a la Rapunzel nga. And practice good hygiene! Maghugas ng kamay!