Ilang linggo ka ding naghirap dahil sa Mercury Retrograde, but now? You can't put the blame on Mercury Rx whenever something goes wrong. Baka ikaw lang pala talaga yung pumapalpak. Mag-ingat-ingat. Kaya naman, you should check out your weekly horoscope from March 9 to 15, 2020 to avoid pointing fingers. Basahin mo hanggang dulo para malaman mo anong unang gagawin mo pagkatapos ng Mercury Retrograde.
Aries
Tiwala sa sarili. Your intuition won't fail you this week, so attract good things by thinking good thoughts.
Taurus
Wag kang atat. Be patient, because good things come to those who wait.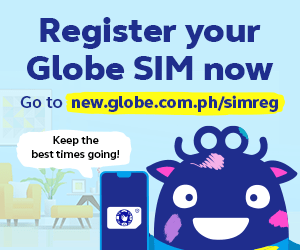 Gemini
Malito ka man today, today lang yan. Sana. Even if you're thrown a curveball, you know you can get past it.
Cancer
Sarili mo lang pakikinggan mo ngayon. After being so accommodating for so long, you deserve this.
Leo
Social butterfly ka ngayon, no? You feel like you have to put on your mask, but you don't. Open up a little. People may surprise you.
Virgo
Nagbabalik ang nakaraan. Pero oras na para harapin mo yan. Get ready to move on. Don't worry, you'll see the results soon enough.
Libra
Medyo gumuguho na mundo, but you're still finding so many little things to appreciate. You're thinking positive, and it'll pay off.
Scorpio
Ang tagal mo nang nakakapit, pero nandyan ka pa rin. It's time to let go, siz. Move on.
Sagittarius
Looking for inspiration? Try mixing the past and the present and you might just find what you need. Wag mahiya i-share ang creativity, mmkay?
Capricorn
Observe first before making any decision. You might even need to step back further just to see the whole picture. And don't be all work and no play. Relax din minsan, ha?
Aquarius
Ang tagal mo hinanap, at sa wakas, andyan na! Congrats, siz. Just go with the flow, it would probably bring you to where you want to go.
Pisces
Yiiiiiieeee, your love life might be spicing up this week. Even if it's just flirting, just enjoy it. No need to rush.
Tapos na Mercury Retrograde, kaya wala ka nang ibang puwedeng sisihin, okay? Maghugas ng kamay nang mabuti. Please lang.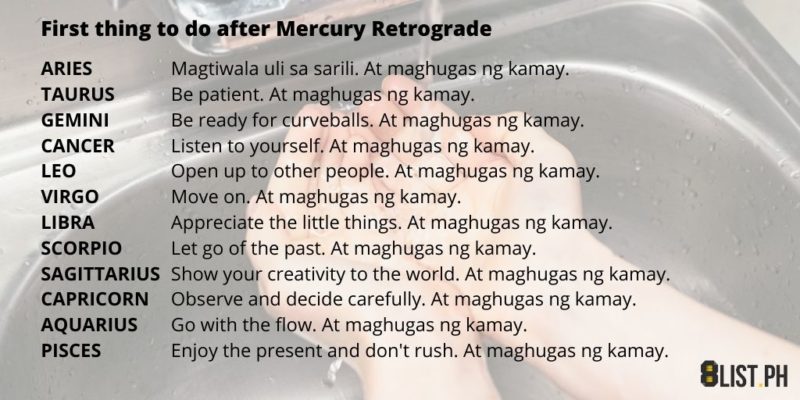 Sana naghuhugas-kamay kayong lahat nang mabuti. Stay safe and healthy, mga siz.