This Week in Weird News: Hot and Heavy Edition

By Kevin Christian L. Santos

We're about to end the month of April and this summer heat hasn't let up. It's just gotten more humid and our armpits and singits a lot sweatier. Pro tip: scratch your singit not just because it feels good, but to gauge how the summer heat is affecting the aroma of your nether regions. If it's sticky and smells like something rotten with a dash of vinegar, it's time to rub some soap ASAP. But I digress.
As summer goes on, the season's starting to affect people and get them involved in all sorts of shenanigans, like:
8. Woman arrested for masturbating in a McDonald's Playplace
According to a report by TMZ World News, a woman was arrested for masturbating with her son's Transformers Happy Meal toy while inside a McDonald's ball pit. The suspect, Sharon Krueger, was witnessed by patrons, some of them children, flick her bean and get her jollies off while in said play pit, causing them distress.
As per the report, Krueger left her six-year old son to eat as she went to the restroom. One of the restaurant's patrons noticed the boy crying and when asked the reason why, he said he couldn't find his Transformers toy. "I went to the ladies restroom and called for Ms. Krueger but no one answered. I checked the stalls and no one was inside the restroom. I went back to the register and called Ms. Krueger over the loudspeaker and let her know that her son was ready to leave. After about 10 minutes of waiting, I went into the Play Place area to see if she was there possibly looking for her son. When I went inside, I saw the most disgusting conduct from a parent ever in my life. The woman had almost the entire body of Optimus Prime inside of her," said Karen Boyd, one of the store's employees. There were other children in the ball pit, take note. Once an employee witnessed Krueger enjoying herself, he told the children to leave the ball pit and attempted to get the masturbator leave the said pit. When police arrived, Krueger was arrested for indecent exposure.
No word yet on the validity of this report, but it's safe to say: kids, don't do meth.
7. Woman wins lottery, takes a hot doodoo on boss' desk after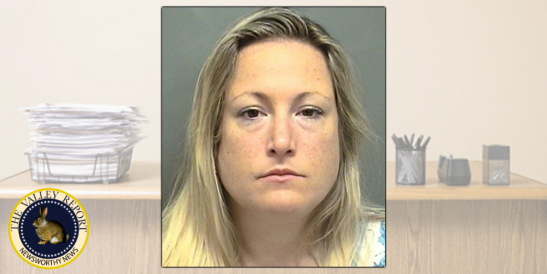 In more news of women behaving badly, a woman was arrested for defecating on her boss' desk after she won a $3 million lottery. Despite winning a huge chunk of cash, the 41-year old woman showed up to work to deliver a hot, steaming and stinky package to her boss.
The courier company that she worked for didn't know she had won. According to the Valley Report, the company's manager had no idea of the woman's plans. "I knew something was wrong because I came back from lunch and the door to my office was closed," said the manager. I slowly opened the door to discover the woman with her pants around her ankles, hunched over on my desk like a hippopotamus/cheetah dropping a massive poo on my desk. She shot her head towards me and locked eyes. I was frozen in shock and fear. In my peripheral vision I saw a huge mud-monkey sliming out of her butt like a Play-Doh fun factory."
The woman was smug. "It was worth it," she said upon her arrest. "On Friday when I realized I hit the lotto, I knew this would be the first thing I would do. I hit up every Mexican food truck and saved my dumps all weekend. I was shuffling around like a death-row inmate trying not to explode. I've been putting up with that guy's shit for years, it's time he put up with some of mine."
That's a pretty shitty way to go. Keep it classy.
6. Farmers find human-faced baby goat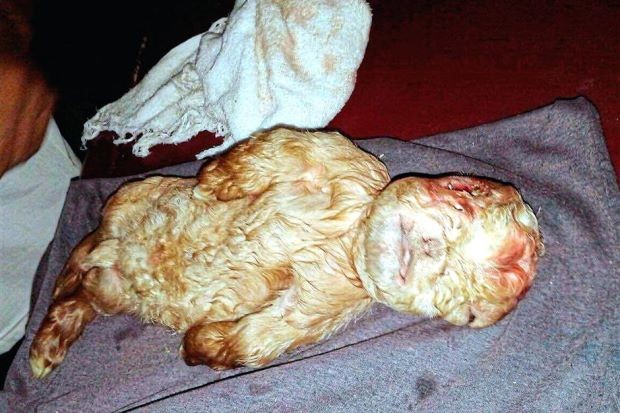 Here's something you don't see (or want to see) every day. Farmers found the dead body of a baby goat that had the features of a human baby. The goat was found by Ibrahim Basir and his business partner Jamaludin Abdul Samad from Malaysia. They were shocked when they saw one of their goats give birth to what resembled a human being. Ibrahim said the young goat was dead when they found it, and was believed to be trampled to death by its own mother. Basir and Samad have turned over the body to veterinary services.
5. Dr. Pimple Popper removes egg-sized cyst
Hey you! Love popping your pimples? Take great pleasure in seeing those cathartic pimple-popping videos? Of course you do! No? Well too bad.
As seen in the video above, a man had a cyst the size of an egg removed from the back of his neck thanks to Dr. Sandra Lee, more popularly known as Dr. Pimple Popper. The removal looks like a birth video, or crowning. The man has been carrying this cyst for years and needless to say, a huge weight is off his back thanks to Dr. Pimple Popper.
But seriously, did you see that thing? It's huge. It looks like an avocado seed. Or a rock covered in slime. Or one of them rejected baluts.