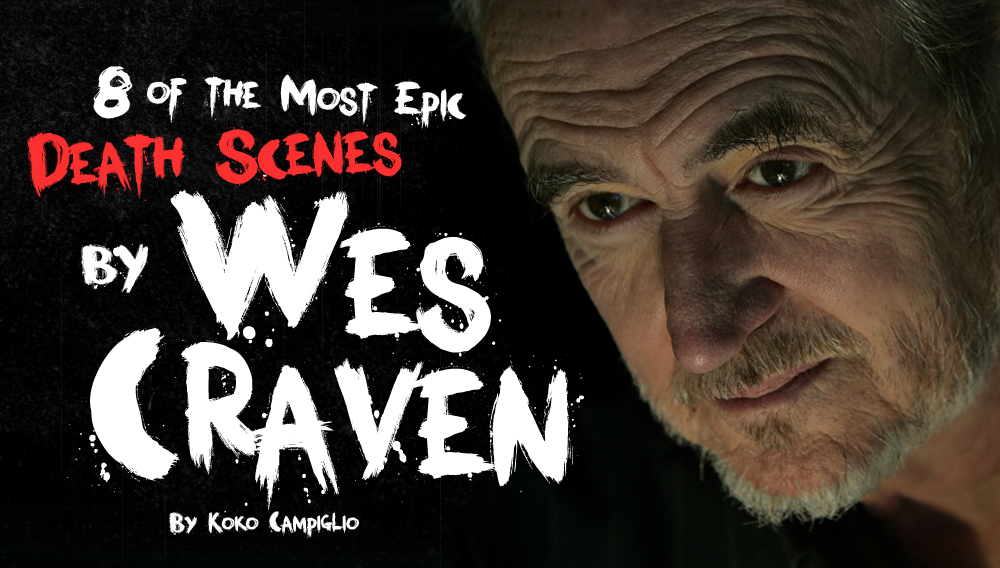 August 30, 2015 saw the passing of a cinema legend. Wes Craven left an indelible mark in film history by making some of the most widely-acclaimed horror movies of all time. Nightmare on Elm Street and the Scream series, just to name a few, have converted generations into fans of the horror genre.
To pay homage to the horror master himself, here are 8 of the best death scenes from his movies.
8. Nightmare on Elm Street- Glen's Death (1984)
This scene exhibits the tremendous power and fear that only Freddie Kreuger can deliver. It effectively showed that once you sleep, you never wake up.
This scene also makes cinematic history as Johnny Depp's first ever movie scene. Byebye, Glen.
7.Wishmaster- A Genie in our Cell (1997)

Be careful what you wish for, you just might get it.
Wishmaster teaches us that lesson with a little too much blood.
Watch this scene here.
6. Last House on the Left- Phyllis Death  (1977)
This was Wes Craven's second movie and the first to become a cult classic. The death of Phyllis was a bit of a slow burn, but it was more of a torture scene than anything else.
5. Last House on The Left (Remake)- The Microwave Scene (2009)

Have you ever wonder what would happen if you stuck your head inside a microwave and turned it on?
Now we all know.
Watch this scene here
4. Deadly Friend- Mean Elvira's Death (1986)
Not one of his best films, but it's about a lonely boy and his robot best friend, as well as an abused girl and the boy who wants to save her. Finally, it's also the story of a robotic zombie girl on a homicidal rampage.
That death scene is one of the most epic of all his death scenes from the sheer absurdity and hilarity of it.
3. The Hills Have Eyes – Baby's Fat…and Juicy (1977)
The story revolves around a group of pepole lost in the desert with violent cannibals after them. The movie is known for its gory scenes but it's fun to know that a lot of them were censored out to achieve the R rating as opposed to the original X rating.
This isn't the goriest scene in the movie but it sure was the funniest. This scene with the baby establishes a little too well how absurdly backwater the cannibal mutants were.
2. Nightmare on Elm Street- The Bathtub Scene (1984)
Nightmare on Elm Street is so seminal that it needs to be included twice.
This scene was subtly creepy and was a direct tribute to the shower scene in Psycho, done Freddy Kreuger style.
1.Scream- The Frist 5 Minute (1996)
By the time the '90s rolled around, the slasher fascination from the '80s was nearly as dead as most of the characters. Wes Craven, who fathered the slasher gore film, stepped up once again and re-invented the genre he pioneered.
With the help of Drew Barrymore, who surprisingly took on small yet important role, this scene revolutionized (and also poked fun) at the then dying slasher film scene and, ironically, revitalized it.
What are your favorite Wes Craven death scenes? Sound off in the comments below!