People who have gotten COVID-19 are said to have a higher defense mechanism and stronger immune system. A study from the University of Minnesota's Center for Infectious Disease Research and Policy reveals that those who have previously been infected have an 84% lower risk of becoming infected and 93% lower risk of reinfection within a seven-month period. For those who are fortunate to have a straightforward recovery, that's good news. This could mean renewed hope, more time with family, or another reason to rock that summer body on the beach — well, that's if quarantine restrictions permit.
But this isn't the reality for many people. When you get infected, there are two possible recovery scenarios: a straightforward recovery or a long-haul one. Here's what you need to know about the latter.
What is "long COVID" exactly?

UK's National Institute for Health and Care Excellence (NICE) defines long COVID as the effects of COVID-19 that "continues beyond the initial illness" and lasts for more than 12 weeks. In a study made by the King's College of London, researchers found that one in ten people still suffer long COVID symptoms three weeks or more after their illness began.
To put it simply, "long COVID" means that even as the world successfully reduces the number of deaths and hospitalizations, a huge chunk of the 138 million+ total infected people will continue to suffer even in the aftermath of this pandemic.
Who can be affected by long COVID?

Long COVID can afflict any host of COVID-19, whether they had mild or severe symptoms. As of now, researchers cannot definitely pinpoint how long exactly long COVID lasts.
In the four weeks leading up to March 6, 2021, about 1.1 million people in the UK have reported long COVID symptoms, according to the Office for National Statistics. Two-thirds of these people had symptoms that lasted for more than 3 months. In another study made by the University of Leicester that tested over 1,000 people, 7 out of 10 respondents had not fully recovered 5 months after being discharged from the hospital. And among those people, 1 out of 5 could have the possibility to develop a new health impairment.
COVID-19 Essentials: What Should You Include in Your COVID Home Care Kit?
COVID-19 Essentials: What Should You Include in Your COVID Home Care Kit?
Kyzia Maramara | Apr 27, 2021
There are two main groups of symptoms

Based on the data patients encoded in the COVID Symptom Study app, researchers have found that there are two main groups of symptoms. First is respiratory, appearing in the form of of cough, feeling of breathless, fatigue, and headaches. The second group of symptoms affect various parts of the body such as the heart, brain, and gut.
According to the US CDC, people who suffer from long COVID can experience:
fatigue
difficulty thinking or concentrating (aka "brain fog")
headaches
loss of smell or taste
dizziness
heart palpitations
chest pain
difficulty breathing
cough
joint or muscle pain
depression or anxiety
fever
These symptoms can worsen after physical or mental activity.
Recovery may vary from 5 months to 12 months 

Although researchers are constantly finding answers to what really causes long COVID and how to avoid it, previous data from patients reveal that it's common among long COVID patients to be afflicted with these symptoms within 5 to 12 months after being admitted. This goes for both those who were hospitalized and those who opted to recover in their homes.
Older people, women more susceptible to long COVID 
View this post on Instagram
Researchers found that women, older people, and those who had five or more symptoms in the first week of being admitted with COVID-19 are more likely to develop long COVID. People with asthma, cardiovascular conditions, and type 2 diabetes are also more susceptible to this symptom.
Long COVID is not contagious 
What's contagious is COVID-19 itself. But whether or not you develop long COVID is likely a result of your own immune system. If person A's immune system is weaker than person B's, person A may only infect person B with COVID-19 but not long COVID. Person B may develop long COVID — especially if he has a weak immune system and has comorbidities — but this wasn't inherited from person A.
People are more likely to experience the emotional impacts of COVID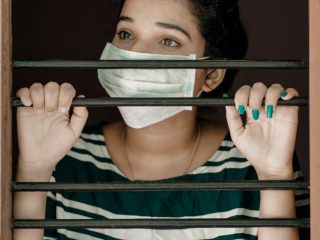 Post-viral fatigue has become commonplace for emotionally and psychologically exhausted COVID patients. A UK study reveals that one in five infected people were diagnosed with a psychiatric disorder within three months of contracting the virus. COVID patients were also twice as likely to receive mental health diagnoses than flu patients.
If you're either a friend or family member of the patient, the least you could do is to encourage them. Put them in a good mood, talk to them, or remind them of beautiful things to look forward to—such as that one beach outing plan your clique has repeatedly scrapped.
Coping with long COVID
If you no longer have COVID but are still feeling its lingering effects, you're not alone. Here's what you can do to cope:
Update your doctor. Because long COVID is such a new phenomenon, you should give your doctor as much information as possible so the medical community can learn from your experiences.
Talk about how you feel. You might think that you're sounding like a broken record, but it's healthy to talk about your emotions. Don't bottle it up.
Take care of yourself. As you're recovering, treat your body well. It worked hard to get you past the worst of COVID, now you should treat it kindly be resting, eating healthily, and managing your mental health.
Stay vigilant. Just because you've had COVID doesn't mean you can't get reinfected. Keep wearing a mask and keep practicing physical distancing. You already know how much having COVID can suck, so try not to let it happen again.
Do you know a friend or a relative who has been diagnosed with long COVID?