At around 7 am on March 8, a fire broke out at the UP Shopping Center. What began as wisps of smoke filling the building's central corridor soon turned into an evacuation, with shopkeepers and early-morning customers alike rushing to save whatever they could carry. Within roughly half an hour, major news outlets had caught up to social media posts, giving the world a front row seat to the conflagration.  Firefighting teams' best efforts managed to put the fire out by 8:52 am. By then, however, the damage had already been done: while no serious injuries were reported, the greatest casualty was the SC itself. Where the proud, beloved hub of a community had stood since 1974, there was now only a blackened, burned-out husk.
More popularly known as the SC (or "Dilimall", depending on your age), the Shopping Center's official description on the school's website is about as dry as they come: "includes the cooperative store and various commercial establishments. The UP shopping center provides basic needs for students, faculties, and employees, such as fast food, computer shops, RTWs, tailoring, barber shop, hair salon, typing jobs, bookbinding, photocopy, a bayad center and western union." (sic)
While factually sound, it's also entirely lacking. Here, with testimonials from people who were there, are eight real reasons why the SC will never be forgotten:
UNDER ONE ROOF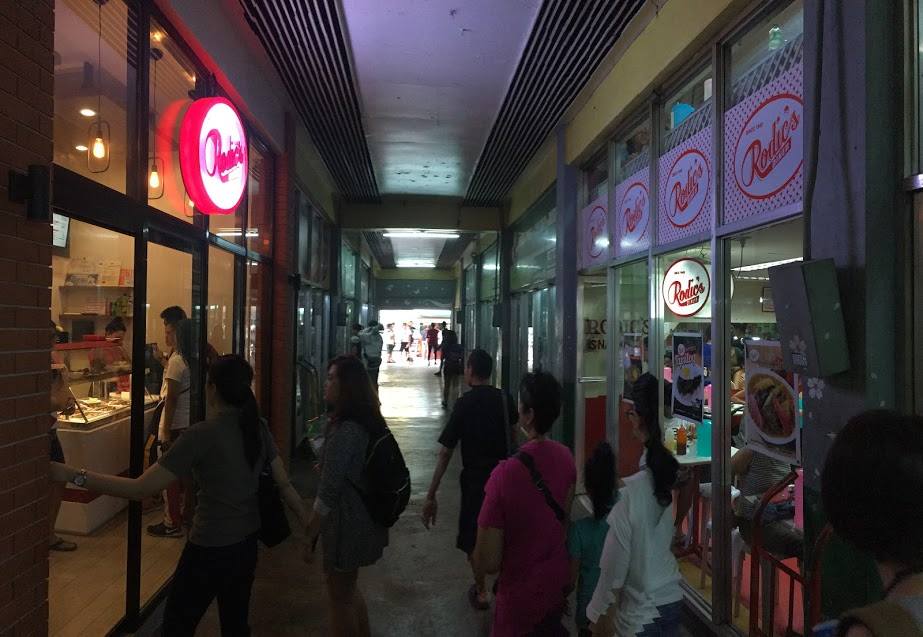 Along the narrow hall that ran the center of the SC, you were apt to run into anyone from professors to celebrities, all eager to partake of what the SC had to offer
In a Facebook post following the fire, Roby Alampay (whose family has owned and operated the Handog Gift Shop since the SC first opened) recalled a conversation he'd had three decades ago on what that the SC had to offer: "One can literally buy anything in that small strip of, what, 200-odd meters? Ice cream, meat, seafood and vegetables, gifts, clothes, shoes, catering services, bopis, rice, extra rice, haircuts, typewriters, typists, mani-pedis, glass lab equipment, prescription glasses, sardines and eggs (for "sizzling sardines"), roses, fishballs, manggang hilaw, wrenches, blue prints, blue books, books, school supplies, floppy disks, computers, computer parts, etc."
Thirty years on, the list is even more ridiculous, with entries like aquarium supplies, pet food, DVDs of rare movies, toys, gifts, and used books having been added to the mix. Simply put, if you needed to source something on campus, the odds you'd find it in the SC were pretty good.
SMALL -TOWN FEEL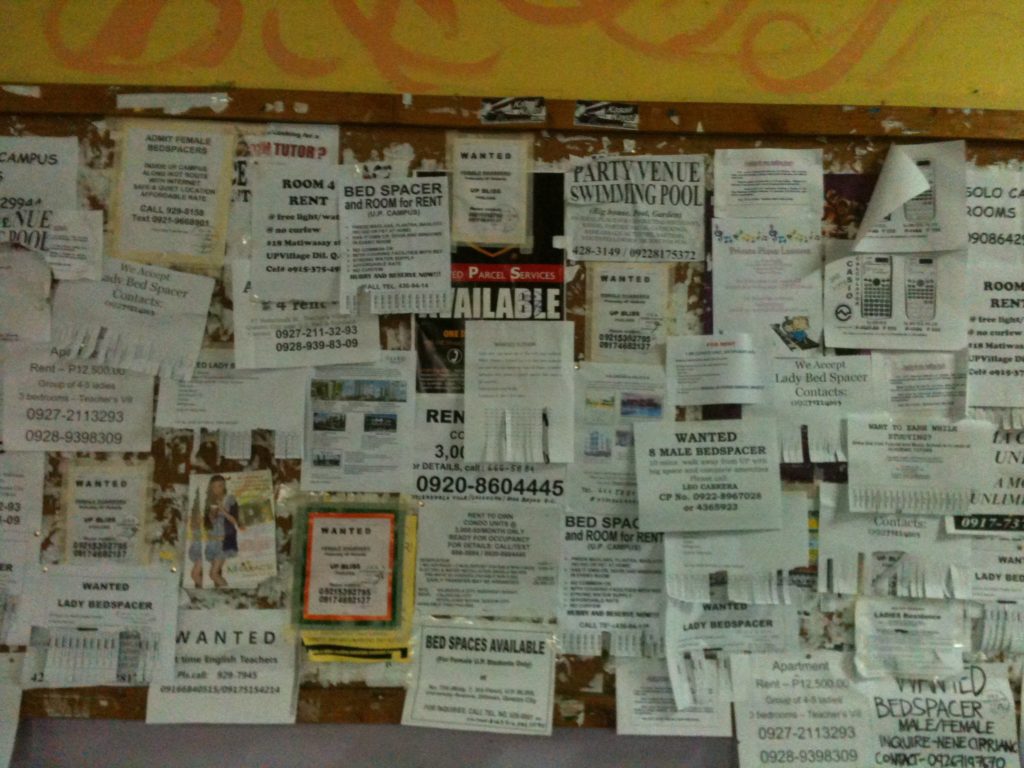 Located in the center of the main corridor was the communal bulletin board seen in this photo posted by Lego Creative Director and writer Budjette Tan. Here, you could find or offer everything from piano lessons to used cars. Back in the days before cellphones, people would even leave notes for meet-ups!
The first thing you notice when you walked into the SC was a sense of community and familiarity, and it wasn't hard to see why: Many of the shops, much like the Alampays' Handog, had been around for decades, their original patrons giving way to their children, and their children's children. Shop owners all knew each other and, even if they didn't necessarily know all their customers by name, were always happy to accommodate their needs, no matter how esoteric.
As reminisced by photojournalist and fountain pen enthusiast Ronin Bautista, on his dealings with the pharmacy, which sold glass lab equipment: "Yung pharma, ok na source for syringes and vials for fountain pen use. They will tell you pa which ones are the right ones to get. Pag sa Mercury kasi, ang assumption durugista ka (they can't understand the hobby)."
After five decades of catering to people from every walk of life, the SC was able to offer an unbeatable mix of variety and hospitality for the kind of customer experience money can't buy.
THE ESSENTIALS
A good 20 or so years before kiddie barbers and baby boutique shops, Vista Land's Paolo Soriano got his first haircut in the SC, just one of the many lifestyle services available.
When we said that the SC was the beating heart of the University, nowhere was this more apparent than in the many lifestyle services on offer: If you needed your hair done, get a manicure, have a dress sewn, alter your clothes, fill a prescription, repair a watch, and/or get glasses made, you could it do it all here without breaking a sweat. Best of all, in addition to the reasonable prices, you'd get the distinctly small-town feeling of having the work done by people who actually cared about what they were doing.
Sarabia Optical owner Maria Nella Sarabia cared so much, she actually forewent following in her family's footsteps of opening multiple branches of eyewear shops, electing to own and operate a small one so she could tend to her customers personally while keeping product costs down – definitely not the sort of dedication you'd find in a big mall chain.
THE FOOD TRIPS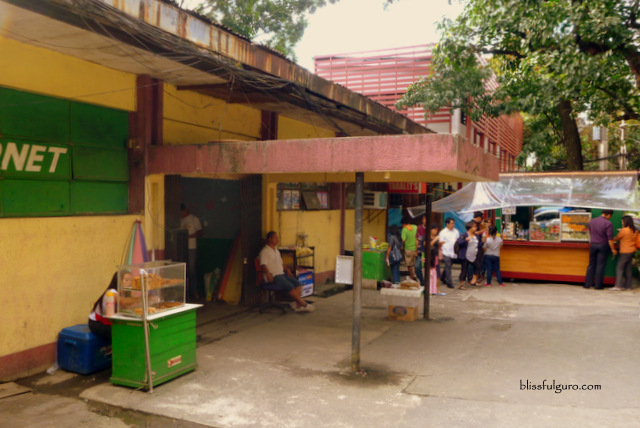 Food stalls could be found on either end of the SC, offering sweet and savory treats for every taste
Long before Maginhawa became Quezon City's Food Street, and years before food parks were a thing, the SC was UP students' go-to spot for good, affordable food. Flanking the entrances at either end of the structure, welcoming stalls and carts offered snacks for every mood. As recounted by Odette De Guzman, a self-professed, "One of thousands of UP iskolars who sought (and experienced) solace in Dilimall," the stalls hawking carioca, turon, banana cue, and pritong lumpia, made for perfect merienda fare (at any time of day). Of course, for more substantial meals, you could go inside and avail yourself of turo-turo, sandwiches – even Korean and Japanese food (!) – before finishing everything off with a scoop of ice-cream.
Of course, no list of UP Shopping Center cuisine would be complete without…
RODIC'S DINER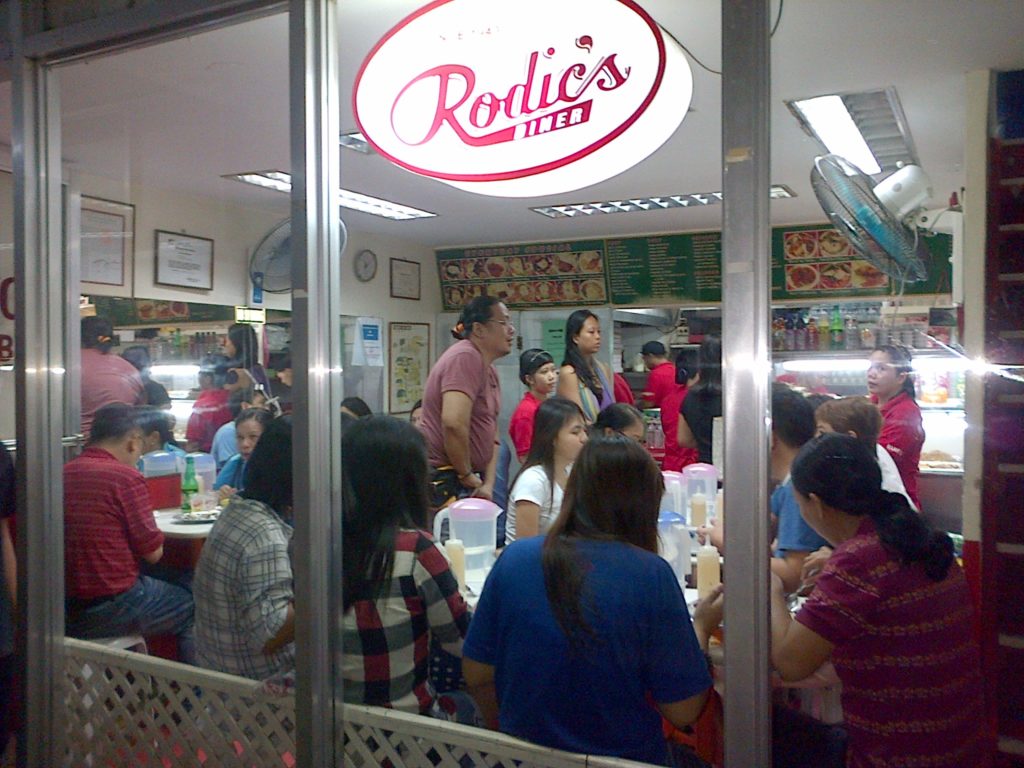 Was there any doubt that Rodic's would have its own entry on this list?
Boasting legendary tapsilog that attracted people from near and far, Rodic's first opened their doors on campus in 1949, and quickly became an institution, to the point of being immortalized in a Larry Alcala illustration of UP landmarks that hung proudly near the counter.
Rodic's was so well-patronized that they opened branches in Makati, Marikina, and Quezon City, and it was still tough to get seats inside the classic SC branch. But soon, even that lone branch wasn't enough. In the words of advertising professional Erielle Pineda: "Yung sobrang pagmamahal ng UP sa Rodic's na naging dalawa sya at magkatapat. Nangyari to, grad na ako tapos nalito kami bakit lumipat yung Rodic's sa tapat; yun pala, nagmultiply na!"
The joys of comfort food cannot be overestimated.
COPY CENTRAL
The multitude of copy shops in the UP Shopping Center offered everything from simple Xerox services to book binding and reproductions of profs' required readings
While, at first glance, the SC seemed to be dominated by identical copy shops, each had their own areas of expertise and carried the readings of different professors, for easy replication of the required materials. For many a student, hitting up a copy shop at the SC was a rite of passage, and – thanks to the low prices – one practiced even if you were from another university. Even if you somehow managed to avoid going there throughout your stay in UP, chances are pretty good you had to step in when it came time to print and bind your final thesis.
According to Singapore-based food photographer and art director Nikko Pascua, "Pinaka-murang paprintan ng papers sa balat ng lupa, also pinaka-murang printan ng digital plates at pubmat for org events!!" And he wasn't kidding; the prices were so low, it wasn't just students or teachers who came down to get their copies done – law firms, paralegals, and interns of major corporations could regularly be seen getting copies alongside independent entrepreneurs and artists.
One such artist was illustrator Mich Cervantes, who said her fondest SC memory was "Printing and holding my very first graphic novel in my hands, almost three whole years ago, and returning every month to reprint literally every zine i've sold in the last 3 years."
UP MERCH AND NOVELTIES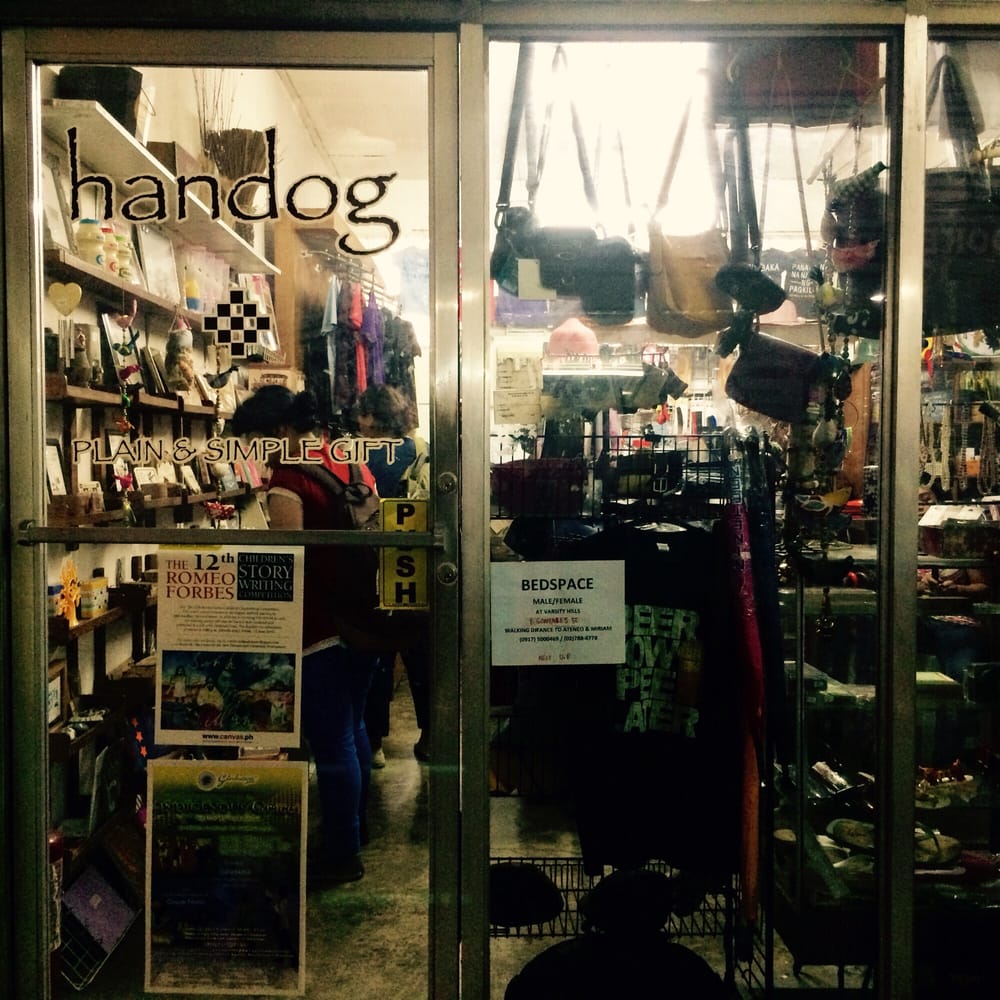 Gifts, novelties, school shirts, and more awaited visitors to Handog and Maroons, which were conveniently located right next to each other
Maroons and Handog. Located right next to each other, these were the shops you went when you wanted to wear your UP school pride loud and proud or needed some kind of gift. Shirts? Check. Stickers and lanyards? No problem! Blue book? Backpack shaped like a blue book? Yes and yes! Whether you were shopping for UP apparel, souvenirs, books, toys, board games, or gifts for any occasion, you were sure to find them here. You could even get a sablay for graduation!
MORE THAN A MALL
The UP Pep Squad Drummers created this tongue-in-cheek tribute to the SC for the eighth edition of their annual Elevate concert in 2008
Ask anyone what their memories of the SC are, and chances are, it's never going to be just one. Take, for instance, the answer of illustrator AJ Dimarucot, who rattled off, in no particular order, "Jumbosilog sa Rodics. Yung photocopiers sa gitna. Tsaka yung mga nagbebenta ng mani at mais sa kanto."
Random? Maybe. Accurate? Absolutely. The fact of the matter was, the SC was a lot of different things to a lot of different people, and that was made it special. As time moves inexorably onward, and isolated fires burn down iconic UP structures with increasingly alarming frequency, it must be remembered that the SC was more than just a place we went to when we were hungry or needed something in a hurry.
For generations of Iskos and Iskas, in ways too many to list or recall, the SC was an indispensable part of their formative years, and beyond. Whether you were a graduate or a freshman, rich or poor, it didn't matter – the moment you stepped into the SC, you were home. Sure, it could be crowded, dark, sketchy and/or noisy, but that was all part of the charm. It may not have been, strictly speaking, the best, but it didn't need to be – It was ours, and it was perfect.
It will be missed.
What were your fondest memories? Share them with us below!