If you've been on the Internet the past few weeks, you would have definitely seen pictures, videos, and articles covering the Hong Kong protests. It's gotten more and more violent, with police using more abrasive methods against protesters. This whole movement is actually part of the larger picture of China and Hong Kong's complicated political relationship.
What are they fighting about?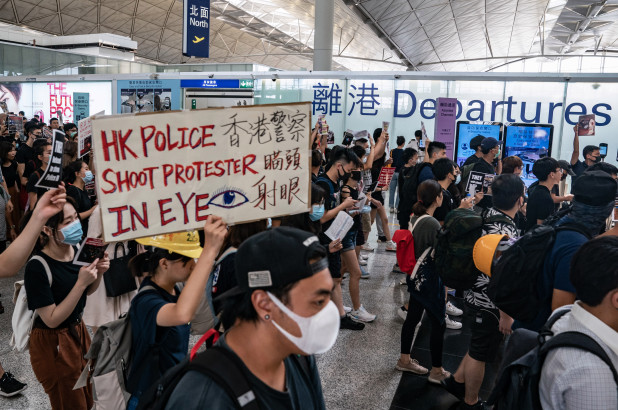 The protests are centered around opposing the Fugitive Offenders and Mutual Legal Assistance in Criminal Matters Legislation Bill 2019, or simply, the Hong Kong extradition bill. This is a cooperative judicial process that basically lets one jurisdiction deliver a suspect to another so they can be tried under the laws of that jurisdiction.
But it's more than that.
However, at the heart of the protests is a fight to keep China from encroaching on Hong Kong's autonomy. While the extradition bill was meant as a treaty between Hong Kong and Taiwan, the government of Hong Kong included Macau and mainland China in the fine print. This puts self-ruled Hong Kong at the mercy of China's legal system.
Why is there an extradition bill anyway?
It all started with a murder in Taipei. Twenty-year-old Chan Tong-kai went on a trip to Taiwan with his girlfriend Poon Hui-wing in February this year. Hours before their flight home, he murdered her in their hotel room when he found out that she was pregnant with another man's child.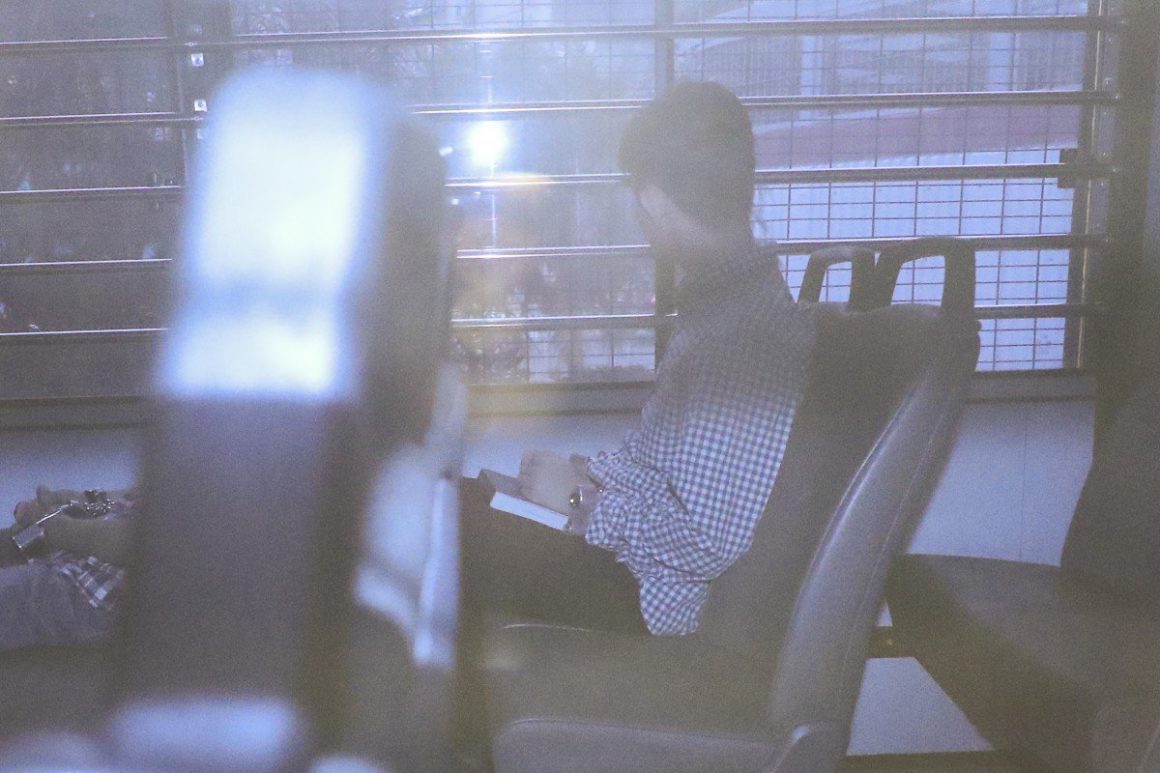 Because Tong-kai was already in Hong Kong when the body was found, Taiwan couldn't bring him to court. This incident pushed Hong Kong's Legislative Council (LegCo) to propose the extradition bill, but because of a dominantly pro-Beijing constitution (despite the popular vote going to pro-Democrats), including seats dedicated to trade-based representatives from tech, healthcare, and other industries, LegCo included Macau and mainland China in the treaty.
While this may not look like a big deal, it's actually a clause that can threaten the democratic freedom that Hong Kong currently has.
Isn't Hong Kong a part of China?
Hong Kong is a special administrative region of the People's Republic of China, where all operate as an independent entity from mainland China. It has its own currency, own legislation and constitution, own economy, and even its own representation in the Olympics. This is part of the One Country, Two Systems principle, a reunification effort of China in 1997 that seeks to let its previously British-ruled colonies adjust to Chinese rule. To this date, there have been no talks about what happens in 2049, when Hong Kong fully integrates with mainland China.
Why is Hong Kong afraid of China's intervention?
China is an authoritarian country, where censorship is enforced and people's democratic rights aren't respected, let alone acknowledged. The Tiananmen Square Massacre is the prime example of this, a historical protest against the declaration of martial law in 1989. The military attacked protesters with rifles and tanks, and has a death toll of anywhere from several hundreds to several thousands.
China isn't waiting for 2049
Although explicitly stated that Hong Kong must remain autonomous, China has been taking actions that have been slowly chipping away at its democratic freedoms. Significant incidents are the 2014 Umbrella Revolution (fighting for universal suffrage), the 2015 Causeway Bay Books Disappearances (the abduction of staff members at an independent bookstore), among others.
Disturbing video taken in #Shenzhen just across the boarder with #HongKong. Something extraordinarily bad is about happen. #China #HongKongProtests #Democracy #SaveHongKong pic.twitter.com/Gad5R5HVZL

— Alexandre Krauss (@AlexandreKrausz) August 12, 2019
There have also been reports of military vehicles gathering at Shenzhen, the border province of Hong Kong, a sight that echoes the Tiananmen Square Massacre.
What does it actually look like?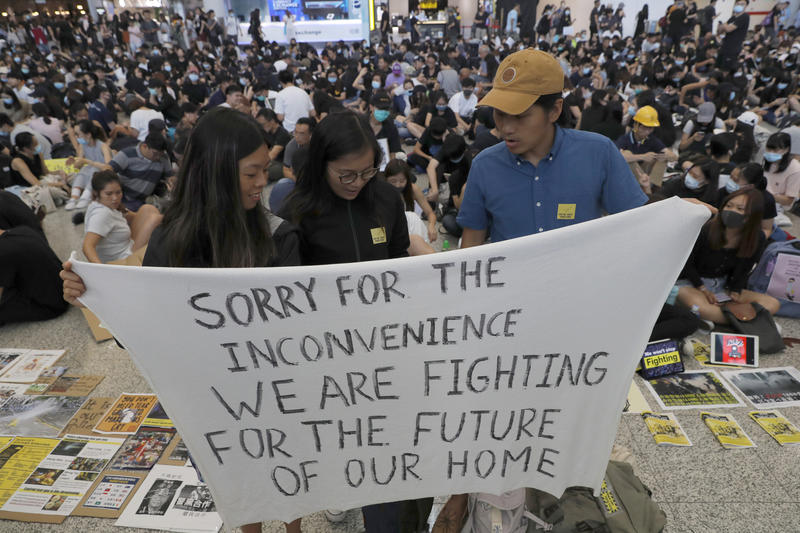 We can talk about history and foreign affairs all we want, but what has been happening on the ground?
The way Hong Kong is now seems like it's a page ripped out from a dystopian novel. There is no other way to describe it but as that—an unimaginably terrifying setting for police brutality, complete disregard for human rights, and the denial of a future where Hong Kong is free.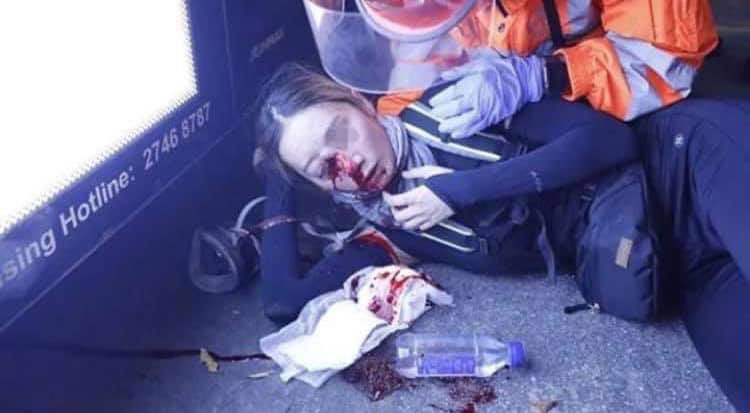 Hong Kong has so much to lose, and no one is left behind.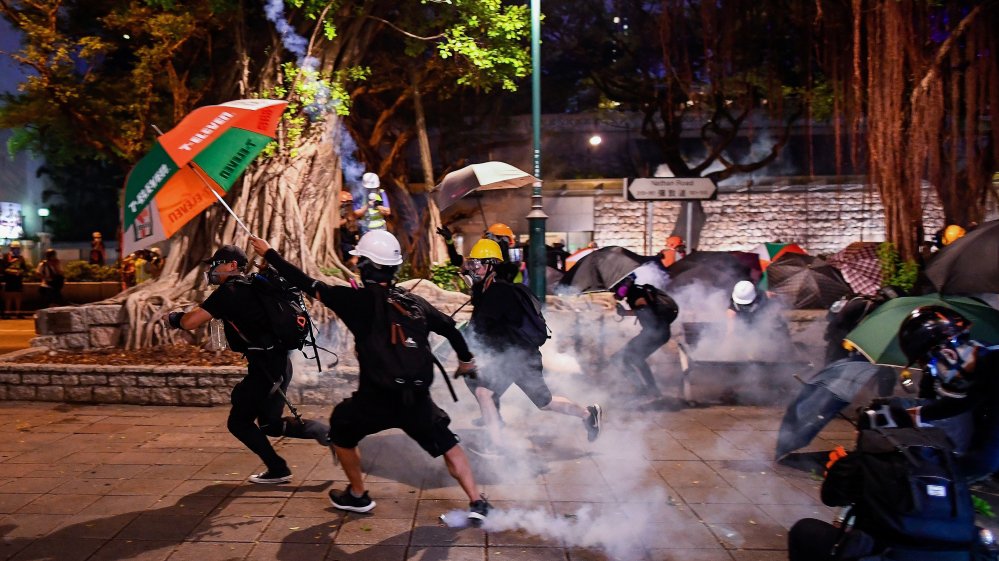 Despite all this, Hong Kong is not backing down. Though the violence has escalated, protesters are employing tactics that turn their anger into a collective protection of not only their liberties, but also of each other. If the police throw tear gas, they don't just run away—they pour water on it to extinguish it. If the police catches anyone in the crowd, protesters pull them away and bring them to safety. Protesters use laser pointers to deter the police's facial recognition technology. The train and airport is filled with messages apologizing for inconveniences, and respectfully explains the importance of the movement.
Water + traffic cones.

This is how Hong Kong protesters extinguish tear gas rounds fired by police pic.twitter.com/tnjUGvn2ez

— Bloomberg TicToc (@tictoc) August 14, 2019
At the forefront of this movement is the youth, who have the most to lose. It's their Hong Kong that's being decided on by powers beyond them, and they're fighting tooth and nail for it. While the bill may have been shelved, there is still more to protest about. While there is a battle being waged in terms of framing the issue, particularly the Chinese government's disinformation campaign against the protests, those on the ground remain dauntless, dignified, and fiercely hopeful.
Whatever the outcome may be, the world will remember that Hong Kong did not go down without a fight.
What are your thoughts in this issue? Share them with us below.